Tamika Smith is a black-American lady who came into the spotlight when she became the wife of the famous musician, Clifford M. Smith Jr. who goes by the stage name – Method Man. The pair who got engaged in 1999 became so attached to each other and two years later, precisely in 2001, they tied the nuptial knots.
As much as she can, she tries to keep her personal life away from the public to avoid unnecessary distractions that may ruin her union. The celebrity wife once served as her husband's PA before they exchanged marital vows in 2001. We shall take a look at the biography, age, family and surrounding facts of Method Man's wife in this piece.
Tamika Smith's Bio and Age
Tamika Smith is an American citizen, even though there is a dearth of information about her date and place of birth. However, the information available reveals that Tamika Smith was only eighteen years when her sister's son Dontae Hawkins, was shot in April 1994 at a tender age of two. Therefore it would be safe to say she was born sometime in 1975.
The beautiful woman though has not spoken about her early life, family background or educational pursuits. However, we gathered from her LinkedIn account that she attended the College of Staten Island where she studied entrepreneurial and small business operations. The same page stated Richmond County Real Estate Institute as the alma mater where she obtained her Associates Degree in Business Management/Administration.
With respect to Tamika Smith's employment record, she was once the Personal Assistant of her now-husband Clifford, known as Method Man between 1997 through 2002. After which she worked as a caretaker and developmental aid for adults with physical and or learning disabilities, a job she did with a committed sense of responsibilities between 2007 and 2008.
Tamika Smith's Family
If there is anything that virtually everyone wants to know about the mysterious Tamika Smith, it would be details of her parents and immediate family. As a very quiet and reserved persona, Tamika has kept the identities of her parents under wraps. Notwithstanding, she is related to Justin Hawkins, wife a Wu-Tang associated rapper whose son was shot in 1994 at the tender age of two.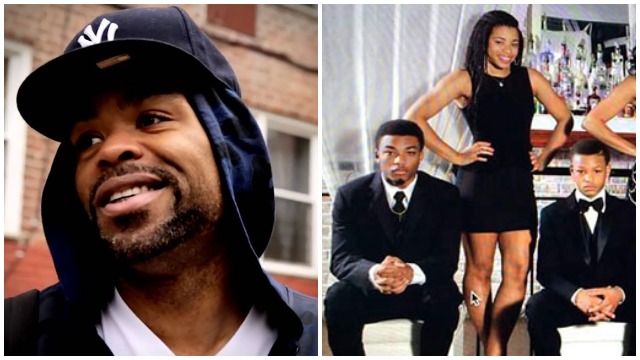 The legendary hip-hop Grammy award-winning musician Method Man is the wonderful husband of Tamika Smith. They got engaged in 1999 and tied the nuptial knot in 2001. They have three children: two sons, Sha Smith and Raekwon Smith and a daughter named Cheyenne Smith who were both born in 1997. The kids have all grown into adults. The family has been living happily in Staten Island, New York.
Method Man was born in Hempstead, Long Island, New York as Clifford Smith on March 2, 1971. He like some other celebrities came from a broken home. As a result, the young Clifford shuttled from his father's place at Long Island to his mother's house in the Park Hill section of Staten Island.
Despite his back and forth background and growing days, he made something out of life. He is probably one of the most decorated musicians having collaborated with top acts like Alicia Keys, and having recorded six studio albums, four collaborative albums over fifty films and TV series.
Facts About Method Man's Wife
Net Worth
The businesswoman and mother of three has not revealed her net worth just like almost everything else about her. We know she had worked as the PA of her husband, Method Man for five years and as a caretaker to people with disabilities for two years. Interestingly, she is married to a millionaire whose worth is valued at $14 million.
She Battled with Cancer Disease in 2006
Tamika Smith battled with cancer around 2006. The family kept it a top-secret until Wendy Williams, a talk show host revealed it. The exposition did not sit well with the family and it eventually led to Method Man's exit from social media.
Hobbies
The beloved wife of Clifford, according to her LinkedIn page loves to workout, eat a good meal, and enjoy a good laugh with friends. No wonder she has maintained her slender structure. More so, she started her love for meeting new people and making new connections.