Brandon Flowers is an American singer, songwriter, and musician, who is best known as the lead vocalist and keyboardist of the Las Vegas-based rock band The Killers. He also plays the bass guitar for the band, occasionally. So far, the Nevada-born musician has recorded five studio albums with the group. As a solo artist, Brandon Flowers have also released two albums of his own; Flamingo (2010) and The Desired Effect (2015). Although he's been in the spotlight for his musical successes, one fact we can't get out of our faces is his wife's suicidal tendencies that had even seen him cancel a tour once. Tana Mundkowsky is best known as the wife of Brandon Flowers.
However, the recent happenings have made her a subject of concern not just to her husband but to those who care about his family and career. This piece takes you a bit deeper, revealing 6 facts to know about Brandon Flowers' wife.
Facts About Brandon Flowers' Wife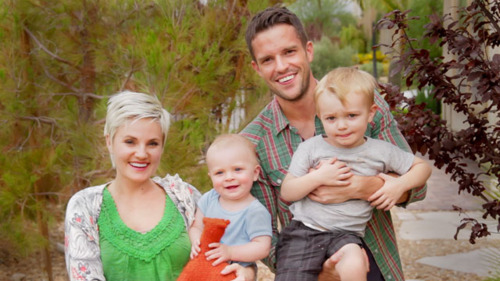 1. Mundkowsky Met Flowers at a Store
Brandon Flowers and Tana Mundkowsky had their first encounter in 2001 at a thrift store by the name Buffalo Exchange in Las Vegas. According to him, he was 21 at the time while Tana was around 20. Brandon had visited the store to together with his fellow singer Dave, to get some supplies for their first gig as a band. It was in the process of hunting he spotted Tana. What stood out was her dressing which, though looked weird to him, gave him an impression that this lady must be a bit cool to hang out with. She was putting on a bootleg Joy Division t-shirt with a Mickey Mouse image on it and a pink trench coat.
Then working for the US designer Betsey Johnson, Brandon perceived her to be quite different, creative, full of life and the best woman for him.  She also worked as a manager at Urban Outfitters, and later worked as a school teacher.
For their first date, the love birds visited an all-night record store where Brandon, though sounded cool, quizzed Tana Mundkowsky on several music artists, from Bowie to the Smiths and Leonard Cohen. I passed when I told him I had the import version of a Bowie album. Brandon recounts that they had similar music tastes which helped cement their bond even more.
After dating for four long years, the duo agreed it was time to make things official. They got married on the 2nd of August, 2005, in a private ceremony on the island of O'ahu in Hawaii.
2. Mother of Two
Together with her husband, Tana Mundkowsky has three wonderful boys; Ammon (b. July 14, 2007), Gunnar (b. July 28, 2009) and Henry (b. March 9, 2011). Together, the family lives in Las Vegas, Nevada. They also have a home in Park City, Utah. Many still wonder why the couple waited two whole years to bear their first son. Well, as it turns out, the Flowers are quite a team of caring parents who first experimented their parenting abilities with two adopted kids before having their own. Don't worry, they're not the kids you know. They are rather furry friends who became part of the family long before Ammon was born. 
3. She Adopted Two Dogs As Soon as she became Mrs
While many wives cant wait to have babies of their own, Tana's was quite different. You see, after moving into a house in Henderson, just 10 miles away from the Las Vegas strip, the family adopted two dogs as a rehearsal for their parenting gig. A husky they named Nikita and a poodle.
4. She has songs written for her  
As a token of their love, Brandon Flowers wrote several songs for his wife. One of which was Some Kind of Love. It came at the time she was suffering from a high form of a disorder we'll reveal in our next point.  
5. Tana Mundkowsky Suffered Complex PTSD
We're not sure why, but Tana Mundkowsky have suffered rare cases of Complex Post-Traumatic Stress Disorder. This has set her on the path of suicide one time in June 2019, when her husband had to cancel his attendance in concerts to be with her. Tana Mundkowsky, he said, had begun to harbor suicidal thoughts.
See also: 7 Things You Didn't Know About Elizabeth Lail of Once Upon A Time  

6. She is a Member of The Church of Jesus Christ of Latter-day Saints
Tana Munkowsky and her husband are staunch Mormons. The family is even featured in a promotional video on the church's website.