When an individual dies, it is often their loved ones that are left reeling from the consequences of their demise. One personality who found herself in such shoes is Tanya Callau. Callau is a model and actress who is better known as the wife of legendary Canadian actor, Alan Thicke. The couple was together for nearly two decades before the TV star passed away in 2016. Since then, Callau has struggled to cope with her loss while contending with legal squabbles with her husband's grown sons. Want to know more about Thicke's last wife before death? Then, we have got all the details right here.
Facts About Tanya Callau
She was born in Bolivia
Tanya Callau was born on the 22nd of February 1976 in Bolivia. Her mother's name is Ruth Miriam, and she has a brother named Kenny. She spent her formative years in Bolivia and started modelling at a young age. She later moved to the United States of America in the 90s in order to further her career.
Since landing in the United States, Callau has modelled for several brands and agencies. She has also scored minor acting gigs in several movies including The Princess Diaries 2: Royal Engagement. The Princess Diaries 2: Royal Engagement is a 2004 teen/drama which revolves around Mia, a princess who needs to get married if she is to become queen. The movie featured the likes of Anne Hathaway and Chris Pine while Callau portrayed the role of one their wedding guests.
She first met Alan Thicke in Miami in 1999.
Tanya Callau first met her superstar husband in Miami in 1999. He was there for a celebrity TV presenting job while she was there for one of her modelling gigs. The two immediately hit it off and subsequently commenced a relationship.
Callau and Thicke dated for about six years before the famed actor/songwriter popped the big question in April 2005. Callau said 'yes' and the couple tied the knot a month later, in May 2005. The beautiful ceremony took place in Cabo San Lucas and was an all-white affair.
The wedding guests numbered about 20 and included Thicke's sons from his earlier marriages. One of them, superstar singer – Robin Thicke, serenaded the newlyweds with a stirring rendition of Lets Stay Together. Callau and Thicke would go on to enjoy a blissful 11-year union during which they made their home on a California ranch.
Her husband died at the age of 69
Alan Thicke was playing ice hockey with his youngest son, Carter, when he suffered a heart attack on the 13th of December 2016. Emergency services were called and the TV star, who was still lucid at the time, was taken to the hospital. Thicke, unfortunately, died that same day at the St Joseph's Medical Centre, Burbanks. He was aged 69, and the cause of death was a ruptured aorta as well as an aorta dissection.
Thicke's death led to an outpouring of tributes from fellow Hollywood stars including his Growing Pains co-star, Leonardo DiCaprio. DiCaprio described him as a devoted father, husband, friend and role model. The Titanic star further stated that the late Thicke had tremendous class, a huge heart, and taught him valuable lessons about humility and gratitude. Alan Thicke's funeral was held in Santa Barbara on the 19th of December 2016. He was later interred at the local cemetery.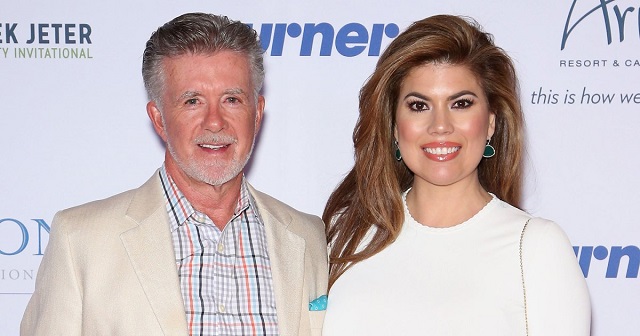 Tanya Callau and her stepsons have squabbled over her late husband properties.
Thicke's eldest sons, Robin and Brennan, initially filed a lawsuit against Callau, in May 2017, claiming that she planned to contest the prenup that she signed with their dad prior to their 2005 nuptials. Callau, however, maintained that she had no plan to do such and that the brothers only filed the suit to embarrass her.
The courts later agreed with her as a judge threw out the suit in September 2017. The judge held that there was no evidence that Callau was planning to contest her prenup and that the brothers' concern about the matter was misplaced. Tanya Callau subsequently filed her own court documents claiming that Robin was withholding her inheritance from her. According to her, the boys were spending money from her late husband's estate while refusing to give her what was due to her. The matter was later settled in June 2018. Callau received a portion of her husband's wealth and is allowed to stay in their marital home for life. The brothers, however, retain legal ownership of the house.
See Also:  Who Is Tammy Rivera, Waka Flocka's Wife – 6 Facts You Should Know
Tanya Callau and her late husband planned to start a family
In a candid interview with TMZ, Tanya Callau disclosed that she and Thicke were hoping to start a family of their own before his demise. According to her, they had frozen some of her eggs and were waiting for Thicke's youngest, Carter, to leave for college before going ahead with the process.
They had even contacted an architect to transform one of their rooms into a nursery but all this came to naught. Callau has also revealed that she lost the will to live after her husband died. The model cum actress had to rely on the support of family and friends, as well as a grief counselor, in order to get through the trying period.