Tarek el Moussa is a successful real estate agent in the United States. Together with his wife, he appeared on the HGTV show Flip Or Flop which increased his fame and also helped him to get more money. From joining the real estate game when he was young and inexperienced, Tarek El Moussa has grown to be a big name in US real estate and people who have a dream can learn quite a lot from. Below we will look at some of the beats of his professional journey as we also try to get a glimpse into details of his personal life.
Tarek el Moussa's Bio, Ethnicity
Tarek el Moussa was born on the 21st of August 1981 and grew up in Buena Park, California. He is an American and he has Morrocan roots from his father's side. When he went into real estate he was considered one of the youngest faces in the game. He got his real estate license when he was only 21 years old and he started to climb high in that world rather quickly. This was impressive because the average age of a real estate agent according to a 2013 real estate survey was 57 years old and people often do not trust younger people to sell them good houses. Tarek El Moussa, however, found a way to gain their trust.
Years after getting into real estate, Tarek El Moussa together with his wife and a partner named Pete Des Best bought their first investment house. It was in an area named Santa Ana and the house was bought for $115,000. At the time of sale, they were able to make a profit of $34,000 and after splitting the money between them, the three seemed to have been christened into the life of flipping houses. They expanded their real estate investing business to Arizona and Nevada. Tarek El Moussa and his wife also run a real estate agency in Orange County, California known as The El Moussa Group.
In 2011, Tarek El Moussa made a shot at a slot on HGTV when he and his friend made and sent an audition tape to the group on a whim. In the tape, the two recorded the entire process of flipping a house. After about a year with no word, the network offered Tarek el Moussa and his wife a weekly time slot that was dedicated to buying and selling homes in Southern California.
The show launched in 2012 in an 11 pm slot because the execs at HGTV had initially been unsure how the show would go down considering the housing marketing bubble had burst a few years earlier and quite a number of people, almost 6.2 million, had lost their homes. The show was however well accepted gathering over 1 million viewers in its first season.
See Also: Joanna Gaines Ethnicity, Age, Kids, Parents, Siblings, Bio, Divorce
Tarek El Moussa and his wife had actually been affected by the housing marketing crash themselves. The blow it had dealt them had severely contracted their income so much so that they had to downgrade homes and split food meant for one person between them because they could not afford to buy food for two.
In 2013, Tarek El Moussa was practically saved from death by a fan. While watching the Flip Or Flop show, a fan who was a registered nurse had noticed a lump on Tarek el Moussa's neck. She contacted the network to get him to see a doctor and Tarek el Moussa had actually heeded her advice and done so. He received a thyroid cancer diagnosis and underwent surgery and radioactive iodine therapy as treatment and just like that, his life was saved. The real estate star got to meet the woman who had helped save his life in 2015 on the show The Doctors.
Parents
Not much is known about the parent's of Tarek el Moussa besides the fact that his mother is white while his father had Moroccan roots. They both where however Americans when they gave birth to their son Tarek El Moussa and their daughter Angelique El Moussa, they chose to raise them in Long Beach, California.
Relationships (Divorce, Girlfriends)
Tarek El Moussa and his wife Christina were married in 2009. They are one of those power couples who suffered and then succeeded together. They have two children together – Taylor El Moussa their daughter who was born on the 22nd of December 2010 and Brayden El Moussa their son who was born on in 2015. The couple split up secretly in May 2016 due to challenges in their marriage. Tarek El Moussa officially filed for divorce in January 2017.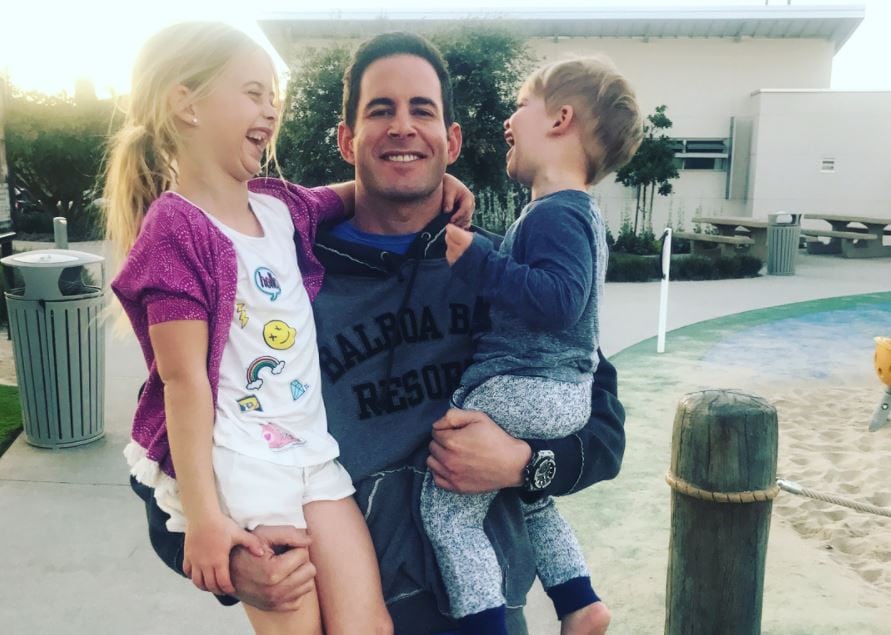 Tarek El Moussa has been dating since the divorce although he is not currently in a relationship. He was linked once with his children's nanny, Alyssa Logan, who he was said to date for only about a month. His last girlfriend is said to have been Patience Silva, a known model.
Religion
Tarek El Moussa's religion is not quite clear. His surname seems to insinuate that he is a Muslim but it may be safer to assume that his surname is only as a result of his father's Moroccan roots. Some fans have alleged instead that he is actually Jewish or even a Christian but considering that his first name is also a common Muslim name, there are many who continue to disagree. Tarek El Moussa himself has never spoken openly about his religion and so the people will continue having to guess on this note.