Taron Egerton is not married but he is in a relationship with Emily Thomas, an assistant director in Hollywood. Taron and Emily has been in a relationship since 2016
Taron Egerton is one actor who considers himself Welsh despite having just one Welsh grandparent. He has come to be known for his sterling performances in Kingsman: The Secret Service (2014), Eddie the Eagle (2016), Sing (2016), Robin Hood (2018) and as the renowned Elton John in the 2019 musical Rocketman. His popularity has naturally led to questions about his personal life, especially about who Taron Egerton's wife is.
For his outstanding performances, he has earned several awards and nominations. Some of these include the Empire Award for 'Best Male Newcomer' in 2015, Hollywood Film Award for 'Breakthrough Actor Award', GQ Awards 'Actor of the Year and LA Online Film Critics Society for 'Best Actor', all in 2019, among others.
A super talented actor, Taron is very young with a ripped physique and is definitely good looking. So it doesn't come as a surprise that people (ladies especially) are curious to know if he is taken. Who is Taron Egerton's wife if he has any? Let's find out.
Does Taron Egerton Have A Wife or Girlfriend?
For now, Taron Egerton is not yet married and has never been married to anyone. Although his parents divorced when he was really young which caused him to be raised by his mother, he hasn't shown any indications of abhorring marriage. Maybe he has come to the realization that people make marriages work if they are with the right people and are willing to put in the effort. Moreover, his mother found love again with another man which has made Taron the proud half-brother of two girls.
Taron is a 2012 graduate of the Royal Academy of Dramatic Art. He began to get small roles in movies and TV series while he was still in school and soon began to gain popularity, especially with the critical and financial success of the Kingsman films which helped launch his career. It is uncertain/unknown if he was dating anyone while he was in school and during his early career, as he has revealed that he didn't come from an affluent family so things were a little rough for him in the beginning.
However, it is already known that Taron has been in a relationship with Emily Thomas for a while now. Emily Thomas is an assistant director who has worked as part of the crew is movies like Justice League (2017), Wonder Woman (2017), Captain America: The Winter Soldier (2014), The Kid Who Would Be King (2019), Solo: A Star Wars Story (2018), to mention a few.
Taron is not the type to shy away from talking about his love life during interviews. He has even discussed how challenging it is to date someone in the same industry. He admitted that staying without seeing your partner for a while can be difficult and if not well handled it can lead to the couple growing apart.
When he and Emily do find time to be together, he reveals that their favorite thing to do is going camping together where they listen to podcasts and watch the sun go down. He describes these moments as some of the happiest times of his life. Although Taron Egerton and Emily are yet to be a man and wife, they have also made efforts to support each other in their careers. They are always seen stepping out together at various important events like movie premieres and award ceremonies.
Taron Egerton's Relationship Timeline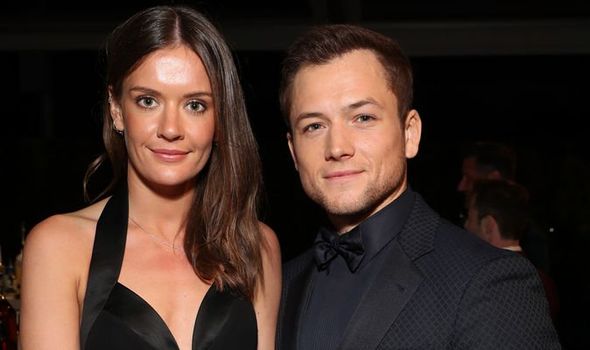 Taron and Emily began to date in 2016. Due to the pressure of focusing on their individual works and budding career, they started growing apart or "occupy separate worlds" as Taron succinctly puts it. They broke up around November 2018 which wasn't long after Taron wrapped up the filming of the Rocketman.
He admitted shaving his hair which was thinned out for his role and believed that it was a cathartic experience that felt like he was reinventing himself with his new looks, especially after the breakup. Their breakup lasted for about three months before they got back together around February 2019.
While Emily who prefers to stay behind the camera at work and in real life hasn't said much about their relationship, breakup and getting back together, she has continued to show her support for her man by showing up for him and with him by every important occasion in his life.
Taron has said about their reconciliation that he is very proud of how things are between them now. Although there hasn't been any news about impending nuptials that would turn Emily into Taron Egerton's wife, we anticipate it's somewhere in the works as these two continue to serve couple goals.
Is Taron Egerton Gay?
Taron Egerton is not gay. Speculations about him being gay started making the rounds sometime in 2018 after he posted a picture of another man and captioned it, "Cutie. My boy ❤️". He went on to like a comment that read "does that mean he's got a boyfriend now?" and fans were confused as to whether he was being serious or just joking.
Done with the jokes, Taron decided to officially clarify his romantic interests and lay further conversations about it to rest. Speaking to Radio Times, according to Metro, he explained that "One of the lads was at my London flat and I Instagrammed a picture of him and said 'Look at this cutie', and a million outlets reported I was coming out as gay…I'm not gay but two of my mates came out when I was 15 and it was a joy to support them because, as a group, we are all secure in who we are."
What he said about his friend being a "cutie" wasn't a joke, however, as he explained that he was never going to quit calling his friends "cuties and gorgeous, because they are cuties and they are gorgeous".