He was the calm but fierce werewolf in Twilight who stole our hearts through the not so subtle exhibition of his acting skills. Taylor Lautner started with small roles until he landed the breakthrough role as Jacob in Twilight, a role he reprised in all sequels of the movie. The American actor and model has made a name for himself in the industry and has continued to prove himself. Lautner's perfectly carved body gave him a stake in the fitness world and pushed him to various fitness platforms. He found his way to the second-rank on Glamour Magazine's 50 Sexiest Men of 2010. Here are other lesser known facts about the talented actor.
Taylor Lautner's Age & Ethnicity
He was born on February 11, 1992, to his parents Deborah and Daniel Lautner. Taylor is an American but is of mixed ethnicity. He is of English, French, German, Irish, and Swiss ancestry. From his mother's side, he says he is Native American.
His sturdy physique, as well as his fitness inclination, started at a young age when he took his first class in karate at 6. He exhibited so much strength and was selected for the national karate tournament in Kentucky. Taylor got his black belt at the age of eight and participated in a lot of championships.
He got into showbiz as early as the age of seven had to combine acting with school. Although he failed the audition for a part in Burger King advertisement, he relentlessly continued his search for roles. Scouting for roles was not an easy task; his supportive family would move with him from Michigan to California, the land of showbiz opportunities, to audition for movie roles. This happened regularly until his family finally relocated to California for his sake in 2002 when he was 10.
After the family moved to California, Lautner started getting roles on TV shows like My Wife and Kids, The Bernie Mac Show (2003), Summerland (2004), and The Nick & Jessica Variety Hour (2004). Being a young actor who also attended school at the time, he was often cajoled by his mates and sometimes bullied. But Lautner remained undeterred and continued to pursue his dreams. Acting didn't stop him from letting school pass through him. Lautner played basketball and football for his school teams and was also into jazz and hip-hop dance.
He did some voice roles in animated series including; Whats New Scooby Doo, Danny Phantom, and others. He got his first movie role in The Adventures of Sharkboy and Lavagirl in 3-D' which was released in 2005 and shot him to prominence. Earning some accolades and recognition, Lautner landed another lead role in My Own Worst Enemy.
See Also: James Franco Biography, Brother, Net Worth, Girlfriend or Wife, Is He Gay?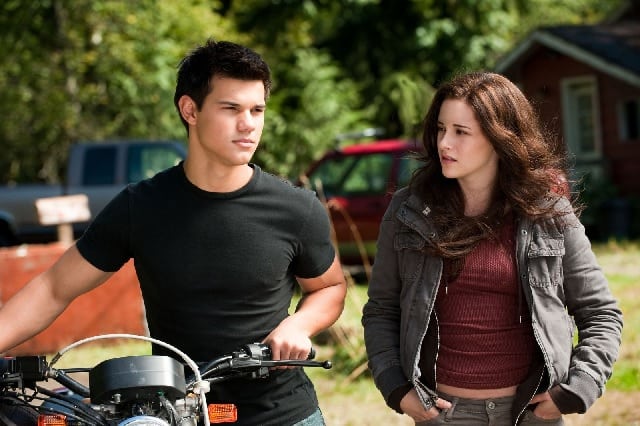 Taylor continued on an ordinary level until 2008 when he starred as 'Jacob Black' in Twilight alongside Kristen Stewart and Robert Pattinson. He went on to reprise his role in The Twilight Saga film series; The Twilight Saga: New Moon and The Twilight Saga: Eclipse, The Twilight Saga: Breaking Dawn – Part 1, The Twilight Saga: Breaking Dawn – Part 2.
What Is His Net Worth?
Taylor Lautner has achieved a whole lot in the course of his blossoming career. The actor has a net worth estimated at a whopping $40 million, a figure which he has his impeccable skills to thank for. Lautner made millions of dollars from his role in the Twilight franchise. The actor who earned a million dollars as salary for his role in the first Twilight production saw his income catapult to $4 million on Twilight Series: New Moon.
For Twilight Saga: Eclipse he earned a whopping 7.5 million. Further building his financial status, Lautner earned $12.5 million for 'Twilight Saga: Breaking Dawn', and this was 7.5% of the grossing income. His Twilight fame not only added more accolades to him but also increased his paycheck. The talented actor is a proud owner of an over $500,000 worth luxury house in Santa Clarita. His classy BMW 5 series which he loves cruising in is worth close to $50,000.
Does Taylor Lautner Have A Girlfriend or Is He Gay?
Its no longer news that the Twilight actor was tagged a sex symbol in the past. This was due to his shirtless scenes in the Twilight series which became a pleasant topic of discussion for the ladies and probably the 'gay gents' too. Taylor Lautner who worked out every day to stay fit for his roles gained up to 14kg of muscle putting himself on the spot and reportedly taking the movie to greater heights. But the actor has revealed his wish to be distinguished not just for his looks but for his skills also.
Speculations about Lautner's sexuality had been raised but the actor has debunked the rumors. After several diggings by the media into the sexuality of the actor, it was discovered that Lautner though private with his personal life has no romantic links with anyone of the same sex. He has rather, been linked with a lot of girls most of whom are into showbiz.
In 2013, Taylor Lautner dated Marie Avgeropoulos with whom he co-starred in Tracers. Reports had it that in the early part of 2015 the couple broke up. He started dating Billie Lourd, also an actress in 2016, but their relationship lasted for only a year. Lautner was rumored to have been in a relationship with pop singer Taylor Swift with whom he starred in the movie Valentine's Day.