Taylor Russell may not be a household name in Hollywood just yet, but she is well on her way to attaining that status given her present exploits in the industry. A native of Canada, this bright-eyed ingénue arrived in Hollywood without much pennies in her pocket. She only had her strong aspirations going for her and luckily landed a role in the Netflix series, Lost In Space.
The sci-fi space series turned out to be a hit, and Russell has not looked back since then. In a space of just two years, she has featured in some critically-acclaimed works. She has also won some prestigious awards. This incredible young lady is, however, not resting on her laurels and is already gearing up for her next adventure, i.e. directing. Taylor made her directorial debut with The Heart Still Hums, a documentary about teenage mothers, struggling with poverty and drug addiction, in early 2020.
Dropping her Ballerina Dreams for Acting
Taylor Russell McKenzie was born on the 18th of July, 1994, in Vancouver, British Columbia, Canada. She has biracial ethnicity, a black father and a white mother, and her nationality is Canadian. The actress is quite secretive about details of her early life, as well as the identity of her family members. It is, however, known that she spent her formative years in Vancouver and Toronto.
While growing up, Taylor Russell never really aspired to become an actress. She rather loved dancing and took ballet classes for the longest time. She hoped to become a professional ballerina someday, but that dream was ruined by persistent knee troubles. Having seen her ballerina dreams disappear before her eyes, Taylor agonized over what to do with her life. She recalled that she had a penchant for watching movies and re-enacting them, and so contacted an agent. She also started taking acting classes.
Russell made her television debut in 2012, playing the role of a mean girl in the Canadian TV series, Emily Owens, M.D. The following year, she bagged minor roles in the TV film, Blink, as well as a short film titled If I Had Wings. In 2014, Taylor appeared as Lark Voorhies in the TV film, The Unauthorized Saved By the Bell Story, and also starred as Jennifer in Pants On Fire. She followed it up with appearances in TV series such as Strange Empire and Falling Skies.
The Breakout Star of Lost in Space
Even though Taylor Russell was popularized for her different roles on television series, it wasn't up until the year 2015 that she bagged her first big-screen role in Suspension, playing as Carrie. By 2016, she appeared as Ashley in the movie, Before I Fall. Her performance in the movie paved way for her breakthrough role as Judy Robinson in the Netflix series, Lost In Space.
Lost In Space was a sci-fi series about The Robinsons, a family of space colonists who crash land on an unknown planet during one of their journeys. They, therefore, plot their way back home whilst contending with alien enemies. The series featured the likes of Molly Parker and Toby Stephens, while Russell portrayed the eldest Robinson daughter named Judy.
Her character is quite brilliant and qualifies as a medical doctor after accelerated training. Lost In Space debuted on Netflix in 2018 and received rave reviews thanks to the performance of Russell and her co-stars. The show was renewed for two additional seasons and received several awards, including a Saturn Award nomination for Best Supporting actress for Russell in the year 2018.
Her Highly-acclaimed Performances in Waves and Escape Room
Taylor Russell has utilized the platform provided by Lost In Space to build upon her Hollywood career. The Vancouver native has gone to score roles in several other TV series and movies, most notable of which are Waves and Escape Room. These two projects greatly differ from each other and are a testament to the abundant talent that the actress has.
Escape Room is a 2019 horror/thriller about six ordinary persons who embark on a seemingly normal game of Escape Room in the hopes of getting a $10,000 prize. They, however, get more than they bargained for as horrifying and tragic circumstances unfold during the game. The movie featured Russell in the lead role of Zoey, a brilliant physics student who survives till the end. Her efforts fetched her praise, and the movie was a commercial success, grossing $155.7 million on a budget of $9 million.
Another 2019 project that brought Taylor much acclaim is Waves. Waves is an incredibly beautiful but deeply heart-breaking drama about an African-American family in suburban Florida that suffers a tragedy. They are consequently forced to re-examine their lives and figure out how best to move forward. Waves featured the likes of Sterling K. Brown and Kelvin Harrison Jr. while Taylor portrayed the family's youngest, Emily.
Her character is often lurking in the background but manages to make a powerful performance in the second half of the film. That performance earned her several accolades, including the Gotham Independent Film Award for a breakthrough actor, Virtuoso Award at the Santa Barbara International Film Festival, and a nomination for Independent Film Spirit Award. The film itself received glowing reviews from critics and made $2.4 million at the box office.
The Truth Behind Her Rumored Romance with Lucas Hedges
In this day and age, many celebrities enjoy flaunting their relationships on social media platforms, but Taylor Russell appears to be the opposite. She has never publicly spoken about her relationships and has kept these details under lock and key. The media went abuzz in December 2019 when she was spotted kissing her Waves co-star, Lucas Hedges while watching a basketball game at Madison Square Garden, New York City.
The photos caused a stir on the internet, with many poking their noses to know if truly the two were an item. The pair, however, remained mum, but Hedges had earlier referred to the actress as his girlfriend during a February 2019 interview with The Hollywood Reporter. To cut the long story short, Taylor and Hedges are an item and first met each other when they were both casts in Waves in July 2018.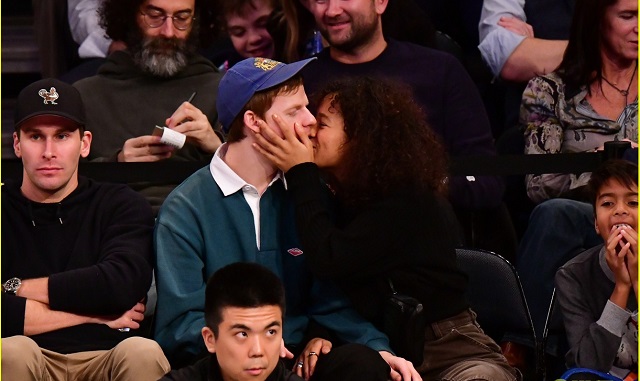 According to the actress, she immediately took to Hedges as she instinctively felt that he was part of her tribe. The actor also reciprocated these feelings, but they kept things professional all through filming and commenced a relationship once filming finished. The couple has been together ever since then, and if though they do no show off their relationship, they have been spotted at some public events, including Gucci Cruise 2020 Fashion Show in May 2020.
For the benefit of those who do not know him, Lucas Hedges is a fast-rising actor who has featured in projects such as Manchester by the Sea, Boy Erased, Ben is Back, Lady Bird, and Three Billboards Outside Ebbing, Missouri. He has thus far garnered several accolades, including a 2017 Oscar nomination for the best supporting actor, as well as a Golden Globe nomination for best actor in a drama in 2019. Hedges is a native of NYC and was born in December 1996.