Tebogo Khalo is a notable South African actress who became famous for her appearance on the South African TV series, Rhythm City. She was on the show since its inception in 2007 and portrayed the character of Puleng Ndlovu, a young lady with a lot of interesting traits.
Tebogo's excellent portrayal of her role in the drama series got her a lot of fans, as well as a Golden Horns Award for Best Supporting Actress in a TV series at the South African Film and Television Awards (SAFTAs) held in 2011.
Tebogo Khalo's Biography Summary
Full name: Tebogo Khalo
Nickname: Puleng
Gender: Female
Date of birth: 31st May 1985
Tebogo Khalo's Age: 38
Nationality: South African
Zodiac Sign: Gemini
Sexual Orientation: Straight
Religion: Christianity
Marital Status: Married
Tebogo Khalo's Net Worth: $500,000 – $700,000
Famous for: Being an actress
Instagram:@tebogo_khalo
Twitter:@tkhalo
What is Tebogo Khalo's Age?
The lovely South African actress is currently 38 years old as she was born on the 31st of May 1985. Her place of birth is Alexandra in the Gauteng Province of South Africa. Tebogo Khalo also spent her childhood days in the same region – precisely in Kempton Park which is Gauteng's East Rand district.
Although the actress has not revealed a lot about her parents, it is believed that she was raised by both her mum and dad who are identified as Mr. and Mrs. Khalo in a middle-class household. Her folks ensured that she got all the necessary moral and intellectual training.
Upon the completion of her elementary education in Gauteng, she moved on to study at the South African University to earn her Bachelor's degree. However, it is not known whether the course she studied during her time at the South African University is related to her current career pursuit as an actress.
Tebogo Khalo Launched Her Acting Career In 2007
The stunning actress was able to hit stardom from her appearance in Rhythm City as Puleng Mofekeng. The show coincidentally started the same year Tebogo officially launched her acting career and her role as Puleng was her debut on-screen role. The drama series was well-received by Mzansi fans and within a short period, its lead stars (including Tebogo) attained a lot of popularity.
Tebogo is one of the longest-serving cast members on the show and her portrayal of Puleng – who was a lady who had to deal with abuse from her boyfriend was praised by many. For her excellent portrayal of her character, Tebogo is now known as an award-winning actress – she landed the Golden Horns Award as the Best Supporting Actress in a TV Soap during the 2011 SAFTAs. It is also worth noting that the award was given to Tebogo not just because of her outstanding performance but for her dedication to the show as well.
Since her appearance on Rhythm City, she has made guest appearances on the drama series, Mzali Wali as Captain Gumbi. As her fame increased, Tebogo tried her hands as an on-air personality (OAP) and now, in addition to her thriving acting career, Tebogo Khalo is also a notable radio personality. She serves as a co-host for events that address issues that are geared toward young people. It is also gathered that during her early years as an actress, she had been involved in promoting a reading culture in schools.
Tebogo is also very passionate about her work with the cancer foundation known as 'Just Foot Prints' where she serves as a motivational speaker to encourage young people that have been diagnosed with cancer. More so, she collaborates with several organizations to handle career day events for the youths.
Is Tebogo Khalo Married?
Tebogo Khalo is not just passionate about her career but is also very passionate and protective of her loved ones. She dated her beau for about 5 years without revealing his identity and now she has been married for more than a decade to her husband as the two tied the nuptial knot in 2011. Their wedding ceremony was attended by their close friends and family.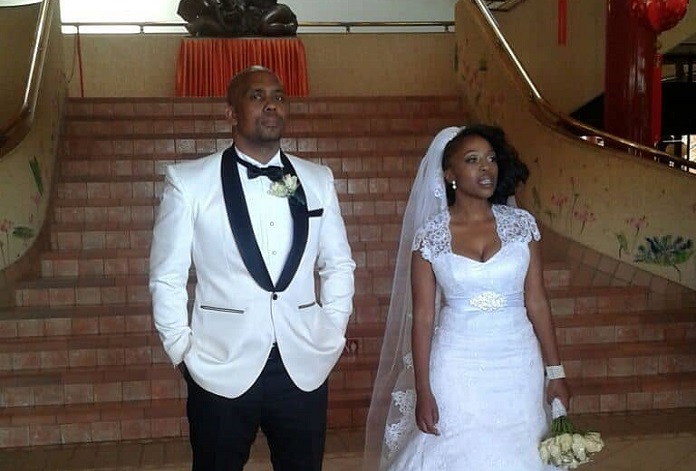 Although the actress has given us a glimpse of her husband by posting their wedding pictures, she is yet to reveal all the tidbits about his life. There are no details about his career pursuits or interests. However, from the pictures Tebogo shared, her husband is a very handsome and well-groomed gentleman. There have also been talks that he is about a year younger than his wife but that has not affected their relationship which has gotten stronger over the years.
Tebogo And Her Husband Decided Not To Have Kids
Unlike many couples especially African couples who would be thrilled to have a lot of kids once they are married, Tebogo and her husband seemed to have gone against the idea of becoming brooders. According to the actress, raising a child is a daunting task that requires ample time, as well as dedication to pull off successfully.
However, given her present status as an actress whose schedule is always busy, raising children will not fit into the picture with ease. Tebogo is also of the mindset that she can't bring kids into the world and not cater to all their needs adequately hence her decision not to have any.
Although her husband has not come out to share his own opinion explicitly, it is assumed that the couple must have made the decision together. Besides, they had dated for several years before getting married and since they tied the knot in 2011, Tebogo's husband has not shown any signs of being displeased with the fact that they are yet to have kids.
However, their lives are not totally void of the presence of someone to care for as the duo is surrounded by their nieces and nephews who they intend to shower with so much love and attention just as they would have done on their biological children.
Irrespective of her outlook on life, Tebogo Khalo has proved that whatever you prioritize and put your mind to doing is bound to succeed. She has no publicly known history of coming from a family of entertainers but her choices and sacrifices have helped her get along pretty well in the film industry.