Ted Cruz is an American politician who attended and graduated from Princeton University and Harvard Law School before beginning his career. He has held quite a number of governmental positions and even contested for the highest office in the United States in the 2016 US Presidential election, but unfortunately failed to get the Republican Party ticket.
The Texas-native, who was the first Hispanic to clerk for a Chief Justice of the United States, has served as the director to the office of policy and was also an associate Deputy attorney general at the United States Department of Justice. He is now the junior United States Senator for Texas after he was elected in 2013.
Ted Cruz Biography
Ted Cruz was born Rafael Edward Cruz on the 22nd of December, 1970 in Calgary, Alberta, Canada where he was raised until his family relocated to Houston Texas. Here, he attended Second Baptist School before enrolling at Princeton University, graduating with a bachelor's degree in public policy in 1992.
During his stay in college, Cruz was noted as a brainiac and even won an award during the national debating championship in his senior year. After Princeton, the future Senator moved to acquire a Juris Doctor degree from Harvard Law School, graduating in 1995.
After Harvard, between 1995 and 1997, Ted Cruz served as a clerk to a judge in the United States Court of Appeals for the Fourth Circuit and for Chief Justice of the United States, William Rehnquist. He then went on to practice law, famously representing John Boehner in a lawsuit against the former president of the United States of America, Bill Clinton. Subsequently, Cruz became established with politics and worked for George W. Bush during his presidential campaign. He later worked for the Federal Trade Commission in the Justice Department.
In 2003, Ted Cruz became the youngest man at age 32 to be appointed to the office of Solicitor General of Texas. In this position, he earned a reputation as a fierce litigator who had argued more than a few cases before the Supreme Court. Some of his most popular cases at this time includes the argument that international treaties are not only limited to states until enacted by the U.S Congress and defending the constitutionality of a public monument that contained the Ten Commandments.
Five years later, Ted Cruz decided to return to private practice where he spent another four years before contesting for the first time for the Senate seat vacated by Kay Bailey Hutchison. Cruz was successful in his campaign and resumed office in 2013, becoming the leader of the conservative movement in Congress.
As his knowledge and experience in the political realm grew, so was his reputation. He found favor throughout President Barack Obama's regime and he became the vocal opponent of the Patient Protection and Affordable Care Act. The following year, he renounced his Canadian citizenship, wrote a memoir titled Time for Truth: Reigniting the Promise of America in 2015 and later unsuccessfully ran for the office of the President in 2016.
What to know about his wife and daughters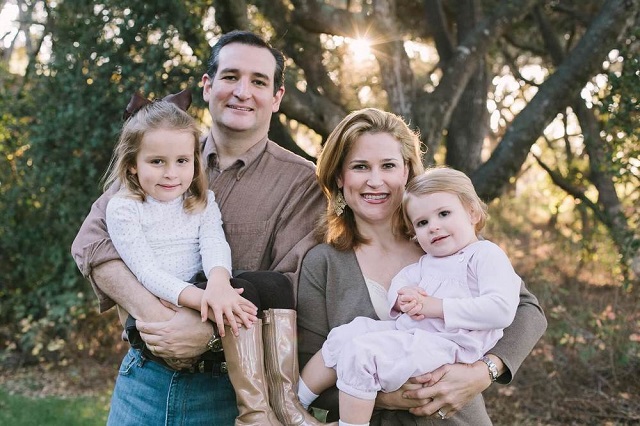 Heidi Cruz (née Nelson), who served as the economic policy advisor of George W. Bush during his 2000 presidential campaign, is Ted Cruz's wife. Mrs. Cruz has been her husband's biggest supporter from the moment she became his bride, something that has earned her a lot of respect with the Republicans.
Heidi and Cruz met each other for the first time while they were both working on the George W. Bush presidential campaign. The duo felt the love chemistry between themselves and decided to go on their first date at a bar in Austin sometime in January 2001. Cruz who wanted a woman who would synergize with his dreams questioned her about her background, early life and her plans for the future. Having been convinced that Heidi was the woman of his dreams, he married her that same year in the month of May.
Heidi has never publicly stated regrets towards her marriage, even when her husband was involved in an alleged sex scandal. She stood by him and they walked past it. Together, they share two adorable daughters; Caroline and Catherine.
Details about his Father
Ted Cruz's father, Rafael Bienvenido Cruz, was born in Cuba. He was an inmate during the Fulgencio Batista regime who later escaped to the United States of America in 1957.
While Rafael's son has gone ahead to become a politician in the US, the older Cruz, who is a protestant preacher and public speaker, serves as his son's close advisor and is sometimes described by news outlets as his surrogate. During the 2016 Presidential election, Rafael heavily campaigned for his son even though he faced some health challenges at the time.
What is his Net Worth?
All sitting Senators in the United States of America are entitled to an annual salary of $174,000. Before Ted Cruz took up his senatorial position, his net worth was pegged at $500,000. That figure has since gone through the roof as he is now said to be worth $4.6 million.
Height
Ted Cruz stands at a height of 5 feet 8 inches. For many years, the politician has been on the receiving end of numerous weight jokes. He is said to have gained a massive amount of weight during his time as a senator, however, there are no exact measurements for his current and previous weight. Also, there are no details available of his other body measurements.