Ted Danson is one of the most popular TV stars in the history of Hollywood. In a career spanning over four decades, he has featured in many TV series and played several unforgettable roles. One of them is playing Sam Malone, a sexy but womanizing bartender on the NBC sitcom Cheers. His excellent portrayal of the character fetched him 11 Emmy and 9 Golden Globe nominations for Best Actor in a TV series, out of which he won two each. Get to know more about Danson here including his age, facts about his spouse and kids, height and net worth, and what have you.
Ted Danson's Age and Bio
Edward Bridge Dawson III was born on the 29th of December 1947 in San Diego, California. His father's name was Edward Bridge Jr. while his mother's name was Jessica Danson nee Macmaster. The actor also has an elder sister named Jan Haury.
Ted Danson spent his formative years in Arizona and attended Kent School. While growing up, he did not aspire to become an actor but wanted to get a college degree and land a regular job. It was during his studies at Stanford University that he met a female friend who was an aspiring actress. She convinced him to try acting and he found himself falling in love with the craft. He, therefore, changed his major to drama and subsequently transferred to Carnegie Mellon University where he obtained a BFA in drama in 1972.
Ted Danson commenced his career in the 70s with his first role coming on the soap-opera, Somerset, between 1975 and 1976. After that, he garnered guest appearances in a handful of TV series and also appeared in TV and print ads for a popular men's fragrance, Aramis. Danson got his big break in 1982 when he landed the unforgettable role of Sam Malone in the NBC sitcom, Cheers. Cheers ran from 1982 to 1993 and the California native featured in all 275 episodes of the show. The series was one of the most watched TV shows during its era. It is also widely regarded as one of the greatest TV shows of all time. Since Cheers, Ted Danson has gone on to feature on other TV series such as Ink, Curb Your Enthusiasm, Gulliver's Travels, Heist, Help Me Help You, Damages, Bored to Death, Fargo, CSI: Crime Scene Investigation, The Orville and Becker.
Details of His Wife/Spouse and Children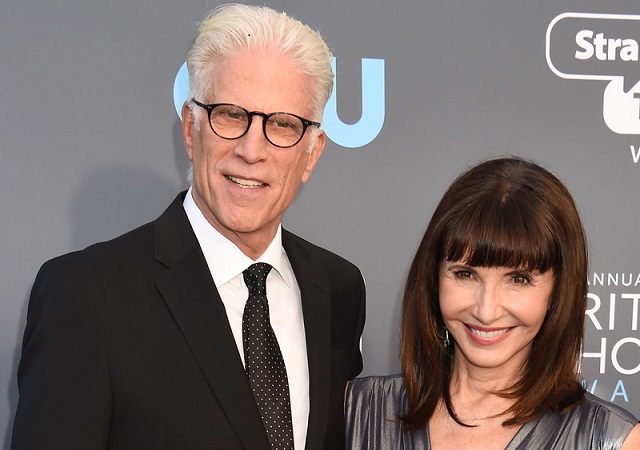 Ted Danson has had an interesting love life and has been married on three occasions. His first marriage was to actress, Randall Danson nee Gosch, in 1970. The union lasted for five years and they divorced in 1975. The Cheers star got married again in 1977, this time to producer Casey Coates. During the marriage, Coates suffered a stroke while giving birth. The stroke paralyzed her left side and Danson spent years taking care of her. The whole ordeal left a strain on them and the actor eventually had an affair with legendary comic/actress Whoopi Goldberg. The affair ended his second marriage and the divorce was finalized in 1993.
Ted Danson is now married to fellow Hollywood star, Mary Nell Steenburgen. Steenburgen is an award-winning actress and has featured in movies such as The Attic: The Hiding of Anne Frank, Cross Creek, Parenthood, Elf, The Brave One, Step Brothers, The Proposal and Melvin and Howard. She won the 1980 Oscar and Golden Globe award for Best Supporting Actress for her role in Melvin and Howard.
Danson and his wife first met on the set of the 1994 movie, Pontiac Moon, where they coincidentally played husband and wife. At that time, both of them were coming out of divorces and the last thing on their mind was a new relationship. They, however, fell for each other and began dating. The couple tied the knot in 1995 and have remained together ever since then. Danson and Steenburgen do not have any kids together, however, the actor has two children from his second marriage. Steenburgen also has two kids from her previous marriage.
Ted Danson's Net Worth
Ted Danson has a net worth of $60 million. His wealth stems from endorsement deals and earnings from his acting career. Danson's career has not been limited to the small screen. He has also featured in movies such as The Onion Field, Just Between Friends, Saving Private Ryan, Made in America, and Three Men and a Baby. Three Men and a Baby is a 1987 comedy about three bachelors who have to raise a baby fathered by one of them. Danson played the role of one of the bachelors and was instrumental in the film's success. The movie was the highest-grossing film of 1987 and made $297 million on a budget of $11 million.
Height and Body Features
Ted Danson is 6 feet 2 inches (1.88 m) tall and his weight is given as 84 kg (185 lb). His eye color is Gray while his hair color is white. Danson is quite agile and spritely for a man of his age. This is probably as a result of routine fitness exercises and a good diet. The actor was previously on a vegan diet but he now practices a pescetarian diet. This is a vegetarian diet that uses seafood as a replacement for meat.