Terrence Howard has proved his worth to his counterparts and stakeholders in the entertainment industry. After his epic performance in the 2005 film Hustle & Flow, he rose to high prominence and garnered lots of accolades which formed a solid pedestal for his prestigious status.
Before his admirable fame, Howard like most of his counterparts passed through different hurdles ranging from scouting for roles to starting out small. Here are the facts you need to know about the renowned actor.
Who Is Terrence Howard?
He was born Terrence Dashon Howard on March 11, 1969, in Chicago, Illinois to his parents; Tyrone Howard and Anita Williams. He learned the harshness of life from a very young age; growing up with an abusive and violent father. His father would violently snap at any little mistake and on many occasions, struck him severely in the name of instilling discipline.
Terrence is said to have witnessed the murder of a certain man stabbed to death by his father. Having been charged with manslaughter, his father was issued an 11-month jail sentence by the court. The sentence took a toll on his parent's relationship which finally ended in divorce after Tyrone's release.
Thankfully, his parents' separation did not hinder his education. After his high school, he enrolled to the Pratt Institute in Brooklyn, New York. However, Terrence who always had a passion for creative arts left school prematurely to pursue his dreams. Some of the small roles he got at the time was a small part on The Cosby Show alongside Bill Cosby. He went on to land a notable role of Jackie Jackson in the telefilm, The Jacksons: An American Dream in 1992.
1995 was a remarkable year for the actor who landed a significant role in the popular 1995 movie, Dead Presidents where he played the character of a cowboy. That same year, he also landed another role in Mr. Holland's Opus where he played the character of Louis Russ. Terrence had left a prior deal with German production to feature on the movie on a very huge pay cheque. Gaining more prominence in the industry, he earned more movie roles and got involved with tons of producers and directors.
The 2000s came with levitating packages for the renowned actor who continued to gain prominence. In the early 2000s, he starred in the following notable movies; Angel Eyes (2001), Hart's War (2002), Biker Boyz (2003), and many others. For his impeccable performance, he also earned lots of accolades including the Black Reel Award for Best Supporting Actor, the NAACP Image Award for Outstanding Supporting Actor, and much more.
Terrence Howard won the National Board of Review Award for Best Breakthrough Performance in Academy Award-winning movie Crash released in 2004. He also got nominated on several platforms like Golden Globes and the Academy Award for his role in 2005 movie Hustle and Flow.
Howard, who was already on the peak of his career rose to an even more reputable pedestal on-screen when he landed a major role in 2015 Fox drama series Empire. His role as Lucious Lyon in the series earned him a lot of awards including the BET Award for Best Actor. Howard is reputably known for some of his notable movies including Sabotage (2014), Dead Man Down (2013), and Term Life (2016).
The actor slid into the music faculty in 2008 with the release of a pop album – Shine Through It. The eleven-track album peaked at No. 31 in the US Billboard 200.
Who Is Terrence Howard's Spouse and Does He Have Kids?
His tough childhood may have been the reason for his turbulent relationships. Terrence Howard has been married four times and has 5 children from all his marriages.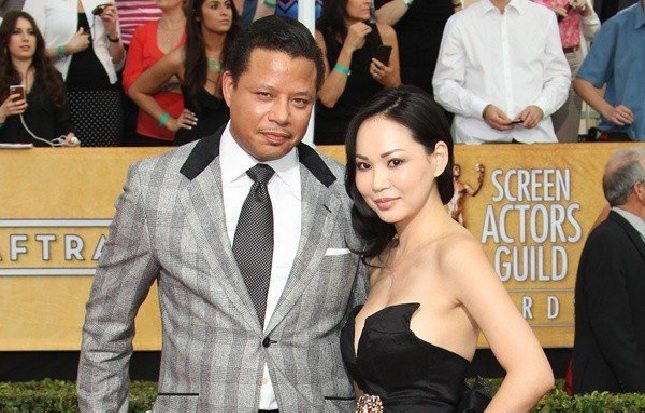 He was married to Lori McCommas, a Jew, in 1994. His marriage with Lori was indeed a bumpy one and the couple had to split two times. Several differences pushed the couple to file for divorce in 2000 which was finalized three years later.
But in an interesting twist, Terrence and Lori got married again in 2005. However, they filed for another divorce only a year later. Howard had three children from the marriage; two daughters – Aubrey and Heaven – and a son named Hunter.
After their official divorce in 2007, the talented actor got involved with Michelle Ghent who was his employee. A few years after their marriage, his second wife Michelle filed for a divorce on grounds of physical abuse. She further filed for a restraining order from him, this happened in 2011.
After their divorce was finalized in 2013, Terrence married a third wife Mira Pak, that same year. With Mira, he had Qirin Love (born May 7, 2015) and Hero (born in the summer of 2016). Reports had it in 2016 that the couple secretly divorced. The divorce was said to have been filed by Mira who cited irreconcilable differences.
What Is His Net Worth?
Terrence Howard has a gigantic net worth which is quite deserving for a man of his calibre. His net worth which is estimated at $30 million is credited to his thick influence in the entertainment industry.
Terrence has his movies, endorsement deals, and other endeavours to thank for his net worth. For his role in Empire which pulled over 2.5 million viewers, Terrence earns over $125,000 for an episode. His wealth will undoubtedly, continue to increase given his impeccable skills and originality.
Who Are His Parents
As mentioned earlier, Terrence Howard did not have the best childhood and, people have always assumed that the fact that his parents were biracial had something to do with it, this assumption hasn't been substantiated.
Terrence's father, Tyrone Howard who was half black and half white suffered racial abuse growing up, causing him to have an aversion to racism, especially racial slurs. The man on a fateful day took Howard and his siblings to visit Santa Claus; an unfortunate white man who had lost all restrictions hurled racial slurs at them. This infuriated Tyrone Howard who helped himself with the knife he carried, stabbing the man to death and earning himself a jail sentence that destroyed his marriage.
After his parents parted ways, Howard switched homes often to be with either of his parents but spent more time with his grandmother. He had up to ten siblings from his parents who remarried several times.
See Also: Will Smith Son, Wife, Kids, Family, Height, Religion, Gay, Is He Dead?
His Height and Body Measurements
This talented actor stands at a tall height of 1.8 m (5 feet, 9 inches). With his proportional weight of 188 lb, the perfect shoe for his feet is size 12 (US).