Even though he has been retired for nearly two decades now, Terry Bradshaw still retains the admiration and respect of many Americans. This is thanks to his legendary exploits in the game of football and beyond which has cemented his reputation as one of the most popular personalities that the country has ever seen.
In an illustrious NFL career spanning 13 years, Bradshaw completed 2025 of 3901 passes for 27,989 yards, 212 touchdowns, and 210 interceptions on his way to leading the Pittsburgh Steelers to eight consecutive AFC championships. He also helped them to win the Super Bowl on four occasions and made history as the first quarterback to win a third and fourth Super Bowl ring in the history of the NFL.
Bradshaw called time on his illustrious career in 1983 and has since proven that he is not tired even though he is retired. Expertly deploying the wide sense of humor which made him a beloved star during his playing days, the former quarterback has found a second calling as a sportscaster. He has also featured in movies, released country music albums, and penned several books. Once derided as a country bumpkin, Terry Bradshaw has built a post-retirement portfolio that most athletes can only dream of and this is with the love and support of his family.
Terry Bradshaw Made a Slow Start to his NFL Career 
Terry Bradshaw joined the National Football League (NFL) in 1970 after four successful years of college football. He was the number one pick of the 1970 draft and subsequently joined the Pittsburgh Steelers. In drafting Bradshaw, the Steelers had high hopes that he would help to turn around their miserable fortunes (they lost 13 out of 14 matches the previous year). The reverse however turned out to be the case as the promising player threw more interceptions (71) than TDs (41) in the first four years of his career.
Such a dismal start had many Steelers' fans calling for Bradshaw's head and he was eventually demoted to the second-string quarterback. His miserable situation was further compounded by the rocky relationship he had with his head coach, Chuck Noll, and things went from bad to worse when many around the country started seeing him as dumb and naïve country bumpkin thanks to his blonde hair and twang.
Terry Bradshaw was well and truly miserable in Pittsburgh but he hung in there and continued working on his game. He eventually made his way back into the starting lineup and proceeded to mesmerize his detractors with a superb 1974 season in which he led his team to the Super Bowl. In the January 1975 Super Bowl game against the Minnesota Vikings, the player also made impressive personal contributions as his team defeated Minnesota, 16-6, to win the Super Bowl IX title.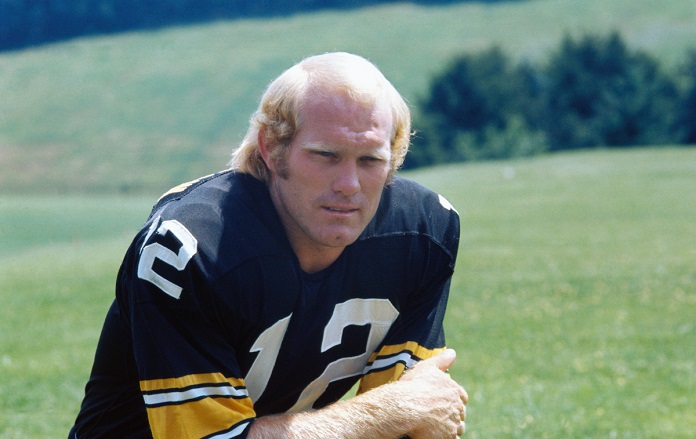 He Became The First Quarterback in NFL History to Win a Third and Fourth Super Bowl
That 1975 Super Bowl triumph did wonders for Terry Bradshaw's career. It convinced everyone that he was not a bust and the fans got behind him. It also gave him the needed confidence to pursue his career and he threw himself into it headlong. The result was a second consecutive championship in the year 1976 when the Steelers defeated the Dallas Cowboys, 21 -17, to nab the trophy. In the game itself, Bradshaw threw what is now regarded as the greatest throw of all time in order to help his team to victory.
Bradshaw would lead the Pittsburgh Steelers to two more Super Bowl rings during his time with them; in 1978 and 1980. He also received several accolades including Super Bowl MVP (2x), Pro-Bowl (3x), First-Team All-Pro (1x), and was named the sportsman of the year for 1979 by Sports Illustrated. Despite all these achievements, the quarterback found the NFL quite stressful and longed for the time that he would be able to call time on his career.
That decision was later taken out of his hands by an elbow injury that struck his throwing arm in the 1982 season. Bradshaw initially underwent surgery as well as a lengthy rehab to deal with the injury. When he returned towards the twilight of the 1983 season, the injury still reared its head up again. The player thus decided not to stretch things out anymore but walk away with his head held high.
At the time of his retirement in July 1984, Terry held the record for most passing yards as well as most passing touchdowns in the Super Bowl. He was truly an NFL great and that reputation remains intact to date. The former QB has since been inducted into the College Football Hall Of Fame as well as the Pro Football Hall Of Fame.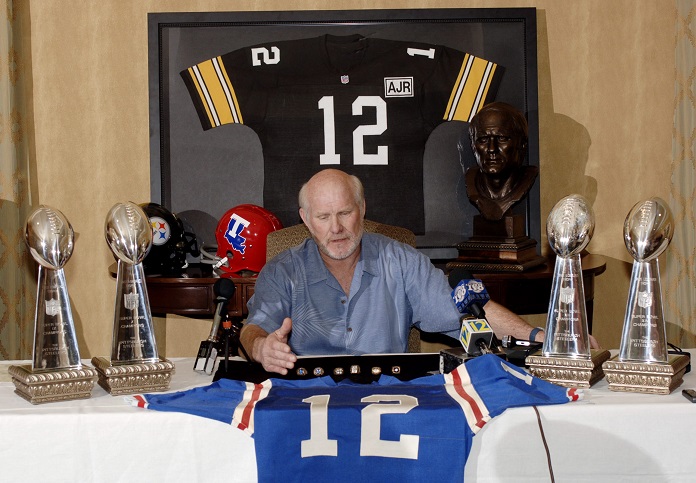 The NFL Legend Has Won Multiple Emmy Awards for His Sportscasting Career
Upon retirement, Terry Bradshaw spent a few months catching his breath before CBS reached out to him to serve as their game analyst in 1984. He immediately took up the offer and worked up his way to the No.2 analyst for the network within a few years. He then suffered a demotion of sorts before working his way up to host of the studio show, NFL Today, in 1990. Bradshaw would remain in this role for about four years during which he flourished in his job. It was therefore with crushing disappointment that he received the news that CBS had lost the right to broadcast the NFL to Fox Sports.
This heartbreak and disappointment did not last for long though as Fox immediately reached out to the retired QB and offered him a position on their network. He accepted and was named one of the co-hosts for their newly-launched NFL pregame show known as Fox NFL Sunday. Terry has remained as co-host of the program to date and has helped to build it into the most-watched pre-game show in America for the past two decades and counting.
This is thanks to the kinship that he shares with his co-hosts. Another reason is his willingness to be the butt of the jokes and generate laughs at his own expense. Such an act has made the show quite entertaining as well as an award-winning one. For his own personal efforts, Bradshaw has received three Emmys for outstanding sports personality (2009, 2002 and 2000). He and his co-hosts were also inducted into the National Association of Broadcasters Hall of Fame in 2019.
Bradshaw Has Featured In Several Movies and TV Series and Has a Star on the Hollywood Walk of Fame
Is there nothing that Terry Bradshaw can't possibly do? Asides his exploits as a football player and then as an analyst, the Super Bowl winner has also exhibited his acting skills in Hollywood. Bradshaw has appeared as himself in several TV series including Brotherly Love, Everybody Loves Raymond, Married…… With Children, Modern Family, The Larry Sanders Show, Malcolm in the Middle, and The League. He has also scored supporting roles in several movies such as Hooper, The Cannonball Run, Smokey and the Bandit II, The Adventures of Brisco County Jr., and Failure to Launch.
Failure to Launch is a 2006 rom-com about a 35-year old man, Tripp, who is still comfortable living with his parents. His parents, therefore, hire an expert, named Paula, to get him to leave their home with interesting consequences. Failure to Launch featured Matthew McConaughey in the role of Tripp while Sarah Jessica Parker was Paula. Bradshaw portrayed Tripp's father, Al, and had one famous scene where he was in the buff. Such gimmicks helped to make the movie the box office success it was.
Bradshaw's acting career may not near the heights of his NFL days but it has brought him some accolades including a star on the Hollywood Walk of Fame in October 2001.
The Former NFL Star Has Several Businesses to His Name Including a Clothing and Whiskey Line As Well As a Ranch
Terry Bradshaw may have once been derided as a dumb country bumpkin but his post-retirement activities show that nothing could be more further from the truth. The NFL legend is an astute businessman who is very smart with his money. He invests in things that he has knowledge of and makes sure to also work with people who are financially smarter than him. Such acumen has so paid off that Bradshaw now has millions of dollars worth of investments in real estate including a 700-acre farm in Oklahoma where he breeds horses.
The former quarterback also has a clothing line and a whiskey line. He additionally flips private jets the same way that other people flip houses; he buys them and uses them for some time before offloading them and getting a new one. Bradshaw's latest venture is a bourbon brand known as Bradshaw Bourbon. The line is a joint collaboration with Silver Screen Bottling Company and was rolled out in mid-2020 with one 750ml bottle going for about $39.99. The Bradshaw Bourbon is described as a quintessential drink that has notes of vanilla, coffee, banana, leather, cinnamon, baking spices, vanilla, coconut, wood, and butterscotch.
Asides from his own businesses, Bradshaw has featured in commercials for numerous companies. They include Safe Step (a company that manufactures walk-in-tub and shower), MicroportOrthopaedics (a company that produces surgical knee implants), and Supercuts (a hair salon chain). Others include Tide Detergent, Miller Lite Beer, and Nutrisystem Diet. Even though Bradshaw is now retired, his warm personality makes him a favorite pick for product ads.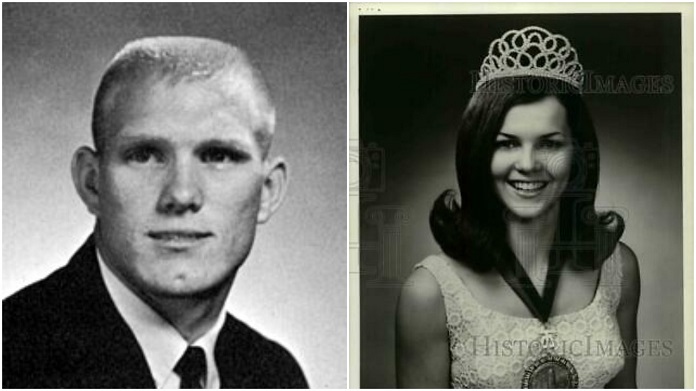 His First Marriage Was at the Age of 24 and Lasted For Just 18 Months
The legendary quarterback has been married four times and his first marriage was to a lady named Melissa Babish. Babish is a native of Pittsburgh and won the title of Miss Teen-Age America in the year 1969. This made her a local celebrity in the city of Pittsburgh and so when Bradshaw was drafted No.1 by the city in 1970, they naturally ran in the same circles. They became friends and eventually lovers and later tied the knot on the 12th of February 1972.
Melissa was 19 years at the time of the wedding while her husband was 24. Such a young age meant that they couldn't really deal with the pressures that their infant union faced including Bradshaw's struggles in the NFL. They, therefore, filed for divorce barely 18 months after marriage.
The divorce left Bradshaw, who is a devout Baptist and Christian, with feelings of guilt and he went into a self-destructive mode for some time. He later cleaned up his act and was able to resurrect his career. The Super Bowl winner has since described his first marriage as a terribly immature decision.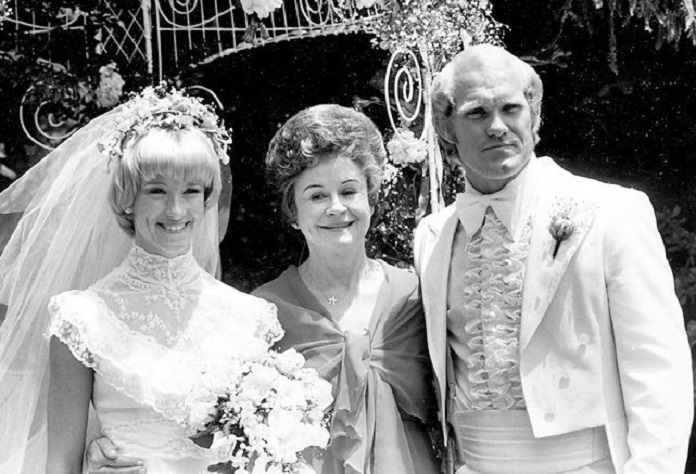 He Was Married To Olympian Ice Skater, JoJo Starbuck, For About Four Years
Terry Bradshaw's second marriage was to an ice skater, coach, and choreographer, JoJo Starbuck. Starbuck is a native of Downey, California, and started skating at the age of seven. With her partner, Kenneth Shelley, she competed in the 1968 and 1972 Winter Olympics. She also took part in the 1971 and 1972 World Championships where they won bronze medals. JoJo and Shelley also emerged U.S national skating champions on three occasions and won one gold medal at the North American Championships.
Bradshaw first saw JoJo during a performance she gave in Pittsburgh in 1976 and was immediately taken with her. He asked her out but she turned him down because she was a devout Christian. She later found out that he was also a believer and sent him tickets to one of her shows. He turned up and they ended up going to dinner. They got engaged a month later and tied the knot on the 6th day of June 1976. The union between the couple lasted for about four years before JoJo filed for divorce in August 1980.
The principal reason behind the couple's divorce was their busy career schedules. Upon marriage, JoJo continued her professional skating career and was often away from home. This annoyed her husband who believed that a woman's place should be at home. Another thing that drove the couple apart was the difference in orientation. JoJo loved the urban lifestyle of ballet and the likes while Terry was too attached to his cowboy lifestyle. This gulf proved too wide to breach and they fell apart. Their divorce was finalized in 1986.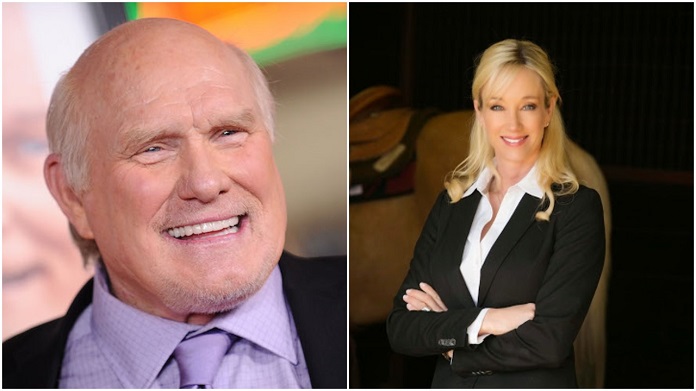 Bradshaw's Third Marriage to Charla Hopkins Produced His Two Daughters
Having realized that his much-beloved JoJo was hell-bent on divorce, Terry Bradshaw got himself together and started dating again. He eventually met then law school-student, Charla Hopkins, in 1981, and they started a relationship. The romance initially lasted for about four years during which Terry was impressed with Charla's maturity and intelligence. They later encountered some issues and broke up for sometime before getting back together again.
The couple tied the knot in February 1986 in a ceremony held at a university campus in Denton. Their union lasted for about 16 years during which they welcomed two daughters namely Rachael and Erin. They divorced in 1999.
Bradshaw and 4th Wife, Tammy, Were Together for 15 Years Before Tying the Knot 
Presently, Bradshaw is enjoying marital bliss with long-time girlfriend, Tammy. The NLF legend first met Tammy in 2002. They began dating that same year and the lady didn't even realize how accomplished her boyfriend was until about three months later. The pair sustained their relationship for 15 years before tying the knot in July 2014. They have remained strong and embark on many ventures together which include several philanthropic activities and horse breeding.
Tammy has helped her man battle depression, memory loss, and ADHD in retirement. She expertly navigates his mental funks and makes sure he takes his medication. She also travels with him, keeps his schedule, takes care of his fiancé and business, and is his all-around best friend. This has made her invaluable to Bradshaw and he has described her as an amazing woman. The retired NFL star also states that he is blessed to have her.
One of Bradshaw's Daughters is a Country Music Singer While the Other Is a Horsewoman
Terry Bradshaw has two daughters from his third marriage and they are Erin and Rachael. Erin graduated from the University of North Texas and is now a competitive horse shower. Sister, Rachael, graduated from Belmont University Nashville and is a country music singer. Both girls maintain close relations with their dad which goes way back to their childhood.
Following the divorce from their mother, Bradshaw made a conscious effort to be part of his children's lives. He made them breakfast and dropped them off at school when they stayed with him. He also helped them with homework and even got quite good at braiding their hair. The former NFL star was also sensitive to his daughter's feelings and would also encourage them when they stumbled in life. Such traits endeared him to his daughters and he is now a proud girl dad.
The girls are also quite close to their stepmother and have dubbed her a saint for all that she does for their father. The happy family, together with Tammy's daughter, Lacey, can now be seen on the reality TV show, The Bradshaw Bunch, which debuted in September 2020. The show is filmed at their ranch home and will provide an in-depth look at the family. Bradshaw has meanwhile revealed that he agreed to do the show in hopes that the publicity will help his daughters' careers.