Terry Crews is an American actor and a former professional football player. The ex-NFL defenseman is now a renowned actor most famous for his comic roles and an impressive list of films and sitcoms to his credit. Crews' industry trademark would mostly be his muscular physique and brilliant sense of humor.
Early Life & Education
Terry Alan Crews was born 30 July 1968, in Flint, Michigan, USA. He is the son of Patricia and Terry Crews Sr. He attended Flint Southwestern High School. While there, he received a special Chrysler-sponsored art scholarship to study at the Interlochen Center for the Arts. He later attended the Western Michigan University on an Art Excellence scholarship and a full-ride athletic scholarship for football.
Career Success
Crews kicked off his football career as a Los Angeles Rams after he was drafted in the 11th round of the 1991 NFL draft. After two seasons with the Rams on the defensive end, he moved on to the San Diego Chargers. He continued his impressive professional football career with the Washington Redskins and Philadelphia Eagles.
Terry Crews retired from football in 1998 and then switched to a career in acting with his debut role as T-Money in the 1999 television series Battle Dome which was however short-lived. He made his first big-screen appearance the next year in the action movie The 6th Day portraying the character Vincent.
Crews has played a variety of roles on both the big and small screens. Some of his successful works include Serving Sara (2002) as Vernon, as Damon in Friday After Next (2003), as Big Bartender in Deliver Us from Eva (2003), and as Latrell Spencer in White Chicks (2004). One of his most notable roles is as the family patriarch Julius Rock on the sitcom Everybody Hates Chris (2005). He also landed a hit role as Hale Caesar in the 2010 ensemble action blockbuster The Expendables directed by Sylvester Stallone. He reprised this role in 2012 and 2013 alongside other Hollywood icons like Stallone, Jason Statham, Jet Li, etc. He has played other hit roles such as Nick Kingston-Persons in Are We There Yet? (2010), as the Boot Camp Instructor in Bridesmaids (2011), as Sergeant Terry Jeffords in the 2013 movie Brooklyn Nine-Nine and portrayed the character Nickens in Blended (2014). He also stars in the BET reality series The Family Crews, which chronicles the busy lives of the actor, his wife Rebecca, their five kids, and dog.
Terry Crews has appeared in TV commercials which include Old Spice and Toyota (broadcast during the Super Bowl 2014), as well as music videos. He has also hosted some hit TV shows such as Who Wants to Be a Millionaire, World's Funniest Fails, and Ultimate Beastmaster, among others.
Parents
The muscular actor's father Big Terry was an abusive alcoholic and his parents eventually separated after a few years. He grew up with his mother in a strict Christian household. Crews never fails to acknowledge and credit his mother for raising him to be the man he is today and for his career success. Unconfirmed sources reveal he also has a sister named Marcelle.
Details Of His Wife and Son
Terry is married to his longtime wife, a former beauty queen, and singer Rebecca King-Crews. The couple who have been married since 1990 have five children – four daughters Naomi Burton, Azriel, Wynfrey, and a son, Isaiah.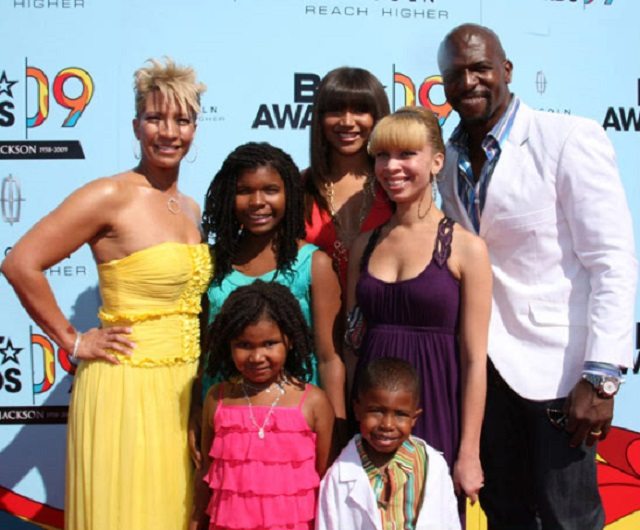 Like every other celebrity, despite having a successful career, the muscular actor has had his own share of personal and family struggles. In 2014, Crews publicly revealed that he struggled with porn addiction over the years. Terry's long-standing addiction to pornography began at the age of 12 and was so severe that he kept it a secret from everyone, including his wife. The former NFL player further opened up about the addiction in his autobiography Manhood: How to Be a Better Man or Just Live with One. Terry confessed that the addiction almost ruined his marriage but he overcame it with various therapies from the rehab.
Through all of it, his wife Rebecca loved and still stood by him. After he went public with his big announcement, Crews further shocked his fans when he disclosed that he and his wife had completed a 90-day 'sex fast' that strengthened their relationship and left them 'more in love' with each other. The devoted father and his family reside in Pasadena, California.
Is Terry Crews Gay?
Terry Crews is straight by sexual orientation but he was once embroiled in a controversy which made many speculate that he was either homosexual or bisexual. In October 2017, Crews claimed he was a victim of sexual assault and recalled an experience when he was groped by a high-level Hollywood male executive at a function he was attending with his wife in 2016. The male executive who was later identified as Adam Venit, the head of William Morris Endeavor (WME's) motion picture group, groped his genitals in an overtly sexual manner in front of his wife but Crews did not retaliate nor speak out over the incident for fear of being ostracised or sent to jail.
See Also: Jamie Foxx Relationship with Katie Holmes, Daughter, Net Worth, Height, Gay
An internal investigation was conducted by WME motion picture group over the allegation and Adam Venit was later demoted from his role to a lower capacity in the company. Although Venit later called Terry to apologize for the incident, he, however, did not give reasons for his action. Terry's revelation came at the wake of allegations against former The Weinstein Company boss, Harvey Weinstein. According to Terry, he decided to go public with the experience in order to deter a predator and encourage victims who feel hopeless about Hollywood power abuse.
Terry Crews Net Worth
Terry Crews began his acting career as an intimidating onscreen star as well as a unique comic personality and has never looked back since then. With numerous impressive roles both on the small and big screen, Crews sure earns a good amount of money from his acting career.
Asides earnings from his acting career, advertisement, and endorsements Crews also makes money from a design company Amen&Amen, which he co-founded. His current net worth is estimated at $20 million.
Height and Body Stats
Terry who is famous for his muscular physique has an intimidating body just like most professional athletes. He towers at a height of 6 ft 3 inches and weighs 111 kg or 245 lbs. He has distinctive features such as his bald head and dark brown eyes. His body specifications include, chest – 50 inches (127 cm), biceps – 18.5 inches (47 cm) and waist – 37 inches (94 cm).