Popularly known for her roles in Veronica Mars, Westworld, Creed, Creed II, and Thor: Ragnarok, Tessa Thompson has replicated the success story of her father who is a musician and songwriter. She has also followed in his footsteps as she is both a talented singer and songwriter. The actress is known to have contributed to the soundtrack of the movies; Creed and Creed II.
The actress has over the years credited her family for the kind of person she has become. Tessa does not only come from a musically inclined family but also very accommodating with members who are notable for their biracial ancestry.
Tessa Thompson's Father Is An Afro-Panamanian Musician Who Created The Musical Collective, Chocolate Genius
The Hollywood star is known to have inherited her father's artistic nature. Her father, Marc Anthony Thompson who was born December 2, 1952, is notable for being an Afro-Panamanian. His lineage can be traced to Africans who were brought to Panama back in the 1500s as slaves. As a musician, Marc is known to have worked as a solo artist since the 1980s but he gained popularity for setting up the group known as Chocolate Genuis in the late 1990s.
Over the years, the band has been able to release 5 widely acclaimed albums. The first one was Black Music (1998) which was followed by GodMusic (2001) and a couple of years later, Black Yankee Rock was dropped in 2005. Swansongs, which was released in 2010, became the 4th album of the group and the last so far is Truth vs. Beauty which came out in 2016. Although Marc Anthony has not released any new album recently, he is still pretty busy as an entertainer. He still records songs, takes part in theatre productions, as well as provides movie soundtracks.
It is also known that he is married to a photographer named, Kate Sterlin with whom he has a daughter, Zsela, and a son, Jordy Rome. However, in spite of the fact that he has a new family, Marc continues to share a strong bond with Tessa, and their daddy-daughter friendship goes back to her childhood days. Due to the divorce between her parents, Tessa's time as a child was shared between her father's place in Brooklyn and her mother's in California.
During her stay at Marc's he would come up with different things to amuse Tessa and one of such things was a video they made in which they were hunting for lizards. After that video, he started to encourage her to enhance her acting skills. Tessa was also fond of calling her father and leaving voice messages for him using different voices. These also contributed to her father's belief that she was meant to be an actress and he was right about that in the long run as Tessa eventually made a career out of acting.
The Hollywood Star's Mother Is Also Bi-racial Like Her Father
Although Tessa has not hidden her mother from the public, there are still facts about the personal life of the former Mrs. Thompson which remains a mystery to date. However, in a post made by Tessa on IG, we gathered that her mom's name is Macaillah. With regard to her family background, the only known fact is that she is half-Mexican and half-European. For her occupation, Macaillah is believed to have served in various positions amongst which include her job as a UCLA administrator.
There are also no details of her getting married after the split from Tessa's father nor has there been any rumoured relationship with another man. It won't be wrong to say that what filled Macaillah's days back then was nurturing Tessa as she is credited for helping the Hollywood star to hone her skills during her early days as an actress. Macaillah even homeschooled her daughter at some point to help her balance her budding career with the demands of school.
Beyond grooming her to take on her acting career squarely, Macaillah is also known to have encouraged Tessa to embrace her bi-racial identity. Her mother gave her all the support she needed to accept who she really is and over the years, she has been intrigued by what certain races go through because of their identity. Hence, it was no surprise to see Tessa lend her support to the Black Lives Matter movement and other causes that seek justice, especially for black folks.
Tessa Thompson Has A Half-sibling, Zsela, Who Is A Musician
The actress is not the only child of her father who caught the entertainment bug. Her half-sister, Zsela also toed the path of her dad in becoming a musician. According to her birth facts, the budding singer-songwriter was born on November 4th, 1994 and as of now, she is based in Hudson, New York City, where she is carving a niche for herself as a singer.
Her first single titled, 'Noise' was dropped in February 2019 and it had a good reception from the audience. She continues to write songs, as well as perform for charity events and clubs until she gets wide recognition for her talent.  She also has an EP which came out early in 2020 titled 'Ache of Victory'.
Tessa has been very supportive of her sister as she takes to her social media platform to promote her works. Interestingly, she is also a talented singer-songwriter and was at some time in the past a member of the band, Caught A Ghost. During the creation of Creed and Creed II, Tessa contributed to the making of the soundtracks.
Tessa Has Never Been Married But She Is In A Rumored Relationship With Dev Hynes
From what we know, Tessa Thompson has never been married. However, she has had one or two flings and relationships, here and there. Her then-relationship with Ben Crowley was heavily publicized but sadly, they called it off even before it began. In 2015, she shared a romantic hoax with Jack Gilinsky.
As of 2019, the news of another budding relationship with the British singer-songwriter, Dev Hynes began to make the rounds on the internet. The pair were first seen together sometime in January 2019 and a couple of months later, in August 2019, they were spotted together in Soho, New York City as they went shopping together and walked side by side on the street with coffee cups. This fuelled the rumours of an alleged relationship and with the coming months, they seem to be giving the public more reasons to believe they are an item.
The couple has been on vacation together and even attended the 2020 Sundance Film Festival where they continue to flaunt their relationship even though they are yet to give an official statement. Well, no matter the reason for their silence, actions they say speak louder than voice, and going by their constant dates since early 2019, the two have become an item.
The Truth About The Creed Star's Controversial Sexuality
Tessa Thompson's sexual orientation has been best described as complicated. The actress, in an interview with Porter Magazine in June 2018, publicly stated that she was both attracted to the female and male folks. However, she does not feel comfortable using the word 'bisexual' to describe her sexuality. She went on to add that her upbringing made her very carefree as her parents would never judge anyone for who they are and would definitely have no problems with whom she decides to be in a relationship with.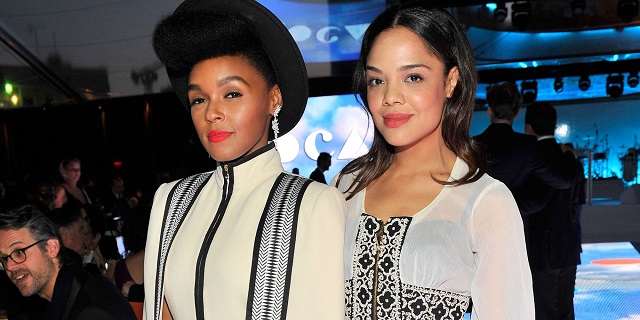 Shortly after her revelation, she appeared in the singer, Janelle Monae music video, Make Me Feel. Her seductive display in the video gave rise to rumours of her relationship with the singer. They also became very close after the video and were seen together on several occasions. However, they never revealed whether they were an item, even though Tessa had once said they love each other deeply.