Thami Ndlala is a wealthy and controversial South African businessman with a net worth that is currently estimated at R1 billion. While his fortune was acquired from his many businesses, Thami became known in the entertainment circles thanks to his marriage to actress, model, and TV personality, Lerato Kganyago.
Obviously a hard-working individual, Thami is also one of the most controversial South Africans as his name has been subjected to many smear campaigns with allegations of fraud, lies, and theft at his trail, even though the sources of his fortune seem clear enough and he has not been convicted of any crime. Amidst all these, the businessman has continued to maintain a very private life while enjoying his wealth with his wife.
Profile Summary Of Thami Ndlala
Full Name: Thami Ndlala
Date Of Birth: 1980
Age: 43 years old
Place Of Birth: Mpumalanga, South Africa
Parents: Chief Joe Ndlala (father)
Career: Businessman and entrepreneur
Siblings: A brother and sister (2 siblings)
Wife: Lerato Kganyago (Married in 2020)
Net Worth: R1 Billion
Thami Ndlala Is Currently 43  Years Old
Born in 1980 in a small town in Mpumalanga, Thami Ndlala is currently 43  years old. Also brought up in his hometown, the businessman had a knack for business from a very early age. He attended a boarding school as a child, helping him to be independent even before attaining adult ages.
As regards his education, it is revealed that he went to college with the hopes of obtaining a BSc in International Business Studies but he left it at some point, deciding to instead, channel his energy towards obtaining a degree in Employee Wellness business.
After his education, Thami started his journey in the corporate world where he worked for a while before he decided that he would own an empire. It is this drive that led him to start his umbrella company, Ndlalayemandla Group of Companies (PTY) Ltd. Since then, he has come to build many subsidiaries under this company covering things such as recreation, property development, wellness, insurance, transport, security, education, and media/entertainment.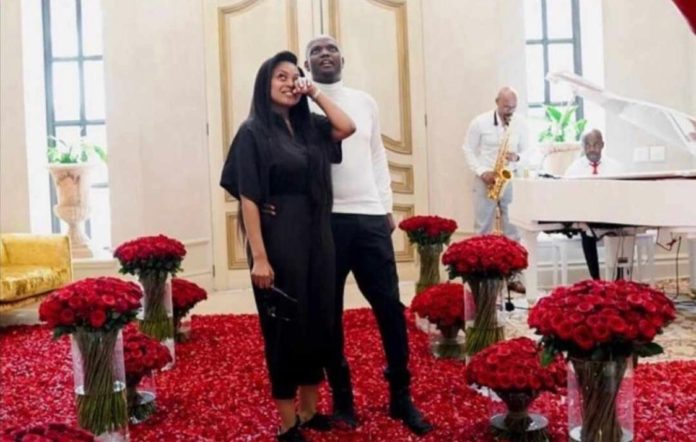 He Was Brought Up In A Famous Family
The businessman was birthed into a well-known family, at least in Mpumalanga. His father, Joe Ndlala, is said to be a chief who reportedly had a very good mind for his people. He was a social worker. Following his passage, Thami began the Joe Ndlala Foundation under which he helps less privileged people.  The main objective of the foundation is to assist talented individuals from disadvantaged homes to access good and quality education.
While there is no information available about his mother, it is known that he was brought up alongside two siblings; an older sister and a younger brother. There is nothing that is revealed about his siblings as he is the most famous and probably most successful among them. What remains unknown also, is whether he owns Two Ndlala Brothers together with his brother.
A Look At How Thami Ndlala's Net Worth of R1 Billion Accrued
In spite of the many initial claims that the businessman only married Lerato for her wealth, there is no doubt that he is a very wealthy fellow who has a net worth of about R1 billion. While he has allegedly been fingered in various cases bordering on theft and fraud, his source of wealth is believed to be the many businesses he has under his belt. He has an investment in the automotive industry in South Africa, being the founder of Two Ndlala Brothers, a luxury car rental and transport company.
He founded the Gauteng-based company in 2008 and it remains one of his main sources of fortune. Ndlala Global is another company that is owned and controlled by a South African billionaire. The business consultancy firm among other things was founded in August 2013 and it has its office in Gauteng.
Another major business involvement that adds to his numbers in a good way is his company, Thami Ndlala Holdings Pty Ltd. The company is into many things, including specialized project management, asset acquisition, business development, and management consultancy. According to the company website, it has attracted and delivered business projects that run into hundreds of millions. Its headquarters is located in Sandton, Gauteng like other businesses of the young entrepreneur, although its services cut across the African continent.
Adorantha is yet another business that is owned by Thami. Although it is not one of the popular among his numerous businesses, it is still a major one as it is estimated to have a revenue of over $2 million yearly. The company is into health awareness, healthcare counseling, and training services all over the country.
As regards the many allegations of money laundering against him, the businessman has since made it clear that anyone who has a case against him was welcome to take him to court.
His Wife Lerato Kganyago Is Also Doing Well Financially
While Thami is the billionaire, his wife Lerato is also doing well for herself financially as she has a net worth that is currently estimated at $1 million, which is approximated at R16 million. The award-winning presenter made her fortune from her career as an artist, media personality, radio DJ, and more. She is also a businesswoman and the founder of the eyelashes company, FlutterByLKG.
She also makes her fortune from the many endorsements deals she has attracted over the years, including with brands such as Rhodes Quality fruit juice, Coca-cola South Africa, Levi's South Africa, and many others. On her part, she enjoys her fortune on various properties she owns, including a house and several cars.
The Different Ways That Thami Ndlala Enjoys His Fortune
Thami Ndlala is not among the loudest rich men in South Africa who are always eager to show off their wealth. That, however, does not mean he doesn't enjoy his fortune. One of the obvious ways that he spends his money is on his woman. Lerato as he doesn't seem to hesitate to pull out the big numbers on anything that concerns her.
Thami also owns various properties in the country, including a mansion that he now shares with his wife. The property which is valued in the millions of rand is located in Sandhurst, a residential area in Sandton, Johannesburg. This is one of the wealthiest suburbs in the entire country, housing some of the wealthiest men in the country and some prominent politicians including the president of South Africa, Cyril Ramaphosa who is his neighbor. Lerato describes the president as their most interesting neighbor and she described how his motorcade drives past the gate of their mansion on social media.
The features of the mansion have not been revealed in detail but from the pictures being circulated on social media, it has a large outdoor swimming pool across a finely decorated patio, several garages for his cars, and a beautiful garden. The interior is decorated with beautiful chandeliers. It also has at least 2 living rooms with aesthetic accuracy, an intimate dining room for very few people, and another large dining room that can take more than 12 people. Something to expect, the kitchen has a top-notch design.
A lover of good cars, he spends big money on some popular wheels. Among the rides in his garage is a Rolls Royce Phantom, Ferrari, and a Bentley. All his cars are valued into the millions with the Rolls Royce valued at between R6 million to over R12 million and his Bentley is valued at between R2 million to R3 million.
His Marriage To Lerato and Why They Divorced
In 2020, one of the biggest wedding news that hit Mzamsi was that of the union between the beautiful actress Lerato Kganyago and Thami Ndlala. The marriage between the pair came as a surprise to many.
Only two months after their traditional wedding ceremony, the former Miss Soweto took to her social media to make it clear that she was ending her marriage to Thami. The reason for the break of the marriage, according to her was that they realized they had different priorities and they separately had workloads that would not allow them to fully invest in the relationship. Nonetheless, she added that they would continue to care for each other deeply while they looked forward to building their friendship.
Many did not believe the reason and explanation she provided, insisting that she was being economical with the truth surrounding why she was calling quits on the union that quick. Not long afterward, news began to make the rounds that the reason why the Metro FM DJ was leaving her man was that he was a fraudster who lied to her. A Twitter post by someone behind an account with the name Man's Not Barry Roux claimed that the DJ left Ndlala because she found out he was a fraudster. According to the tweet, he was actually born in 1988 and not 1980 as he had earlier claimed and it was only thanks to an Identity card that the actress stumbled upon that she knew the truth.
Other reasons that were pushed forward on the internet behind their divorce were all linked to fraud and deception. One claimed that he lied to her about owning a house in Sandhurst/Hyde Park but she later found out that he was only renting the property. It was also alleged that the businessman lied to her that he owned the car he was driving but she got to find out he was actually renting it.
It was also alleged that he had two Identity documents and many court cases he was pursuing. More so, it was alleged that he had fathered 3 kids which the actress did not know about until after their marriage. Neither LKG nor Thami Ndlala came out to deny all the reports going around nor give credence to them.
Following the separation, Lerato made a tweet in which she made it clear that no one was touching anything she owned. This further got people speculating that she was making reference to Thami, vowing that he would never touch anything she owned because their marriage was said to be in a community of property, putting her then ex-husband in a position to claim some of her properties.
The Pair Returned To Each Other After A Short While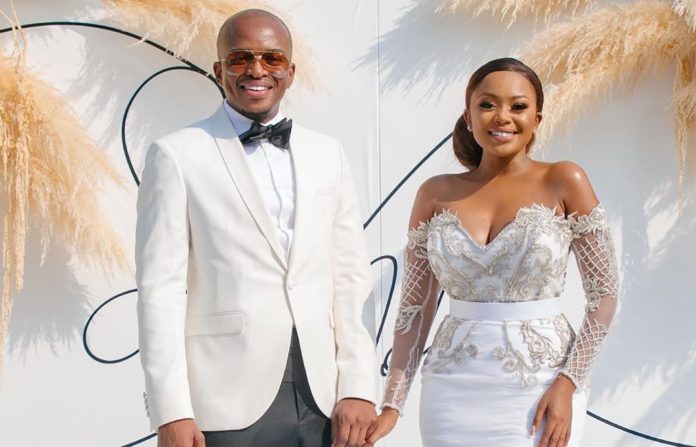 Another twist was added to the love tale between the actress and the businessman as just when the country believed their chapter as a couple was done off with, Thami surprised his LKG with a proposal. This came on her birthday when he went all out, to throw for her a surprise birthday party. She revealed that she was in her bedroom doing a radio show only for her to go downstairs and find her house covered with balloons and a design on the ground with the caption; "Will You Marry Me?" All these were efforts of Ndlala and she accepted the proposal. Soon afterward, she took to her Instagram to share her excitement.
Although it was reported only a few days after they ended their marriage that the two were back together, the engagement was not any less surprising.
Although Thami is a very private individual who has no presence on social media and Lerato keeps all information about her marriage and private life away from the public, it is known that the pair are now enjoying their very quiet marriage. In March 2021, she took to social media to celebrate her first wedding anniversary with her man. She celebrated the occasion with a simple caption; It's a year already. It was also reported that they enjoyed an intimate dinner in a restaurant in Johannesburg to mark the event.
Shortly before the anniversary, Thami Ndlala outdid all other lovers in South Africa when he booked the entire FNB Stadium on Valentine's Day to enjoy the day with his wife. He also had soul singer Zonke Dikana over to perform for them. The stadium was reportedly covered with red and pink roses with beautiful lighting to enhance the love in the air.
Thami Ndlala Has Had His Fair Share Of Controversies
Even though it is believed that it was through his involvement in different businesses that Thami came about his fortune, he has still not been able to steer off various controversies including one which seemed to linger for a long time, linking him to fraud. Among the cases against him was one in which he was accused of using fraudulent documents to buy a Range Rover. He stood trial in the Specialized Commercial Crimes Court in Pretoria where he accused a Hawks official of demanding as much as R100,000 from him.
The businessman was accused of defrauding pensioners in Mpumalanga, Pretoria, and Johannesburg. According to claims, he allegedly conned them into investing in his forex company with the promise of making so much money, but they were left empty and dry. This case was allegedly in the commercial court in South Africa and it was claimed to be one of the many reasons why his marriage to Lerato initially ended.
Yet another controversy that carried the name of the Thami was regarding his divorce from Lerato which investigations conducted by the SunTeam's alleged that their claimed separation was nothing short of a drama that was played by the two in order to help Lerato protect her brand which she worked very hard to build.