Often described as refined and delicate, Thandie Newton is easily one of the most recognizable faces in Hollywood. The British biracial actress, who had difficult childhood experiences with prejudice and racism, originally aspired to become a dancer but fate had other plans for her.
Newton is the daughter of an English father and a Zimbabwean mother. She is a princess of the Shona tribe. The young girl spent her early years in her mother's country until her family was forced to move to England due to the political unrest that broke out in the country. Growing up in London, Newton discovered her exceptional talent when she was encouraged to audition for a role in the film Flirting. The success of the movie opened a way for her to bag other roles that have made her one of the most sought-after actresses today.
While Thandie Newton has been able to enjoy huge success in her career, she has also been equally successful in her personal life as she has been married since 1998. With her being in an industry where marriages do not usually last that long, it would be really worth our while to find out the secret of her enduring relationship.
Thandie Newton and Her Husband Met on The Set of a TV Show
There are more than a number of couples who are involved in the movie industry that met in the line of duty. This is also the case with Thandie Newton and her husband Oliver Parker, better known by the name Ol Parker.
Newton's spouse is an Englishman who earns a living as a movie director and writer. He takes the credit for writing and directing movies like Mamma Mia! Here We Go Again – the popular 2018 musical film. The filmmaker has other credits that include 2005's Imagine Me & You which he directed and also wrote the script for, 2011's The Best Exotic Marigold Hotel, Now Is Good that was released in 2012, and The Second Best Exotic Marigold Hotel in 2015.
While Thandie Newton was giving expression to the character of Clare on the set of the BBC television film, In Your Dreams, in 1997, her path crossed with that of Parker who was the scriptwriter for the production. According to the records, it was love at first sight for Newton, but she had to really work hard and exercise patience until her heartthrob came to reciprocate her feelings. When Parker finally began to see her in his future, the couple wasted no time as they went ahead to solemnize their union the following year in 1998.
Their Union Has Lasted For More Than Two Decades
With more than 20 years of what is believed to be a blissful married life, one would not be totally off the point to say that Thandie Newton and her husband are well on their way to becoming one of the favorite celebrity couples of our time. Now, what is that perfect relationship glue that has successfully cemented this biracial union for over two decades? From what is perceivable, it is simply love and unflinching support from both parties. Both Newton and her husband have always been known to be supportive of each other's endeavors and are seen everywhere together, be it dinners, functions, and events.
Newton, who has always been very supportive of her husband's career, was no different at the Mamma Mia! Here We Go Again London premiere when she appeared alongside her two teenage daughters Nico and Ripley. The 5 feet 3 inches tall actress looked quite beautiful in her strapless graphic print dress. She made sure to attract loads of attention by adding a pair of glittering teardrop diamond earrings to the ensemble enhancing her natural glow. As if that was not enough, the star of Mission Impossible 2 teamed the look with black strappy sandals featuring a pearl fringing as she posed with the love of her life.
Newton Dated Other Men Before She Met Parker
Before Parker, Newton was involved with a few men, at least two that we know of. The actress was still in her teenage years when she experienced love for the first time and it was with John Duigan – an Australian film director who was 23 years her senior. Their romance endured for six years before they called it quits.
Everything about Thandie Newton's love life seems to revolve around the movie world as her next boyfriend also came from the entertainment industry. Brad Pitt became part of her life in 1994 after they met on the set of Interview with the Vampire. Reports, however, say that their dalliance was rather short-lived as it ended the next year in 1995.
See Also: Penelope Cruz Husband, Sister, Children, Nationality, Measurements
Thandie Newton Has Three Children With Her Husband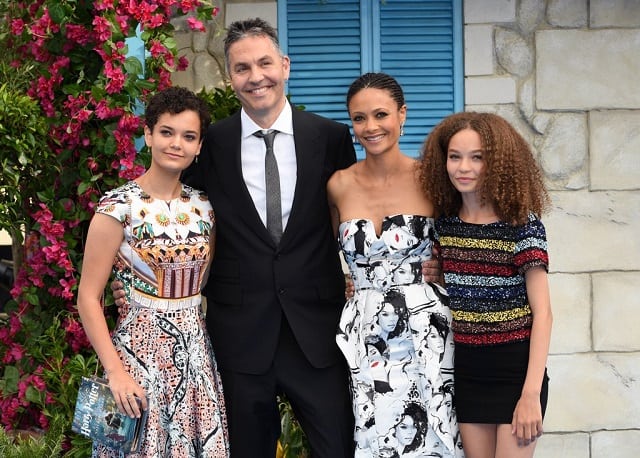 Apart from being a wife for over 20 years, Thandie Newton is equally a mother of three beautiful children. Two years into her marriage with Parker, she gave birth to the first fruit of their love – a daughter named Ripley Parker on the 17th of September 2000. Ripley soon became a sister to Nico Parker, the couple's second daughter born four years later in December 2004. The only son of the Parker family, Booker Jomber Parker, arrived on the 3rd of March 2014 after a decade-long gap.
One interesting fact about Thandie Newton's journey into motherhood is that the celebrated actress had home births with all her three children. In fact, she is the epitome of motherhood as she believes that breast milk is the best for children. This belief in the efficacy of a mother's milk led Newton to breastfeed her last child Booker until he clocked two years of age. The popular entertainer was never averse to breastfeeding her baby in the public; she was even proud to share an Instagram photo of where she was breastfeeding at a music festival.
The Actresses' Mouth-watering Fortune
Thandie Newton has been active in the film industry since 1991. During that time, she has amassed a decent fortune for herself giving the strong and dynamic performances she has portrayed across various film genres. As of 2020, her net worth is estimated to be around $12 million.
Her debut on the set of Flirting was just a stepping stone for bigger-budgeted movies and acclaims that awaited her in productions like Mission Impossible II and Jefferson in Paris. Other movies she starred in that helped her attain the status of a full-fledged A-list star, and also saw her earn a decent paycheck include Crash, The Truth About Charlie, the NBC drama ER, the HBO action drama Westworld, and Solo: A Star Wars Story.
In addition to her acting, Thandie Newton is also noted for her activism. For many years now, she has been an activist leading the Hollywood campaign in fighting against sexual harassment and violence against women in the film industry. She is also one of those actresses who publicly voice their resentment over the pay gap between female and male actors in Hollywood.
Thandie is equally a philanthropist who spends her time raising funds for worthy causes like the environment and impoverished third-world nations.