Often described as refined or delicate, Thandie Newton is easily one of the most recognizable faces in Hollywood. The British star is one of the biracial actors and entertainers who had difficult childhood experiences from prejudice and racism.
Here are lesser known facts about Newton who has channeled her childhood struggles into influential positive causes in the movie industry.
Age, Early Life, and Rise to Fame
The star actress was born Melanie Thandiwe Newton on 6 November 1972 in Westminster, London, UK. Raised in Penzance, Cornwall, Thandie always had an interest in performing arts. At a young age, she enrolled in London's Art Education School where she learned dancing.
Sadly, Newton had to give up her dreams of dancing after she sustained a back injury in her teenage years. Thandie would later attend Downing College, Cambridge where she earned for herself a degree in Social Anthropology.
Before college, Thandie moved to Los Angeles, California, in pursuit of her acting career but later returned to London. Her first movie appearance was at age 16 with the starring role in the 1991 movie Flirting. Her next movie role was as a house slave alongside Brad Pitt and Tom Cruise in the movie Interview with the Vampire (1994). The role that undeniably shuttled Thandie to fame is her character as Nyah Hall in one of the world's most lucrative non-superhero action franchises Mission: Impossible.
Her other notable works include Beloved (1998), the hit medical series, ER (2003 – 2005), Crash (2004), The Pursuit of Happiness (2006), Tyler Perry's For Colored Girls (2010), Half of a Yellow Sun (2013), HBO's sci-fi western thriller series Westworld (2016), Gringo (2018), the Star Wars prequel Solo: A Star Wars Story (2018).
Her Net Worth 
Thandie who has been active in the film industry since 1991 has amassed a decent fortune for herself. Given the strong and dynamic performances she has portrayed across various film genres, Thandie Newton has a net worth estimated at $25 million.
For over 20 years, Thandie has been an activist leading the Hollywood campaign in fighting against sexual harassment and violence against women in the film industry. She is also one of those actresses who publicly voice their resentment over the pay gap between female and male actors in Hollywood.
Thandie continues to be a trailblazer leveling the playing field not just for women, but for all minorities who someday dream of fame and a well-deserved financial recognition in the industry.
Thandie Newton Parents, Husband, Kids, and Family
The London-born star is the daughter of Nick and Nyasha Newton. She is of mixed ethnicity as her dad is a British laboratory technician and artist while her mum is a former district nurse and a princess from the Shona tribe of Zimbabwe. Thandie has a younger brother named Jamie Newton.
Though born in England, Thandie's family lived in Zimbabwe until she was three, they returned to the UK due to political unrest in the African nation. Growing up as a mixed-race child in Britain's south coast, Thandie had a racially isolated upbringing, particularly at school. Being the only black children in the area, Thandie and her brother Jamie battled issues surrounding their ethnicity and often felt out of place. They encountered racism from some of the locals but were mostly shielded by their parents.
Nonetheless, Newton has channeled the ethnicity and identity issues into something positive as she continuously strives to use her influence to make the film industry a more welcoming place, especially for biracial actors.
See Also: Penelope Cruz Husband, Sister, Children, Nationality, Measurements
Thandie Newton is happily married to Ol Parker, a scriptwriter, and director. The couple has been married since 1998; they have 3 children together, two daughters – Ripley Parker born on 17 September 2000, and Nico Parker born in December 2004, as well as a son Booker Jomber Parker born on March 3, 2014.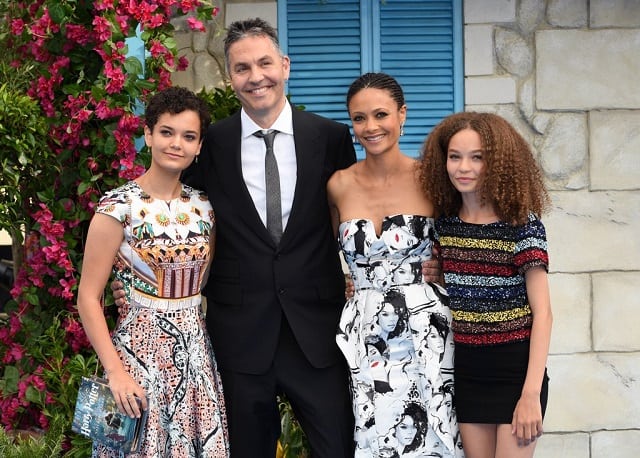 Before meeting her current heartthrob, Thandie who seems to have a love life that has revolved around the film industry was romantically linked to Australian film director John Duigan. At age 16, she began dating the filmmaker who was 23 years older than her, the relationship lasted for six years. She also dated actor Brad Pitt but the relationship was short-lived as it only lasted for a year (from 1994 to 1995).
Height
The beautiful and slender Thandie stands at an average height of 5 feet 3 inches and weighs 51 kg. Her body statistics are 34-24-33 inches.