Thando Thabethe and Lunga Shabalala will always be counted among the popular figures in the South African entertainment industry, but that's not all they have in common as they were once lovers. Now that their relationship has packed up, what they had continues to pique the interest of many as much as the story of their breakup has been newsworthy.
While the former is an actress who has thrived as a television host and radio DJ, she is revered in some quarters for being the first African brand ambassador for Nivea. Like Thando, Lunga has also made a living through acting. More than that, he is a model and a TV presenter whose journey to stardom began as the presenter of Selimathunzi, a variety TV show.
Thando Thabethe and Lunga Shabalala's Secret Relationship Began in 2009
It is hard to tell when Thando and Lunga met for the first time. But as they have both been a part of the entertainment industry, it wouldn't be out of place to conclude that they have known each other for a while and well-acquainted before their relationship began.
Even though it is widely believed that the two were lovers, neither Thando nor Lunga ever confirmed that they were an item. It started circulating that the two were having something special in mid-2019, during the Vodacom Durban July weekend, where the two were spotted together. Thando shared a picture from the event online, and it fueled the speculations.
RT when you see it 😂😂😂 pic.twitter.com/I4Lb0qUFwQ

— Thando Thabooty (@Thando_Thabethe) July 7, 2019
But then, while their fans anticipated a confirmation, none was forthcoming as the people involved were not eager to bare their private life to the public just to sate the curiosity of their fans.
It Became Clear They Were Dating When They Vacationed Together
To a large extent, it was frustrating for Thando Thabethe and Lunga Shabalala's fans to keep up with the relationship. Nonetheless, it became apparent that the two were indeed having a romantic relationship when they vacationed together.
As it was reported, they both traveled for holiday to the Maldives, an archipelagic island country in South Asia. One may be tempted to conclude that this could be a coincident but then, they were hosted by the same luxury travel agency, Priority Travel by Arrangement, and were booked in at the same resort, Centara Grand Island Resort & Spa Maldives.
Why the entertainers decided to keep their relationship a secret has also been left to speculations. But given the buzz that followed the supposition that they were dating, one may as well conclude that they went low key to avoid the attention they eventually got.
What We Know About Thando Thabethe and Lunga Shabalala's Breakup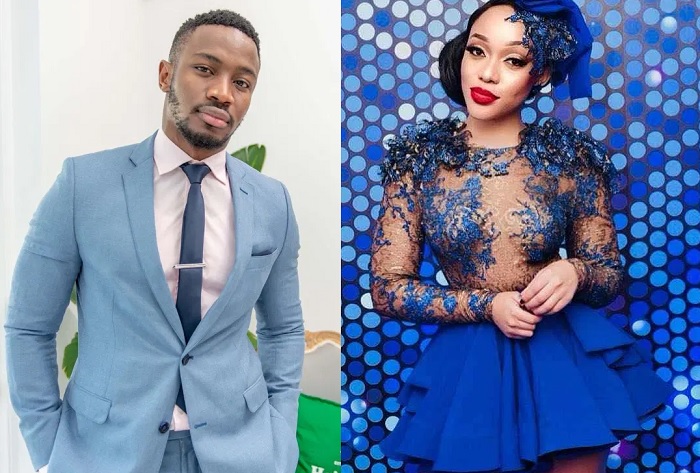 For a couple that made it a duty to keep the people guessing about their relationship, it is hardly a surprise that they have kept mum about their break up. Hardly can anyone tell what led to it just as who pulled the plug has not been disclosed. How then did people get to conclude they have parted ways? Well, Thando has a new lover; nothing makes it clearer than that.
Time would probably unveil why and when Thando and Lunga parted ways. Yes, people didn't know that the two were no longer together until Thando's new lover made a post about her being his Lock Down partner earlier in 2020.
If you know anything about Thando's relationship history, you wouldn't expect her to discuss the failed relationship with Lunga Shabalala. Not long past, she was engaged to a fellow named Frans Mashao, whom she described as "the one." But as fate would have it, they never got to walk down the aisle and Thando has relentlessly refused to talk about what made them call off the engagement. The only time she talked about it, she only confirmed her split from Mashao and pointed out that she doesn't need to tell people why they abandoned getting married.
Meanwhile, it has been speculated in some quarters that Lunga Shabalala cheated on Thando. Nevertheless, this claim has not been substantiated in any way. To the best of our knowledge, people came to this conclusion based on the fact that Lunga's ex, K Naomi, accused him of cheating.
Meet Thando Thabethe's Current Boyfriend
Name: Jaji Albortore (Abolore Jaji)
Occupation: Entrepreneur and Business Executive
It came to light that Thando Thabethe is no longer in a relationship with Lunga when Jaji shared a photo of him and Thando online, describing her as his "Lock Down Partner"; this happened sometime in April 2020.
Even though Jaji has always been a popular face in showbiz, being Thando's lover has earned him increased attention and scrutiny. People are eager to know more about him: who he is, where he's from, what he does for a living, and what have you. In addition to that, they also want to know how he met the actress, and when they started dating.
Being someone who has always cherished the idea of keeping one's private life private, it is easy to see why Thando has said little about her current lover. This also explains why it was Jaji that disclosed the relationship.
We are yet to authenticate how they met and the circumstances that led to their romance. Nonetheless, Thando confirmed recently during an interview session that she is not single. For many, this is her way of validating the reports about her and Jaji.
Jaji Albortore Is a Nigerian Entrepreneur
While Jaji Albortore is a popular face in the South African showbiz circles, much of him is not known to the public. But going by his Instagram bio, the man is an astute entrepreneur and business executive.
He is the CEO of Booth Night Club located in the heart of Johannesburg, in Parkmore Sandton. He also owns Highland Movers (Pty) Ltd and is the founder of BoothFest Foundation.
From what we gathered, Jaji is a Nigerian Entrepreneur based in South Africa. He studied Sociology at the University of Ibadan located in Western Nigeria.