Many people may not know Tharita Cesaroni as she still guards her private life even after tying the knots with a famed celebrity. She is an Italian national, who is also earning a living in the entertainment industry as a cinematographer and movie producer. Tharita gained massive popularity following her marriage with Dermot Mulroney – a famous Hollywood actor best known for the part he played in productions such as August: Osage County, My Best Friend's Wedding, The Batman, and Friends.
As the spouse of Dermot, Tharita Cesaroni has accompanied her significant other to several award ceremonies, movie premieres, as well as media events. It is regrettable that those are the only time we get to see her under the spotlight, as she is naturally a private person, who prefers to have very little to do with the limelight. However, the records hold that one of her parents was part of the Italian entertainment industry which explains why the wife of Dermot got hooked with the cinema from her formative years.
Tharita became successful as a cinematographer, working in her home country as a movie producer for several years before she met her husband, and consequently relocated with him to the US. Despite being the wife of a Hollywood star, the Italian native opts for a quiet life with her family and goes without a presence on any of the social media platforms.
Who is Tharita Cesaroni?
No one is privy to information on the exact date of birth for the wife of Dermot Mulroney, but records show Tharita Cesaroni's year of birth as 1973 which places her in her mid-forties. The daughter of Franco Catullé (father) and Emy Cesaroni (mother) was born and brought up in Italy. While her dad's profession is not known, it is common knowledge that he is a native of Catanzaro, Calabria. Her mother Emy is involved in the world of showbiz as a singer cum actress and is a native of Temi Italy. No details exist about her siblings, thus it is hard to say whether she is an only child, or grew up alongside other siblings.
Tharita Cesaroni was all for the quiet and serene life before the advent of Dermot Mulroney into her life. However, she had no choice than to come out from her safe haven after the duo exchanged marriage vows in 2008 at an undisclosed location. Besides, the exact date of their nuptial was never made public, but it was glaring that their union commenced barely a year after Dermot's divorce with his first wife became official. This made fans go on a speculation spree as to whether they were already together before the split. There are still people who are of the opinion that the Tharita-Dermot dalliance may yet be revealed as the root cause of the end of Dermot's first marriage.
Following their nuptials, Dermot and his wife Tharita Cesaroni had to make their new relationship status officially known to the media and general public. It is important to note that Dermot's first wife is another big name in the entertainment industry. She is none other than Catherine Ann Keener – a popular actress of American origin and the mother of his first son Clyde Mulroney. However, the union came to an end in a 2007 divorce.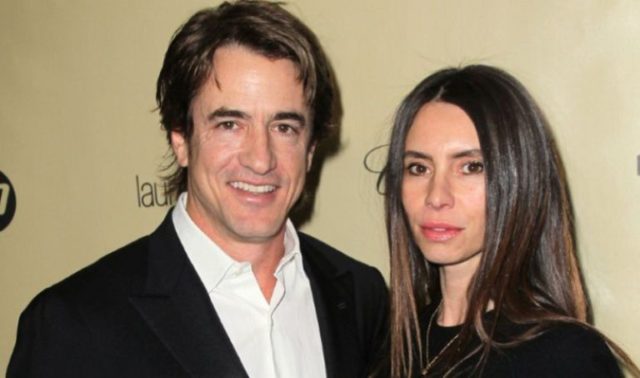 Read Also: The Truth About Althea Flynt (Larry Flynth's Wife) and How She Died
Does She Have Children?
Speculations ran rife that Tharita Cesaroni was probably in the family way before she exchanged marriage vows with Dermot in 2008. This assumption was founded on the grounds that it was barely nine months after their nuptials that she gave birth to her first child – a beautiful baby girl named Mabel Ray Mulroney, whom they baptized at San Pietro's Church located in Roccascalegna, Abruzzo Italy. The couple didn't let the grass grow under their feet before providing Mabel with a baby sister Sally June Mulroney, who announced her entrance the next year in 2009.
Along with her husband Dermot and two adorable daughters, Tharita Cesaroni is a current resident of Los Angeles, California. The Mulroney family appears to be a closely-knit one as they are often spotted together, vacationing or attending ceremonies and events as a unit. However, the couple is averse to discussing their private life in the public realm and thus, prefer to live a low-key life away from prying eyes, especially the media spotlight. On her own part, Tharita is obviously basking in her husband's wealth as she has taken to the luxurious life since her nuptials with Dermot.