In South Africa, shopping centers have shifted from those age-old traditionally organized places where people can walk in and purchase stuff off the shelves. They have now been transformed into advanced and sophisticated forms of recreation centers. Today, we can talk about the biggest malls in South Africa, and the list is quite long. From the Fourways Mall in Johannesburg aptly dubbed a shoppers' paradise to Menlyn Park Shopping Centre in Pretoria with its massive 500 shops in a 177,000m² retail area. What of Gateway Theatre of Shopping – a former sugar-cane plantation turned mall in Umhlanga that has brought so much development to the area. We are yet to mention the famous Mall of Africa that represents all the regions on the black continent – East, West, North, Central, and East Africa.
All these South African mega shopping malls are home to the best of fashion, footwear, accessories, groceries, entertainment, and a whole lot more. A wide variety of anchor shops are always on hand to offer their services in any of the aforementioned areas. Besides, you cannot run out of cash at any of the malls as there are also banks and financial institutions that are ready with alternative banking channels at strategic locations.
How Much of an Economic Success Are Malls in South Africa?
The sluggish growth in South Africa's economic sector notwithstanding, brand new shopping malls keep rising in all parts of the country and presently, SA can boast of 1,785 mega shopping centers. According to a feasibility study on malls conducted by the MD of Urban Studies, Dirk Prinsloo – malls in SA are found to be higher relative to their emerging market peers. Some, he said have up to four times its population. Some even exceed that of several developed economies. Besides, even in the midst of the decades-long concern about mall space reaching saturation, the growth continues.
Many retailers depend on malls for growth opportunities. The likes of grocers, fashion retails, entertainment, accessories, and more only experience rapid expansion when they anchor their shops in strategically located shopping centers. For host communities, malls have recorded tremendous impacts like increased employment opportunities for the locals. Mall sales constantly create economic multipliers for the host communities, and we are yet to factor in community stabilization, blight removal, increased tax revenues, and other benefits that are sure to emanate from construction-related expenditures.
Even in other parts of the black continent of Africa, South Africa takes the credit for providing the investment muscle behind the establishment of shopping centers. This has been witnessed in several countries in West Africa and beyond. To cap it all, an apt instance about the economic success of malls in SA can be drawn from Shoprite. While the mega shopping mall has 1,240 centers in 18 African countries, SA is home to over 1,000. From this narrative, it is safe to say that South Africa's economy has been positively impacted by the establishment of shopping malls.
List of The Biggest Malls in South Africa
1. Gateway Theatre of Shopping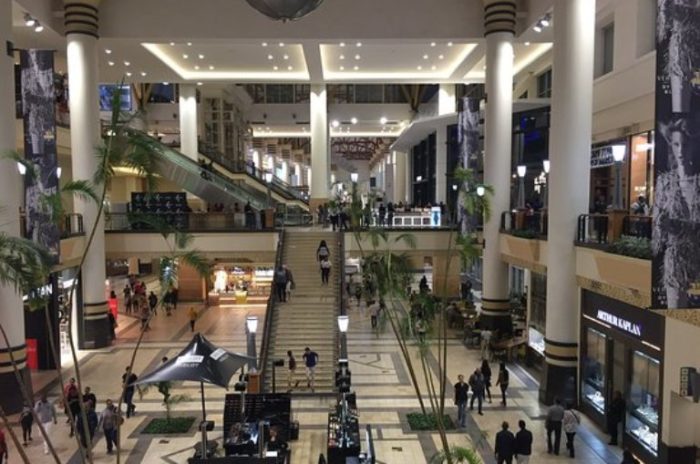 Area: 186,526 m²
Number of Stores: 460 stores
Year Built: September 2001
Address: 1 Palm Blvd, Umhlanga Ridge, Umhlanga, 4021, South Africa
Town or City: Umhlanga
Opening and Closing Times: Monday to Thursday from 09h00 to 19h00;
Friday and Saturday from 09h00 to 21h00;
Sunday from 09h00 to 18h00
First among the biggest malls In South Africa is Gateway Theatre of Shopping. Originally a sugar cane plantation, turning the spot into a shopper's paradise has led to a lot of developmental advancement for the Umhlanga region, both residential and commercial developments are very visible in the vicinity. Construction on the old sugarcane plantation took off on the 3rd of March 1998 and in September 2001, Gateway Theatre of Shopping was inaugurated as it opens its doors to the public, both local and international shoppers.
Located in the holiday hub of Umhlanga north of Durban, KwaZulu-Natal, the mall houses popular international brands and local South African retailers. The vendors on the ground run into hundreds – international chains, kiosks, unique stalls, and everything in-between. These come in the form of banks, technology-oriented shops, foreign exchange service providers, interior design studios, boutiques, supermarkets, and more. The stores to look out for at the mall are Musica, Typo, iStore, Edgars, Stuttafords, Game, Woolworths, Accessorize, Sunglass Hut, Fossil, Earthchild, and Guess. Others are Donna Claire, Foschini, Forever New, Jenni Button, Hugo Boss, La Senza, Polo, Hilton Weiner, Country Road, Lacoste, Zara, and Truworths.
The number of fast foods, coffee shops, and restaurants is almost as many as the shops and equally as varied. The presence of these usual take-away emporiums is boosted by Marcel's Frozen Yoghurt, Kauai, Baglios Gelateria, Lekker Biltong, and Wakaberry, all for the benefit of hungry shoppers. Family and friends can satisfy their quest for entertainment at Action Bowling, Adventure Putt-Putt, Action Karting, and Dodgem Cars for both adults and children. Grownups can buy a ticket from the cinema at Cinema Nouveau, 18 Ster-Kinekor theatres, two iMax theatres while the little ones indulge at Mr. Funtubbles Fabulous Funfair. The 4,000 square meters skate park houses the only existing kidney bowl in all of Southern Africa and we are yet to mention the science-themed park providing entertainment for visitors of all ages.
A valet parking, a shuttle service, and a car wash make Gateway Theatre of Shopping the ultimate in convenience. For the public ablution, there are well-equipped family rooms providing comfort for parents to tend to the needs of their kids. Disabled shoppers can leverage the manual wheelchairs services and there are paramedics, fire marshals, first aid, and security – all these are on the ground for the benefit of visitors.
2. Fourways Mall in Johannesburg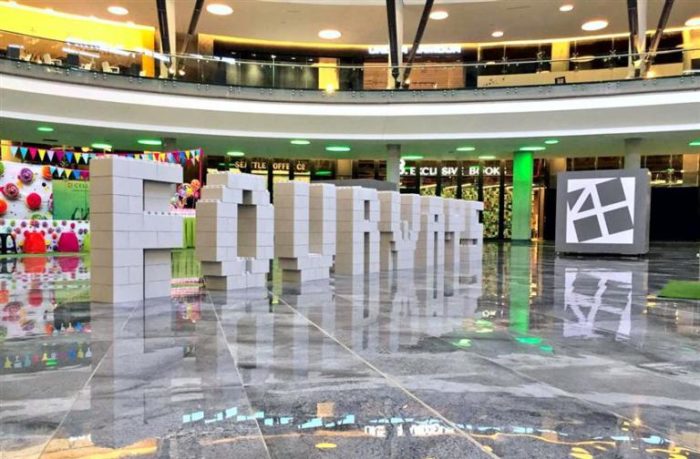 Area: 178,000 square meters
Number of Stores: 400
Year Built: 1994
Address: 11 Ruby Cl, Witkoppen, Sandton, 2068, South Africa
Town or City: Sandton, in suburban Johannesburg
Opening and Closing Times: 9 am to 8 pm every day and on Sundays, they close by 5 pm in the evening.
When you think of the biggest malls in South Africa, you think of Fourways Mall in Johannesburg. The shopping mall first opened its doors to the public in 1994, operating with a capacity of 85,000 square meters. After many years of successful operations, the management of the mall went back to the drawing table and came up with massive expansion plans. Consequently, the doors of the shopping center were closed while construction was going on and after missing several deadlines, Fourways Mall opened its doors again in 2019. The newly redeveloped/revamped multi-billion mall was pronounced one of South Africa's largest shopping centers with a boosted capacity of 178,000 square meters.
The redeveloped mall can boast of 400 stores selling different kinds of merchandise, including services. The parking bays are currently pegged at 8,000 with five different entrances, some designed to cater to the physically disabled as well as the wheelchair-dependent shoppers. The shopping center opens by 9 pm every weekday, including Saturday to close by 8 pm. They make an exception for Sundays when they close their doors as early as 5 pm. Accelerate Property Fund is the known owner of Fourways Mall but former Absa executive, Kennedy Bungane, is the main man.
This shopper's haven attracts tons of people who love the best of entertainment and retail markets to the vibrant and effervescent City of Gold, Johannesburg. With its anchor tenants like Woolworths, Food Lovers, Game, Roots Butchery, WestPack, Checkers Hyper, and Pick n Pay, Fourways Mall has remained the venue of choice for fun lovers. The forever hustling and bustling spot is also home to iStore, Forever New, Earth Child, Foschini, Old Khaki, Guess, Levi's, and Edgars. It is more than just a convenient one-stop-shop for the grown-ups, children and the young-at-heart can enjoy plenty of entertainment – BOUNCE Inc – an indoor trampoline park known for trampolines, dodge ball, basketball courts, party venues, and rock climbing walls is well represented at the mall. What's more, The Fun Company is also visibly present too, with their bumper cars, mini-golf, arcade games, and more, kids are sure to have the best of fun!
This landmark facility hosts over 30 restaurants and fast food options for hungry shoppers as well as those meeting loved ones for a quick cuppa. The variety of eateries to pick from include Burger King, Steers, Debonairs, Wimpy, and KFC. The list still extends to include the likes of Simply Asia, Mugg & Bean, Adega Express, and Ocean Basket. The entertainment section also contains a movie theatre which is a sought-after spot in the country. Banks like FnB, Standard, Nedbank, and others are well represented.
3. Menlyn Park Shopping Centre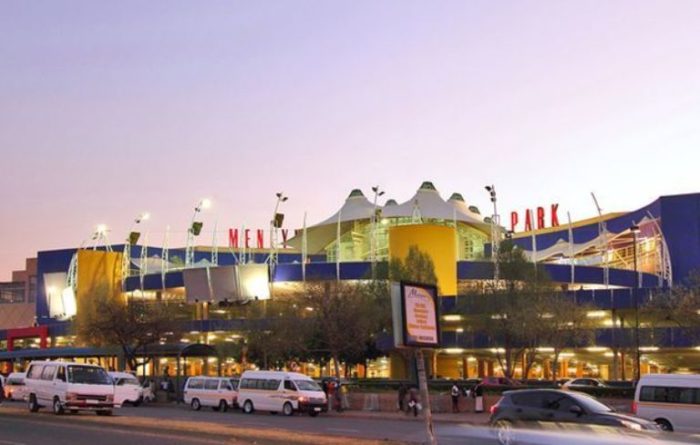 Area: 177,000m²
Number of Stores: 500 stores in three Shopping Levels floor count
Year Built: 1979
Address: Atterbury Road And, Lois Ave, Menlyn, Pretoria, 0063, South Africa
Town or City: Menlyn, Pretoria,
Opening and Closing Times: 9 am–9 pm
Third on our list of the biggest malls in South Africa is Menlyn Park Shopping Center. Though built in 1979, the center has undergone several expansions and redesign processes. The first expansion and transformations were undertaken by Bild Architects in 1988 and in 1998 – Development Design Group, a known American design firm undertook the redesigning project of the center, leaving it with its present unique appearance. Another expansion project happened in 2000 which increased the number of shops to 300 and the space to 118,253m². In August 2019, Menlyn Park Shopping Center witnessed the completion of yet another major refurbishment and modernization, bringing it to the present 177,000m² (1,000m² short of the capacity of Fourways Mall) with a total of 500 shops. The project which lasted for two years swallowed a whopping R2.5 billion and from what is obvious, it has converted the place to Pretoria or Tshwane's regional shopping center. While the execution works were handled by Concor Construction, the design was undertaken by Terra Ether Architects and BILD Architects.
The ideal locale of the center just outside of Johannesburg ensures an irresistible allure in addition to a constant buzz. The present 500 stores of the shopping center range from massive department stores to specialty shops, international labels, boutiques, and many more. Also represented are banks, coffee shops, audiovisual suppliers, multiple entertainment facilities, dozens of eateries and restaurants, and the likes. The busiest and largest of stores at Menlyn Park Shopping Center include Stuttafords, Woolworths, Carrol Boyes, Truworths, Edgars, Exclusive Books, Apple iStore, and Earth Child Clothing. Others are Forever New, Guess, Cavallo, Adidas, Uzzi Clothing, Billabong Soviet, Levi's, Toys R Us, and Accessorize. Menlyn Park truly has something for everyone.
Other interesting attractions at the shopping center include an Imax Theatre which has given cinema a thrilling face, a play park, the world's first rooftop drive-in, a go-kart, helicopter rides, quad bikes, and fufi slides. The young and old alike find the 3-D movie theatre irresistible as they can enjoy movies from a new and exciting perspective that completely draws you in.
There is also a well-established concierge service ensuring that visitors to the center get their money's worth as well as get the best shopping experience completely devoid of any inconveniences. Among their services are VIP and diplomatic parking, wheelchair access, a Muslim prayer facility, and multiple information desks designed to provide shoppers with assistance where and when needed. Little wonder Menlyn Park Shopping Center has won a good number of prestigious awards in the past.
4. Canal Walk in Cape Town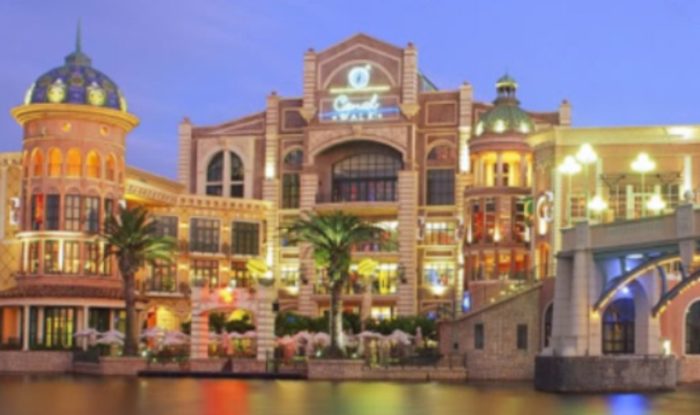 Area: 141,000 m²
Number of Stores: 400+
Year Built: 26 October 2000
Address: Canal Walk, Century Blvd, Century City, Cape Town, 7441
Town or City: Century City
Opening and Closing Times: 9 am to 9 pm Monday to Sunday
Situated in what is referred to as the "Cape Venetian architecture", Canal Walk deserves a spot among the biggest malls in South Africa. It is the first choice for Cape Town residents who have some spare Rand to blow on shopping. Its 141,000 square meters floor capacity houses over 400 stores, including chain stores, boutiques, specialties; all retailers and categories. There are numerous restaurants, 7,000 parking bays, a game arcade, and 20 cinemas. Anchor tenants at the mall comprise the department and national stores some of which are the country flagships. Every imaginable service is available here, including body piercings, tattoo artists, and what have you.
For your emergency Christmas shopping on Christmas Eve, rainy day shopping, and the likes, think Canal Walk. Hungry shoppers can make stops at its 16 restaurants, coffee shops, and numerous bars. What of the Food Court which is suffused with fast food spots that whisk all kinds of delicacies in a jiffy. Equipped with plasma television, the mall's Relaxation Lounge boasts leather couches where visitors can tuck into their hobbies watching televised sport and perusing the tabloids. Wives and girlfriends can pamper themselves at the health and beauty salons. There are also Visitors Information Centre services in addition to a first aid service.
Young minds are fascinated by the 17 Nu Metro Cinemas, the luxury Cinema Privé, MTN Science Centre, and Wonderland play center. Canal Walk is made mummy-friendly by the presence of baby changing facilities, feeding and breastfeeding facilities complete with a microwave. Family outings are made easier with the presence of private kiddie's cubicles with diminutive basins and toilets. The mall's 7,000 parking bays boasts easy access for parents pushing prams and the disabled in wheelchairs. Constant holiday and special events entertainments are organized on a regular basis. There is no better place to get a comprehensive shopping experience in Cape Town than Canal Walk with the fashion specialty stores, gift shops, homeware, jewelry, leatherware, shoes, music, arts, and more.
5. Eastgate Shopping Centre
Area: 141,000 m²
Number of Stores: 300 diverse retail outlets
Year Built: 1979
Address: 43 Bradford Rd, Bedfordview, Germiston, 2008, South Africa
Town or City: Bedfordview, Germiston
Opening and Closing Times: Monday to Thursday – 9 am to 7 pm, Friday – 9 am to 9 pm, Saturday and Sunday – 9 am to 6 pm
When Eastgate Shopping Centre was inaugurated in 1979, it became the largest shopping center in all of the southern hemisphere and has remained on the lineup of the biggest malls in South Africa. Following its 2010 expansion projects, it began operating on office and retail space of 121,000 square meters. A few years down the line, Liberty Life construction company undertook the modernization and redevelopment of both office and retail components of the center and following its completion in 2017, Eastgate now boasts of over 141,000 square meters.
Sitting in Johannesburg's eastern suburb, Eastgate's unique features make it a popular brand in SA. Visitors who frequent the mall are exposed to a plethora of interesting activities. Parents with kids can bring them along as there is a lot to keep them occupied. What's more, visitors can enjoy free WiFi in addition to convenience. Dubbed "Africa's greatest shopping adventure, Eastgate is all about glamour, variety, fun, and many more. This Bedfordview bobbling spot is fantastic for shopping sprees, errands, mouth-watering delicacies, and non-stop entertainment.
The anchor retail stores include the likes of Stuttafords, Checkers Hyper, Woolworths, Game, and Edgars. Shopaholics are also exposed to the widest range of both products and services by the presence of lesser-known boutiques and stores. The Eastgate experience encompasses, shoes, accessories, jewelry, appliances, technology, home décor, perfume, and more.
The restaurants to look out for at Eastgate include Mantovani's, Nando's, Piatto, Plaka, Simply Asia, and Primi Piatti. These showcase mouth-watering cuisine styles from all parts of the world. The latest movie releases and blockbusters are available at Ster-Kinekor movie theatres. Convenient toilet facilities are located at strategic spots throughout the shopping mall, there are special ones to take care of the needs of paraplegic shoppers. Baby feeding rooms ablutions, free parking bays (some dedicated to the disabled), and Wheelchairs for hire (at R100.00) are some of the major facilities at Eastgate.
6. The Pavilion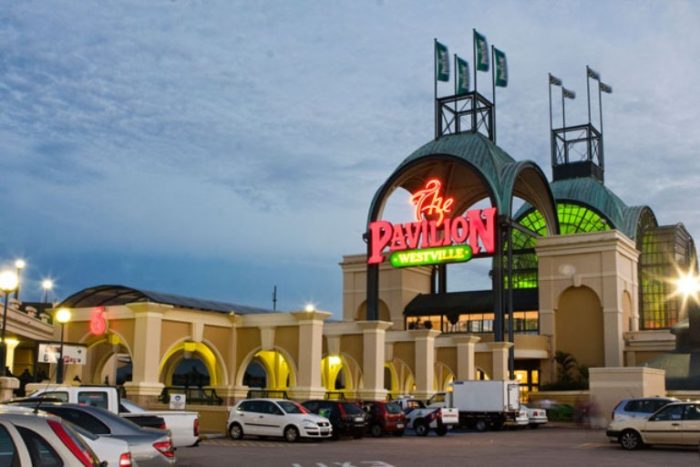 Area: 135,000 m²
Number of Stores: 285
Year Built: October 1993
Address: Jack Martens Drive, Sub 9, Lot 2369, Westville, Durban, Kwazulu Natal
Town or City: Westville, KwaZulu-Natal
Opening and Closing Times: Monday to Sunday from 09h00 to 19h00 (including public holidays)
October 1993 saw the inauguration of The Pavilion Mall with a total shopping space of 75,000 m². Six phases of redesigning and expansions later (the most recent was wrapped up in 2014), Pavilion now boasts 135,000 square meters. What's more, plans are underway for an additional 35,000 m².
The vibrant city center of Durban lies 20 kilometers from the Pavilion which contributes to its popularity. A delightful array of convenience stores, specialty shops, boutiques, and entertainment facilities line up the corridors of the mall. A deeper foray into the shopping center reveals a renovated food court offering like 40 family-oriented eateries and on the list are Spur, Nando's, John Dory', Chicken Licken, Wimpy, and more. The coffee shops (Mugg & Bean and The Little Italian) are just excellent and we are yet to mention the superb amenities that make the mall an ideal spot for any shopping experience.
The wheelchair services are on hand for disabled visitors. Mothers, little children, and the disabled enjoy dedicated parking spaces. Change of nappies for babies can be conveniently done in the family rooms, shoppers can leverage the shopping center's gift wrapping facilities to wrap their purchases, and the Islamic faithful have the run of a Muslim prayer room. Coming into their Nu Metro cinema, you will find booster seats for kids. The total number of cinemas on the ground are 12, in addition to a super bowling (tenpin bowling), and a skate park. Parents who wish to shop solo at the Pavilion can distract the children with the amusement area which comes complete with arcade games.
The shopping center is known for its dedication to superior customer service complemented with a fun and friendly vibe. Locals and tourists alike can spend quality time at the Pavilion meandering around, spoiling themselves at spas and salons, collecting keepsakes, or simply indulging in fun window shopping while they sample the excellent cuisine of the restaurants.
In addition to being among the biggest malls in South Africa, the shopping center is also listed among the country's most beautiful spots.
7. Mall of Africa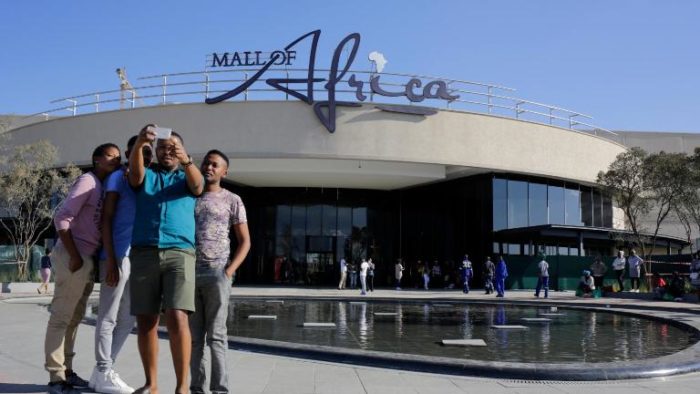 Area: 131 000 square meters
Number of Stores: 300
Year Built: 28 April 2016
Address: Lone Creek Cres & Magwa Crescent, Waterfall City, Gauteng
Town or City: Midrand, Gauteng
Opening and Closing Times: 09:00 to 20:00 on Mondays to Saturdays. If you must go there on a Sunday (or public holiday), then it's from 10:00 to 20:00.
The mall was named Mall of Africa because the inspiration for the design emanated from Africa's geological features. This is evident in the four courts depicting the continent's different climatic zones, the oleum court representing the oil-rich West Africa, and East Africa is depicted by a great lakes court. What of South Africa's mineral wealth represented by a crystal court, now, Central Africa and its popular rain forests are represented right at the center of the mall by The Forest Walk Court. We cannot leave out North Africa's desert area illustrated by a sand court.
Construction work started on the site on the 28th of October 2012 and came to completion on April 8 2016 when it was inaugurated. The mall's construction cost is estimated at R5 Billion. Currently, the shopping center is Africa's largest retail development constructed in a single phase. The great mall sits between Pretoria and Joburg in Waterfall City known as Midrand, Gauteng. There are two major levels of shopping at the mall including an outdoor restaurant directly connected to the Waterfall City Park.
The anchor tenants occupying the Mall's 300 shops include departmental store Woolworths, hypermarkets Game, Checkers Hyper, and more. Also, there are house flagship stores in SA international brands like Cotton On, H&M, Forever 21, and others. It has also introduced new brands to the country like, Starbucks, The Kooples, Mango Man, Boutique Adela, Armani Exchange, Zara Home, Interoptika, and Under Armour.
The shopping experience at Mall of Africa is like no other as it has come to be regarded as a visual, economic, and social anchor within the Waterfall City.
8. Sandton City South Africa
Area: 128,000 m²
Number of Stores: 300+
Year Built: 12 September 1973
Address: 83 Rivonia Rd, Sandhurst, Sandton, 2196, South Africa
Town or City: Sandhurst, Sandton
Opening and Closing Times: 09:00 to 20:00 on Mondays to Saturdays, and 09:00 to 18:00 on Sundays and on public holidays
Though Sandton City has an area of 128,000 m², it increases to 215,000 m² when merged with the Sandton Sun Hotel. Located in Sandton, Johannesburg, the property now belongs to Liberty Life under the auspices of Liberty Holdings Limited. Since it opened its doors for business on the 12th of September 1973 with 50,000 square meters and 120 stores, the mall which is strategically stationed adjacent to Nelson Mandela Square has seen a lot of redesigning, expansions, and refurbishments. Presently, it is counted among the landmarks in the country.
The 300 A-list international and local retail stores in the mall are home to top-notch fashion brands like Louis Vuitton, Prada, Gucci, Dolce & Gabbana, Patek Phillipe, and several other elite boutiques. There are the likes of Apple, specialty stores, coffee shops, and a plethora of restaurants. The eateries at Sandton City comprise of quick-stop fast-food chains, including first-class establishments offering some of South Africa's finest styles and creations. Little wonder it is sometimes called "the richest square mile in all of Africa" and listed on the lineup of the biggest malls in South Africa. Dedicated shopaholics all over SA cannot resist the scale and sheer elegance of Sandton City. Its proximity to OR Tambo International Airport makes it accessible and it houses a Gautrain station which all go to boost accessibility.
Entertainment is never in short supply at Sandton City as it comprises 11 movie theatres with the country's newest releases on display. Young minds who visit the mall can indulge in delightful 3D movies. Its location right in the epicenter of Sandton is an attraction in itself – it is surrounded by Joburg's major routes and motorways, tourist attractions are plentiful in the vicinity, and spots like Sandton Convention Centre and Johannesburg Stock Exchange brings many people to the area.
9. Westgate in Johannesburg
Area: 109,418m²
Number of Stores: 184
Year Built: October 1985
Address: 120 Ontdekkers Road, Horizon, RoodepoortTown or City: Johannesburg
Opening and Closing Times: Monday to Friday: 09:00 to 18:00, Saturday: 09:00 to 17:00, Sunday and Public Holidays: 09:00 to 16:00
After it opened its doors to business in October 1985, Westgate Shopping Centre became the foremost super-regional retail destination in Johannesburg. The spot is a veritable shoppers' paradise as it is home to almost 200 retailers. This dedicated Roodepoort shopper's dream has a lineup of stores covering almost all niches – everything from gadgets to bridals, to hobby shops are well represented at Westgate. Like other shopping centers on the list of the biggest malls in South Africa, Westgate houses anchor tenants such as Pick 'n Pay, Game, Woolworths, and more. Its 109,418m² retail space is suffused with a plethora of shopping goodness that you just cannot resist.
After a day spent shopping, hungry shoppers tuck into delicious meals with family and friends at Westgate; the shopping mall's sit-down restaurants consist of the local favorites Trumps and Spur. Pick your choice of takeouts – pizza and pasta at Rebels Pizza, shwarmas and wraps from Anat, steak rolls from Big man, sandwiches from Subway, delicious pies from King Pie, Debonairs, burgers, and chips are always ready at Steers and Mochachos. Curry Lounge is on hand with their Indian cuisine. Boost Juice wraps and juices are good healthy options and other great options include John Dory's, Nando's, 7 Eagles Spur, and Wimpy which has play areas for little children who need to be entertained. Their gaming stations include jungle gyms, face painting, and arts and crafts. There are also kid-friendly menus.
Westgate is home to Nu Metro, the acclaimed biggest movie exhibitor in all of South Africa, thus, your entertainment at the mall is ensured. What's more, their services come complete with a lot of goodies – top-class concession stands stockpiled to the brim plus slushies, tasty popcorn, and other snacks, Watching a movie at Westgate Mall is the real deal! What of the mall's Magic Company Arcade that comes equipped with indoor bumper cars and a bowling alley, the list goes on and on.
10. Centurion Mall
Area: 107,000 m²
Number of Stores: Over 200 stores
Year Built: 1983
Address: 1269 Gordon Hood Rd, Centurion Central, Pretoria, 0046, South Africa
Town or City: Centurion Central, Pretoria
Opening and Closing Times; Monday – Friday: 09:00 – 19:00; Saturday: 08:00 – 18:00; Sunday and Public Holiday: 09:00 – 17:00
With a capacity of 107,000 m², Centurion Mall deserves a mention among the biggest malls in South Africa. One of the shopping center's unique selling points lies in its structure – an open-air shopping mall with a lineup of over 200 stores. The natural ambiance at the mall is second to none and shoppers are exposed to a plethora of merchants – from the groceries to the fashion, from the service industry to the leisure options, you just name it and Centurion will not disappoint.
The anchor shops that populate the open stalls include the likes of Woolworths, Edgars, Hyper, Checkers, Pick 'n Pay, Dischem, and Game. A huge portion of the space is occupied by the fashion stores – YDE, Queenspark, Forever New, Markham, Jeep, and many more. After shopping for your classy apparel, shops like Swatch, SassDiva, and The Sunglass Shop are on hand to supply you with the accompanying accessories. Three hairdressing salons adorn the mall – Carlton Hair, Exquisite Hair Design, and Carlton Concept Store where shoppers go for a new look, and you can pamper yourself at Dream Nails and Sorbet.
Breakfast, launch, coffee and cake, seafood, and more, the 13 restaurants at Centurion Mall have you covered for your meals and takeaways. Delectable dining destinations like Hawk Lake Spur, O'galito's, Café Bugatti, and Ocean Basket are ever ready to take your orders and you can relax at Sterkinekor Movies, indoor play park, Mungolistix, and The Arcade (Game Arcade) for your entertainment. Every weekend, the Centurion Mall Amphitheatre hosts free weekend entertainers. All you need do is enter through any of the nine entrances from the mall's 6,100 parking bays and you will enjoy facilities like Baby change rooms, prayer facilities, Wi-Fi, Gautrain, taxi rank, and a whole lot more.