Markets are an integral part of any society. In Africa, however, it seems to be more than just a place where people go to buy goods. In some societies on the continent, markets are rooted in the culture and most times in the religion of the people and the places where they are located. This explains why some markets are named after the rivers and gods that are most precious to the people. Some markets are known to only open on days permitted by their belief systems and would never be found open on the days that are held sacred.
That being said, it is important to note that Africa has some of the biggest and largest markets in the world where you can find all manner of items, from hand-tailored things, crafts, artifacts, ornaments, clothing, materials, food, etc. Need to take advantage of your days off? You may want to take a tour to some of Africa's marketplaces, from the East to the West, North, and South, you will be sure of an unforgettable shopping experience. Below is a top 10 list of some of Africa's biggest and fascinating markets.
The Top 10 Biggest Markets In Africa
1. Khan el-Khalili
Country: Egypt
Location: Cairo
Famous For: Antiques, Gold Artifacts, Handmade Accessories, Carpets, Incense,
Opening Hours: 8 am – 8 pm
GDP: N/A
Address: El-Gamaleya, El Gamaliya, Cairo Governorate, Egypt
Established in the 14th century, the Khan el-Khalili market is located in the heart of Egypt's capital city of Cairo. It is a significant souk (meaning market) famous for various things ranging from furniture to food, sparkling silverware, traditional Arabian lanterns and lamps, antiques, gold artifacts, handmade accessories, carpets, incense, and so many other amazing things.
This is perhaps the best spot to visit for a neighborhood shopping experience, like nothing you have ever seen before. Khan el-Khalili is an extraordinary market for modest trinkets for loved ones. It's a fundamental fascination and one of the most visited vacationer locations in the country. Here, you'll feel and experience the bona fide Egyptian culture.
The market is open every day of the week from about 8 am to 8 pm but if you are a tourist who is looking to do more than shopping, you may want to visit the market during the Mawlid Al-Hussein (a Sufi celebration of Imam Hussein's birth). During this time, you will find Sufists performing litanies and taking part in other traditional activities.
Although, there are currently no statistical figures available as to how much the market contributes to the country's GDP, noted as a place that attracts tourists all year round, Khan el-Khalili should sure contribute something substantial to Eygpt's annual GDP.
2. Onitsha Main Market
Country: Nigeria
Location: Onitsha
Famous For: General Merchandise
Opening Days/Hours: Open Daily (Except Sundays) 7:30 am – 5 pm
GDP: $3 billion
Address: Edozie Lane, Main Market 431108, Onitsha
Are you looking to do wholesale or retail shopping? you sure will find it here. Anything you are searching for is accessible here at a decent cost. Situated in Anambra State in southeastern Nigeria, Onitsha Market is Africa's biggest market dependent on the size and volume of merchandise. A provincial business force to be reckoned with.
While there are so many markets in Onitsha town, the Onitsha main market is the king of them all, although it is popular for clothing and other wears with a mix of household items, babies, etc. As a traveler visiting the Onitsha market, you'll need a dependable neighborhood manual for helping you with exploring and investigating Nigeria's greatest market.
According to reports, the market records about 5 million visits and records over 12 million transactions every day with yearly trade in excess of $3 billion. About 40% of this money remains in constant circulation through unbanked transactions.
3. Kejetia Market
Country: Ghana
Location: Kumasi
Famous For: Jewellery, Local Textiles, Ceramics, Wood, Glass, Stone, Metals,
Opening Days/Hours: Open Daily 8 am–5 pm
GDP: N/A
Address: N/A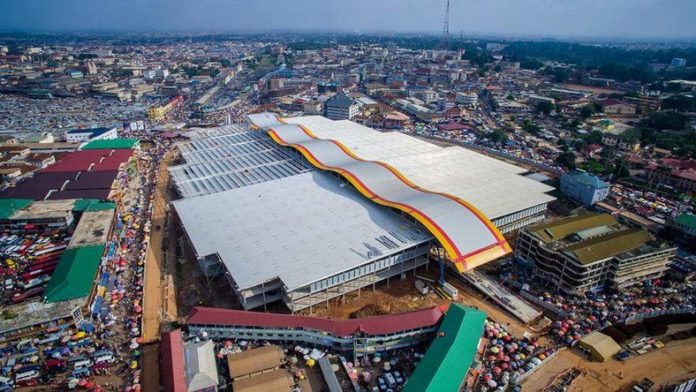 Sitting on 29.5 acres of land, with more than 50,000 stores, Kejetia is truly outstanding and one of the biggest markets in Africa. Situated in the capital city of Kumasi, Kejetia Market (Kumasi Central Market) is the center of all the business in the area. Going to Kumasi Central Market is one of the top activities by tourists in Ghana.
A market loaded up with produce from everywhere in the country, guests can taste local food and scrumptious treats while looking for handmade gifts. Ghana's popular Kente materials can undoubtedly be found in the Kejetia market, just as different customary African prints.
Although there is no available figure as to how much this large market generates for Ghana annually, one thing that can't be denied is the fact that a market of this magnitude will equally be generating something worthwhile for the economy yearly.
4. Fes Medina Food Market
Country: Morocco
Location: Fes
Famous For: Food
Opening Days/Hours: Open Daily 8 am–5 pm
GDP: N/A
Address: Unnamed Road, Fes, Morocco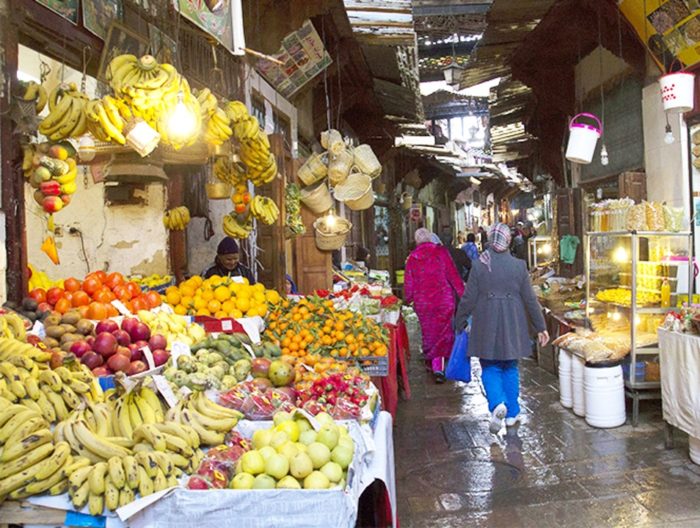 The Fes Medina Food Market is notably one of the well-known markets across Africa. The market is as old as the city of Fez which was founded as far back as the 9th century. This market is popular for food ranging from fruits, veggies, etc.  There are various shops, converse with sellers who are willing to give you a decent price.
The market is open as early as 8 am as by 11:30 am, it is already packed up with so many people that if you are new to the market, you will be needing help to navigate your way through it. Just like the markets mentioned above, there is no available figure as to how much revenue the market generates yearly, however, due to its reputation as not just a daily market for residents but also one that is visited by tourists daily, it can be argued that the market contributes immensely to the overall GDP of the country.
5. The Maasai Market
Country: Kenya
Location: Nairobi
Famous For: Handmade Jewelry, Beaded Bowls & Textiles
Opening Days/Hours: Saturdays & Sundays 8 am – 6 pm; Monday, Tuesdays, Wednesdays & Thursdays 8 am – 3 pm
GDP: N/A
Address: Slip Rd, Nairobi, Kenya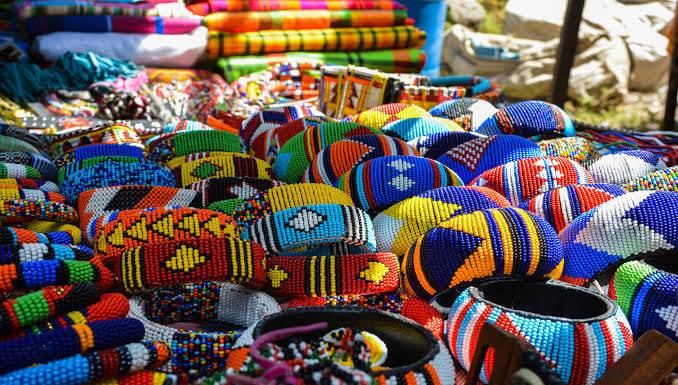 Situated in the capital of Kenya, Nairobi, the Maasai Market is one of the largest in the country and in fact in Africa. It is open every day of the week, including Saturdays and Sundays. With more than 45 distinct ethnic groups and communities across Kenya, it has always been an argument why the market is named after the Massai. One of the explanations given has been that it is because the Maasai is one of the most popular culturally resilient communities in the whole of the East Africa region.
That been said, it is to be noted that although the market is named after the Massai, today the market is for everyone in the region and has almost nothing to do with the Massai. The market is well known for everything ranging from handmade jewelry, beaded bowls, textiles, wood carvings, etc. It is not public what the market contributes to the country's GDP.
6. Owino Market
Country: Uganda
Location: Kampala
Famous For: Secondhand Clothing
Opening Days/Hours: Mondays to Sundays 6 am – 6 pm
GDP: N/A
Address: 8H6F+346, Kampala, Uganda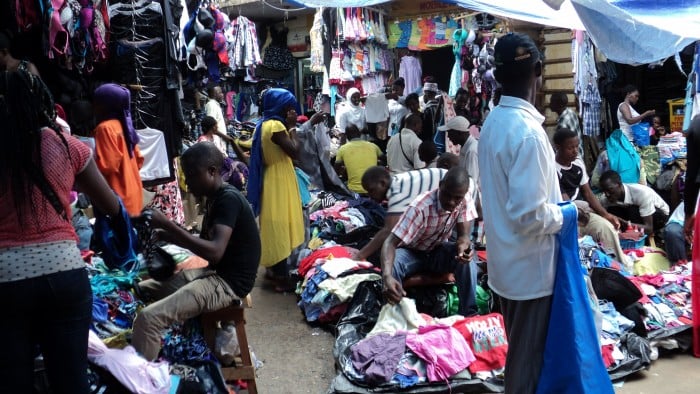 Sitting on 7.04 hectares of land, Owino Market is undoubtedly the largest open market in Uganda and one of the biggest in Africa. The market that has existed for five decades was established in 1971 when Kampala City Council relocated about 320 vendors from Nakasero Market.
Owino market is renowned for secondhand clothing, so if you are desiring to shop anything second-hand clothing, this market is your sure bet any day any time.
7. Fourways Farmers Market
Country: South Africa
Location: Lethabong
Famous For: Craft & food
Opening Days/Hours: Saturdays to Sundays 8 am – 4 pm
GDP: N/A
Address: Taroko Farm Modderfontein Reserve, Norfolk Ln, Klipfontein View, Lethabong, 1609, South Africa
South Africa's Fourways Farmers' Market is a major state of mind, an outside end-of-the-week market that provides food and drink, distinctive products, and some more. Here, merchants sell things that allure everybody, and food is always ready.
Picnics can very well be held at this location. It accommodates kids with an exquisite play region where guardians can sit in closeness. Fourways market is a very organized market that sees people troupe in every weekend either to shop or to just relax with friends. People have to pay, however, to be allowed in. The fee is R10 per person.
8. Addis Merkato
Country: Ethiopia
Location: Addis Ketema
Famous For: Agricultural Produce (Especially Coffee)
Opening Days/Hours: Mondays to Fridays 24 hours; Saturdays & Sundays: Closed
GDP: N/A
Address: Addis Ababa, Ethiopia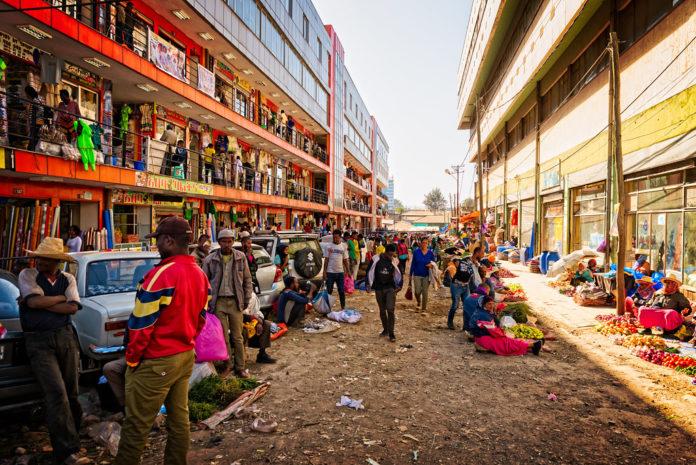 Established in the 1930s during the Italian occupation, the Addis Merkato is a gigantic outside market in Addis Ketema, a sub-city of Addis Ababa, the capital of Ethiopia. Merkato is one of the largest open-air markets in Africa, covering several square miles of land with an estimated 13,000 people occupying 7,100 business entities. It is essentially the greatest market and shopping place in Ethiopia. The experience is brimming with shadings, extraordinary and exceptional as the market depicts genuine in Addis Ababa.
Merkato is popular for coffee bean stalls, little wonder, the market is famous for coffee which constitutes the country's leading export (around $1 billion per year). Even without a statistical figure of how much the market generates annually, it is evident that Addis Merkato contributes something worthwhile to the economy.
9. Greenmarket Square
Country: South Africa
Location: Cape Town
Famous For: African Souvenirs, Crafts, Curios
Opening Days/Hours: Mondays to Fridays – 9 am to 4 pm; Saturdays – 9 am to 2 pm; Sundays – Closed
GDP: N/A
Address: Burg St &, Longmarket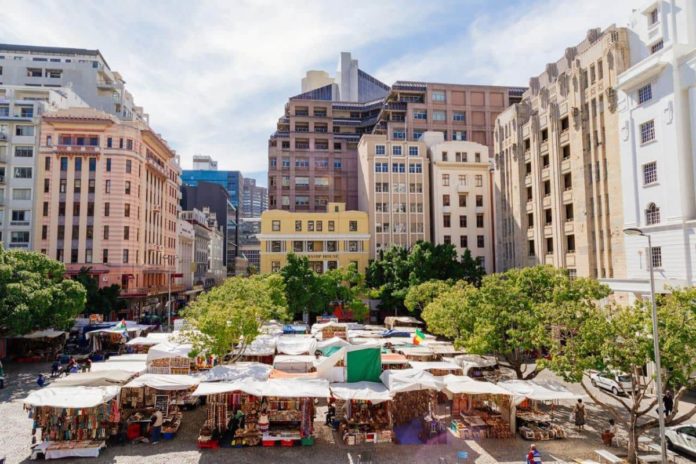 Greenmarket Square is a historical square in the center of old Cape Town, South Africa. It was founded in 1696 when a burgher watch house was erected. The square, which served as a slave market, has evolved over the years and decades into a parking lot, a vegetable market, and recently, a flea market that trade mostly African souvenirs, crafts, and curios.
The idea of a night market was born out of the idea to reignite Cape Town's tourism industry and local economy by bringing life back to the city center, and to say it has worked is an understatement as the square keeps buzzing and bustling all night long.
Aside from shopping, the market is perhaps one of the best spots to track down African gifts. An exceptionally dynamic place of interest, assuming that you're in the downtown area, it is a pleasant spot to do a speedy stroll through, and arrange extraordinary costs. There's a decent choice of eating spots and attractions around, the city's touring stops are only a couple of moments away.
10. Ariaria International Market
Country: Nigeria
Location: Aba
Famous For: Textile and Leather
Opening Days/Hours: Mondays to Saturday – 7 am to 6 pm; Sundays – Closed
GDP: $3 billion+
Address: 171 Faulks Rd, Ariaria 450102, Aba
The Ariaria International Market, fondly called the China of Nigeria, is one of the most popular and biggest markets in Nigeria. The open-air market which generates over $3 billion in returns annually is famous for textile and leather. Walking through the market, you will see lots and lots of shoemakers and tailors doing what they know how to do best.
Ariaria market is undoubtedly one of the best markets to visit in Nigera, as there is something for everybody; garments, leather, bags, shoes, etc. As one of the greatest texture markets on the continent, you can watch your dress be made just before you. Need to go on a shopping binge in Nigeria without blowing your spending plan? here is the spot to be.
The commercial center is open from around 9:00 am until 6:00 pm Monday to Saturday. However, the environment of the market changes as the day advances so it is advised to visit before 11 am.