Cars rank among the assets with which people's economic status can be assessed, and the type of car someone drives in says a lot about the weight of his or her pocket. To meet the needs of car lovers, automobile industries keep churning out new designs and classes of expensive cars year after year, exchanging them with fortunes from those who can afford them.
Ranking atop the class of people that care much about pricey cars is celebrities. This is simply because most of them love showing off to the millions of fans who have their back. There have also been several occasions where African celebrities have entangled themselves in social media trolls over the cost of the car they just added to their fleet.
Meanwhile, interest in expensive cars is not exclusive to those who can afford them. There are thousands of people out there who just love classy automobiles and delight in just checking them out for the fun of it. Whichever category you belong to, you'll certainly be wowed by our latest list of the most expensive cars in Africa.
10. Mercedes-Benz SLR McLaren
Starting Price: $58,489
Celeb Owners: DJ Cuppy, Akon
Call it a car for grown-ups, and you're not mistaken! The Mercedes SLR McLaren is one of the most classy sports supercars in Africa and beyond. It measures up to expectations when it comes to some of the most sought-after car qualities – fastness, handling, and luxury. In this sleek supercar, Mercedes and McLaren churned out some of their best in automobile technology. Although the American and British companies built it as a sports supercar, the auto machine meets most of the qualities of a Super-GT.
Among the African celebrities that welcomed this baby into their fleet is Senegalese-American singer, Akon. Nigerian Disc Jockey, Florence Otedola a.k.a. DJ Cuppy also spots the exotic car although many believe it belongs to her billionaire dad, Femi Otedola.
Quick Summary of Benz-Mclaren's Notable Specs:
5.4-liter supercharged V8 engine
5-Speed automatic (less than 4 secs acceleration; over 300km/h max speed)
Up-down butterfly doors
9. Mercedes Benz G Wagon
Starting Price: $127,650
Celeb Owners: DJ Black Coffee, Davido, Obafemi Martins, Olamide, DJ Tira, Amanda du-Pont, Wizkid.
Also called the G-Class, the Mercedez-Benz G Wagon is one of the most rugged and expensive cars in town as of 2020. Titled "the off-road legend", the G is a pace-setter when it comes to off-road and heavy-duty performance. It is for this reason that African celebrities have fallen in love with this car because, in Africa, you don't really need to be "off the road" to experience rough and difficult terrain since most of the roads are damn awful. That doesn't however, mean that the G-Wagon does not offer luxury, comfort, and pleasure; you just need to see the interior to believe!
Among the celebs who've been able to add this boxy heavy-duty SUV to their fleet are Wizkid, DJ Black Coffee, Davido, Obafemi Martins, Olamide, Bonang Matheba, DJ Tira, Amanda du-Pont, and others.
Quick Summary of G-Class' Notable Specs:
Ladder-type frame (for easy off-road use)
Three differential locks (for traction of individual wheels in difficult terrain)
Low-range gear and optimized gear ratio
Hand-crafted interior detailing
8. Lamborghini Huracán
Starting Price:$153,718
Celeb Owners: Davido, Ned Nwoko, DJ Cuppy
While many still believe that the preceding V10 Lamborghini model – the Gallardo still turns heads, the Huracan which is the latest of Lamborghini's automobile technology comes with jaw-droppings specs. Boasting an acceleration ability of 0–97 km/h (60 mph) in 2.5 seconds, and a maximum speed of 341km/h (212mph), the posh sports car offers an excellent definition of beauty, quality and prestige combined.
Nigerian singer-songwriter, David "Davido" Adeleke recently acquired the beast as his 2020 Independence Day (October 1) celebration gift. Meanwhile, the "Blow Your Mind" singer is not the exclusive owner of the Huracán. Nigerian billionaire businessman, Ned Nwoko had earlier purchased the 2015 model for around N85 million, and Disc Jockey, Florence Otedola "DJ Cuppy" also owns an almost N100 million 2017 Huracan Performante.
Quick Summary of Huracan's Notable Specs:
Full-LED Lighting System (keeps it spottable in the dark)
5.2 L 610 mhp V10 engine
7-speed dual-clutch
4-wheel drive
2-door coupe convertible
7. Bentley Bentayga
Starting Price: $195,000
Celeb Owners: Davido, Obafemi Martins
As of 2020, the Bentley Bentayga holds the title of 'World's Fastest SUV'! Loved for being medium-sized, the Bentayga still provides its users all the space and comfort they desire. Alongside other designs, its handcrafted cabin detailing gives luxury a new definition.
Davido in early 2018, bought the 2018 model of the car for N26 million. Meanwhile, Nigerian footballer, Obafemi Martins had earlier purchased the more pricey initial model back in 2016.
Quick Summary of Bentayga's Notable Specs:
8-Speed automatic (0-62mph in 3.9 seconds; 190mph max speed)
All-wheel drive
6.0-litre twin-turbocharged W12 engine
Optional 440 mm diameter carbon ceramic brakes
6. Lamborghini Urus
Starting Price: $200,000
Celeb Owners: Wizkid, Davido
With the Urus, Lamborghini broke a global record of merging the soul of a super sports car with the operations of an SUV. Among other unique qualities, the Urus interior is made of sought-after materials such as Alcantara, leather, wood, aluminum, and carbon-fiber finishes – a pure definition of luxury as offered by state-of-the-art tech and Italian craftmanship.
Late in 2018, Nigerian singer Wizkid flaunted his new possession of the 2018 Lamb-Urus. He reportedly acquired the exotic car at N101 million. Davido later bought the 2018 Urus for a reported N72.3 million.
Quick Summary of Urus' Notable Specs:
4.0 L twin-turbocharged V8 engine
478 kW (641 hp; 650 PS) power output
8-speed automatic
Front engine, 4-wheel drive
5. Ferrari Spider
Starting Price: $291,627
Celeb Owners: Mompha, Ned Nwoko, B-naira, Victor Moses
With the Spider, Ferrari brought in her most advanced technology in open-top sports cars. An easy-drive car, the Ferrari Spider offers 670 cv at 8,000 rpm with a record power output of 172 cv/l, maximum torque of 760 Nm in seventh gear, and throttle response time of 0.8 seconds at 2000 rpm in gear 3.
Among other celebrities that own the car, Nigerian footballer, Victor Moses lately purchased the spider in 2020 which at the time cost around N109 million.
Quick Summary of Spider's Notable Specs:
Retractable Hard Top (RHT) Convertible
3.9 L twin-turbocharged V-8 engine
7-speed dual-clutch automatic (0-100km/h in 3 secs)
4. Rolls-Royce Cullinan
Starting Price: $330,000
Celeb Owners: Davido
Sleek and rugged at the same time? It is with the Cullinan that Rolls-Royce made its all-terrain SUV debut. According to the company, the Rolls-Royce Cullinan is freedom absolute 'cos with it, you can enjoy the peak of luxury on or off the road – everywhere! Despite having been adjusted to conquer all terrains, the Cullinan still maintains Rolls-Royce's signature magic carpet ride experience. With its "Flagbearer System" which comprises a stereo camera embedded into the front windscreen, the vehicle is able to scan the road ahead and proactively adjust its suspension for improved ride quality.
Of all the cars in his fleet, the Cullinan remains Davido's priciest as of 2020. He reportedly acquired the mega SUV in December 2018 at N350 million.
Quick Summary of Cullinan's Notable Specs:
Full-sized five-door SUV
Coach rear doors make entry clean and easy
6.75 L twin-turbocharged V12 engine
8-speed 8HP automatic
4-wheel drive
3. Lamborghini Aventador
Starting Price: $421,321
Celeb Owners: Aubameyang, Obafemi Martins, Olamide, Mompha
With the Aventador, Lamborghini truly hit unexplored territories in their signature Raging Bull technology. One of Africa's most expensive cars at the moment, the advanced super sports car boasts an acceleration capability of 60mph in less than 3 seconds and a max speed of 217mph. The powerful all-wheel-drive car comes in coupe and convertible versions with a 6.5-liter 730hp V12 engine, and a 7-speed automated manual transmission.
Gabonese footballer, Pierre-Emerick Aubameyang bought a silver Aventador in 2018 but later had it wrapped in gold. Nigerian baller, Obafemi Martins who also acquired his back in 2018, still shows off the car which he got at a reported price of N162 million.
Quick Summary of Anentador's Notable Specs:
All-wheel drive
6.5-liter 730hp V12 engine
7-speed ISR automated manual
0–100km/h (0–62mph) in 2.9 seconds; 350km/h (217mph) max speed
2. Rolls-Royce Phantom
Starting Price: $455,000
Celeb Owners: Jimmy Tau, J Martins, Chris Okotie
The Phantom is Rolls Royce's most advanced model coming after the Cullinan. Its twin-turbo V-12 engine is paired to a satellite-aided gearbox that uses GPS data to scan the road scape ahead of its driver and then anticipates driving needs and proactively adjusts transmission. As for the exotic car's interior, its sumptuous leather seating and handsomely crafted wood veneers offers luxury and comfort at its best and remains one of the world's most expensive cars.
A vehicle for royals, the Rolls-Royce Phantom has graced the garages of not only African celebrities, but several billionaires, politicians, and traditional rulers including Deji Adeleke, the Emir of Kano (Muhammed Sanusi), and Prince Bolu Akin-Olugbade.
Quick Summary of Phantom's Notable Specs:
Full-sized 4-door saloon
Wide personalization options
6.75 L N74B68 twin-turbocharged V12 engine
8-speed 8HP automatic
1. Bugatti Veyron
Starting Price: $1.9 million
Celeb Owners: Samuel Eto'o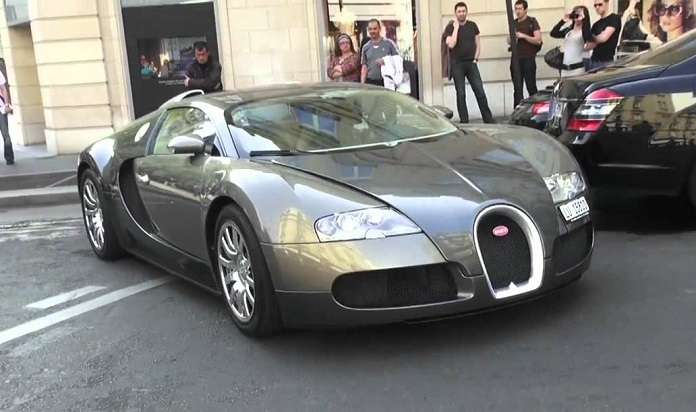 The Bugatti Veyron hit the market as the fastest super sports car of its time, with an average maximum speed of 408.84 km/h. The mid-engine sports car,.which is completely sold out, boasts a 16-cylinder engine with an acceleration ability of 0-100km in 2½ seconds. One of the world's most expensive cars at the moment, the Veyron's interior designs give a true definition of class and luxury.
Samuel Eto'o in 2012, became the first African footballer to ride the Veyron.
Quick Summary of Veyron's Notable Specs:
16-cylinder engine (8.0 L quad-turbocharged W16)
7-speed dual-clutch automatic
0-100 km/h in 2.5 secs; 415 km/h max speed
1,200 hp and 1,500 Nm max torque