In recent times, women of African origin have started embracing their real selves. Observant people would have noticed a subtle "natural hair movement" that is getting trendier with the passage of time. The realization that African kinky hair can be turned into any style has made women begin to love and fully embrace their natural hair texture, and this has birthed some really eye-catching natural afro hairstyles. These hairstyles are not just distinguished for their large, voluminous aesthetics, they equally boast of loads of variants that explore the gamut of the teeny weeny short afro looks, the medium-sized ones, the really large, and loud ones, and we are yet to factor in the dyed versions.
This is not the time to be indecisive about going the natural afro hairstyles way as new styles and color variations keep coming up. Now, it is no longer a strange site to encounter a bride with her natural hair styled in the afro way on her wedding day. Any occasion you attend in recent times must sport a good number of women brandishing these hairstyles and from what is perceivable, the men are not left out.
Natural Afro Hairstyles For Women with The African Kinky Hair Texture
The natural afro hairstyles listed below are very easy to make and what's more, you may not even need the services of a professional stylist to have it styled. Whether your hair is short, medium length, or long, there is a natural afro hairstyle for women across all hair lengths.
1. Loose Twist Afro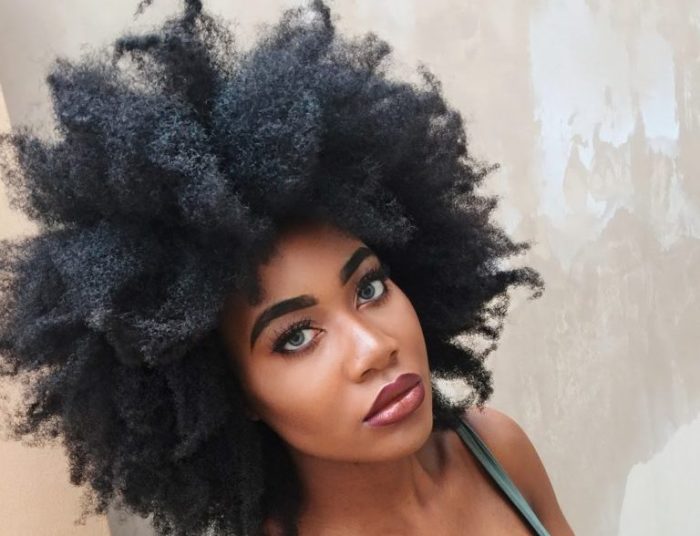 In the olden days, the natural afro hairstyles have always been the trendiest for women from the black continent of Africa. The general belief at the time was that afro can only be styled in one particular way. However, the trend has changed with the passage of time as more amazing ways of styling afro have been introduced. For a classic and exotic look, you can try the Loose Twist Afro Style which is befitting for any face, no matter the shape. Just be sure to wash your scalp clean before proceeding and the style is best for people with a full head of hair. The effect above is created by simply twisting the washed hair into big sections.
2. Heatless Wash-and-go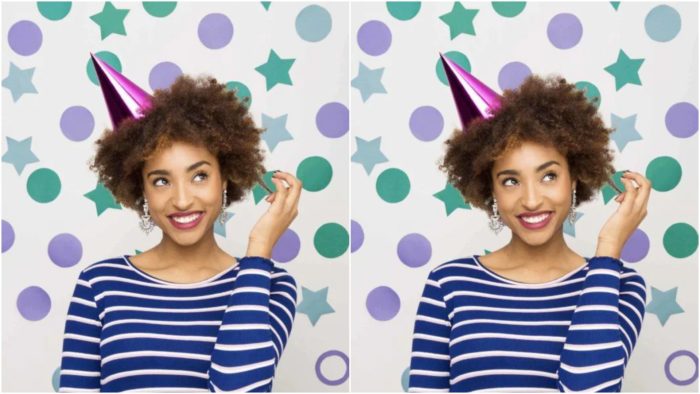 For the Heatless Wash-and-go natural afro hairstyle, you can either seek the services of a professional hairstylist or go the "do it yourself" way. However, you must first get your hair thoroughly washed with a good shampoo and apply a conditioner to soften it. Before proceeding to style it, be sure to create a very soft and well-moisturized base. After washing, your hair is sure to tangle but you can detangle it by using a wide-toothed comb. Next, apply some leave-in conditioner (this is different from the first one you applied and washed out), then, some coconut oil will go in following which you air-dry the hair.
Now, it is time to create the desired fluffy afro action; this can be done by fluff-drying your hair with the use of your hands. Alternatively, a hair pick can be used, continue picking until you are satisfied with the outcome
3. Mohawk Afro
Women with the natural African kinky hair texture can get the right amount of sassiness and glamour by trying the Mohawk Afro hairstyle. This can be achieved with any length of hair but it looks quite becoming on medium-length hair. You can also achieve a pompadour style with this, depending on the styling and the direction your hair falls on. This hairstyle does a lot for the simple, and elegant look, and can also be worn for the casual look. Within the circle of women with kinky hair, it is counted among the most amazing and remarkable natural afro hairstyles.
4. The Frohawk
Looking for that oh-so-stylish! and super easy natural afro hairstyles, then, the Frohawk may just be the best for you. To get the best out of any hairstyle, you have to first clean your scalp and for the Frohawk, you can detangle the hair with the use of a wide-toothed comb. Styling is best done while the hair is still wet and for those that did not wash their hair, it is recommended that they dampen it before styling. To seal in the moisture, apply a styling oil and add shine, then, proceed to twist into big sections. In the end, air-dry the hair and leverage an afro pick to fluff. Create a cool mohawk effect by pinning the sides.
5. The Classic Afro Pop 
With the level of innovations that we are seeing in the "natural hair movement" the sky might just be the limit for women of African descent with the kinky hair texture. The newest range of natural afro hairstyles features quite a good number that are deemed elegant enough for a bride on her wedding day. You can decide to look awesome with this Classic Afro-Pop and it does not matter whether you are on a classic day out, the bride at a wedding, or you just wanna look tidy. With this hairstyle, a woman is sure to stand out in whatever outfit she chooses to wear. The hairstyle may require the know-how of a stylist as it needs to be pushed up a bit before styling. Though easy to style, the end result can be quite fascinating.
6. The Twist-Out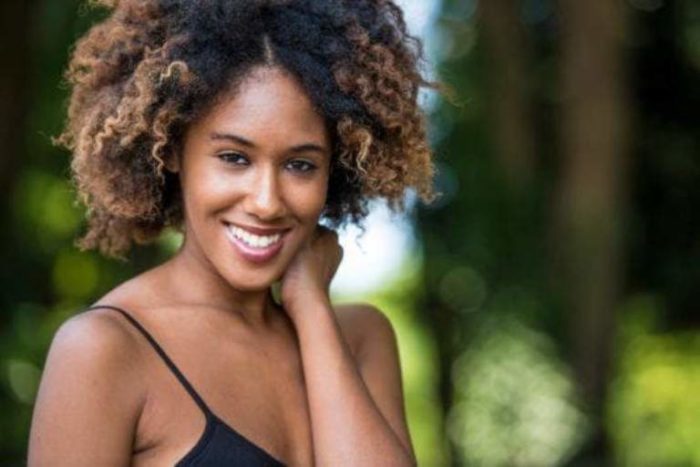 While some people love to go with their natural hair color, there are still some who prefer to add some color to their appearance and this two-tone Twist-Out natural afro hairstyle is just so apt. Jokes apart, this look can be achieved overnight. After washing and applying the necessary care routine to your hair, massage in a defining gel and then proceed to twist into sections as you deem suitable. Remember – bigger curls come from bigger twists, smaller curls are the result of tighter twists, and small twists have the propensity to dry faster overnight. The choice is totally in your hands.
Once you are done with the twisting, you can do the overnight drying process by choosing to sleep on a silk pillowcase. Covering your hair is not recommended as it may extend the drying process by trapping in moisture. The hair should be able to dry out by the time you wake up in the morning – just release the twists, fluff, and then style however you like!
7. Keep It Simple And Cute
Women who prefer to cut their hair short have no problem with styling. This is because there are oodles of simple styles that can still give them the classy look. A kinky-haired African woman may decide to "Keep it Simple and Cute" with her short hair. To achieve this simple style, just wash your scalp very clean, apply some coconut oil, and then proceed to disentangle the hair. Some people may prefer to just comb their hair out, but adding a simple side parting will make it appear even more attractive. This simple and easy-to-make hairstyle can be worn for any occasion you wish to go. It is equally good for the office.
8. Wear it Naturally Cropped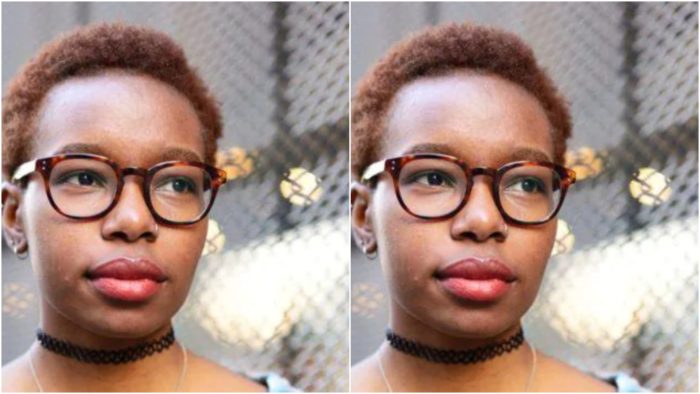 Cropped hair is beginning to be trendy among present-day women of black descent. It is no longer a strange sight to see a woman who had long hair crop it to the barest minimum. If your choice runs to the short natural afro hairstyles, then you may decide to try this "Wear it Naturally Cropped" style above. This may sound too mundane for a woman who wants to create the classy look but not when you give it a tint with the hair dye of your choice. You may decide to color it in brown, blond, red, and whichever color that takes your fancy. Always remember to give your hair a thorough wash to give it a natural shine. Besides, maintaining a good haircare regime is of great importance – keeping up with the trims, as well as investing in the best hair care products for your hair texture.
9. Full Head Afro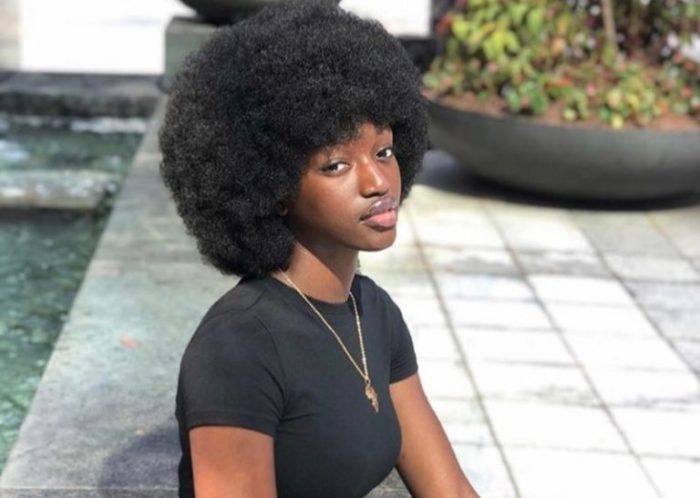 Women who always have their hair locked up in braids, wigs, and weaves have attested to the fact that natural hair needs a well-deserved break from time to time. These intermittent breaks should come as often as possible as they might save your natural hair from breakages resulting from weaving, twisting, fixing of weave-on, application of gell, and the likes. These intermittent breaks are when the natural afro hairstyles can come in handy. The Full Head Afro style can come to the rescue on those odd days you don't feel like styling your hair in any special style. The style can go for both short and medium hair lengths, just was your hair, air dry it, and apply oil. Then comb it out to cover a portion of your forehead and you are done! The resultant effect is not just classy but really cool and anybody can easily fall in love with it. You can rock the hairstyle easily – all you need do is trim the hair and keep it neat.
10. Two-Toned Color Natural Afro Hairstyle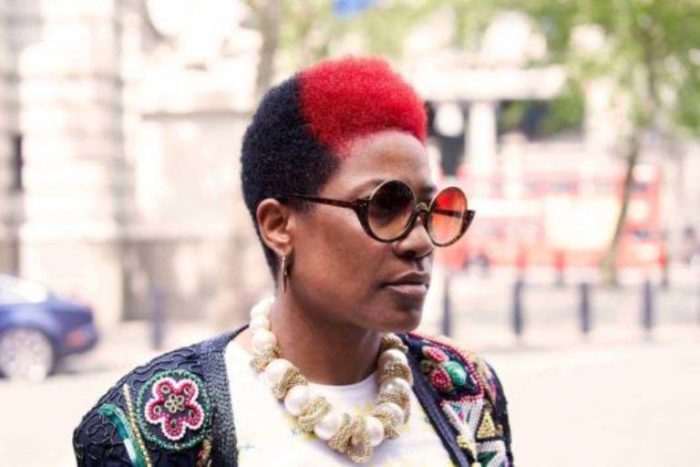 Rocking natural afro hairstyles makes you look good, styling it into different trending styles adds the classic look, and tinting the hair with different tones is sure to make you stand out in any outfit you choose to wear. The most recent "natural hair movement" extends to include what is referred to as the two-toned natural Afro hairstyle. To create the effect in the picture above, you only need to wash, air dry and color a chosen portion of your hair with any color of your choice, the one above is a bold two-tone of red and natural black hair but you are free to explore the gamut of possible colors. This will not only spice up your looks, but it is sure to earn you loads of attention.
Because natural hair has the propensity to be extremely delicate, it is recommended that you take the salon route whenever you feel like exploring any coloring option. Safe coloring is the way and this can be achieved by consulting a colorist who will advise you on the best color for your hair type and skin tone.
11. Puffy High Bun Afro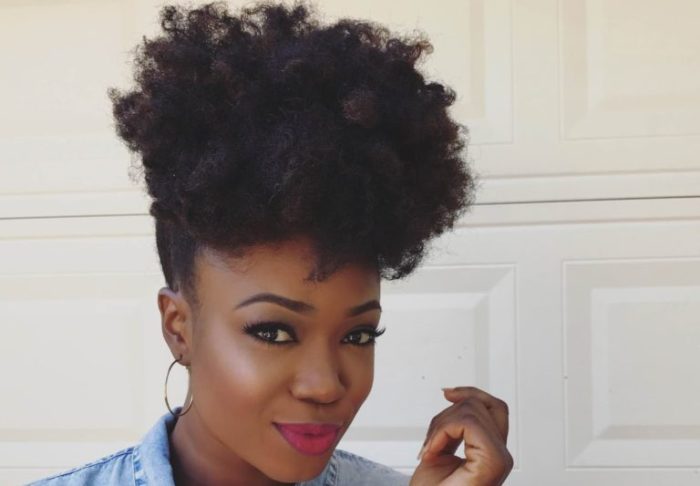 The Puffy High Bun Afro is almost comparable to the Classic Afro Pop. It is just that the Puffy High Bun Afro is designed to show a person's curl length – what's more. it pairs nicely with smokey eye makeup. While the push-up in the Classic Afro-pop is very minimal, you need to go towards the middle of the scalp with the Puffy High Bun Afro to create a semblance of a ponytail. Besides, pushing up the hair from the two sides of the face has a remarkable effect on the eyes, making it appear somewhat drawn back and bigger. This natural afro hairstyle is apt for medium-length hair but those with shorter hair can also enjoy it so long as the hair is not overly cropped. This style will not just give you comfort, it will also afford the wearer a whole new look that will announce her presence in a crowd. Now, if you happen to be on the short side, there is nothing like the Puffy High Bun Afro to give you the semblance of and extra height.
12. Taper Your Sides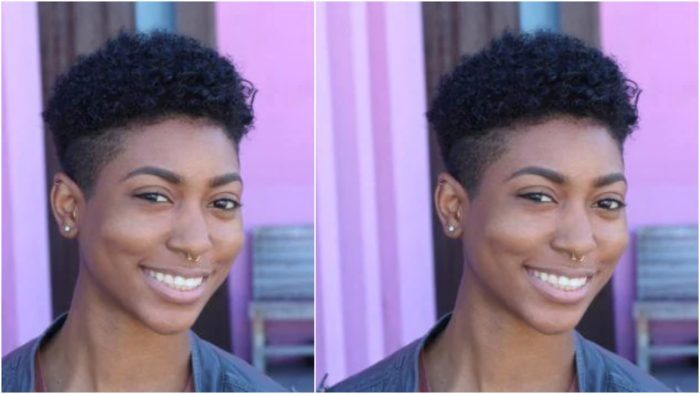 Now, there are women who don't mind cutting off some parts of their hair for the sake of a new hairstyle. If you belong to this category, then, Taper Your Sides' natural afro hairstyle wouldn't be such a bad idea. Those who love looks with loads of edge can go for the Taper Your Sides natural afro hairstyle. Tapering your afro is good for someone who doesn't want to be bothered with hair strands touching their skin, especially when you find yourself under very hot weather conditions. Getting this look is simple and straightforward, a good stylist will meticulously buzz both sides of your afro hair, leaving you with a cool, fresh look and a subtle slit on the side will make it stand out even more. Cutting the sides is just the first step in achieving this look, and then you may need to style it. There are people who don't bother with styling this high-impact cut type of Afro, but if you do want to style yours, the styling procedure is very minimal.
13. Tapered Natural Hair Afro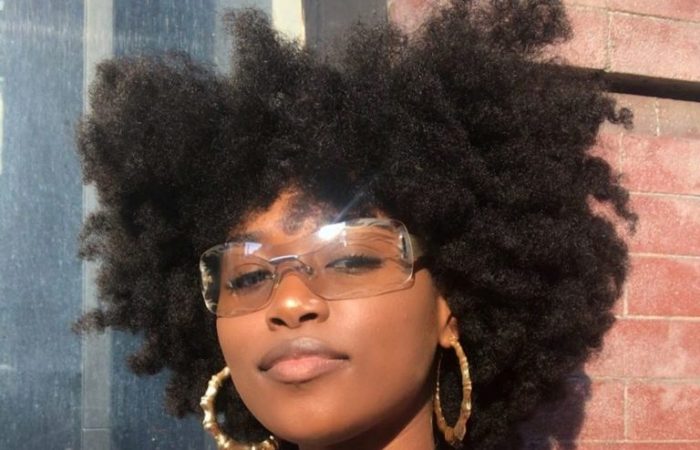 Braids have been among the age-old hairstyle for women from the black continent of Africa, but the time, money, and effort it will take to accomplish a hair full of braids may not always be at your disposal. To give yourself a break from braids and still have something very close in resemblance, you can decide to just tapper your natural hair. This is considered to be one of the best choices for natural afro hairstyles. It is not only protective of a person's hair strands, it equally keeps your curls healthy. What's more, those that are averse to going on constant visits to the salon may find an answer in the Tapered Natural Hair Afro as all it needs for maintenance is just a healthy trim. Any day you don't feel like sitting for a long time to get a new hairstyle, the Tapered Natural Hair Afro can go for you, just wash, condition, apply oil, and fluff it out with a wide-toothed comb and you are good to go.
14. Bold Red Afro Hairstyles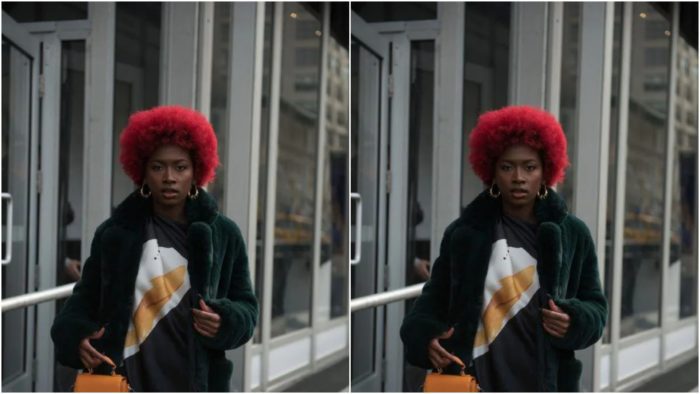 You will look quite distinguished by coloring a portion of your hair but if you want to achieve that effect of a screaming headline in the tabloids, there is nothing better than an overall scarlet-colored hairstyle to achieve this. Needless to say, this shouting red natural afro hairstyle cannot be worn by the fainthearted or those who wish to be as taciturn as possible. On either short or medium-length hair, the Bold Red Afro hairstyle will announce your presence anywhere, anytime. It does not just demand outright attention, it bestows the wearer with a completely new layer of personality.
15. Wavy Natural Afro Hairstyle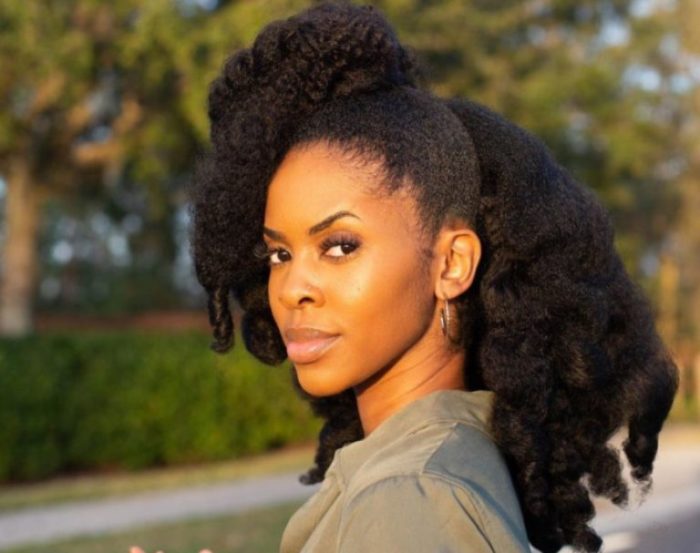 We have been seeing a whole lot of natural afro hairstyles for people with short and medium length hair, so far but nothing much has come up for kinky-haired people with extremely long hair. Perhaps. This may be because women of black descent are not known to have very long hair but there are a few exceptions.
When the kinky-textured hair becomes extremely long, managing it might be a problem, especially when you want to go natural, but this wavy afro hairstyle will be spot on for long hair. It may become a bit difficult to manage this style on your own because of the length but a stylist will have it done in no time at all. First, you need to push the hair up and pack it with a tight band, and then proceed to style the overflow in big bold curls. Thanks to the length, the curls will fall in any direction and the knot is sure to keep them popping. This is not an everyday look, you can try it on special occasions when you wish to go out in style and total splendor.
16. Half-up Afro Style
Pushing up all your hair gives you a smart look, but there are times when you may not feel like packing it all up. You can create a bit of variation in your style by going the Half-up Afro hairdo way. With this beautiful style, you can relieve your face of the weight of your hair and at the same time, showcase a seriously stylish but practical look. This style may not require you to call in the stylist as you can accomplish it on your own. You don't even need to divide the front hair neatly to pack it up, just take a handful and roughly hold it with a band, and allow the rest of the hair to fall towards the back and on both sides of your face.
17. Large Fringe Afro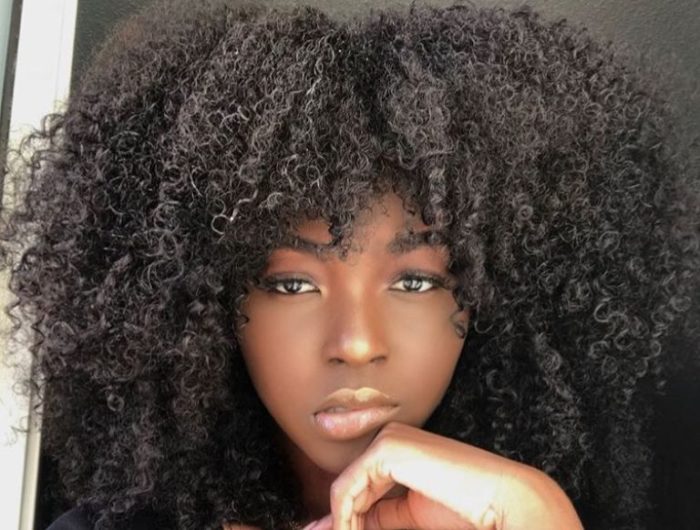 It is not strange to see some natural African hair that can be styled into deep curls. A kinky textured hair that that can retain curls is the bomb and women who fall into this category can go ahead and embrace those curls. The Large Fringe Natural Afro Hairstyle is what we are talking about, the length of your hair will not matter but adding fringes to it is sure to make it appear more fascinating. The style in the picture is rolled into rough curls and pick-combed to scatter all over the face on both sides and towards the back. If you are the type that will not mind having strands of hair in the way, then this style is for you.
18. Short Fros Natural Afro Hairstyle
When you have your hair pushed up it shows off your features to perfection and these kinds of push-ups can only be achieved with long hair or medium-length hair. However, a woman with cropped hair can still show off her features with this Short Fros Natural Afro Hairstyle. Just wash out your scalp, apply the necessary hair products like conditioner and hair oil, and then create a semblance of curls by twisting the upper part to appear a bit rough. Short afros are actually fun as they can be styled in a plethora of ways. They give the wearer a cool appearance and at the same time highlight the person's features.
19. Wavy Side Parted Afro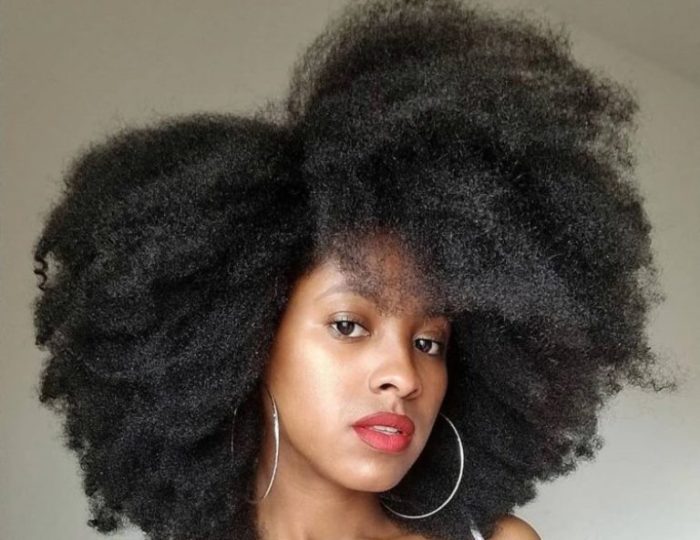 Some women are blessed with very thick natural hair (thick 4c natural hair) and if you happen to fall under this category, then you must enjoy it to the fullest. Thick natural hair that is both beautiful and healthy deserves to be put on constant display and there is no better style than the Wavy Sided Parted Afro to make your hair an object of attraction. This hairstyle is best described as super gorgeous, it is very fanciful, and you can wear it to any event. Just give your dense natural hair a good wash and then style it into any pattern of your choice. However, it will be more becoming to add a center, side, or closer-to-center parting like what is evident in the picture. For this fragile 4c hair type no manipulations are required on your scalp or hair which makes it really easy.
20. Medium Parting Afro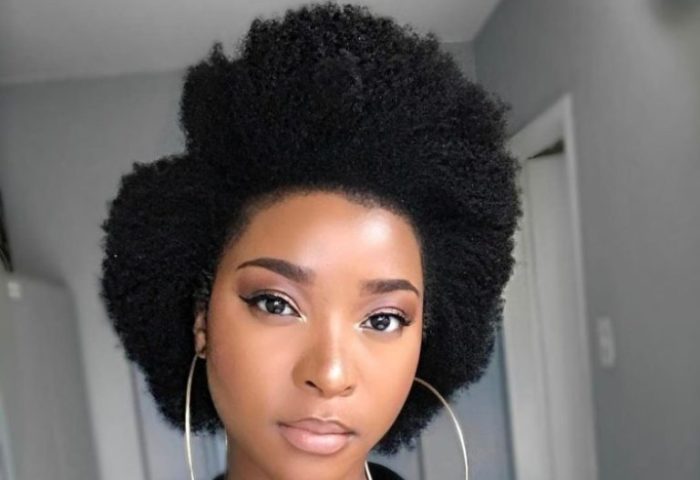 Are you looking to have a glamorous makeover, all you may need is short to medium-length hair to put the show on the road. The Natural Afro hairstyle in the picture is called medium Parting Afro and the best effect can be achieved with a dense hair type. Achieving this look does not even require a woman to go to the extreme. Washing and combing your hair with a wide-toothed comb is a good starting point, then, you can proceed to give it the desired finishing by adding a medium parting and you are good to go. Even when you need some trimming with this style, it may just be very minimal and you will also enjoy the privilege of retaining your hair length.