After deciding on the clothing to wear and the accessories to go with them, the hair of a woman is another important part of her appearance. One of the most popular hairstyles in Africa is braiding/weaving. Braiding can be made in different types, and Ghana braids or Ghana weaving shuku styles are one of them. Ghana braid or Ghana weaving is a unique type of cornrow that is made by continuously adding different sizes of attachments to give it a small start, a bulky middle, and a tapered end.
Ghana Weaving Shuku Styles You Should Try
Shuku styles are a type of Ghana weaving in which all or most of the braids end somewhere around the middle of the head rather than at the back of the neck. These braids are made in different patterns and can either be made in large or small sizes, as described below.
Big Ghana Weaving Shuku
If you like your Shuku big, bold, and hard to miss, here are some of the finest big Ghana weaving shuku to try out.
1. Stitch Braids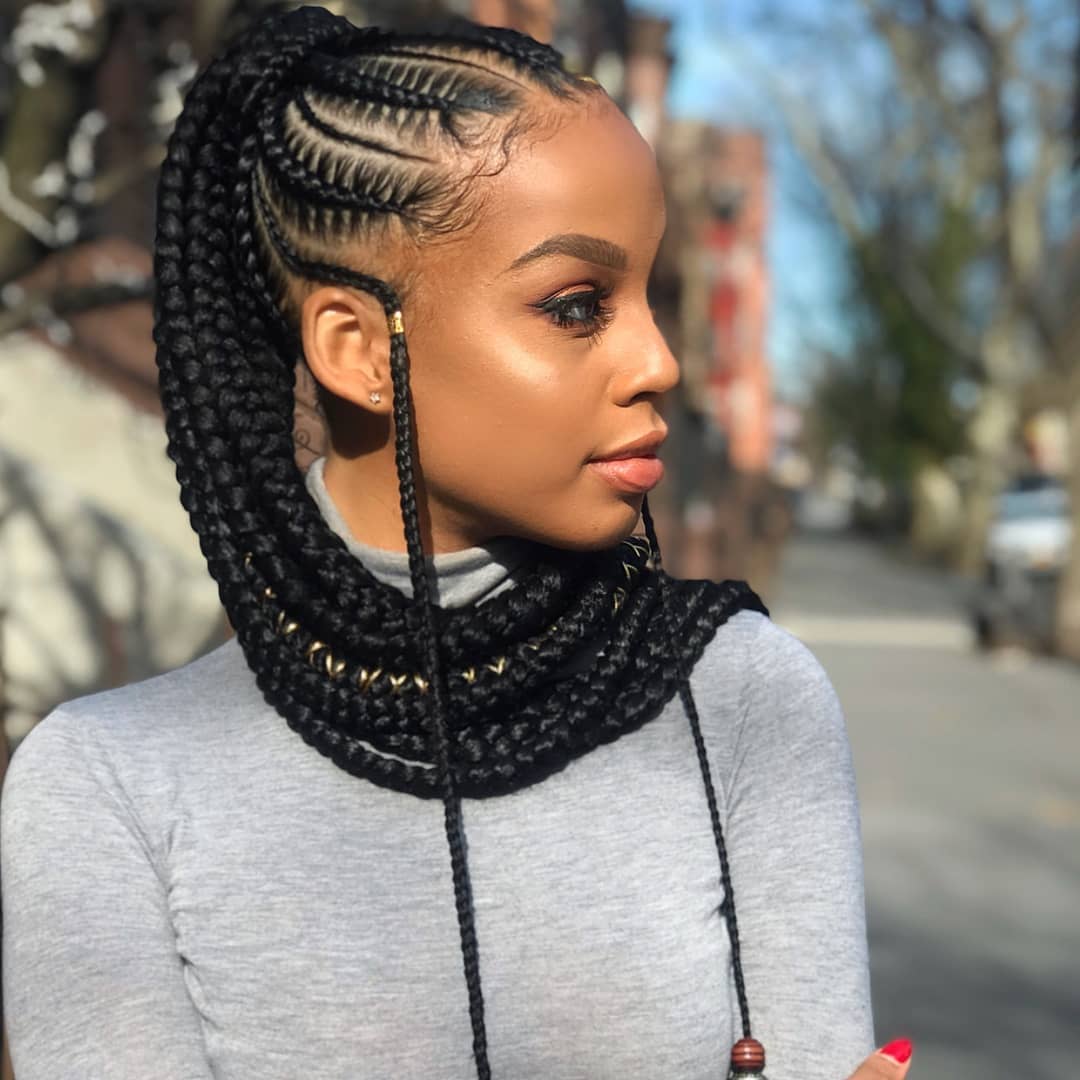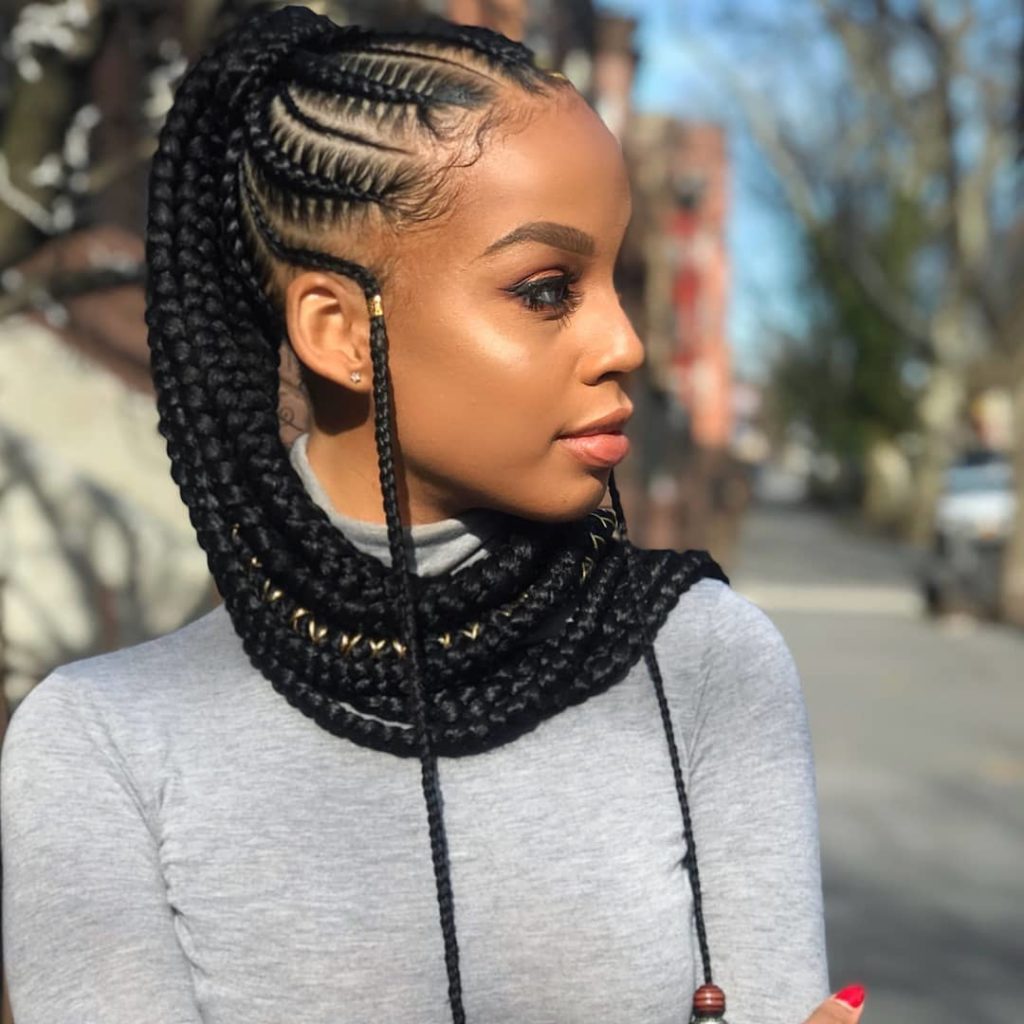 This is a new trend of braids. The hair is woven in cornrows that look like stitches. It is not as difficult to make as it looks, but it may take up to eight hours to complete. This is a perfect choice for girls with oblong faces and can be made with any color of extension.
2. Crown Bun with Braids
With this Ghana weaving shuku style, the cornrows end at the top of your head, and the tails of the beautifully made braids are wrapped up to make an attention-grabbing bun. The remaining hair at the back is braided and allowed to fall freely on your back. This style is best for people with oblong and triangular faces. Because the braids are big, they can be done within six hours. Also, you can use any color of attachment you prefer.
3. Cute and Gorgeous Cornrows
This braid comprises tiny twists woven into large size braids. They are suitable for any shape of the face and can be completed within six hours. You can use any attachment of your choice for this style.
4. Perfect Black Ponytail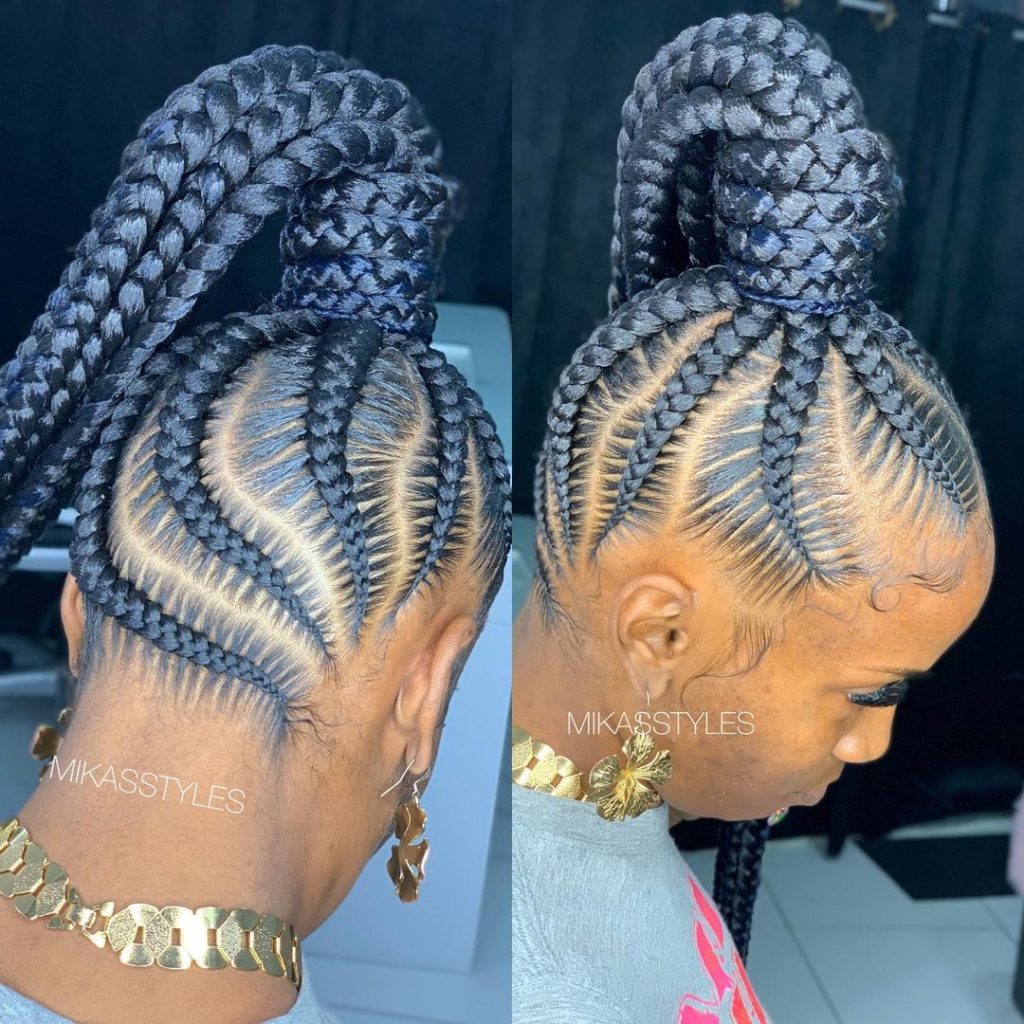 With black attachments, these big and beautiful braids can be made for ladies with oblong faces within five hours. The style is simple, bold, and classy. It also takes about two hours to make.
5. Zig-Zag Lines Ponytail
The hairs are parted by neat zig-zag lines, which are the basis of the style. Extensions are then added to give it ponytail ends. People with oblong faces can try out this style with any color of attachment they prefer. It only takes a few hours because of its bold braids.
6. Jumbo Natural Cornrows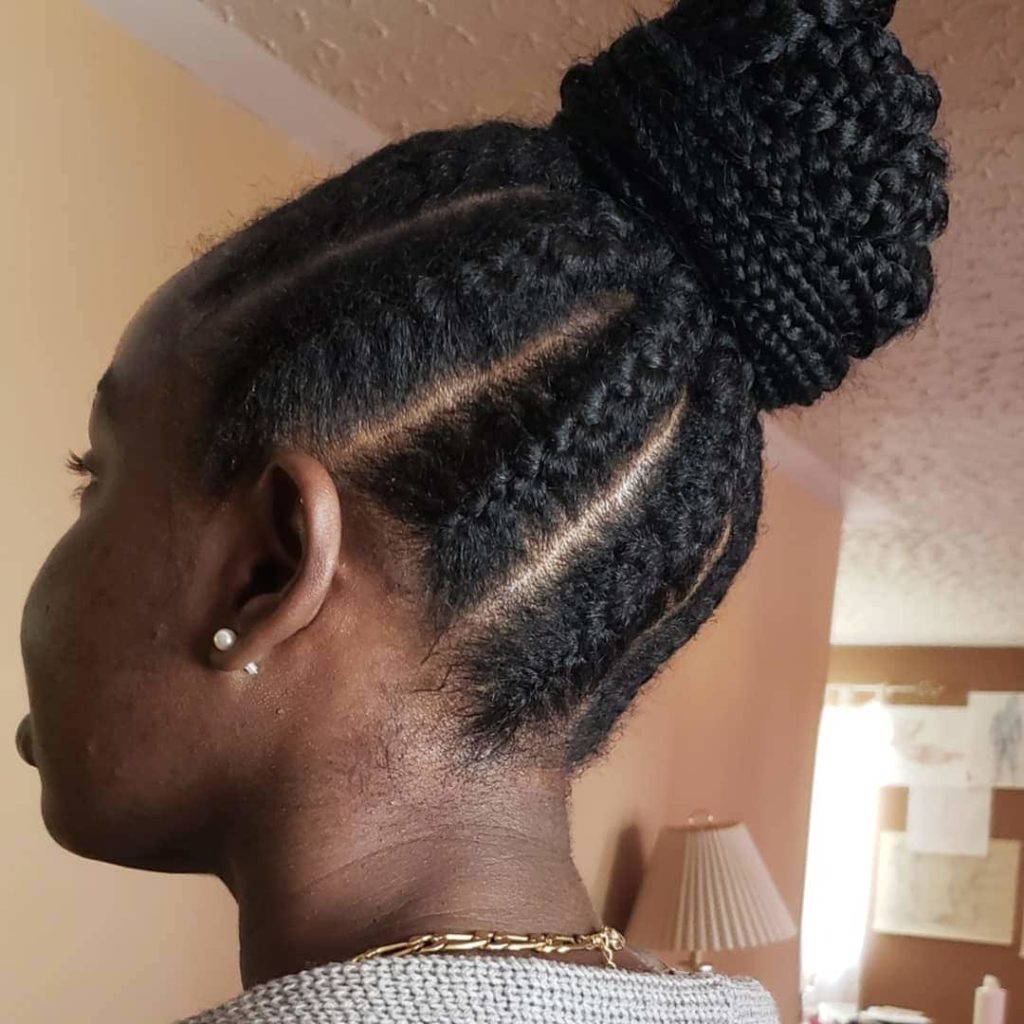 Unlike other braids, this is an underarm braid that reveals your hair more than the extension. It is best to use an attachment that blends with your hair color. This style is suitable for girls with round faces, and it can be completed within two hours or less.
7. Braided Cornrows with Bow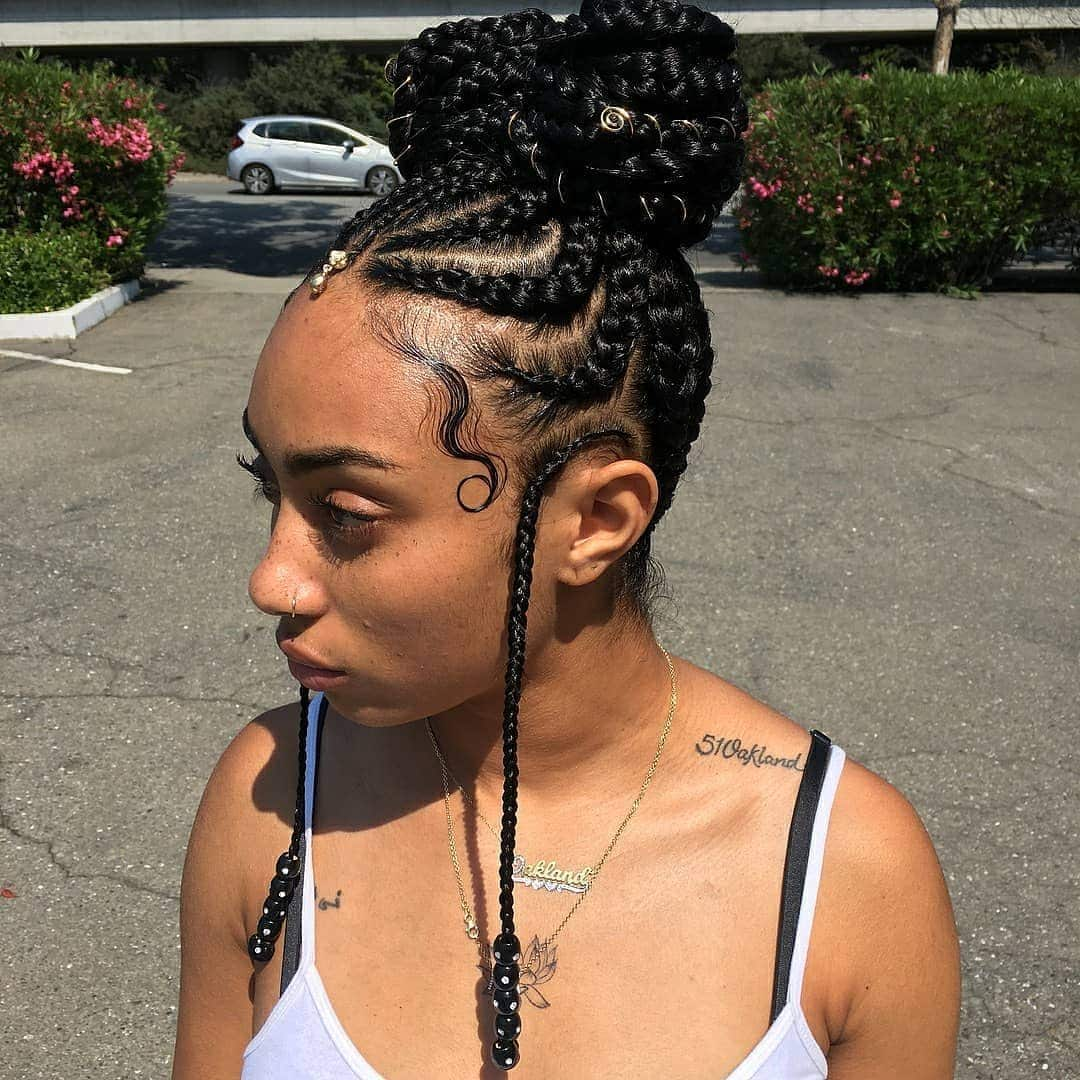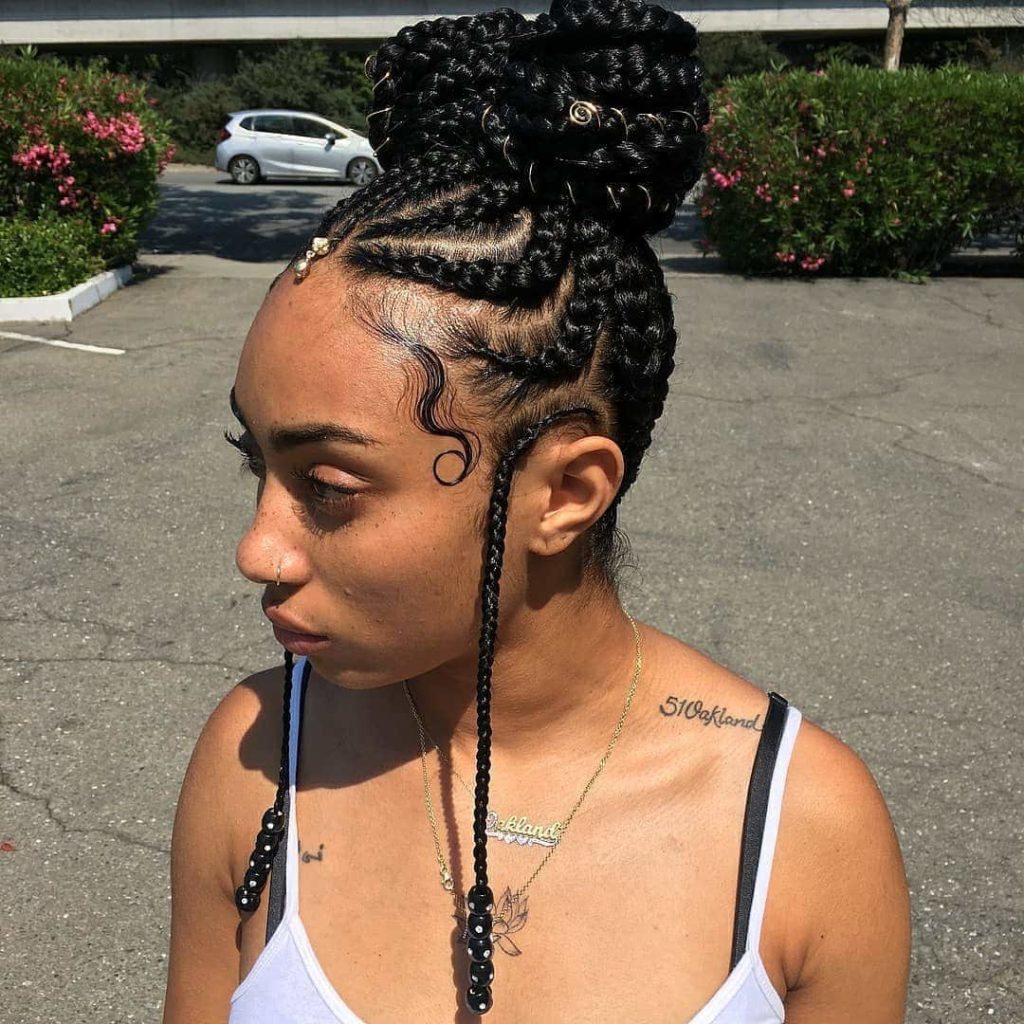 This is a regular big Shuku braid, but the tail of the attachment is made into a bow. This style will suit any girl and can be made with any color of attachment. All things being equal, it should be completed within five hours.
8. Two Bun Cornrows with Butterfly Effect
The hair is divided into two halves and braided to make two buns on the head. An extra butterfly effect makes it more beautiful. This style will be suitable for round-faced girls and can be done using any color of attachment. It takes about six hours to make this style.
9. Stitch Braids with Ponytail
This style combines the regular stitch braids and an unbraided ponytail. Using two shades of color on the ponytail adds to its beauty. Ladies with oblong faces will look good in this hairdo, and it takes about three hours to get it done.
10. Classic Bow Ponytail with Curls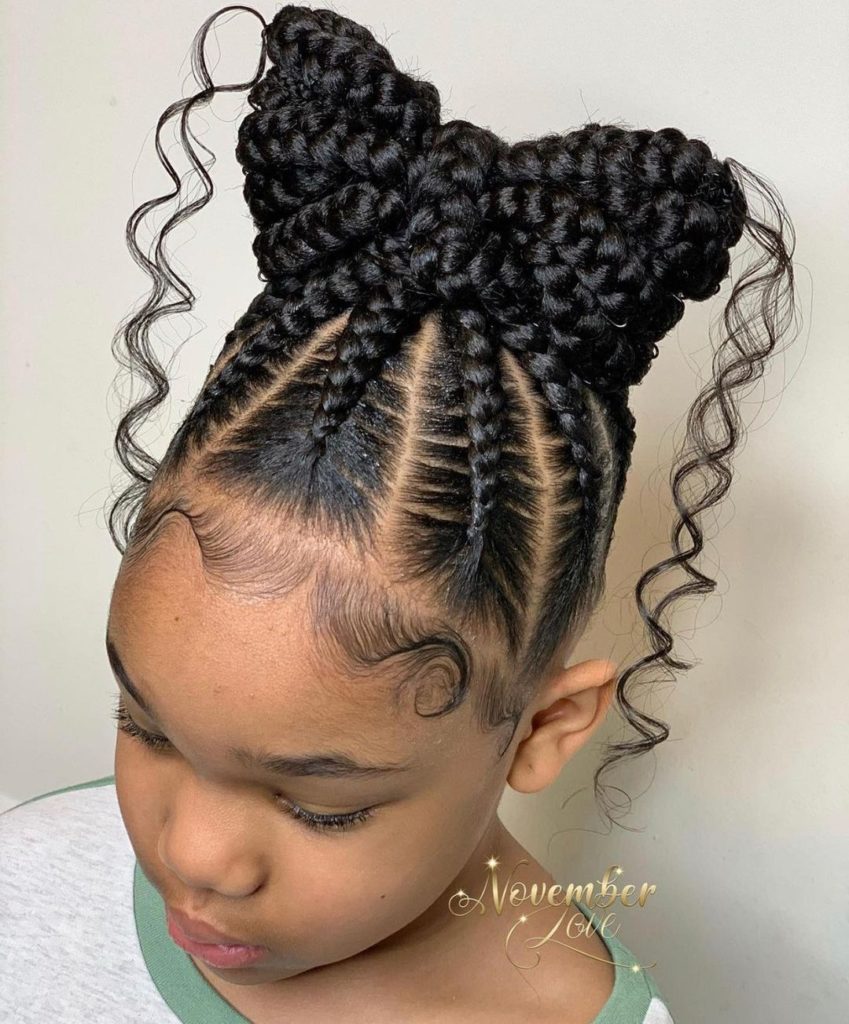 Its name perfectly describes it. This style can be made with any color of attachment, and it is also suitable for girls with round faces. Making this hairstyle may take about two hours.
11. Colored Shuku and Black Cornrow
Two colors are used in making this style. Black for the cornrows and any other color for the ponytail. This style will be nice for girls with oblong faces. Although it looks sophisticated, it can be done within five hours.
Tiny Ghana Weaving Shuku
12. Milky Shuku
Golden hair extensions are one of the best options for tiny braids styles available. The cornrows are tiny and neatly made such that they can last for a long time. This shuku style looks good on anyone regardless of the shape of their face. Due to its tiny braids, it can take over five hours to make.
13. Feeding Braids
The hair is carefully divided into two halves. The front is made into a lovely shuku while the back is plaited to fall on your back. This style is best for people with round faces, but girls with oblong faces can make them too. Any attachment color can go, and it takes about seven hours to make.
14. Ponytail Cornrows with Beads
This type of tiny braid is neatly made and enhanced with beads. It is a good fitting for any lady that likes it simple. Because of its tiny braids, it can take up to six hours to make, and any color of an extension will be good.
15. Tiny Ponytails with Curls
This is made of braided cornrows and unbraided curly ponytails. Two shades of color make the hair more lovely. Any girl can do this style, and it takes about five hours to get it done.
16. Basket Braids
If you like braids that are closely packed together with no space in between, this style is for you. Basket Braids look good when made with natural colors of attachment and may be done within four hours, depending on the size. It is a good hairstyle for ladies with round faces.
17. Partial Braid with Ponytail
Half of the hair (front part) is braided, while the hair at the back is not braided but tied together with the braided half into a ponytail. Use a color of attachment similar to your hair color for a good result. This style is simple and can be completed within five hours or less.  It is suitable for every lady that loves looking unique.
18. Chic High Ponytail
This is a classy shuku braid with two beaded braids on each side. Perfect for girls with oblong faces, but may also suit those with round faces as well. It can be made within four hours with any color of extension.
19. Systematical Lengthy Bun
This is a classy and straightforward Ghana weaving shuku style made of perfectly woven cornrows. With an attachment of any color, any girl can achieve this look in about five hours or less, depending on the length.
20. Goddess Double Ponytail with Beads
This simple style has two beaded ponytails on each side. It looks perfect when made with natural colors and is suitable for any lady. It takes about six hours to complete.
21. Long Curvy Braids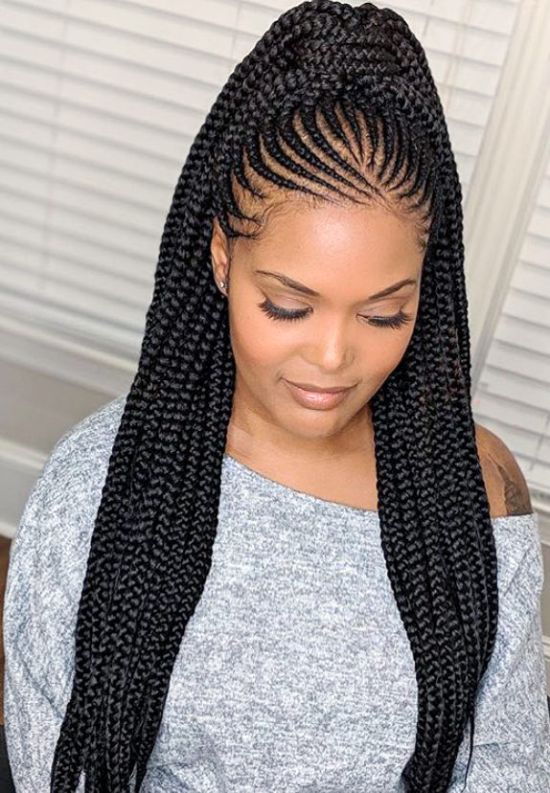 The braids of this hairstyle are slightly curved and suit girls with oblong faces. It may take up to seven hours to make this style, and any extension color will do.
22. Tiny Bun Cornrows
The tiny and closely packed braids are a good fit for people with round faces. The style can be made within about five hours or more using any color of attachment.
23. Four-Part Side Cornrows with Two Bun
This seemingly complicated style is beautiful and perfect for every lady. It can be made within five hours with any attachment that the individual prefers.
24. Crossed High Bun with Curls
This is another beautiful combination of braids and free ponytails that can be done using any color of hair extensions. The hairstyle is perfect for girls with oblong faces and requires about five hours to get it done.
25. Snake Ponytail  Cornrows
Braided firmly to look like a snake, the twisted braids can be done with attachments of any color. Also, this style is best for women who love to look very African. It can be braided and completed within six hours.
History of Ghana Weaving
These Ghana weaving shuku styles are also called banana braid and fishbone braid by some people, the Ghana weaving style has existed since the early years in Africa.  Hieroglyphics and sculptures designed around 500 BC depicted Ghana braids. They were made to demonstrate how much attention Africans paid to their hair.
This weaving style is called Ghana weaving, probably because it has been a major part of different Ghanian cultural, social, religious, and ethnic traditions. Over time, the braiding pattern has been adopted across the world and has been twisted into different fashionable designs. Although the hairstyle has always been in the picture, it became more popular as stylists started making different beautiful styles with it.
What To Consider Before you Choose a Hairstyle
The Ghana weaving hairstyle is usually beautiful and unique no matter the style but sometimes it appears out of place on the person carrying it. This often means that they chose the wrong style for their physical features. Perhaps these tips can help with that.
Consider your face shape and type
There are different shapes the face of a human can take, ranging from round to oblong, long, square, and even heart shape. These shapes must be put into consideration before choosing a hairstyle. While some styles will be good for all face shapes, some others may appear awkward for some faces. So, the next time you want to make your hair, conduct research or ask an expert to know if the style is appropriate for your facial features.
Age
As trivial as it seems, children have certain hairstyles that are suitable for them. Choosing a hairstyle meant for adults for a child might achieve a result you may not like. For one, the skull of a child is smaller than that of an adult, so, not all hairstyles that are suitable on an adult's head would be okay for a child. Children also have colors that work for them but appear awkward on an adult.
Skin Colour
This is where the color of hair extension comes into play. Remember to consider the color of your skin anytime you want to braid your hair. This is important because your skin color kind of complements the hairstyle on your head and the color it comes with. Also, some styles are better done with dark colors while others will be great with flashy colors. However, just because you saw someone with a particular color of extension doesn't mean you have to use the same, even if you want to make the same style they made.
Dress Sense
Did you know that your dressing and your hairstyle have a lot in common, they also complement each other. There are certain hairstyles that will be better appreciated if they go with crazy outfits. Sometimes the dress you wear brings out the style of your hair and vice versa.
What's the Occasion?
There are certain hairstyles you can't make just to sit around at home or do some menial jobs or even go to the office because they are not just suitable. Some hairstyles can make you uncomfortable if you try to carry out certain tasks. So, don't just make that style of hair because it's cute, consider your daily activities to be sure you will not end up inconveniencing yourself.
Budget and Time
Finally, there is no need to close your account to make a hairstyle that will end up getting old in a matter of weeks. Some hairstyles require you to use a lot of hair extension packs and pay more to have it done because of the complications involved. So, before you choose a style, endeavor to check your pocket to be sure you are making the right choice. Also, consider the spare time you have to invest in making your hair. If you are on a tight schedule, there are many simple hairstyles to go for.