Cornrows are a traditional African braiding method in which the hair is braided very near to the scalp in a continuous, elevated row, employing an underhand, upward motion. Cornrows are commonly worn in basic, straight lines, but they can also be dressed in intricate geometric or curved shapes.
There are several cornrow Afro hairstyles that can be rocked in different ways. Moreover, Cornrows remain one of the most versatile ways to protect and style the curly or coarse hair of the African woman. While some people believe cornrows are only appropriate for informal settings, we're here to prove them wrong with styles that show you how to wear them for every occasion. See 20 gorgeous cornrow Afro hairstyles that will make you want to schedule an appointment with your hairstylist.
1. Half Cornrow Crown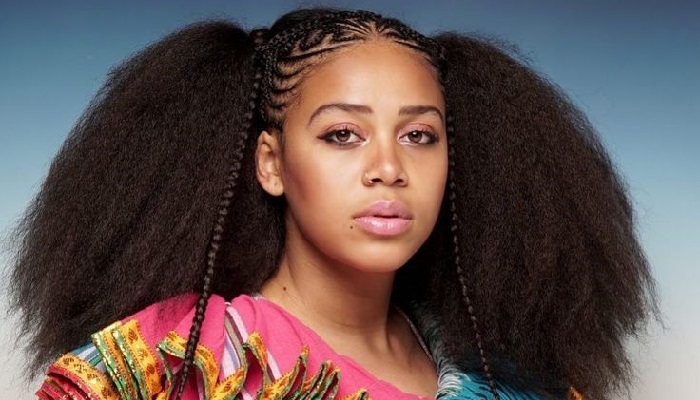 Remember how trendy it was in the 1990s and early 2000s to cornrow the front of your hair and leave the remainder in spiral curls? The trend is back, but this time you should let your natural hair do the talking. Instead of putting your braids away after combining them to form a crown, let them out for a striking contrast.
This style is one that can make anyone look regal without trying too hard and it is perfect for oval-shaped faces. If your hair is thick, you don't need attachment for the braids. If not, a little attachment is added to give the hair volume and grip while the rest of your natural hair forms the afro. This hairstyle will cost you an estimated $35.
2. Shuruba/Albaso
A beautiful cornrow Afro hairstyle known as a "Shuruba" or "Albaso", this style is popular in Ethiopia and Eritrea. The front half of the hair is cornrowed down like a crown, and the remainder of the hair is let down for a lovely half-up-half-down hairstyle. The plaited front part can be done without attachment while one can add an extension to the back to get the desired volume.
This hairstyle is definitely one to make a big statement and it can be dialed up or down, depending on the overall look one is aiming for. For example, a headband can be added to the outfit for special occasions. The price estimate to achieve this hairstyle is $45.
3. Accent Cornrows
If a single cornrow part isn't enough for you, go for two to create a more accentuated look. When you match afro puffs with cornrows, the appearance becomes even more dynamic, especially if you add charms and other trinkets to finish the look. We also enjoy it when beads are included. One good thing about cornrows is that you can always tweak and play around with them. This cornrow Afro hairstyle is cheap at an estimated cost of $35.
4. Milkmaid Braids
A milkmaid style can be exactly up your alley if you desire a look that's half cornrow, half updo. You may instantly modernize the appearance by adding a few frontal accent cornrows to match your larger milkmaid braid. Beads and braid charms help to complete the look. This is one of the simplest cornrow Afro hairstyles on this list and it's really easy to manage as most of the hair is off your back and neck asides from the accent cornrows by the sides. It can fit most face shapes and is quite affordable. You can make this style with a budget of $25.
5. Rock Star Fauxhawk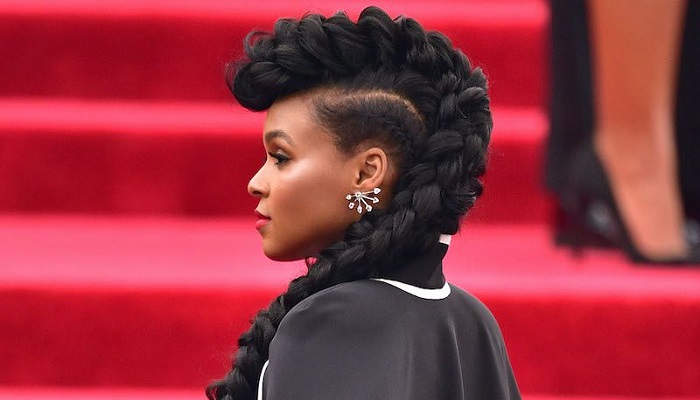 Cornrows and fauxhawks go together like peanut butter and jelly, and it's because the braided sections look like shaved parts. Furthermore, if you have a highly experienced braider, you can mix any braid designs for a completely unique look. This cornrow Afro hairstyle borders on being edgy and can be rocked for different occasions. This hairstyle costs between $30 to $40.
6. Cornrow Updo
A cornrowed updo is both protective and fashionable, and the options of styling it is unlimited. This cornrow Afro hairstyle is simple yet elegant. It draws attention to the face and can be rocked by everyone no matter the face shape. This style is an apt representation of the phrase "less is more".
While making this hairstyle, if your braider is putting too much tension on your hair, like with all protective styles, speak out. If your braids feel tight after your session, soak them in warm water to loosen them up. For about $55 dollars or less, depending on the hairstylist, you can rock this beautiful cornrow.
7. Touch of Texture
You can still play around with texture using braids. Mix little cornrows with standard or giant braids to give your look some creative roots, both literally and metaphorically. Let's take a moment to appreciate how well-laid the edges are. A well-laid edge can definitely impact the overall look. This cornrow Afro hairstyle is simply elegant and is a perfect fit for oval, oblong, and round-shaped faces. Budget about $40 for this beautiful style.
8. Cornrows and Natural Hair
Cornrows and natural hair can be used to create a unique style. With this two, the possibilities are endless and dependent on your hairstylist and how far you are willing to go. This cornrow Afro hairstyle will allow you to flaunt your braiding talents while also highlighting your gorgeous natural hair. If you are a pro at DIY, this is one look you can achieve by yourself. You may even make a statement by spicing it up with different accessories. If you can not make this style by yourself, no need to worry as it is pretty affordable. You might be able to get this done with $25 dollars.
9. Curly Mohawk with Flat Twisted Cornrows
This is one cornrow Afro hairstyle that can help you experiment with different braid techniques and instead of shaving the sides of your hair for a mohawk, why not make them into this beautiful cornrow. You may preserve your length while yet displaying your edgy side. Go to bed with your ends in two-strand twists the night before to renew your curls in the morning. Your hair will fall into that lovely mane when you remove them. The estimated cost for this style is $55.
10. Cornrows with a Twist
Cornrow hairstyles are fundamentally cultural hairstyles for black women and men. They are characteristically designed for black hair but have grown beyond this group. For this particular cornrow Afro hairstyle, the rows are cut in geometric designs, emphasizing the expertise and talent required to create these hairstyles. Natural hair or extensions can be used to create the heavily weaved braiding on top. The style can cost about $50.
11. Crossed Twists and Afro Puff Pony
A beautiful hairstyle may sometimes be created by combining a few simple features in one do — here's an example! When your hair is the right length, who doesn't adore an afro puff? Flaunt your personalized afro puff with a playful accent in the front. You can dye the tips of your hair to have an edgy look or you can use an extension for your puff. Classics that have been upgraded are the best! Hair preparation is about $45.
12. Simple Half Cornrows Half Curls
Box braids are one of the most well-known Afro-textured hairstyles. It also looks great with a fishtail braid or a half-up, half-down style, as well as French braids. Crochet braids are built on the base of this cornrow pattern. To make further statements, you can spice this cornrow Afro hairstyle up with beads and accessories. Colors bring a particular vibrancy as seen with this hairstyle. The best of both worlds is available with this half-done cornrow style. This simple style will cost you about $30.
13. Cornrow Natural Updo
With two loose braids in the front, the twisted hair has been styled high on the head. It also comes with a lovely hair ornament. To get this style, you can purchase headbands or utilize a necklace. Simply choose your best necklace and fasten it in place using bobby pins. Even though this cornrow Afro hairstyle was achieved with all-natural hair due to the length and texture of hair, this style can also be achieved with little extensions here and there if your hair isn't this long. Expect to pay around $45 for this hairdo.
14. Cornrows Into Space Buns
For this look, Four cornrows with two low buns have been fashioned into the hair. Gold hair cuffs were also used to embellish the braids. This hairstyle is one of our favorites, and AbbieCurls has a YouTube lesson on how to achieve it. There's something about healthy natural hair. It's just absolutely stunning and the texture of this hair has definitely contributed to the beauty of this simple and classy style. This cornrow Afro hairstyle costs about $30.
15. Cornrow With Curly Bangs
Are you a fan of bold natural hairstyles? Then take a look at our next recommendation. The back of the hair has been braided, and all of the braids have been fashioned up into a stylish updo. In the front, there is also lovely pineappled hair. This is a gorgeous cornrow Afro hairstyle that would be perfect for a night out or a party. With the right makeup and dress, this hairstyle is a hit on every side. To achieve this style the price can range from $35 to $45.
16. Cornrow Updo Hairstyle For Natural Hair
The hair is braided at the back of the head for this appearance, and the look is completed with a bun. This is a lovely and stylish hairdo. You can attempt various braid patterns or reproduce this one. This bun is both comfortable and beautiful. Among the Yoruba people of Nigeria, Africa, this hairstyle is called "Shuku" and the bun can stay at the middle, far top of the lower part of the head. Unlike "Shuku" where the entirety of the hair is cornrowed, the tip of the hair is left out here to form a Bun. Expect to pay about $55 for this hair.
17. Protective Cornrow Hairstyle For Natural Hair
This is a unique and innovative braided style. The top has been braided into a stunning line design and topped off with gold hair cuffs. The hair at the back is then styled. This hairstyle is one of our favorites since it is both fashionable and protective of your natural curls. With hair like this, you'll undoubtedly stand out from the crowd as it is simply elegant. This hairstyle may cost around $40.
18. Thick Braided Updo
Love braided updos? Then this is for you. We have this thick, simple, and neat plaited hair here. The hair is lovely and simple to style. This hairstyle is for those days when you want to take a break from your hair but still look fabulous! Despite the simplicity, you can spice it up with different accessories. This is one hairstyle that sits well on you no matter your face shape. It is also affordable and can be done for about $20.
19. Stylish Cornrow Braids
Then there's the chic cornrows and braids. The hair is done into a braided bob, and the braids are in a zig-zag pattern, as you can see. It's a very fashionable appearance, and you can see a tutorial for it on the Instagram page. You can keep it simple or add some flair to the braids with embellishments. The pricing ranges from $50 to $65.
20. Cornrow Braids with Natural Hair
Cornrows are best worn with natural hair. After all, this braiding technique was created for Afro hair textures that were completely untreated and unstraightened. Side cornrows are a terrific style for natural hair. This technique can be used to create a small Afro-mohawk or a faux-undercut style. This style is ideal for showcasing a set of stunning earrings because your hair is braided high. For the warmer summer months, it's also a nice braid option that gets your hair out of the way. You might need up to $60 or more to achieve this hairstyle.
Why You Should Rock Cornrow Afro Hairstyles With Pride
Cornrows are one of the most protective and low-maintenance styles for natural or relaxed hair. They sit close to the scalp and can be shaped in a variety of ways, depending on the appearance you want to achieve. Even though cornrows are said to have originated from Africa where they are traditionally adorned with beads, shells, and other accessories, cornrows have grown to be generally accepted all over the world.
Asides from being stunning, they are also perfect low-maintenance protective hairstyles for natural hair. Cornrows reduce daily tear and wear that we regularly put our hair through by washing, combing, and styling which can lead to shrinkage.
Cornrows help you keep your hair in its best condition without putting much effort and product into your hair everyday.
How To Maintain Your Cornrows
A cornrow hairstyle can stay for up to 8 weeks and retain its fantastic look, depending on how well you take care of it. Despite cornrows being low maintenance, here are some tips to help your cornrows last longer.
Make sure you oil your scalp regularly. Cornrows give you unlimited access to your scalp. Take advantage of it.
Style your edges or baby hair. Your baby hair can affect the overall look of your cornrows. Make sure your edges are perfectly styled.
Do not go to bed without your bonnet. Don't get it twisted, "low maintenance" is different from "no maintenance". Make sure your hair is firmly and neatly tucked into your bonnet before you go to bed.