Bundle offers cut across data and voice packages. You want to join a service provider with awesome data packages at affordable prices and has excellent call rates. This combination is the major thing many customers look out for before considering internet speed and coverage. Doing this sort of research might be considered time-consuming and perhaps stressful. As a result, this article has been created to relieve you of such stress. Vodafone has long since been a major telecommunication force in Ghana, and they have some of the best bundle and Broadband offers in the country.
VODACOM GHANA DATA BUNDLES
Vodacom Ghana always tries to put its customers first when creating data plans. The result is a wide range of data bundle options that suits the need of every kind of customer. Whether you are a casual smartphone user or a social media-heavy user, or a corporate consumer, there is a bundle perfect for you. We examine every single data bundle available to Vodacom Ghana users below:
HOURLY BUNDLE
The hourly data offer exists for those who seek to make an instant download or stream a video within an hour. It is a data package where you pay a small price to get a substantial amount of data to download or stream what you want in or under an hour.
A major benefit of this Vodafone Ghana bundle is that it is cost-effective and gets the job done instantly. The unavoidable downside is that you are under pressure to exhaust your data within an hour or risk losing leftover data.
To subscribe, dial *700# and follow the prompts to subscribe to this bundle.
There are two sub-packages under this bundle:
Streamer Hour – this costs GHs 1.08 and gets you 500mb of data that lasts for an hour. You can stream your favourite videos using this package.
Downloader Hour – this costs GHs 2.15 for 2gb and also lasts for an hour. As the name suggests, it is used primarily for downloading.
DAILY OFFERS
This bundle exists for certain customers that prefer a day-to-day form of subscription, i.e., you enjoy subscribing to data daily. It could be because funds are limited and would like to take advantage of its low price. It could also simply be a matter of preference because you are mostly a casual smartphone user who spend limited time online.
Whatever category you fall into, Vodafone Ghana has you covered with four sub-packages under this data bundle. The advantage of this bundle is you are in control of when you can access the internet daily. The obvious disadvantage, though, is that buying data every single day might end up costing more than simply doing a longer plan.
The four sub-packages under this bundle and their codes are:
Starter Daily – costs 54 pesewas for 25mb of data, which lasts a day. Dial *700*65# to subscribe.
Chat Daily – the price is GHs 2.15 for 130mb of data and lasts 24 hours. The shortcode is *700*24#.
Browser Max Daily – this costs GHs 3.25 and gets you 550mb data to use for a day. Dial *700*28# to subscribe.
Browser Lite Daily – This package's price is GHs 5.4, which gets you a juicy 1gb of data. Unlike the previous packages, this lasts for two days. To subscribe, dial *700*56#.
WEEKLY OFFERS
The weekly data offer is for people who want data plans that last longer than a day but do not want to get into monthly plans for various reasons. Vodafone Ghana even has a package under this with no expiry date and ends when you have exhausted your data allocation. That is a big pro.
However, the con is that the prices might prove too expensive, with not nearly enough data for the cost. There are four sub-packages under this bundle:
Starter Weekly – Costs GHs 2.15 for 80mb of data, which has no expiry date. Dial *700*27# to enjoy.
Downloader Lite Weekly – Pay GHs 5.4 and get 450mb data for seven days. Code is *700*31#
Streamer Max Weekly – this sets you back GHs 10 for 1.5gb data lasting 15 days instead of 7. Dial *700*59#
Browser Max Weekly – GHs 21.5 for 4gb, which you have to spend within seven days. Dial *700*60#.
MONTHLY OFFERS
These are the most popular data bundle offers among Vodaphone Ghana customers. Subscribing for a month means you can use your data at your own pace and enjoy internet access for a while. The obvious downside is if your data is exhausted before a month, it can ruin your budget plans. There are three sub-packages under this bundle with Vodafone Ghana:
Chat Monthly – price for this is GHs 20, and it gets you 4gb, which lasts for 30 days. Code is *700*34#.
Downloader Monthly – this costs GHs 50 for 10gb data. Dial *700# and follow the prompts to subscribe.
Browser Monthly – this sets you back GHs 108 for 20gb. Dial *700# to get started.
JUMBO OFFERS
This bundle exists for heavy data users. Perhaps your work requires you to consume a huge amount of data, or you are undergoing online course training and need huge data; this bundle is for you. Unfortunately, this bundle is expensive and can be straining if you have a lean budget. The sub-packages under it are:
Jumbo Streamer – Get 40gb for GHs 215 spanning 30 days. Dial *700*48#.
Jumbo Max – GHs 320 gets you an eye-watering 100gb of data for a month. Dial *700# to begin.
Jumbo Optimus – GHs 430 equals a whopping 200gb, and it expires after 30 days. Interested? Dial *700# and follow the prompt.
NIGHT BUNDLES
This Vodafone Ghana bundle is great if you do most of your data-intensive work at midnight to take advantage of the increased internet speed and quiet. Subscribe to either the Night King 1 plan for GHs 2.15 and get 2gb or go bigger and subscribe to the Night King 2 plan for GHs 5.40 and 7.5gb data.
Both night plans last from 12 am – 4 am, and you can get in on it by dialing *700#.
VODAFONE GHANA VOICE + DATA BUNDLES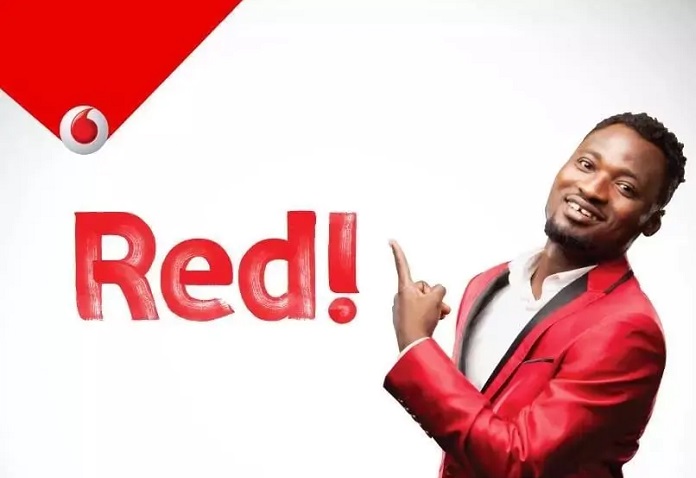 The Vodafone Red is Vodafone Ghana's premier voice + data bundle. The Vodafone Red is a combined bundle that offers minutes to call all networks, data to browse, and SMS to get in contact with friends and loved ones.
There are currently eleven sub-bundles under the Vodafone Red bundle, any of which you can subscribe to by dialing *200#.
Below is a table detailing each sub-bundle, the price, the allocated data, and the validity period.
| | | | |
| --- | --- | --- | --- |
| RED PACKAGE | PRICE (GHs) | ALLOCATION | VALIDITY PERIOD |
| Red 1 | 1.00 | Unlimited calls to Vodafone lines, 10mins to other networks, 52mb data | 24 hours |
| Red 2 Plus | 2.00 | 52 mins to all local networks, 52mb data | No expiry |
| Red 2 | 2.00 | 414mins for Vodafone lines, 31mins to other networks, 104mb data | 3 days |
| Red 5 Plus | 5.00 | 155 mins for all local networks, 155mb data | No expiry |
| Red 5 | 5.40 | 129mins each for Vodafone lines and other networks, 259mb data, 10 SMS | 7 days |
| Red 10 | 10.00 | 331mins for all local networks, 331mb data, 10 SMS | No expiry |
| Red 20 | 20.00 | 1242mins for Vodafone lines, 311mins for other networks, 776mb data, 21 SMS | 30 days |
| Red 25 | 27.00 | 518mins to call all local networks, 1.55gb data, 21 SMS | 30 days |
| Red 30 | 30.00 | Unlimited mins for Vodafone lines, 518mins to other networks, 1.55gb data, 21 SMS | 30 days |
| Red 50 | 50.00 | Unlimited mins for Vodafone lines, 900mins for other networks, 2gb data, 20 SMS | 30 days |
| Red 100 | 100.00 | Unlimited mins for Vodafone lines, 2000mins for other networks, 3gb data, 20 SMS | 30 days |
VODAFONE GHANA BROADBAND PACKAGES AND PLANS
Vodafone Ghana has put together broadband packages that consider every economic demography, much like their data bundles. There are two primary packages available on the Vodafone broadband offer list. Still, there are mouthwatering options that serve as bonuses as well.
STANDARD PACKAGE
The standard package is home to five sub-packages. Each one is tailored to satisfy the needs of a wide range of customers. The five sub-packages and their prices are:
Browser – the browser package is made for customers that surf the internet, use mailing platforms, and enjoy chatting and keeping in touch with their friends on various social media platforms. It costs GHs 90 for 26gb worth of data. It also comes with unlimited evening and weekend calls on any landline.
Streamer – This package is for those that love to stream videos on YouTube and other apps. GHs 140 fetches you 52gb to enjoy. Additional features remain the same as the browser package.
Webmaster – If you are a social worker, networker, and communicator who enjoys doing more than leisure browsing, this GHs 200 for 14gb package is perfectly tailored for you. It has the same additional benefit as the previous two packages.
Downloader – great for customers who enjoy serially downloading movies, music videos, and other forms of data-intensive media. The 259gb gotten for paying GHs 285 should prove more than enough to sustain you for the month.
Office – the office package is for customers that seek to use the internet to run their company or business. If the internet is important in your business transactions, then forking out GHs 450 for 621gb of data should prove to be no issue.
ONE FAMILY PACKAGE
The One Family package is all about ensuring that the family continues to remain united and together wherever they might be. It seeks to strengthen the family bond by providing a broadband package accessible to each member of a family regardless of where they might be and enhance communication.
The one family package is divided into three sub-packages, namely:
Small which goes for GHs 120 and fetches 47gb;
Medium goes for GHs 220 and gives the family 207gb worth of data;
Large is the most expensive sub-package. It costs GHs 350 for 466gb of data.
UNLIMITED OFFERS
In addition to the two major broadband packages, Vodafone Ghana also offers unlimited offers. To subscribe:
Simply dial *900#-7-1 to subscribe to the unlimited weekend plan for GHs 20.
It lasts from 1 am on Saturday to Sunday at 11:59 pm.
To subscribe to the unlimited monthly plan,
Dial *900#-7-2 to subscribe for GHs 100.
You can convert any of your current monthly plans into an unlimited monthly one using the code above.
The major advantage of the unlimited plan is that you have unlimited access to anything online. There is no data cap, and within your plan's active period, you can download any and everything.
The con is that it costs more money to activate the unlimited plan, and for the weekend plan, it lasts for just one day. That could be too much money for too little time.
Both unlimited plans are open to customers on the standard package and the one family package.