Are you looking to receive incoming international wires in South Africa? Then, you must have access to the SWIFT (Society for Worldwide Interbank Financial Telecommunication) Codes assigned to major South African Banks. With the SWIFT code, which is also the same as BIC (Bank Identifier Codes), international funds transfers can be sent and received successfully in the country without any hitches. We are set to explore the meanings and uses of SWIFT code, BIC, IBAN, and the likes for this piece.
What Does SWIFT Code Mean?
SWIFT is an acronym that means Society for Worldwide Interbank Financial Telecommunication. It is a set of Bank Identifier Codes created for the purpose of international funds transfer between the world banks and their respective branches. It is simply explained as a system of messaging networks used by banks and financial institutions to securely transmit sensitive instructions and information via a standardized system of codes. Each country has its own structure for SWIFT Code which sets them apart from others. SWIFT was originally formed in 1973 when financial institutions were first assigned unique codes.
Since its inception, SWIFT has remained the major method of making international funds transfers. A good reason for this is that the SWIFT messaging system is structured in such a way that it allows/permits banks and financial institutions to share a significant/considerable amount of financial data. This includes info like;
The status of the account
Debit and credit amounts
Any other important details relating to the funds' transfer.
The two identifiers: SWIFT and IBANs are vital in ensuring a successful and swift international transfer and both must be accessed for funds transfers to move seamlessly at the international level. The identifier that a user will require depends on certain factors; the bank or financial institution used, the beneficiary's bank, and the origin of the transfer (the countries where the transfer originated), and where it is received. However, in the absence of either of them (SWIFT and IBAN), there may be glitches in completing international transfers successfully.
| | | | |
| --- | --- | --- | --- |
| S/N | Bank Name | Universal Bank Code | Swift Code |
| 1. | Absa Bank Limited | 632 005 | ABSAZAJJXXX |
| 2. | African Bank Limited | 430 000 | AFRCZAJJXXX |
| 3. | Bidvest Bank Limited | 462 005 | BIDBZAJJXXX |
| 4. | Capitec Bank Limited | 470 010 | CABLZAJJXXX |
| 5. | Discovery Bank Limited | 679 000 | DISCZAJJ |
| 6. | First National Bank (FNB) | 250 655 | FIRNZAJJ |
| 7. | FirstRand Bank – A subsidiary of First Rand Limited | 250 655 | FIRNZAJJRSL |
| 8. | Grindrod Bank Limited | 223 626 | GRIDZAJJXXX |
| 9. | Investec Bank Limited | 580 105 | IVESZAJJXXX |
| 10. | Merchantile Bank Limited | 450 105 | LISAZAJJXXX |
| 11. | Nedbank Limited | 198 765 | NEDSZAJJXXX |
| 12. | Old Mutual | 462 005 | OMAMZAJC XXX |
| 13. | Sasfin Bank Limited | 683 000 | SASFZAJJXXX |
| 14. | Standard Bank of South Africa | 051 001 | SBZAZAJJ |
| 15. | SA Post Bank (Post Office) | 460 005 | SBZAZAJJ |
| 16. | Tyme Bank | 678 910 | CBZAZAJJ |
The Structure of the SWIFT Code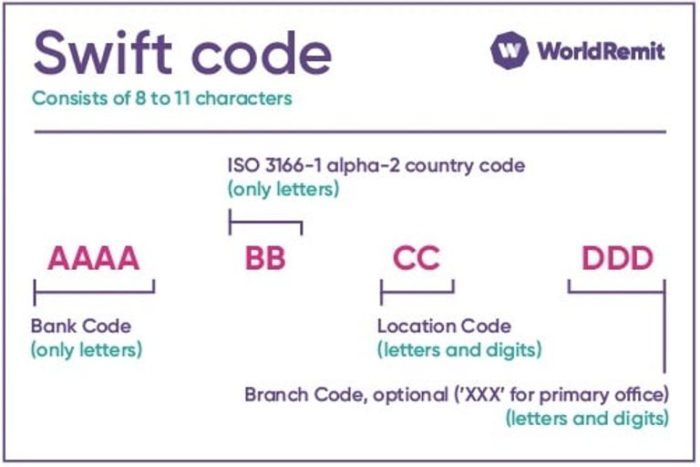 SWIFT Code comprises eight or 11 characters and each has its symbolic meanings – the eight-digit code that usually ends in 'XXX' refers to the head offices of banks while those with complete 11 characters refer to their specific branches worldwide.
With that said, we must note that Swift Codes has four main parts and each has its specific meaning. Below are the components of the SWIFT code and their respective meanings.
The first four characters consist of just alphabets and refer to the bank codes
Next comes two characters describing the country code and consists of only alphabets.
The next two characters are the location-based codes and can be alpha-numerical (consisting of alphabets and numbers)
The last three characters which are optional can also be alpha-numerical and are used for the branch-based code
Why Do I Need a Swift Code?
SWIFT code is very important for people who do international funds transactions. Whenever someone is expecting incoming international wires, the onus is on the individual to provide the correct SWIFT code to receive the funds. Otherwise, the money transfer may not go successfully.
IS SWIFT Code Same As BIC?
People often seek to know the difference between SWIFT Codes and BIC (Bank Identifier Codes) but the two acronyms don't have many differences. SWIFT and BIC are two terms that can be used interchangeably as they mean one and the same thing. Presently, the world can boast of over 40k live SWIFT codes. One fact about using SWFT Code is that it may attract a higher rate but this is dependent on the prevailing going rate when your transaction was made.
Uses of Swift Code
The major function of the SWIFT code is identifying banks, financial institutions, and their respective branches. It simply works as a bank identifier
This system of the messaging network is leveraged by banks in securing the transmission of sensitive info and instructions via a Standardized system of codes.
It plays a vital role in different banking transactions, more importantly, international funds transfer
Various banks and financial institutions around the world leverage SWIFT code in transferring other messages.
IBAN (International Bank Account Number)
IBAN is an acronym for International Bank Account Number and it is a set of alphanumeric assigned to banks and financial institutions used in initiating or receiving international funds transfers. It is also called the Universal Code. The major function of the IBAN is that it makes it easy to identify the country where a bank or FI is located. It is also used for easy identification of a beneficiary's account number. IBAN also assists in checking that the details of each transaction are correct.
IBAN usually starts with the country code which is a couple of digits, followed by another two numerical, and last comes some alphanumeric characters that can range from three to five characters.
The International Bank Account Number is majorly used in countries under the European Union as well as other European countries.
What is the Difference Between SWFT Code and IBAN?
Two globally recognized methods of identifying banks and bank accounts when making international transfers exist. They are SWIFT (Society for Worldwide Interbank Financial Telecommunication) and IBAN (International Bank Account Number). The two serve similar purposes but there are fine distinctions in what each of them can be used for;
While IBAN functions to identify an individual account that is involved in an international transaction, SWIFT functions to identify a specific bank involved in an international transaction.
Both IBANs and SWIFT codes are essential components in the process of international funds transfers; both also play vital roles in the smooth and seamless running of the financial market at the international level.
What this means in effect is that the IBAN operates like an International Bank Account Number which is the full meaning of the acronym. Its major importance is that it provides additional information that aids in identifying overseas payments.