King Monada rings bells globally as the man behind the fainting dance challenge. The South African singer has continued to enjoy the success of his music career which doesn't seem to be slowing down since his breakthrough in 2016 with his hit song, Ska Bhora Moreki. At the home front, he doesn't seem to be slowing down either as he is already married to two women who have blessed him with three kids and alleged to have another woman in his life as a girlfriend.
With his rather intricate love life always making the news, it was recently reported that he has parted ways with his second wife Cynthia after only a couple of years together. The circumstances surrounding their split follows a disagreement they had. While it remains to see if the two are coming back together or not, it takes nothing from the fact that his love and family life call for attention.
Is King Monada Legally Married to Both His Wives?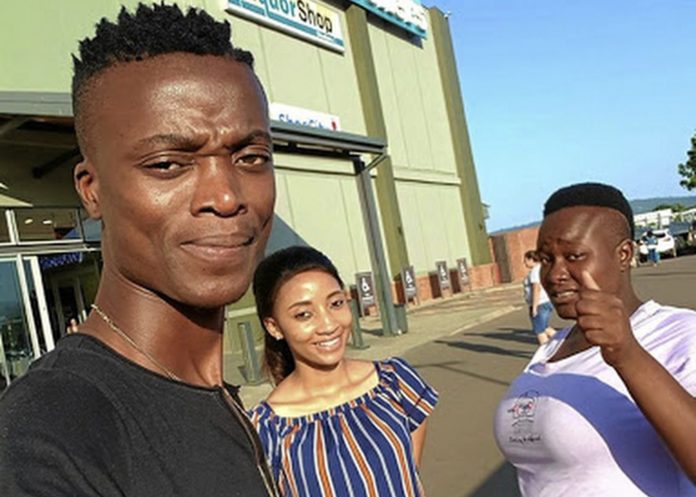 Although it has always been stated that the Limpopo native has been married to both his wives, there is yet to be any talk about how he married them. Whether there was a ceremony of any sort is not confirmed at this time. This remains an issue for debate because years after his marriages, we are yet to see any photos or any sort of confirmation that he actually married them legally.
That said, the singer claims to have paid lobola for both women even though there is no sign that he proceeded in getting married to any of them. While paying lobola is a process of getting married, the issue is still open for debate.
In 2018, when he was enjoying the success of his song, Malwedhe, he paid lobola for Cynthia Nthebatse Lion who then became his second wife. There is no record of any public ceremony that followed before she came to his house.
Lerato Ramawela Was With Him Before He Became Very Famous
The first wife of the singer is Lerato Ramawela. Not so much attention has been given to his relationship with Lerato, even though she has been with him for a much longer time, even before he became a celebrated singer beyond Limpopo and South Africa.
It has not been revealed for how long they have been together, but sources claim that the lovers have known each other long enough for her to be the mother of his child who is close to 10 years old. Lerato is from Tickyline Village near Lenyenye town in Limpopo. The singer gifted her a car in 2019 when he celebrated her. In the Instagram post, he revealed that his wife deserved more than the car. The couple is blessed with two kids, even though he has not shared much about her on social media.
King Modada Was Accused Of Abusing Her
Khutso Kgatla and Lerato made the news in August 2020 after he hurled insults at her friend called Maite for encouraging Lerato to leave him because he was abusing her. King did not only stop at insulting Maite, but he also dragged in her mother, using profane words against them.
In the leaked message that started the problem, Maite encouraged her friend to leave the singer because King Monada was only using and playing her. She told Lerato that she could see she was not happy with the relationship, hence, she should leave and go back to school. The friend also pointed out that Lerato was still beautiful and the two kids she had for Monada doesn't make her less important and that things will only get worse so, she should take charge of her life before it was too late. Lerato's friend warned her in the message that her man had no respect for her and that was the only reason he was doing all the things he did.
The celebrated Limpopo singer was not happy with this, thus, he took a hit at the woman with insults before he backtracked to apologize, stating that he lost his cool and now regretted his actions. He said he was angry and it was in his rage that he threw the horrible words at the woman, even though he should have known better.
His Relationship With His Second Wife Started in 2018
King Monada was already married and with two kids when his love story with Cynthia Nthebatse Lion started in 2018. Before they met, the fair beauty first dated a local DJ who is also from Limpopo, known as Djtokxy Godfrey. Cynthia and her former lover were said to have dated for a while and those who knew them thought they would end up together. They had a child between them before the relationship came to an end.
Cynthia was still reeling from the disappointment of the breakup when Monada came into her life. Within a short while, he decided he wanted to make her as his wife. He confirmed this by paying lobola for her, making her his second wife. They had a child together in January 2019.
Unfortunately, before the end of 2020, there were reports that all was not well in Monada's kingdom and his second wife has packed her things and left. According to some sources, the marriage ended as a result of the constant nagging of Lion who always tried to lecture her husband on coming him late, forgetting his life as an entertainer. She was also said to be disrespectful towards members of his family, including his mother. He sent her packing to go back to her parents and learn some respect but she came back and got her things.
The singer had initially started planning into the future with his wives and kids which was why he built a mansion for the family. For now, Modada and his second wife are yet to make up, and it is not known if the marriage is over for good, or they may find their way back to each other's arms again.
King Monada's Two Marriages Have Produced Three Kids
From the two marriages of the singer, King Monada has been blessed with three kids. His two older kids were birthed to him by his first wife while the second has a son for him before the marriage hit the rocks. His second wife also had a child of her own from a previous relationship before they met and fell in love.
His oldest child, Temoso is already 10, which means he had her either when he was still a teenager or in his early 20s while his youngest child, Junior was born at the start of 2020. When he shared images of his newborn son on social media, trolls took a jab at him, stating that the child doesn't look like him. However, other fans came to his defense by putting the trolls in their place.
He has yet another son whose name is not revealed. Judging by photos from his social media, the father of three is very close to his kids who, without a doubt, give him so much joy.
There were reports that King Monada had lost his daughter in July 2020. It was later clarified that the little girl that died was actually his niece. He took to his social media to mourn the passage of the little one, saying she was going to always be remembered.
He Built A House For His Wives And Kids
Before his second wife left, the singer and the two women in his life, as well as his kids all lived in his luxurious home. However, he later decided to build an even bigger mansion with six bedrooms so there will be no need for future expansion for his family. The mansion is just opposite his own house which also holds his studio.
King Monada was said to have spent anything between R1.5 million and R3 million to erect the mansion in his village, Mokgolobotho in Limpopo. He stated that although many people have wondered why he would set such a massive building in his village which has no electricity or water, he said it was the only place his family felt at home.
He came to the decision to build the house because he believed the luxurious cars he has are not investments and the lifespan of an artist is not long; anything can happen to him or his career at any time. As such, he wants to leave something behind for his wife and kids in case anything happens to him.
There were some claims on social media that he was having some financial troubles while struggling to complete the mansion for his family. However, the singer has since hit back, stating that there was absolutely no truth to the rumors. He said he was raised in a poor family and understands that each cent counts, as such, he has enough to pay his bills and complete his house without any problem.
Is Winnie Mashaba Married to King Monada?
As revealed, more than a couple of sources online have linked King Monada and the gospel singer, Winnie Mashaba as lovers. According to some sources, the two have been dating for a number of years and are even set to become man and wife after the Malwedhe singer allegedly proposed to her in 2017. The speculation states that the two have been together even before King Monada met his wife, Cynthia Lion.
There have also been some rumors that the two have already tied the knot and are now man and wife. Unfortunately, there is no truth to this report. The only link that the two singers have is that they are both from Limpopo.
Winnie, who is more than 10 years older than King, has been married for close to two decades to a man known as Peter Mashaba who prefers to live his life quietly away from any public attention. They have always wanted to have kids but are yet to have any. According to Winnie, she has had two miscarriages in the past and is now not sure if she will have any biological children.
commenting on the rumors, Monada who has ignored it for a long time, claimed that the news was entirely fake. He sees the singer as his sister and nothing more. He also clarified the fact that she was a married woman for more than 14 years at the time, and he has also married two women already, with kids. He stated that the media was only trying to make money from the news, even though they know there is no truth to it. He revealed that he has clarified the matter once, but people still continue with the claim.
Who is The Girlfriend of King Monada?
The love life of King Monada is one aspect of his existence that draws attention. He is in a polygamous marriage and so, it becomes easy for people to assume that he would likely get more women.
The widespread claims that he has a girlfriend who is none other than South African musician Winnie Mashaba is the only one that has linked him to another woman other than his two wives. According to the rumors that have sustained for more than a couple of years, the two have been together even before King Monada got married the second time.
The rumors claim that the two have been secretly dating for a long time but when they were approached, they denied the claims. However, it seems Winnie has never been Monada's girlfriend, even though the rumor is still being peddled.
With the exception of the two women in his life, the Limpopo singer has not been linked to any other person, either as a girlfriend or wife in the past.
He Is Close To His Mother And Siblings
Beyond his own family, King Monada has always been very close to his mother who raised him all on her own after the passage of his father when he was only a little kid, as well as his siblings. Thandi Matlala was forced to take her five kids to her parents' house due to poverty after her husband died and she found it hard to raise them.
In appreciation for her love and care, the singer and his brother surprised her with a car and a driver who would be taking her to work since she was yet to have a license.
Among his siblings are his brothers; Michael Kgatla and Lucky Kgatla, and two other siblings whose names are not known. Growing up in a large family has probably inspired him to also have a large family of his own.