In modern African societies, it is often regarded as impolite or outright lack of disrespect to ask a woman of her age. We also have seen celebrities lie about how old they are when asked their age. People, mostly women have refused to let people know their real age, despite being public figures. The few who tell, lie through their teeth and they do it without even batting an eyelid. Of course, some decline the questions trying to make some reservations for their personal lives while some others confess their ages in a complete plain manner. A very good example of such people is Kamene Goro, One of Kenya's curvy and sexiest Television presenters.
Kamene a popular news anchor. She was known for her captivating appearances on Ebru Africa TV in the Kenyan capital Nairobi, came out clean to let the world know her real age. Guess what? She is a very young woman. We only hope she is not among those female celebrities who knock off a few years from their ages just to get ahead of their career and game. Oh yea, we are quite aware that women generally don't ever let out their real ages, but we believe you Kamene.
And if you are wondering why we believed her that easily, now here is why. We do know that Kamene Goro is among the prettiest news anchors in Kenya and also among the straight talkers. No gainsaying that she became a conspicuous character on social media not just because of her activities in the most decorated local TV, but also because she is a saucy presenter. Although somethings about her personal life including her age has been a big puzzle until now, she comes out clean when asked about them. So no more putting it so wrong guessing her age, she herself has made it public. Yea, the most beautiful and glowing face ever to grace Kenyan screens anchoring news has made public her real age. Just overlook her talent, Kamene Goro who always anchors into the hearts of the country's viewers with her wondrous beauty is very young for her achievements. It might come as a heavy surprise to you, you just need to embrace it because it is the truth…She is unbelievably coasting in her 20s
You Might Also Like: 10 Things You Didn't Know About Linda Muthama
No wonder any time you stare at  Kamene Goro's glowing elegance, you can't comprehend why God took much time while perfectly modelling her. Some might say it is just unfair to have all that beauty in a single being, really while some think she is absolutely beautiful for her age, perhaps thought she was older. Kamene can be compared with our very own controversial model and TV personality, Vera Sidika, only that the later have undergone plastic surgeries while the former is just natural. Now believe it or not all that alluring beauty and talent Kamene has only turned 23 years.
Doubting? The beauty being was born in 1992 when Kenya was returning to multiparty democracy and South Africa was only 2 years old. Surprised? you shouldn't be because she looks it anyway. In fact, she looks young and she is very young too yet she has gained so much from the best of life offers! Unlike all those celebrities you know who always decline discussions focusing on their age and have turned such discussions into a feared deadly virus, this beauty news presenter, Kamene had no reservation when it comes to revealing how old she is. According to her, age is nothing but a number after all!
Now, let me officially wish her a glowing, amazing and awesome new age on behalf of myself and my wonderful colleagues….oh lest we forget, do you know she has quit her job at Ebru Africa after two and a half years of service? Though no accurate reasons were given as to why she left the TV station, we believe that this would be a huge blow to Ebru TV as Kamene Goro was among the presenters who attracted viewership. May she live not only to see vision 2030 come to pass but also see more good things life can offer.
You can watch the photos of the angelic lady below:
See Kamene Goro below. Well Created lady right?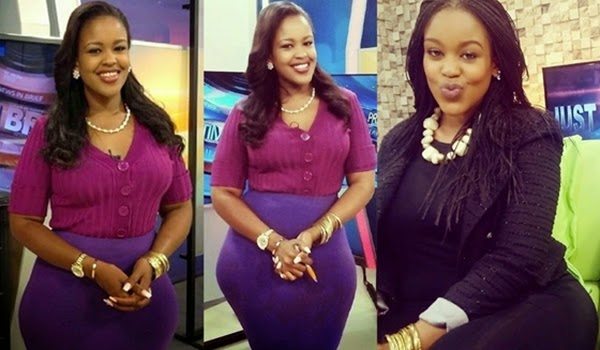 She knows just when to laugh … Her glowing elegance and composure while on air takes the breath of most men away…smile on queen!
Read Also: 10 Lesser Known Things About Julie Gichuru
You no longer need to guess how old Kenya's most curvy TV news anchor, Kamene Goro is. Unlike most African women, Kamene has aired out how old she really is. You won't believe she is this young.