The famous Robert Kiyosaki's quote, "It's not how much money you make, but how much money you keep, how hard it works for you, and how many generations you keep it for," best describes Nicky Oppenheimer's net worth and how he came into his fortunes. Perhaps what some people don't know is that Nicky Oppenheimer is an heir to the De Beers Diamond Mining fortune, which has been in business for 133 years, and as such, his source of fortune is rooted in generational wealth.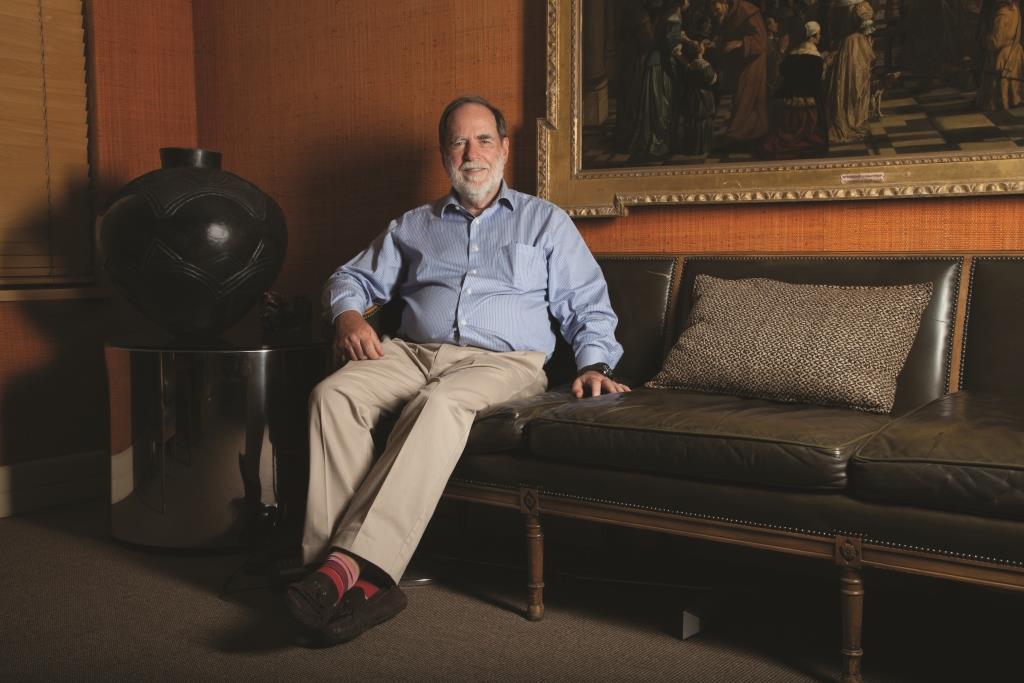 Age: 78 years old
Citizenship: South African
Country of Residence: South Africa
Net Worth: 8 Billion USD
Marital Status: Married
Education: Harrow School, Christ Church-Oxford
Nicky Oppenheimer's Net Worth Can Be Traced Back To His Grandfather, the Founder of Anglo American
Born on the 8th of June 1945 to German Jewish Parents, Nicholas F. Oppenheimer is the grandson of Ernest Oppenheimer (Founder Of Anglo American and the first generation to chair De Beers Company after Cecil Rhodes). We know that the Dutch/ Europeans settled in South Africa in the 17th century and set up business and agricultural empires for themselves. These Settlers also built an empire off the abundant diamond resources in South Africa; one such company is the De Beers Company, founded by Cecil Rhodes (A former prime minister of the Cape colony) In 1888.
De Beers made a lot of money from diamond mining, exploration, and trading. With time, Nicky's Grandfather took over the De Beers Company, which was later handed to Nicky's Father, Harry Oppenheimer, and then to Nicky Oppenheimer.
This Descendant Of German Immigrants to South Africa is currently one of Africa's richest men. Currently Worth 8 Billion US Dollars, Nicky Oppenheimer schooled at Howard School and then studied Philosophy, politics, and economics at Christ Church-Oxford University, where he bagged a Bachelor of Arts/Science degree and also Bagged a Master Of Arts from the same institution. In 1968, Nicky got married to Orcillia Lasch, the daughter of industrial tycoon Helli Lasch, and they have a son, Jonathan Oppenheimer.
Diamonds and mining are the primary sources of Nicky Oppenheimer's wealth.
How Nicky Oppenheimer's Net Worth Accrued
Amassing a net worth of over $8 Billion and overtaking Johann Rupert to become South Africa's Richest man is no mean Feat. Despite coming from a background of "Diamond and Mining" Money, Nicky built his own conglomerate and business interests worldwide.
According to Bloomberg, the Billionaire has maintained private equity investment and shares across Europe, Asia, Africa, and the United States; These private business interests and investments contribute to the steady growth of his Net-worth since 2010 despite some regression in 2016.
Although he resigned as the chairman of De Beers in 2012 and sold off his 40% stake in the company, Nicky Oppenheimer is the helmsman of Greene and Partners Investments, a venture capital firm focusing on developing businesses in South Africa and other parts of Africa. Nicky partnered with two of his friends in 1999 to establish the company.
Building on the bedrock of the wealth accrued from being an heir to the Anglo-American Company and the De Beers Group, The Tswalu Kalahari Reserve in the Northern Cape Town, the resort which is Africa's largest private Game reserve, is a luxury private safari that boasts of very Elite Clientele, remitting millions of dollars in revenue income yearly. Nicky Oppenheimer bought the Game reserve from its former owner Stephen Boler in 1999, after Stephen's death.
And to further spread his business acumen and entrepreneurial tentacles, Nicky Oppenheimer ventured into aviation. He founded Fireblade Aviation in 2014. Fireblade is a private airline and aviation company that offers private flights and private charter services. The Aviation company generates about $8.49 million in revenue yearly.
Mentioning how Nicky Oppenheimer made his money would not be complete without earmarking his mining and Diamond industry background. In 2012, after an 85-year hold of the top spot of the world's biggest Diamond Company by the Oppenheimer Family, Nicky sold his 40% stake in DeBeers to Anglo American mining group for $5.2 billion. It is worth noting that the 5.2 Billion Dollars in Cash gotten from Nicky's sale of his stake in the De Beers Group and the $390 Million in dividends he collected from Anglo-American provide the basis of his investments.
Here is the list of companies owned or chaired by Nicky Oppenheimer.
Anglo American In 1968. (Director 1974, Deputy Chairman 1983, Non-Executive Director till 2011)
Central Selling Organization (Deputy Chairman 1984)
De Beers Consolidated Mines (Deputy Chairman 1985)
Diamond Trading Company (Chairman 1985)
De Beers Group (Chairman 1998 till 2012)
Twalu Kalahari Reserve (Owner 1998)
Fireblade Aviation (Founder 2014)

Philanthropy
Nicky dedicates his earnings to charity and Philanthropy. Nicky and his son Jonathan established the Brenthurst Foundation in 2005 to fund development across Africa. Also, he has donated up to 100 million dollars to aid small businesses in South Africa affected by the covid 19 pandemic. Nicky also devotes his resources to conservation efforts in the South African region.
To intensify his conservation efforts, in 2006, Nicky Oppenheimer and De Beers established the Diamond Route; To amplify the potential of their companies for conservation, research, and environmental awareness purposes.
Awards And Recognition 
Being a Philanthropist and a businessman, Nicky Oppenheimer has been duly recognized both in and outside Africa. Here are some of his awards:
Honorary Doctorate from the Technikon Witwatersrand Institution (2003)
Presidential Order of Honor from the former Botswana President, Festus Mogae (2004)
Honorary Fellowship From London Business School (2009)
Sunday Times Rich List-23rd richest person in the United Kingdom (2018)
Forbes Rich List-Richest Person In South Africa (2019)
Quick Facts About Nicky Oppenheimer
Because Nicky Oppenheimer focuses on preserving the cultural heritage of the South African region; About 720 square miles of conservation land across South Africa, Botswana, and Zimbabwe is owned by him.
In 2014, according to business tech, Nicky Oppenheimer would have had to spend $1 million per day; for the next 18 years to exhaust all his money.
Nicky Oppenheimer has donated over 110 Million Dollars To Small Businesses In South Africa, Since the Covid 19 Pandemic.
. AccordingNicky Oppenheimer is one of the people referred to as the Wealthy White Monopoly In South Africa.
Some Famous Quotes By Nicky Oppenheimer
Despite being a descendant of German immigrants, Nicky sees himself as an African through and through. This he shows in some of his quotes about life, business, and investments in Africa and South Africa. In a 2011 meeting with the Council on foreign relations, Nicky declared, "But it certainly is a great pleasure for me as a proud South African — and I am really a proud South African — to be here today at the Center for Foreign Relations (sic). And I appreciate the opportunity to share some of my ideas about Africa and what Africa can do in the future, particularly taking into account the very uncertain world in which we live today."
Here are some other famous quotes attributed to him.
"I'm a great believer that if you know how to operate in Africa, there are unbelievable opportunities."
"I don't think Africa gets as much credit as it should have on the world stage. People tend to think of us as coming from the dark continent, where nothing good goes on. That's not true. A huge amount of, as I say, entrepreneurship goes on."
 "Diamonds are intrinsically worthless, except for the deep psychological need they fill."
 "Because I am an African, I reserve the right to say that Africa does not exist simply to make people in this country (the UK), or anywhere else in the world, feel good about themselves."
 "It is only through developing and maximizing all its natural resources that a sustainable future for Africa and its people can be secured."
 "Diamond is a key component in the campaign to make poverty history."
"Businesses need certainty, to see clearly the rules of engagement for investing in South Africa."
"We all need to become more customer-focused and recognize the power of marketing to sell more diamonds."
"I am one of the affluent rich living the good life. But, I like to think that I am doing my bit to resolve the problems of Africa, and I'm certainly committed to Africa in the long run."
"It's much nicer to be known as Mr. Nice Guy than Mr. Nasty Guy. But you've got to have lines – and when you hit the line, that's the end of the story, nice guy or not."