Nhlanhla Nciza has inspired a lot of people with not just her music but her life story. A notable singer and member of the Mafikizolo music duo where she performs with Theo Kgosinkwe, Nciza has seen a lot of pain, enough to snuff the life out of someone, but she has continued to thrive despite the circumstances. One of the trying times in her life came when she took to social media to announce that her marriage of almost fifteen years had come to an end and fans have not stopped asking why.
Nciza Was Married To Thembinkosi Nciza, A Music Executive
The 45-year-old singer was married to Thembinkosi Nciza, a South African businessman, politician, and producer at TS Records executive. He's serving the country as the secretary-general of the African National Congress (ANC) in the Gauteng area of South Africa. In addition to his political portfolio, Thembinkosi co-founded TS music record label which later closed in 2015.
Nciza's ex-husband is now heavily involved in politics with a good record to his name. He is respected for having a great vision that sees him go all out to impact his society. He is also passionate about helping young South Africans to find their path in life. With such great attributes, it came as a surprise when his enviable marriage to one of the best singers in South Africa came crashing down.
Nhlanhla and Thembinkosi Nciza Got Married in 2004 and Divorced After Almost 15 Years of Blissful Matrimony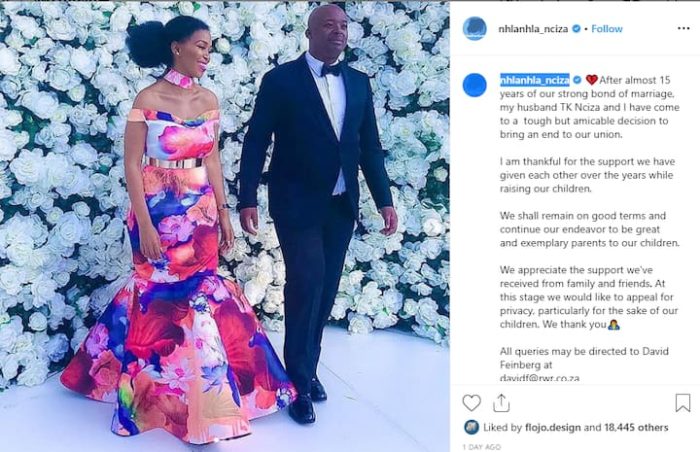 Though nothing is really known about the time the former couple met, it has been reported to be around the 1990s. At first, the singer didn't show any interest in Thembinkosi but he persisted and later won her over. They dated for a while and made the union official in July 2004.
They were happily married, or so it seemed and didn't miss any opportunity to celebrate their union. Their anniversary was always celebrated in colorful events with heartfelt messages left on social media. They even renewed their vows in 2017, looking very happy in the presence of friends and family. Unfortunately, the renewal of marriage vows wasn't strong enough to keep them together as they split a couple of years later, after almost 15 years of matrimony and three children.
The announcement hit the media on Thursday, 20th June 2019, when the celebrated singer and fashion icon took to Instagram to share the news of the end of her marriage. She penned a heartfelt message about how thankful they are for all the years they spent together and the support they have received from family and friends. She also disclosed that the separation was on amicable terms and that they will maintain a cordial relationship for the sake of their sons who look up to them.
Ironically, the announcement came just a few days after the singer took to social media to celebrate TK on Father's Day. Her post focused on thanking him for being a good role model to their sons, which leaves many wondering why they decided to end the marriage. However, Nciza didn't share the circumstances surrounding the separation or why they decided to call it quits but there are speculations on the issue.
Infidelity May Have Led To The End Of The Marriage
While the announcement of the end of her almost 15-year-old marriage sounded like Nhlanhla Nciza had it all figured out, it was soon rumored that she may be facing some challenges in the marriage. It was alleged that TK was the reason the marriage crashed as he was cheating on his wife. In fact, there were speculations that Nciza has been aware of the affair for a while but tried to save her marriage to no avail.
Meanwhile, the lady who allegedly came between the couple has been identified as Lebo Pasha. Social media detectives figured it all out and even went ahead to share her pictures, even though she deactivated her Instagram account. No formal confirmation has been made about this fact so far but tweeps are not ready to let it go. While pointing accusing fingers at her husband, the singer's fans also showed their immense support on social media.
So far, there is no news about Thembinkosi and his alleged side chick. It is not clear if they have continued their affair now that Nciza is out of the way. Rumors have it that they have been seeing each other since 2015 and Nciza was probably aware but didn't take a drastic step. Lebo is slightly unknown in the public space, not until she was linked to what happened between Nhlanhla Nciza and Thembinkosi.
Thembinkosi and Nhlanhla Nciza Share Three Sons
Although she didn't get her happily ever after in her marriage to Thembinkosi, the marriage between the couple produced four children before it crashed in 2019. The couple had three sons and a daughter who is now late. The names of their sons have been identified as Nkululeko, Thamsanqa, and Luvuyo. She always has nothing but praises for her boys and often credits them for being the reason she keeps picking herself up and moving on.
The actual date of their birth is not known but in April 2021, she took to social media to celebrate the 5th birthday of her last child Luvuyo. She penned a loving message that elaborates on how the boy saved her life by helping her pull through difficult times in her life.
"You are the reason I wake up every day and strive to be a better person than I was, the reason I want to do good and the reason I'm excited about the future. You, my son, are the reason I'm alive. You saved my life not once but twice already in your young life and because of you, no-one can ever stand before me and question God's love for me."
Nciza's sons are not visible in the media space like their parents and thus, not much can be said about what they have been up to lately. One thing that is certain is that they are still in school and their parents are doing their best to ensure they get the best parenting, despite their divorce.
Nhlanhla Lost Her Only Daughter in 2009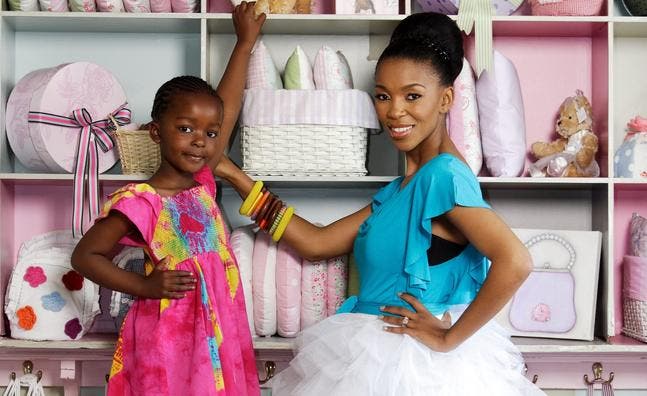 The singer used to have a daughter named Zinathi Nciza. The young girl was just 5 years old when life was snuffed out of her. She died in a car accident on the 7th of December 2009. Zinathi was in the car with her grandmother, her dad's mom – Nomafu Nciza when they crashed into a tree. She was accompanying the older lady to pick up her cousins from a nursery school when the unfortunate incident occurred. Serious head and neck injuries sustained during the accident led to Zinathi's death but MaNciza survived with minor leg and chest injuries.
According to Nciza, she didn't know she could survive the death of her daughter but when she gave birth to her last child Luvuyo, she found solace in him. In an interview a year after the tragedy, she said TK's mom, who was behind the wheels when the accident happened, was still blaming herself for the death of her granddaughter. However, Nciza assured her that they don't hold any grudge against her.