Between 2018 and 2019, the trial of Eddie Gallagher gripped the American public. The decorated Navy SEAL had been accused of deliberately killing a detainee but he denied all the allegations. Eddie's trial and detention dragged on for months and through it all; his wife, Andrea Gallagher, stood by his side. Gallagher staunchly believed in her husband's innocence and spearheaded the campaign to get him freed. So, who is this brave lady? Did she succeed in her mission? All these and more details are explored below.
Who is Andrea Gallagher?
Andrea Gallagher nee Shively was born on the 5th of April 1980 in Fort Wayne, Indiana. She hails from a family of five. Her father's name is Larry Shively while her mother's name is Sharon. The media personality also has two siblings namely brother, Aaron Shively, and sister, Candace Delanoy. Gallagher spent her formative years in Fort Wayne and completed her diploma at Northrop High School. She subsequently delved into photography and spent several fruitful years as a professional photographer.
Gallagher is presently an entrepreneur. She founded her own business, The Better Business for Babes, in 2013. Just like its name suggests, The Better Business for Babes is a firm that specialises in empowering women business owners. It provides them with coaching and consultancy solutions as well as the support needed to strike a balance between work/home. Gallagher also utilises her photography expertise to develop unique branding for her clients.
Family Life
Andrea Gallagher is married to decorated Navy SEAL, Eddie Gallagher. Also a native of Fort Wayne, Indiana, Eddie was born in the year 1979. He completed his high school diploma at Bishop Dwenger High School. He subsequently enlisted in the US Navy in the year 1999. Since then, Eddie has served eight overseas deployments including The Iraq War and The War in Afghanistan. He is a trained medic, sniper and explosives expert, and has received several medals for his valour.
Gallagher and her husband first met while they were in their teens, specifically in 1996. They later broke up, and were apart for a decade, before finding their way back to each other in 2006. The couple subsequently tied the knot on the 27th of May 2007. They now have three kids namely daughters Treven (b. 2000) and Ava Grace (b. 2004) and son, Ryan Edward (b. 2009). Gallagher often shares pictures of her adorable family on her Instagram page.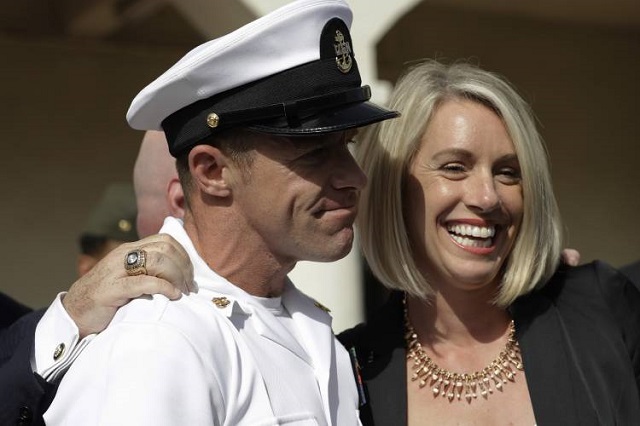 Husband's Trial
In September 2018, Gallagher's husband, Eddie, was charged with multiple offenses including attempted murder, premeditated murder, obstructing justice, wrongfully posing for an unofficial picture with a human casualty, etc. The prosecutors alleged that the Navy SEAL had deliberately killed a teenage ISIL fighter in Mosul, Iraq, in 2017. They also alleged that he took a picture with the corpse and sent it off to his pals. Gallagher's husband rejected the accusations and maintained his innocence.
His trial later took an unexpected turn after a key prosecution witness, Corey Scott, changed his testimony. Scott testified that he was actually the one that killed the teen fighter. He also stated that even though Eddie had stabbed the boy, he did not die until he (Scott) asphyxiated him. The testimony proved pivotal to Eddie's case and he was found not guilty of the most serious charges. He was only held liable for the charge of taking a picture with a corpse. The Navy authorities thus ordered his demotion from Chief Petty Officer to Petty Officer First Class.
See Also:  Carryn Owens – All About Ryan Owens Wife & Widow Of The Fallen SEAL
Andrea Gallagher's Efforts
If there is one person who can be described as the 'star' of Eddie Gallagher's trial, it is certainly wife, Andrea Gallagher. The lady fervently believed in her husband's innocence and spearheaded the campaign to get him freed. She used her Facebook accounts to raise more than $700 million for her husband's defense fund. She also set up 'The Justice for Eddie Website' which kept the matter in the public consciousness. Gallagher did not stop at this juncture. She made the rounds on several media programs to champion her husband's case. She also relentlessly petitioned the authorities; first, for her husband's detention conditions to be improved and later, for him to be granted a full pardon. These efforts paid off as her husband was acquitted of the most serious charges against him. Eddie is also set to receive a presidential pardon from The Trump Administration. This would lead to the reinstatement of his previous rank as well as the restoration of his retirement benefits.