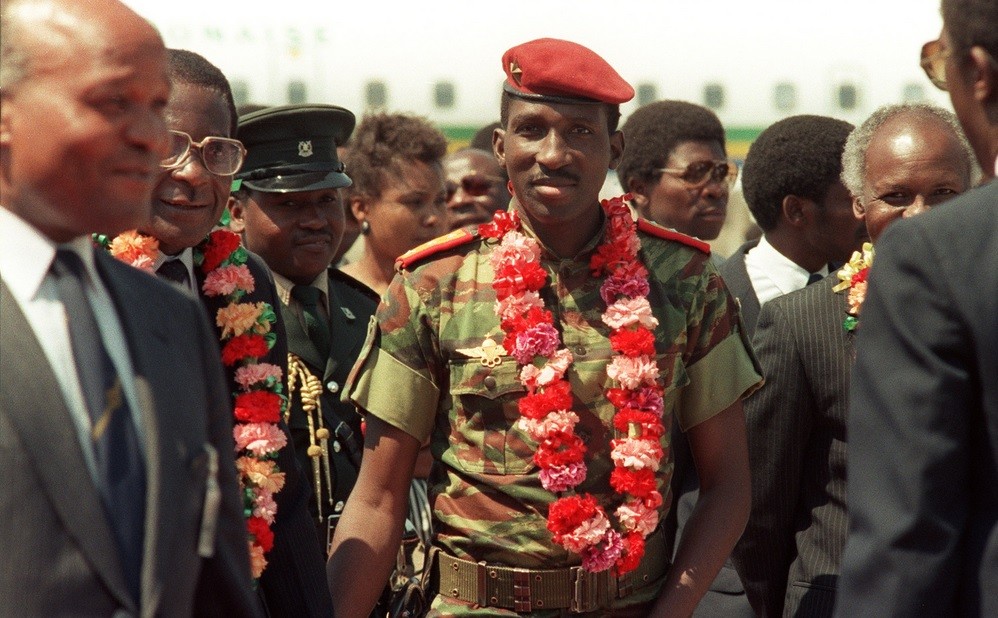 Best described as "Africa's Che Guevara", Thomas Sankara, of blessed memory, was a Burkinabé military captain, Marxist revolutionary, pan-Africanist and President of Burkina Faso whose leadership regime began in 1983 ended in 1987.
He was indeed a disciplined and true Africa leader whose focus was on Burkina Faso, his home country.  From being appointed as Secretary of State for Information in the military government in September 1981, Thomas' next political position was the presidency on the 4th of August, 1983, at the age of 33 years. He overthrew a controversial tyrant, Jean-Baptiste Ouédraogo and took over leadership which lasted for 4 years.
His political interests were influenced by the works of Karl Marx and Engels Lenin. Thomas was a radical social changer. Over 3 decades and Sankara remains one of Africa's Youngest And Most Devoted presidents in history.
Thomas Sankara Bio
Thomas Sankara was born Thomas Isidore Noël Sankara to Joseph Sankara (father) and Marguerite Kinda (mother) on December 21, 1949, in Yako, French Upper Volta.
The iconic African leader was born into an average Roman Catholic family of 10 children. He was the 3rd child of Joseph, a gendarme who was of mixed Mossi–Fulani (Silmi–Moaga) heritage, and Marguerite, a direct Mossi descent.
Thomas had his primary school education at Bobo-Dioulasso where he notably excelled in mathematics and French. He continued his education at lycée Ouezzin Coulibaly, a secondary school in Bobo-Dioulasso.
Military Career
At age of 16, he would join the military academy of Kadiogo in Ouagadougou with the academy's first intake of 1966, kicking off his military career at the age of 19.
At age 20, precisely in 1970, Sankara enrolled at the military academy of Antsirabe (Madagascar) to further his military career. He later graduated as a junior officer in 1973.
Thomas was not always the serious "super-hero wannabe", he loved life too. He played in a band named "Tout-à-Coup Jazz". He was their guitarist. Not even on his assumption as president of Burkina Faso, did he do away with his musical talent. He personally composed the nation's national anthem.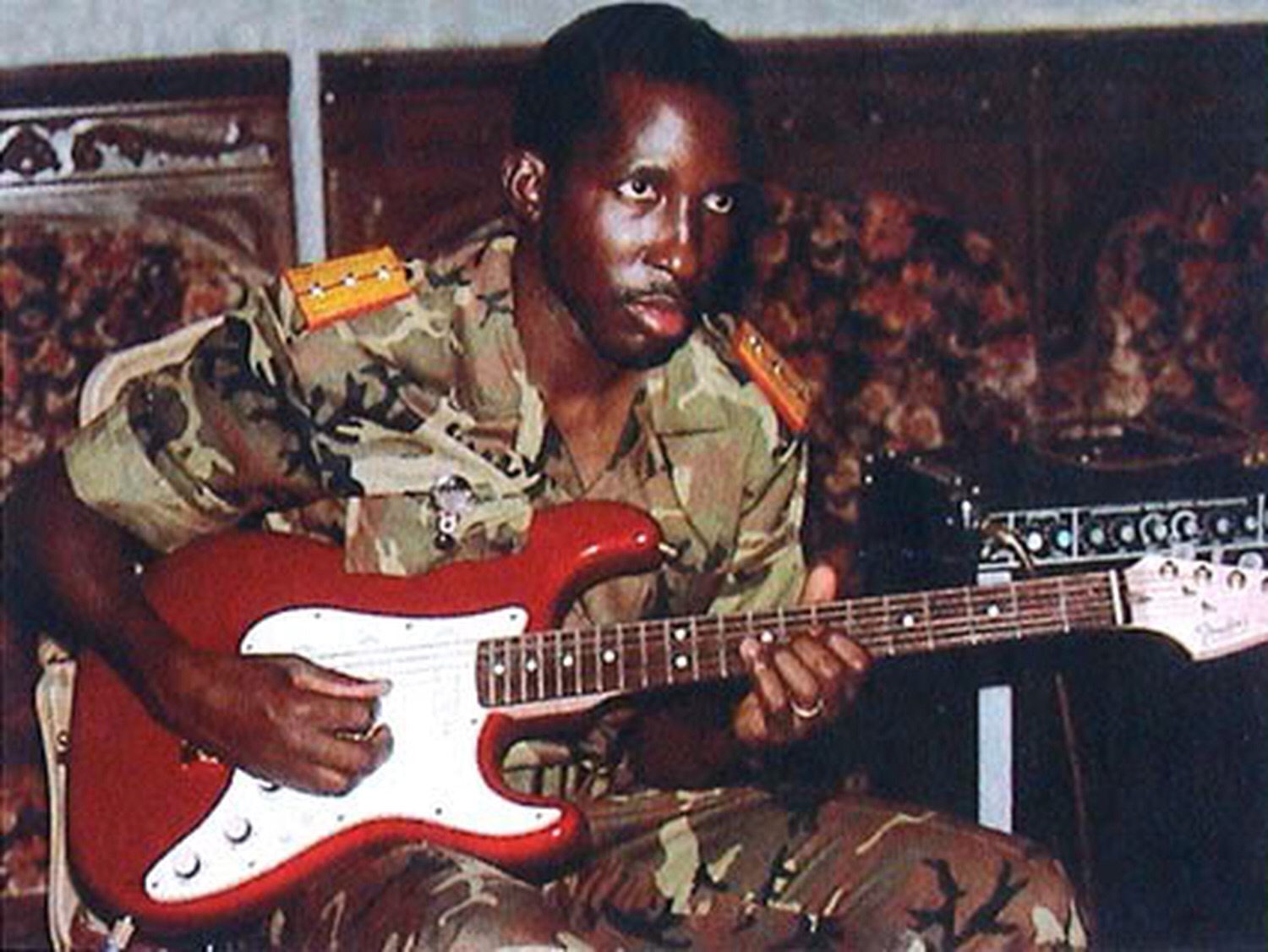 The name "Burkina Faso" is courtesy of Thomas Sankara. Initially, the country which was a French colony was known as "Upper Volta". He changed it to Burkina Faso- meaning the "Land of Upright Men".
Sankara was perhaps the only president in African history who rode to work on 2 wheels. For some empathetic reason, he refused to use the air conditioner in his presidential office. He wanted to feel what majority of the people were feeling and not to be isolated in a luxurious lifestyle.
See Also: By These Quotes, You Know Burkina Faso's Iconic Leader
As a disciple of the Marxist theory, he hated injustice and had no patience with "lazy workers". He set up tribunals to try corrupt officials from the past administration.
Just like Tanzania's Magufuli, Thomas Sankara cut off all lavish expenditures of government officials. He made government works less attractive by mandating well-off civil servants to pay one month's salary to public projects.
His economic policies were geared towards the fight against corruption, Agriculture/reforestation, hunger alleviation, educational and health reforms.
The economic upgrade within the few years of leadership brought the West African country into food self-sufficiency. There was also a boost in the country's cotton production which aim was to develop the clothing and textile industries.
In the "sanitation" process, the "Che Guevara" of Africa as fondly called was accused of extrajudicial executions and violations of human rights.
Spouse, Children
Thomas Sankara's widow is Mariam Sankara (née Sereme). She was born March 26, 1954. The couple had two children together. Their first child Philippe Sankara was born on August 10, 1980, while the second August Sankara was born on September 21, 1982.
Following the coup and Thomas' assassination, Mariam was forced to flee Burkina Faso along with her kids. She would later go into exile in France, where she spent the next twenty years.
She returned to her country in 2007 to grace the 20th anniversary of her husband's death. Following the 2014 uprising in Burkina Faso, Miriam congratulated the Burkinabé people for their victory and also called for the prosecution of Compaoré for his crimes against the people.
She closed her touching letter by stating: "Long live the Republic and long live Burkina! The motherland or death, we shall overcome."
Cause of Death
While Sankara was commander of the Commando Training Centre in Pô, in 1976, he met Blaise Compaoré. Together with other "like minds", they formed a secret organisation called the "Communist Officers' Group".
Thomas Sankara was assassinated on 15 October 1987, during a coup execution masterminded by Blaise Compaoré and carried out by an armed group with twelve other officials in Ouagadougou.
Deterioration in relations with neighbouring countries and accusation of him jeopardising foreign relations with former colonial power France and neighbouring Ivory Coast were reasons given for his assassination.
A week before his assassination, Sankara gave a speech marking and honouring the 20th anniversary of Che Guevara's 9 October 1967 execution. He also declared: "While revolutionaries as individuals can be murdered, you cannot kill ideas".
30 years after Sankara's assassination is still under investigation. The French government is also a suspect in the case. So far they have declined co-operation to get to the root of the assassination.
After much restraints from the former sit-tight government of Blaise Compaoré, there are increasing calls for the death of the much-loved pan-Africanist to be judicially revisited and the culprits brought to book. On that note, Blaise was forced to resign and flee Cote d'Ivoire.
Check Out: A Brief History Of Famous African Coups And Their
Endings
According to Mariam Sankara's lawyers in 2015, autopsy revealed that Sankara's body was "riddled" with "more than a dozen" bullets.
Thomas Sankara Quotes
Without patriotic political education, a soldier is only a potential criminal.It took the madmen of yesterday for us to be able to act with extreme clarity today.
Che Guevara taught us we could dare to have confidence in ourselves; confidence in our abilities. He instilled in us the conviction that struggle is our only recourse. He was a citizen of the free world that together we are in the process of building. That is why we say that Che Guevara is also African and Burkinabe.
Everything that man can imagine, he is capable of creating.
We must learn to live the African way. It's the only way to live in freedom and with dignity.
The spirit is smothered, as it were, by ignorance, but so soon as ignorance is destroyed, spirit shines forth, like the sun when released from clouds.
I want to be one of those madmen. We must dare to invent the future.
Imperialism is a system of exploitation that occurs not only in the brutal form of those who come with guns to conquer territory. Imperialism often occurs in more subtle forms, a loan, food aid, blackmail. We are fighting this system that allows a handful of men on earth to rule all of humanity.
Inequality can be done away with only by establishing a new society, where men and women will enjoy equal rights, resulting from an upheaval in the means of production and in all social relations. Thus, the status of women will improve only with the elimination of the system that exploits them.
I can hear the roar of women's silence.
He who feeds you controls you.
Our country produces enough to feed us all. Alas, for lack of organization, we are forced to beg for food aid. It's this aid that instils in our spirits the attitude of beggars.
The enemies of a people are those who keep them in ignorance.


Quick Facts about the Iconic Figure

Growing up, Thomas was a bright young man with so many potentials. He had an appealing character that was hard not to notice. So much so that his parents hoped he would become a priest.
The intellectual who loved reading made his choice to serve humanity via the military.
On an official order, he made a trip to Madagascar to participate in an officer training program at Antsirabe. It was here that Thomas Sankara witnessed several uprisings which informed his political views.
He was a voracious reader who spent most of his time reading books on history and military strategy.
Thomas reduced his monthly salary to $450. For his possessions, Wikipedia states, he had "a car, four bikes, three guitars, a fridge and a broken freezer".
Sankara was greatly moved by the examples of the Cuban revolutionaries- Fidel Castro and Che Guevara. Back home he also admired Ghana's revolutionary, Jerry Rawlings.
Sankara appointed women to high governmental positions while encouraging more women into the workforce. His regime had the highest number of women in government, making it a record in West Africa.
His administration stopped the practice of Female Genital Mutilation(FGM), forced marriages and polygamy.
He was an accomplished writer. His books include; "Thomas Sankara Speaks: The Burkina Faso Revolution", "We Are the Heirs of the World's Revolutions: Speeches from the Burkina Faso Revolution", "Women's Liberation and the African Freedom Struggle".