The war-ravaged South Sudan has produced NBA stars over the years, one of such is the towering 19-year old 7 footer, Thon Maker. The dark lanky South Sudanese-born player fled from the civil war in his East-Central African home country to the safe shores of Australia along with his relatives.
After years of hard work and dedication, he was selected by the Milwaukee Bucks where he currently plays as power forward/center. He is also known as the second basketball player in ten years to be recruited by the NBA straight from high school.
Who is Thon Maker and How Old is He?
Thon was born on February 25, 1997, in Wau, a city in South Sudan. His aunt fled with him and his younger sibling to Uganda. At age 5, Thon and his family moved to Australia as refugees following the war in the East-Central African nation. They settled down in Perth, a city in the West of Australia.
Thon Maker who was far taller than his age-mates was discovered by a sports scout, Edward Smith, while he was playing street soccer. Smith immediately took interest in the gangling lad and approached his aunt with an offer to take him to Sydney where he would learn the game of basketball which suited his physique better. His aunt accepted the offer and Thon moved with Thon to Sydney where he began his education. He later relocated to the United States to attend a talent boot camp in Texas.
He was admitted into Metairie Park Country School in Louisiana and Carlisle School in Virginia thereafter. He played 53 basketball games for the Carlisle Varsity basketball team in 2013, scoring an average of 22.2 points, 13.1 rebounds, 1.9 assists, 1.4 steals and 4.5 blocks per game. The baller was awarded the Gatorade Virginia Boys Basketball player of the Year award in the 2013-2014 season when he led his team to a championship victory. He moved to Orangeville District Secondary School in his 3rd year where he joined his younger brother, Matur Maker in Ontario, Canada. His decision was influenced by the fact that his mentor Edward Smith had landed a job as an assistant coach at the Athlete Institute in Mono, Ontario.
Thon skipped school in 2016 and joined the NBA in that year's draft exercise. He was the 10th overall pick in the draft. This was after he proved his eligibility to the draft board – he had graduated from high school a year earlier at the age of 19. In the 2016 season, Thon Maker averaged 14.2 points, as well as 9.6 rebounds. He scored a single rebound in his very first game for the Milwaukee Bucks, a game they lost 98-83 against the Detriot Pistons in October that year. His first starting game came on January 21, 2017. In the 2016-2017 season, Thon averaged 4.0 points and 2.0 rebounds in a total of 57 games. He averaged 5.8 points, 3.2 rebounds, and 2.0 assist in 6 games in the 2017 playoffs.
One of the downsides of Thon Maker's game is his lack of physicality, leading to a dismal board skill despite his 7 feet frame. He has worked on increasing his muscle mass through rigorous workout sessions involving fingertip pushups, high protein diets and lifting weights. The once lanky player has added nearly 10 pounds of muscle under the watchful eye of Josh Broghamer, the Milwaukee Bucks assistant coach.
How Much Does He Make From NBA?
The young athlete currently earns a comfortable sum, an estimated annual salary of about $3,639,636, for playing with the Milwaukee Bucks. This a good sum for a starter which we think will definitely be reviewed upwards as he keeps up his games in the seasons to come.
Family Details
Thon Maker is a descendant of the Dinka tribe of South Sudan. His parents, Mr. and Mrs. Maker remained in South Sudan when their sons where granted refugee access to Australia. Both sons inherited their height from their parents. His father is 6 feet 8 inches tall and his mother is 6 feet 3 inches.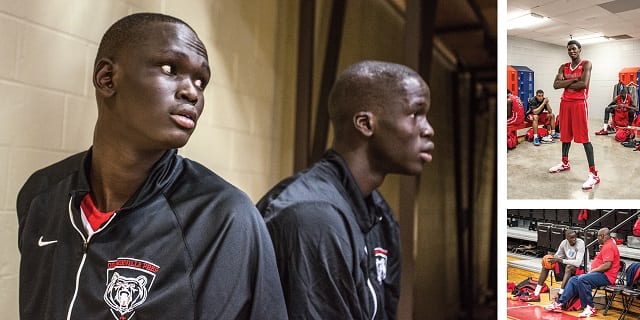 Matur Maker, Thon's brother was born a year after him. He stands at 6 feet 10 inches in height and weighs 200 pounds. He skipped college to pursue a career in basketball and currently plies his trade with Swiss basketball team Union Neuchatel Basket. He attended Carlisle School and Orange District Secondary School along with his elder brother.
Read Also: Blake Griffin Parents, Son, Wife, Girlfriend, Brother, Height, Weight, Ethnicity
Thon has kept his personal life very private. So far, he has not made any comment about his romantic relationships. He is presently focused on giving his best in his game and maintaining a good physique.
He stands at a massive height of 7 feet one inch and weighs 216lbs. His body fat percentage is 6.05, hand width 9 inches, hand length 8 ¾ inches, wingspan 7 feet 3 inches and standing reach 9 feet 2 ½ inches.