Tig Notaro is an American stand-up comic star, writer, actress, and radio analyst. Since she started her career in 2001, she has become one of America's best comedians, particularly when it comes to observational comedy. One prominent aspect of her routine involves her family, which includes a wife and two children.
Interestingly, Tig Notaro is part of and comes from a family of famed personalities. Her wife, Stephanie Allynne, is an actress and comedian, while her extended family includes a radio talk show host and a former Mayor.
She Grew Up Primarily With Her Mother
Tig Notaro was born to Pat Notaro and Mathilde "Susie' O'Callaghan. She was born in Jackson, Mississippi, and grew up in Pass Christian, Mississippi. Her mother, on the other hand, was born and raised in New Orleans. She was part of a prominent family that had lived in the city for generations. There is not a lot of information about her father, Pat, and it might have something to do with the fact that her parents separated when she was a child.
Tig grew up under her mother, Susie, and life with her shaped who she is today. Her mother was a free-spirited person who let her engage in all kinds of mischief as a child. At the age of nine, she smoked cigarettes and took coffee, regularly wandered into the woods, climbing trees, as well as formed the habit of following the trails of raccoons.
Mathilde O'Callaghan married Lauric Cusack, an attorney, who became Tig's stepfather. The marriage resulted in her relocation from Pass Christian to Spring, Texas. Mathilde was an artist with great interest in fashion, and in the words of Tig Notaro, she was 'very wild'.
Her mother's wild nature meant that a lot of the time, Tig stepped in to parent her, which in turn, solidified their relationship and made them extremely close. Mathilde was a great supporter of her comedy career, and in a way, inspired Tig's break out as a star.
In 2012, her mother passed on after getting involved in a freak accident. Shortly after learning about the tragic news, she was diagnosed with breast cancer. The weight of both tragedies, led to her hit comedy set at Largo Club in Los Angeles, recorded for her breakout album, Live.
Tig Notaro Has a Couple of Notable Family Members
Notaro is the most popular figure from her family, but she is not the only public personality. Her only sibling and brother is Renaud Notaro. She is also a distant cousin of the feminist and social-political activist, Gloria Steinem. Further back, the comedian is the great-great-grandchild of the former mayor of New Orleans, John Fitzpatrick.
Renaud Notaro is a Radio Personality
Tig's brother, Renaud Notaro, is equally a public media personality, specifically a radio host. He was born in 1970 in Hattiesburg, Mississippi, and has been working on radio for more than 16 years. He joined Mile High Sports Radio in June 2009 and has called several games, particularly in baseball. Renaud is also a voice-over artist.
Unlike his sibling, we don't know much about Renaud. We do know, however, that he has a close relationship with Tig, and his favourite teams are New Orleans Saints and CSU Rams. He is also a graduate of Colorado State University.
John Fitzpatrick Was Tig's Maternal Great-Great-Grandfather
John Fitzpatrick served as the Mayor of New Orleans between April 1892 to April 27, 1896. He is part of a large group of Notaro's extended family members, who lived all over the US South. John was a one-term mayor who succeeded Joseph A. Shakspeare and preceded Walter C. Flower.
The Fitzpatrick lineage, along with other members of her mother's family continues to live in New Orleans to date. They live across Mississippi, Hammond, Baton Rouge, and Texas.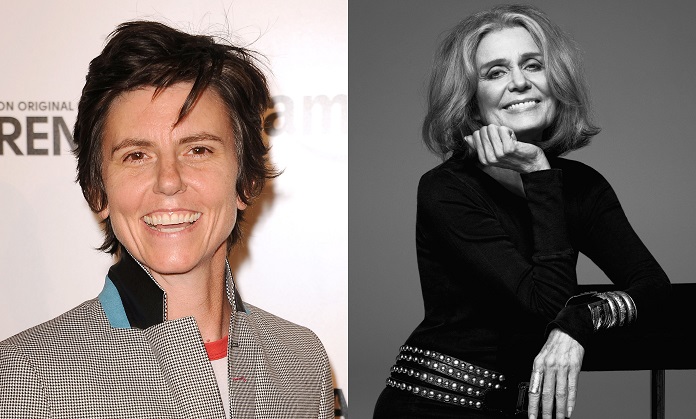 As for her other notable extended family member, Gloria Steinem, she is a native of Toledo, Ohio. Tig Notaro learned about her familial connection with the feminist icon during an episode of the fifth season of Finding Your Roots with Henry Louis Gates, Jr.
Tig Notaro Has Been With Stephanie Since 2014
Tig Notaro is married to Stephanie Allynne. Stephanie is a native of California and equally involved in Hollywood as an actress and writer. Notaro and Stephanie met on the set of the 2013 comedy movie, In a World…. At the time they met, Stephanie had never dated a woman and thought that she was straight.
Despite feeling a spark between them on the set of the film, they did not begin a relationship until after a year when they met again at Sundance Film Festival. They dated for a year, before getting engaged on New Year's Day in 2015.
Their wedding took place ten months later on October 23, 2015, in Notaro's hometown of Pass Christian. Since they fell in love with each other in 2013, they have remained a couple, and have expanded their family with two children.
Tig and Stephanie are Parents to Two Kids
As most people who have tried surrogacy would know, finding the right and willing participant can be a challenge. Tig Notaro and Stephanie Allynne were not immune to the struggles when they set out to have their children, most of which she recorded in the documentary, Tig.
Eventually, the couple found the right person. They gave birth to twin sons, Finn and Max Notaro, on June 26, 2016, using Allynne's eggs. Aside from their two children, who are now preschool attendees, they also have a family cat, Fluff, who has been part of the family from the onset.
But children are not the only things Tig and Stephanie share. They are also regular creative collaborators. In the early days of their relationship, they worked together on Tig's documentary, with Stephanie being a prominent face in the piece about the comedian's life.
Aside from In a World…, where they started their love story, they have worked together on other projects. They starred together in One Mississippi, a semiautobiographical tragicomedy about Tig. Also, they are working on a Netflix series, First Ladies, and a yet to be named movie about the life of Ellen DeGeneres Show head writer, Lauren Pomerantz.