The name Tim Conway may not readily ring a bell in the ears of the present generation, but for those who grew up between the 70s and 90s, he was one of the funniest men on American TV. A comedian, actor and writer, Conway appeared in several comedy shows during which he became renowned for his ability to crack up his co-stars with his hilarious ad-libs. Even though Conway was largely a supporting cast and never the star of the show, he nevertheless built an accomplished career and won numerous accolades.
Who Was Tim Conway?
Thomas Daniel Conway was born on the 15th of December 1933 in Willoughby, Cleveland, Ohio. His father, Daniel Conway, was of Irish descent while his mother, Sophia Murgoi, was of Romanian descent. Conway spent his formative years in Chagrin Falls, Ohio and completed his high school diploma there. He thereafter enrolled at the Bowling Green State University, Ohio, where he studied television and radio.
On completing his college degree, Conway joined the U.S. Army, and served for two years, before being discharged in 1958. Following his discharge, Tim Conway returned to Cleveland where he worked for various TV stations such as KYW-TV (1958-1959) and WJW-TV (1960-1962). During his time at WJW, Conway wrote several comedy skits which impressed so many people. Amongst then was popular comedienne, Rose Marie, who assisted him to get a spot on the Steve Allen Show in 1961. Conway spent just one year on TV before landing his breakthrough role on McHale's Navy. McHale's Navy was a World War II sitcom which premiered in 1962. In the series, Conway portrayed a bumbling naïve Ensign named Charles Packer and appeared in about 138 episodes of the show.
Following his breakthrough on McHale's Navy, Conway went to on to star in several shows but most of them were short-lived. The comic finally struck gold in 1967 when he landed a career-defining role on The Carol Burnette Show. The Carol Burnette Show was a popular variety/sketch comedy series which ran from 1967 to 1978. In the show, Conway portrayed several iconic characters including the old man and Mr. Tudball. The old man shuffled along at an agonizingly slow pace which was vastly insufficient to the various tasks he was charged with. The old man's comic inability to get these jobs done, as well as his ad-libs, both frustrated and cracked up his co-stars.
Conway also portrayed the famous character of Mr. Tudball. Tudball is a businessman who aims to run an efficient office but his plans are usually frustrated by his indifferent and bored secretary, Mrs Wiggins. Tim Conway spent a total of 11 years on The Carol Burnette Show during which he won several awards. They include the 1973 and 1977 Primetime Emmy for outstanding individual performance in a variety or music program, the 1977 Primetime Emmy award for outstanding writing on a variety show, etc. Following the end of The Carol Burnette Show, Tim Conway went on to appear in a slew of movies and TV series including Dear God, CSI, Hot in Cleveland, Two and a Half Men, Glee, 30 Rock, Yes, Dear, The Longshot, The Prize Fighter, The Milkey Way, The World's Greatest Athlete, The Billion Dollar Hobo and The Apple Dumpling Gang.
What Was Tim Conway's Net Worth?
The late Tim Conway had a net worth of $15 million. His fortune was largely amassed from his illustrious career as an entertainer who appeared on various shows in a time that spanned 5 decades. No doubt, Tim made an impact in the industry and will forever be remembered for it.
Tim's Family: Wife And Children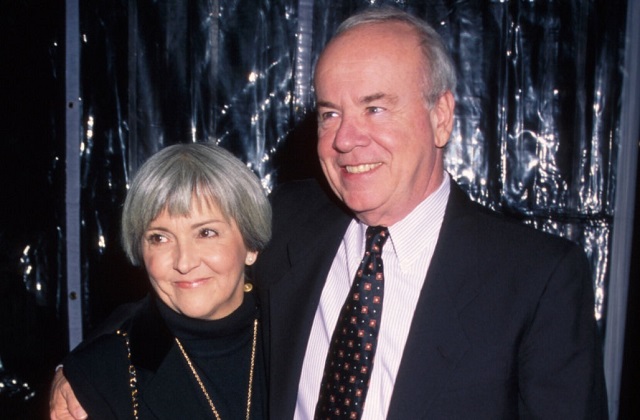 The famed comic/actor was married twice in his lifetime. His first marriage was to a lady named Mary Anne Dalton, from 1961 to 1978. Their 17-year old union produced six children namely Kelly, Jaime, Corey, Jackie, Tim Jr., and Patrick. Conway's second marriage was to Charlene Fusco, in May 1984. The couple remained together until death did do them apart in 2019.
See Also:  Who Is Alex Trebek, The Jeopardy Host, How Old Is He, How Is He Doing Now?
When And How Did Tim Conway Die?
Tim Conwy passed away on the 14th of May 2019, at the age of 85 years. The famed comic died as a result of complications from normal pressure hydrocephalus. This is a medical condition in which excessive cerebrospinal fluids build up in the ventricles which subsequently increase pressure on the brain tissue. The condition presents a myriad of symptoms and in Conway's case, it was dementia. The Ohio-native was first diagnosed with dementia back in 2018 and at some point, became entirely unresponsive. He later underwent brain surgery and was hospitalized at a nursing facility before his eventual demise. Conway's death led to an outpouring of tributes from several quarters.
The famed TV personality, Larry King, described him as hilarious and kind-hearted while actress, Jamie Lee Curtis, described him as a great gift and talent. His co-star, Carol Burnette stated he was not only a brilliant comedian but a loving human being. She further disclosed that she cherished their time together and that he would always be in her heart.