The greatest power forward in the National Basketball Association Annals, Tim Duncan is a former player who was associated with the National Basketball Association team, San Antonio Spurs where he solely played for 19 years before ending his career as a pro in 2016. Having been selected as the first overall in the 1997 National Basketball Association draft, Duncan went on to achieve incredible feats in the league which includes claiming the National Basketball Association Championship five times, the NBA final Most Valuable Player thrice, the National Basketball Association Most Valuable Player twice and was equally named to All National Basketball Association First Team; ten times, All-Defensive First Team; eight times, NBA All-Star; fifteen times and All-Defensive Second Team; seven times.
Throughout his successful career that spanned close to two decades, the basketball star was honored with numerous titles and awards including the National Basketball Association Teammate of Year, the International Business Machine Corporation Award, Virgin Islands Medal of Honour, among others. Aside from being an athlete, Tim Duncan has also achieved fame through his benevolent acts as he has established a non-profit organization known as Tim Duncan Foundation.
Tim Duncan's Biography (Age)
The former ace player was born into the family of William and Ione Duncan in Saint Croix, United States Virgin Islands on the 25th of April, 1976. His father served as a skilled building construction worker while his mother was into midwifery. Sadly, his mother passed on from cancer of the breast in April 1990. He is the youngest of the four children of his parents and the names of his siblings are Tricia, Cheryl and Scott Duncan. His sisters toed the same career path as him as they were athletes who participated professionally in many swimming competitions.
For his academic history, Tim Duncan is a graduate of St. Dunstan's Episcopal High School where he began playing basketball. He initially wanted to venture into swimming as a career but was later advised to become a basketball player by his mentor and brother-in-law who is also an ex-pro player.
While in high school, the legendary player averaged 25 points in his senior year before enrolling at Wake Forest University despite numerous scholarship offers from different universities. While at the university, Duncan was a prolific player who achieved remarkable career statistics which include points; 2,000, rebounds; 1,500, assists; 200, blocked shots; 400. As a result, he set new records in the annals of the National Collegiate Athletic Association such as the second all-time leading shot blocker and the first player to have achieved such feat during that time.
Having promised his mother on her death bed to be a degree holder, Tim Duncan graduated in 1997, with a Bachelor of Arts degree in Psychology, despite being tempted to go pro on several occasions. During the 1997 National Basketball Association draft, Duncan was picked as the first overall by the National Basketball Association team, San Antonio Spurs where he continued to impress with his exceptional performance on the field of play for which he earned many titles and awards. He ended his playing career in a high note in the year 2016, achieving an astounding statistics of points; 26,496, rebounds; 15,091 and assists; 4, 225. He also represented the United States in several Men's basketball competitions for which he claimed three gold medals and two bronze medals.
What's Tim Duncan's Net Worth?
After spending close to two decades playing professional basketball, Tim Duncan has garnered jaw-dropping earnings from his contracts and endorsement deals. He was reportedly paid an annual salary of about $10 million by his club and with that, his financial value is estimated at $130 million.
His Family – Wife/Girlfriend and Kids
Duncan walked down the aisle with Amy Sherrill, his college beau in July 2001. The pair welcomed their daughter Sydney in 2005 and two years later, Amy gave birth to their son, Draven. The couple, however, proceeded for an annulment in the year 2013.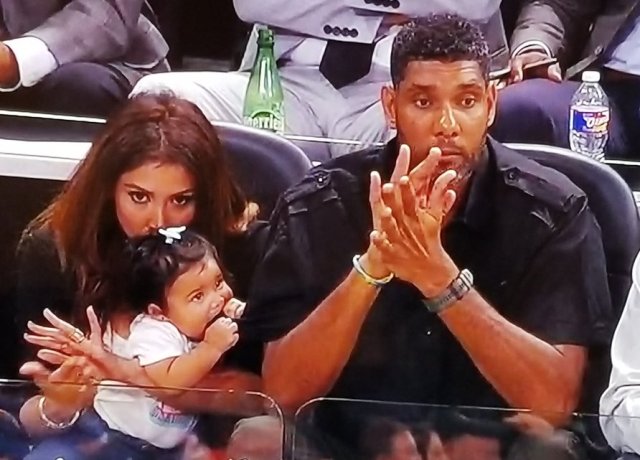 Later in 2017, the iconic player welcomed a daughter named Quill Duncan with his lover, Vanessa Macias.
See Also: John McEnroe – Bio, Wife, Children, Brother, Family, Age, Net Worth, Height
Is Tim Duncan Gay?
The speculation about Tim Duncan being gay started in 2013 when his ex-wife reportedly hinted that he was having affair with a fellow man during the process of their marriage annulment. Since then, there are no concrete stories that have backed up such a report.
Height
Being one of the most consistent and efficient players of his generation, Tim Duncan is a giant of a man who stands at a gigantic height of 6 feet 11 inches (2.11 m). His well-toned athletic body weighs about 113 kg (250 lb).