Tim McGraw is popularly known for his hit 1995 song Indian outlaw and is one of a few persons who lived with a wrong identity till he was eleven. A three-time Grammy Award winner who started pretty small but shot through all odds, McGraw has released fifteen studio albums out of which ten reached the number one spot on the Top Country Albums chart. Things are also going smoothly in the singer's love life, he married a singer like him, however, claims about their divorce have been making the rounds, leading to inquisitive fans wondering what exactly could have gone wrong in paradise. In the bid to get answers, he became the talk of the town. Here is a detailed piece on everything you should know about Tim McGraw.
Tim McGraw's Bio (Age)
It was as Samuel Timothy McGraw that he was born, on May 1, 1967, in Delhi, Louisiana, as an only child. He was born to a sportsman; Frank Edwin, a pitcher for Jacksonville Suns and Elizabeth Betty Ann D'Agostino who worked as a waitress. Tim has a mixed ethnicity; his mother is of Italian and Irish descent while his dad belongs to the Scots-Irish, English, Scottish, Swiss, Czech, and German ethnicity. He was conceived when his parents were not ready to start a family, his biological father was still a student at the time his mom conceived, in a bid to manage the situation, his grandparents sent his dad away.
As a result, Tim McGraw grew up with Horace Smith who he believed was his biological father in Louisiana. He used Horace's last name (Smith) until age eleven but changed it after he discovered his birth certificate. To satisfy her son's curiosity, Elizabeth took him to his biological father, however, he denied him until he saw himself in the then Eighteen-year-old Tim. The young lad forgave his father, made up with him and they became like bread and butter till his death in 2004.
Records of his high school days are not available at the moment, but we do know that he got a scholarship with the Northeast Louisiana University and was initiated to the Pi Kappa Alpha fraternity.
Career
Tim's interest in music became prominent during his days in college, he would play his guitar and often times, play for money. It didn't start all rosy but like they say – practice makes perfect, he got better with time, despite the fact that his friends had always disputed his strength in music. Eventually, he said goodbye to his college education with the full intent to pursue music as a career when his hero; Keith Whitley kicked the bucket.
He started really small by joining small groups to groom his skills. His debut single What Room Was The Holiday Inn wasn't one of his best and didn't get a spot on the Billboard Hot Country Songs chart. He further released three singles; Welcome to the Club, Two Steppin' Mind, and A world of fond memories. Though they made it to nation Top 40, the singles failed to make the prestigious charts. He finally hit it big with his song Not a Moment Too Soon in 1994.
Achievements
Altogether, the music guru has released fifteen albums with 10 of them peaking at number one spot on the Top Country Albums Chart. He has produced over 65 singles from his albums with 25 of them topping the Hot Country Songs chart. Three of his singles; It's Your Love (1997), Just to see You Smile (1998) and Live Like You Were Dying (2004) became the most played songs in the year they were released as rated by the Billboard Year-End. The country musician has earned the Academy of Country Music Awards fourteen times, Country Music Association Awards – ten times, American Music Awards – ten times and People's Choice Award – three times. He has also sold over 75 million records worldwide.
Tim McGraw didn't limit himself to music, he is also a lover of sports and took a major interest in baseball, probably because his father majored in it. Unlike his father, he couldn't pursue sports as a career due to the injury he had sustained while playing baseball.
Who Are His Wife and Daughters?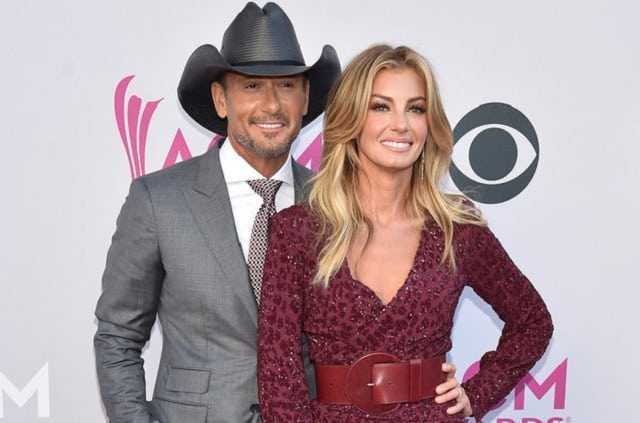 Love came knocking on the door for the country musician, he opened it and found Faith Hill. Their union birthed three pretty girls; Gracie Katherine who joined the family in 1997, Maggie Elizabeth, born in 1998 and Audrey Caroline who came along in 2001. Faith is a known American singer and also record producer who has sold over 40 million albums worldwide.
The music couple has done a lot of songs together including 'Like We Never Loved at All, Angry All the Time, and Meanwhile Back at Mama's, to mention a few. As perfect as the couple seems to be, rumors have been rife that they were going to have a divorce.
See Also: Hugh Glass Biography – What Was He Known For?
It all started sometime in January 2018 when Ok Magazine released a report, allegedly from Faith, stipulating about her uneasiness in the marriage with confident remarks of her quitting. The claims were backed with the rumor that the singer stayed in her marriage because she dreaded a broken home. Instead of the duo confirming or annulling these allegations, they have bragged about how their love waxed stronger and they wouldn't trade their relationship for anything.
Height
No one would dispute the fact that the country musician has a killer body structure. Despite his regular outfit which usually includes a cow boy's hat, which could add a few inches to his height at first impression, it has been accurately proven that he stands at 5 feet 8 inches and has a balanced weight of 81.6kg.
Net Worth
As the adage goes; hard work really pays. Tim McGraw had little beginnings, he gave a blind eye to his critics, pursued his dream and became one of the best in his game. With 15 stellar albums under his belt, there's no gainsaying Tim McGraw's net worth of $135 million is well deserved.