Often referred to as a miracle child, Tim Tebow is one focused football player who has uniquely defined his skills all through his career course. He is quite multitalented and a staunch believer of the Christian race. He is engaged and a man who is highly respectable. This article is dedicated revealing interesting facts about the fine athlete.
Tim Tebow Biography (Age)
Tim Tebow is best described as a miracle child. His mother, Pamela Elaine faced a lot of crisis while she was pregnant with him. In fact, her doctors advised that she aborted her child but she kept her hopes high and on the 14th of August 1987, she gave birth to Tim Tebow in the Manila, Philippines. Tim's dad is Robert Ramsey Tebow II.
Tim spent his formative years at Jacksonville, Florida. He is last of the five children born to his parents. Despite being diagnosed with dyslexia, the footballer has looked beyond his limitations and has described his deficiency as a gift from God. Throughout his elementary days, he was homeschooled by his parents and when it was time for high school, he attended Trinity Christain Academy.
It was also where he started out his football career, playing as a tight end. He subsequently continued his football career at St John County and played as a quarterback for a football program at Allen D. Nease High School.
Career
The footballer's throwing and running abilities differentiated him from his peers and within a short time, he became one of the finest players in his junior year. In a game during this period, he broke his fibula on his right leg and insisted on finishing the game, despite the pain. With a broken fibula, he recorded a 29-yard rushing touchdown. After that game, he was kept on deck till his injury was healed. Also, that same year, he emerged as Florida's player of the year.
In his senior year, his contribution to the Nease Panthers football team qualified them to a state title. He earned the All-State honors as well as Florida's Mr. Football and Player of the Year. He was aired as one of the players on NBC Television during the U.S. Army All-American Bowl in San Antonio, Texas. He became notable for his skills and was thought for discussion on ESPN, Faces in Sports documentary. He subsequently enrolled at the University of Florida running on an athletic scholarship.
His freshman year was beautiful, he spent the year as a backup and bagged a lot of accolades. He later became his team's captain and led them to several wins.
The footballer joined the big football league, (NFL) in 2010 after he was selected in the first round as the 25th overall pick. He penned down a five-year contract with them which included $8.7 million guaranteed. He played with the team for a few years before playing for the New York Jets, New England Patriots, and the Philadelphia Eagles.
In as much as Tim Tebow excelled in his sports career, he didn't let his academics suffer. All through his days as a student, he was often referred to as a whiz kid. He simply knew how to manage his academic as well as his sports career. This is quite evident as he graduated with honors from the University of Florida with a degree in family, youth, and community Sciences.
Net Worth
Tim Tebow is officially one of the many men who are focused and career oriented. From the obvious, he is quite successful with his football career and has garnered experiences playing for many teams. Despite that, he's quite involved with a lot of charity acts, he has kept his net worth to a whopping sum of $10 million.
Is He Married or Gay? (Wife or Girlfriend)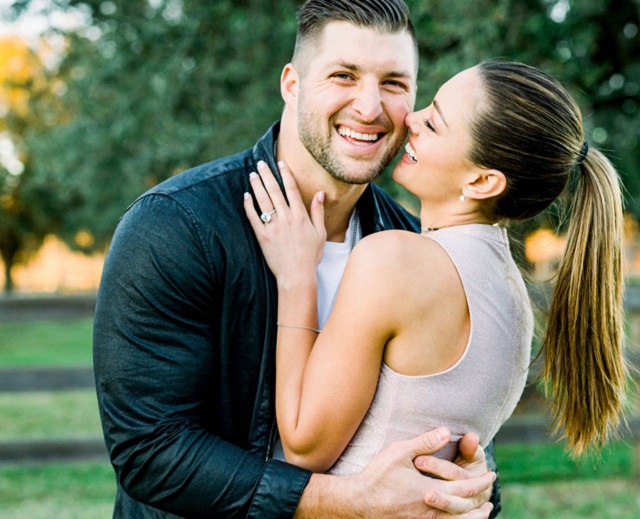 Tim Tebow practiced celibacy all through his days as a youth. Although there were lots of rumors pertaining to his relationships, after many investigations, it was discovered that they were all nothing but rumors.
See Also: Who Is Obi Melifonwu? His Bio, Siblings, Family, Career As NFL Safety
He is not yet a married man but is engaged. He got engaged to a successful South African model who has been crowned for her many achievements, Demi-Leigh Nel-Peters. The two met through the footballer's non-profit foundation – Night To Shine. The two became an item in 2017 and finally got engaged on the 10th of January 2019. Obviously, Tim Tebow is not gay but very straight.