Talk about one of the hottest men in Hollywood and you won't go too far before you mention Timothy Olyphant. Blessed with insanely good looks, Olyphant is one of the darlings of Hollywood movie fans. However, his good looks are not the only thing people love about this man; his acting skills have also been highly admired and discussed over the years since he made his debut more than 20 years ago.
The popular actor became a household name in the United States following his enthralling performances in different TV shows and feature films, including Justified as well as The Office and The Grinder. He has bagged awards and nominations and has not shown any signs of stopping. But before all the fame and glamour Olyphant now enjoys, there was a time he was just a young man seeking for greener pastures.
Timothy Olyphant Hails From a Broken Home
The skillful actor was born as Timothy David Olyphant in Honolulu, Hawaii on the 20th of May 1968. His parents are J.V Bevan and Katharine Olyphant. His father served as the vice president of the Gallo Winery production department. Olyphant's parents relocated to Modesto, California when he was two years old.
At a very young age, his parents got separated and went ahead to remarry other spouses. He has two siblings, an older brother named Andrew and Matthew his younger brother. The famous actor is of mixed ethnicity (Russian-Jewish, Scottish, Dutch, German, and Irish).
He Is a Descendant of The Vanderbilt Family
Olyphant is a descendant of the Vanderbilt family, a popular American family of Dutch origin renowned for once being the wealthiest family in America and gained immense popularity during the Gilded Age.
Olyphant's maternal fourth great-grandfather was Cornelius Vanderbilt who happens to be the family patriarch.
While growing up, Timothy Olyphant was a great swimmer and emerged as a finalist in 200m individual medley at the 1998 Nationals. As a result of his incredible performance, Olyphant was hired by the Swimming coach of the University of Southern California Trojans. In addition to that, he further worked as Irvine Novaquatics swimming coach.
His Journey To Stardom Began In Theatre
As a young man, Timothy Olyphant did not consider acting something he wanted to do. He thought of acting as 'embarrassing'. After graduating from the University of Southern California, Olyphant moved to New York to explore options of what wanted to do with his life.
At first, he did some standup comedy for about six months and later decided to go into acting. He then enrolled in a two-year acting program at New York's William Esper Studio where he was taught the basics of acting. When he completed the program, he started to audition for roles.
Timothy Olyphant started his acting career on stage. In 1995, the talented actor made his on-stage debut in the play The Monogamist. His performance was so sensational that it clinched him the Theatre World Award for Outstanding Debut Performance.
He went on to make appearances in other theatre productions including The Santaland Diaries in 1996 and Plunge in 1997, winning a lot of commendation from critics.
Early Years In Hollywood and Breakthrough
While acting on stage, Timothy Olyphant was also auditioning for movie roles and in 1996, he landed his first film role when he was cast to play Brett Artounian in The First Wives Club. The next year, he played Brett Farraday in the TV series, High Incident.
In 1998, Olyphant was featured in the popular sitcom, Sex and the City, where he played the role of Carrie Bradshaw. He then followed it up by appearing in another HBO movie titled When Trumpets Fade. In 2000, he starred in the mega-hit movie, Gone in 60 Seconds.
2004 was a massive year for Timothy Olyphant. That year, he garnered much popularity and praise for his sensational performance in the comedy film The Girl Next Door. The same year, he was ushered into superstardom following his brilliant portrayal of Sheriff Seth Bullock in the HBO highly acclaimed series, Deadwood, which earned himself and his castmates a nomination for Outstanding Performance by an Ensemble in a Drama Series at the Screen Actors Guide Award.
Olyphant kept landing other lead roles in the early 2000s, receiving praise for his work. In 2010, the talented actor landed one of the biggest roles of his career when he was cast to portray the character of Deputy U.S. Marshall Raylan Givens in the award-winning series Justified. The role won him an immense commendation and many consider it to be the defining role of his career.
Olyphant has starred in a vast number of other movies and TV shows and his movie credit includes A Man Apart, Hitman: Agent 47, A Perfect Getaway, Mother's Day, Once Upon a Time in Hollywood, among others. Other TV shows he has starred in are Damages, The League, and My Name is Earl.
The multi-talented actor has clinched several awards and nominations throughout his career as an actor and they include Young Hollywood Award, Satellite Award, among others, with nominations in Primetime Emmy Award, TV Guide Award, and many more.
Inside Timothy Olyphant's Undying Love Life
The brilliant American actor is a happily married man. He is married to a woman called Alexis Knief. The interesting thing is that Alexis Knief was his college sweetheart whom he has an undying love for, even to this day.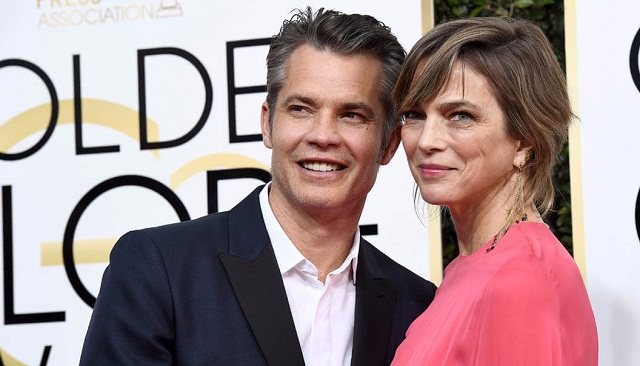 Our findings show that Olyphant and Alexis met at the University of Southern California in 1990 and fell in love with each other. They began to date and their love waxed stronger. The couple dated for about one year before they decided to become husband and wife.
In July 1991, when Olyphant was just 23 years old, he and Alexis wedded in a private ceremony. They have been together ever since and it appears that their bond is getting stronger.
The Children They Share
Timothy Olyphant and Alexis Knief are proud parents. The couple now shares three children between them; two daughters and one son.
Their first child, a girl called Grace Katherine Olyphant was born on the 20th of June 1999. She was followed by their son, Henry Olyphant who was born in 2001. Their third child, a girl called Vivian Olyphant was born in 2003.