Considered a traditionalist in the country music genre, Toby Keith has graced some of the world's biggest stages. A living legend and an inspiration to upcoming artists, Keith has no less than 20 albums to his credit with massive sales recorded worldwide.
He has since ventured into other fields aside from music, including the world of business. One spectacular thing about the singer-songwriter, producer, and actor is his unique value for his family. He has been married to one woman since 1984 and during this time, his fame and fortune have grown in leaps and bounds.
Toby Keith Lost His Father in an Accident
The Oklahoma native was born Toby Keith Covel on July 8, 1961, as the second of three children. Growing up, Toby's family moved around a lot before finally settling in Moore, Oklahoma. Keith was exposed to music quite early as he was gifted his first guitar at age eight and learned to play various instruments at a young age.
Aside from being the father of a music legend, Hubert Keith had no other claim to fame. What he did for a living was never known but his family moved around a lot while Toby and his siblings were growing up. They lived in Fort Smith, Arkansas when Keith was in grade school before relocating to Moore, Oklahoma.
Hubert is believed to be an English man as his popular son's profile says he is of English ancestry.
He didn't make headlines until his tragic death in 2001. The fatal accident that claimed his life happened on March 24, 2001, the same day of Toby Keith's 17th wedding anniversary. Hubert was killed in a car accident on Interstate 35. Seven years after his death, the Covel family was awarded $2.8 million for the wrongful death of their father as Elias and Pedro Rodriguez who operate Rodriguez Transportes of Tulsa and the Republic Western Insurance Co. were criticized for failing to properly equip the charter bus with working air brakes.
Carolyn Joan, née Ross, is the mother of Toby Keith and that's just about the only thing known about her in the public domain. She is presumably still alive but no news about her gets out.
He Grew Up With Two Siblings – Tracy Covel and Tonni Covel
The musician is the middle child in the family but due to lack of information about any member of his birth family, we can't say who his older or younger sibling is.
The family of five supported Toby's musical venture back in the days. Though they doubted his chances of succeeding in the music industry, his family rendered their support and even got him a guitar at the age of 8.
Inside Keith's Long-standing Marriage With Tricia Lucus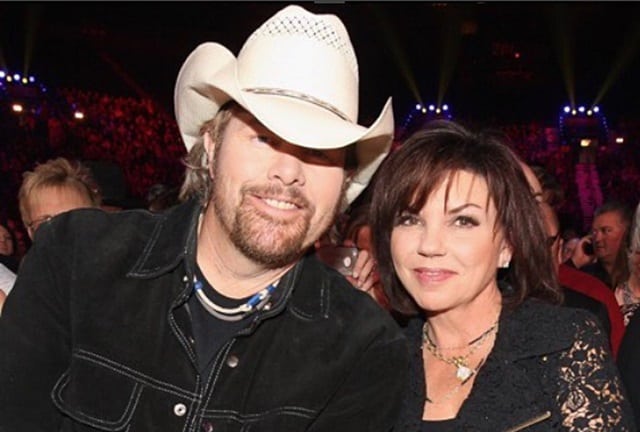 Toby Keith is married to his longtime love Tricia Lucus. The couple first met in 1981 when Tricia was 19 and Toby was 20 and after three years of courtship, they tied the knot on March 24, 1984. At the time they exchanged vows, Keith's career was still at the budding stage and he was still working in the oil fields and performing gigs at clubs with his band to make ends meet.
Tricia stayed by his side through thick and thin until his debut single blew up the '90 charts and it has been from one milestone to the other ever since. Their union has produced two biological children and one adopted from his wife's previous relationship.
In 1985, they welcomed their first child, a girl named Krystal LaDawn Covel Sandubrae and a son Stelen Keith Covel was later born in 1997. They are also loving parents to Shelley Covel Rowland, Tricia's daughter from a previous relationship, born in 1980. Toby and Tricia who have been together for over three decades are also grandparents. Apparently a perfect match for each other, the couple has continued to enjoy life together.
Meet Toby Keith's Children
Toby and Tricia are still residents of Oklahoma with their children and grandchildren living nearby. Notably, out of his two offsprings, only one seems to have caught the music bug and that is Krystal, his first child.
Krystal LaDawn Covel Sandubrae
Also a country musician, Krystal seems to have inherited her father's music genes and has at least one album to her credit.
She debuted on the charts in 2004, following duet vocal with her legendary father on a cover of Mockingbird by Inez and Charlie Foxx. The piece appeared on his 2004 album Greatest Hits 2 after which Krystal performed the same song with Toby at the 2004 Country Music Association Awards.
She is signed to Show Dog-Universal Music and has released a four-song extended play with her debut album dubbed Whiskey & Lace. Her future in the industry seems bright as her works so far have received favorable reviews. She is married to Andrew Sandubrae and they have two daughters, Hensley Jack (born October 2015) and Kirby Kaye (born January 2019).
Stelen Keith Covel
Born in 1997, Stelen is the second biological child of Toby and his wife. Apart from being the son of a renowned musician, nothing is known about him in the public domain. Stelen is obviously not following in his father's footsteps in the music industry.
Shelley Covel Rowland
Tricia had Shelley in 1980 before she married Toby Keith who then adopted her. Going by their wedding which took place in '84, Shelley became the daughter of the musician in 1984 while her half-sister Krystal was born the next year.
It is believed that she is married with children.
The Musician Is Also An Actor And TV Star
His hit song Should've Been a Cowboy laid the foundation for Keith's successful music career. So far, the country singer has no less than seventeen (17) studio albums, two (2) Christmas albums, and four (4) compilation albums to his credit. He has also sold over 40 million albums globally.
But music is not the only avenue through which he earns money. The country singer has ventured into acting and is also doing well as an entrepreneur. Being a world-class celebrity makes him a good choice for commercials for companies like Telecom USA and Ford. He appeared at the debut event of the Total Nonstop Action Wrestling in Nashville, Tennesse on June 19, 2002.
Keith was part of the Comedy Central Roasting which had Larry the Cable Guy on the hot seat. The episode aired on March 14, 2009. Another Comedy Central event he appeared on is The Colbert Report. In 2011, he was a guest on Fox Channel's Huckabee alongside the former governor of Arkansas, Mike Huckabee. The next television appearance he would make is as a guest on Darci Lynne: My Hometown Christmas.
On the big screen, Toby Keith has appeared in Broken Bridges, a feature film released on September 8, 2006. He starred alongside Kelly Preston, Burt Reynolds, Tess Harper, and Lindsey Haun in the movie. Keith was seen in the 2008 film Beer for My Horses which he wrote based on a 2003 hit song recorded by him and Willie Nelson. He was going to join the cast of the film Bloodworth before he changed his mind.
I Love This Bar & Grill And Other Business Ventures
His first known business venture came in 2005 when he launched Toby Keith's I Love This Bar & Grill in Oklahoma City, Oklahoma. He later opened branches in Syracuse, New York, and Tulsa, Oklahoma. The restaurant now has outlets in Thackerville, Oklahoma; Auburn Hills, Michigan; Kansas City; Las Vegas; Mesa, Arizona; Peoria, Arizona; St. Louis Park, Minnesota; Foxborough, Massachusetts; Cincinnati, Ohio; Newport News, Virginia; and Denver, Colorado.
The new restaurants are actually owned by Capri Restaurant Group Enterprise LLC as they obtained a license agreement to open more Toby Keith restaurants across the country.
In 2009, Keith expanded his business exploits to include a line of clothing dubbed TK Steelman. A new drink named "Wild Shot" followed in 2011, first in Mexico before it became available in the United States.