Considered a traditionalist in the country music genre, Toby Keith has graced some of the world's biggest stages. A living legend and an inspiration to upcoming artists, Keith has no less than 20 albums to his credit with massive sales recorded worldwide. Initially working towards his future dreams other than music, Keith's story transcends over four decades and about four different career paths including rodeo riding, pro-football, the oil fields and of course the music industry. Here are some interesting facts about the singer, songwriter, producer, and actor who values his family and music above all else.
Toby Keith Biography, Age
The Oklahoma native was born Toby Keith Covel on July 8, 1961, as the second of three children to Carolyn Joan and Hubert Covel. Growing up, Toby's family moved around a lot of cities before finally settling in Moore, Oklahoma. Keith was exposed to music quite early as he was gifted his first guitar at age eight and learned to play instruments at a young age. More so, his music interests were further stoked by the musicians who performed at the bandstand in his grandmother's club. He oftentimes got a chance to play with the band.
Toby Keith first attended Highland West Junior High and later Moore High School. After high school, he worked with his father at the Oklahoman oil fields where he rose through the ranks and became an operations manager. While doing music by the side, Keith was fine with his career choice until the oil industry hit a downturn. Struggling financially and unsure of the future, the country singer made the decision to pursue his music career fully in the mid-1980s.
More so, while playing country music in local clubs, Keith who played football very well back in high school unsuccessfully tried out for the semi-pro football team. After investing a few successful years in a nightclub, he moved to Nashville. Fortunately, his breakthrough finally came in 1993 with the release of his eponymous debut album which featured several hit songs such as Should've Been a Cowboy. Not only was the song a top chart climber and a hit in the early 1990s, the album was also certified platinum. Keith did not douse the momentum as he further churned out several other hits.
See Also: What To Know About Brad Paisley, His Wife and Kids
Should've Been a Cowboy laid the foundation for Keith's successful music career. Some of his notable follow-up works which were either certified gold or platinum include the 1994 album Boomtown, Blue Moon (1996), Dream Walking released the next year, and 1999's How Do You Like Me Now (1999). His works in the 2000's include; Pull My Chain and Unleashed both released in 2002, followed by Shock 'n Y'all in the next year and Big Dog Daddy (2007). He is also known for his fiery but unofficial anthem Courtesy of the Red, White and Blue which was inspired by the tragic September 11, 2001 attacks on America.
So far, the country singer has no less than seventeen (17) studio albums, two (2) Christmas albums, and four (4) compilation albums to his credit. He has also sold over 40 million albums globally. For his contributions to the industry, Keith has won many accolades. For two consecutive years (2002 & 2003), he was named Entertainer of the Year by the Country Music Academy (CMA).
Toby Keith Family: Details Of His Wife and Daughters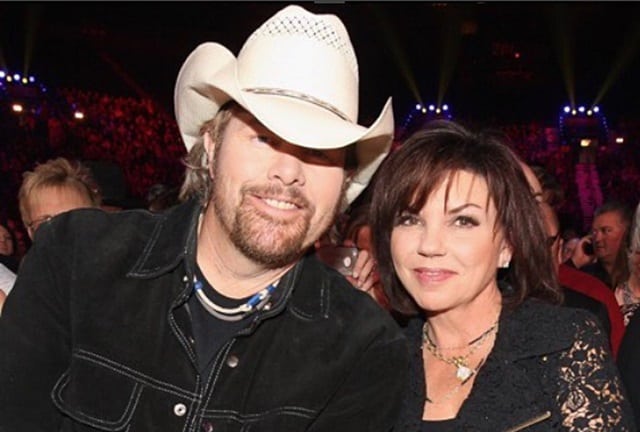 Toby Keith is married to his longtime love Tricia Lucus. The couple first met in 1981 and after three years of courtship, they tied the knot on March 24, 1984. Their union has produced two children. In 1985, they welcomed their first child, a girl named Krystal LaDawn Covel Sandubrae and a son Stelen Keith Covel was later born in 1997. They are also loving parents to Shelley Covel Rowland, Tricia's daughter from a previous relationship, born in 1980. Also a country musician, Krystal seems to have inherited her father's music genes and has at least one album to her credit. Toby and Tricia who have been together for over three decades are also grandparents. Apparently a perfect match for each other, the couple has continued to enjoy life together.
Height
A sports lover, the country music legend has maintained a fit and athletic build over the years. He towers at a height of 6 feet 2 inches (1.89m) and weighs 82 kg (181lbs).