When we think about social media and the monumental impact it has made on humanity, our mind automatically goes to the likes of Facebook, Twitter, Instagram, and YouTube. This is all well and good but before these platforms became the mainstay of our lives, there was one known as MySpace, a site that allowed people to make friends and share music and videos. Myspace reigned between 2005 and 2008 and was a forerunner to most of the social media platforms that we have today. Its creators, including Tom Anderson, also rose to the peak of the tech world and their ascent seemed unassailable.
That illusion, however, dissolved as the site witnessed a sharp decline in fortune afterward. It has been downhill since then and people like Anderson, who was previously quite famous in several circles, have all but disappeared from the spotlight.
Growing up as a Highly-Skilled Hacker
Tom Anderson was born on November 8, 1970, in San Diego, California. His father was an entrepreneur while his mother's occupation is not known. While growing up, Tom was passionate about two things; computers and movies. With regards to the first, he spent most of his time conquering new milestones, and so by the time he was 14 he was already a computer hacker under the pseudonym "Lord Flathead".
The young lad later attracted the attention of the FBI after he cracked the security of Chase Manhattan Bank. He was, however, not arrested because he was still in his teens. After that close brush with the law, Tom Anderson decided to stay on the straight part and focus on his acting aspirations. He completed his high school diploma at San Pasqual High in Escondido, California before obtaining a degree in English from the University of California, Berkeley. He later got a master's in Critical Film Studies from the University of California, Los Angeles.
Founding Myspace and Growing It into the World's Most Visited Site
After his collegiate days, one of the earliest jobs that Tom Anderson landed was as a product tester and copywriter at XDrive, a digital storage company, in 2000. The company, however, went bankrupt a year later and the young man went on to work at another tech-oriented company known as eUniverse.
Whilst working at eUniverse, Tom and some of his colleagues (Chris DeWolfe and Jon Hart) discovered and joined a social networking site named Friendster. They later decided to develop a platform closely modeled after it and so, Myspace, was born in the year 2003. The initial users were fellow eUniverse employees and the company bolstered the numbers by also signing up its customers and subscribers numbering about 20 million.
From that point upwards, Myspace grew in popularity, and in 2005, a giant corporation coughed out $580 million to buy it. They made Tom CEO and under his watch, the company grew from 16 million subscribers in 2005 to about 100 million users in 2006. It employed thousands of employees and in the year 2006, was the most visited site in the United States. It also became the most popular social media site in Europe by 2007 and its owners smiled all the way to the bank.
The Decline of Myspace
Myspace's decline is directly proportional to the rise of Facebook and as such, many quickly jumped to the conclusion that it was Facebook that killed the hitherto social media giant. The truth, however, remains that it was the company's new owners that caused its demise as a result of the several missteps they took.
First, was their crass monetization of the site. The new owners were mostly interested in generating billions of dollars from ad revenue and so flooded the site with sponsored ads. This bogged down the platform. It also irritated users to no end and so many of them naturally migrated to the new better alternative.
Another thing that led to the decline of Myspace was the jack-of-all-trade and master-of-none syndrome. The site's owners were grasping at too many things (movies, music, fashion, sport, and books) and were not doing well at any one of them. Myspace also suffered from slowness to change. While the new sites continuously tweaked their features to make things interesting, the head honchos at Myspace refused to hire new people with new ideas. They instead relied on their own employees and this led to stagnation.
By 2011, Myspace only witnessed 37.7 million visitors each month, down from a peak of 100 million each month. They also lost subscribers and had to lay off most of their staff. This forced the owners to cut their losses and in June 2011, they sold the site to Specific Media Group and Justin Timberlake for approximately $35 million, a far cry from the $580 million it was bought.
Since then, the ownership of Myspace has changed hands three more times but the company remains in the doldrums. It was ranked as the 3,178 by total Web traffic, and 1,650 in the United States, in 2017 and by 2018, declined to 4,153 by total web traffic and 1,657 in the United States.
Where is Tom Anderson Now?
When Myspace was initially sold in 2005, Tom Anderson was hired as the CEO of the company and he automatically became a default friend to everybody that joined the site. He was therefore synonymous with the brand but over time, he grew disenchanted with the way the new owners were running the company. The California native didn't agree with much of their ideas and so, decided to walk away in 2009.
There was however no or little hard feelings for Anderson as the money he made from Myspace set him up for life and gives him the freedom to pursue his passions and interests. One of those passions is photography and the Myspace co-founder is now occupied with the hobby of traveling the world and exploring landscape and nature photography.
Tom first fell in love with photography during the 2011 Burning Man Festival and now travels around the world to capture scenic moments. His travels have so far taken him to places such as Bolivia, Peru, Hawaii, Alaska, Japan, Chile, Canada, and Argentina. Tom doesn't sell his photos or commercialize them but rather posts it on his Instagram account where everyone can access it. His Instagram bio meanwhile reads "retired and taking photos."
See Also:  Edward Snowden – Bio, Wife, Girlfriend, Net Worth, Where Is He Now?
How Much is the Myspace Co-Founder Worth?
Tom Anderson has an estimated net worth of $60 million and this is down to Myspace. Even though the social networking site is no longer as popular as it used to be, it once reigned supreme and generated millions of dollars monthly. In fact, as of 2007, the company was valued at $12 billion and Anderson and his fellow creators got their due rewards. The young man now uses his wealth to indulge his passion for photography.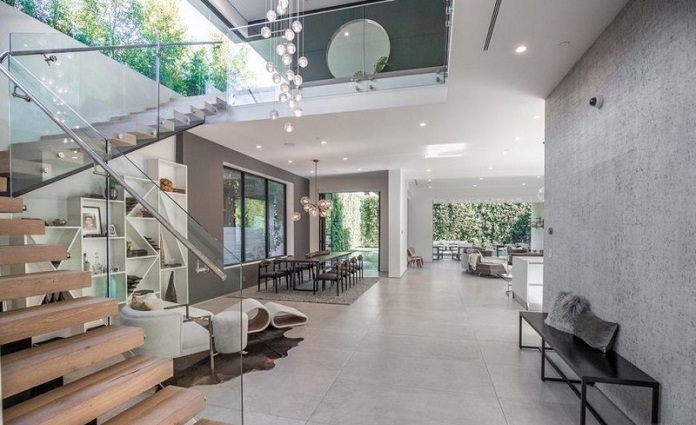 He also owns several prime properties including a San Bernardino mansion as well as a west Hollywood contemporary home which he purchased for $3.8 million in May 2019. The new house measures 4,758 square feet and boasts of four bedrooms. Other features include an open-concept main living space, modern gourmet kitchen, a floating staircase, a manicured backyard with patio, swimming pool, spa, dramatic waterfall, two large retractable glass wars, oversized windows, and fireplaces.