Tom Cruise may not have won an Oscar yet, but movie stars don't come any bigger than him. The New Yorker is one of Hollywood's finest leading man, and has appeared in several highly-acclaimed movies. He is also one of the highest-grossing movie stars in the world and consequently, one of the best paid actors. Would you like to have yourself a Tom Cruise movie marathon? Then, we have got his best, and worst, outings right here.
1. Risky Business (1983)
IMDB: 6.8/10
Rotten Tomatoes: 92%
Metacritic: 75%
Risky Business is the Tom Cruise movie which launched him to the limelight. In this coming of age film, Cruise portrayed the lead role of Joel, a high school senior who decides to enjoy some wild adventures after his parents go on a vacation. Things, however, go awry and Joel is forced to turn his parents' home into a brothel in order to pay his debts. Risky Business was a critical and commercial success and has a high rating of 96% on rotten Tomatoes.
2. The Color of Money (1986)
IMDB: 7/10
Rotten Tomatoes: 88%
Metacritic: 77%
The Color of Money is a 1986 sports drama about a retired pool hustler, Eddie, who takes on a fast-learning pupil named Vincent. Their partnership initially yields handsome profits but the two men later fall out. The Color of Money featured Paul Newman as Eddie while Tom Cruise portrayed Vincent. The film was a critical success, winning one out of four Oscar nominations.
3. Born on the Fourth of July (1989)
IMDB: 7.2/10
Rotten Tomatoes: 85%
Metacritic: 75%
Born on the Fourth of July is the first Tom Cruise movie to earn him an Oscar nomination. The 1989 biopic/war drama revolved around Kovic, a patriotic teen who enlists to fight in the Vietnam War. Kovic later ends up permanently disabled and comes back to become an impartial critic of the war. Born on the Fourth of July featured Tom Cruise in the leading role of Kovic. He was praised for his impassioned performance and scored an Oscar nomination for best actor. The New Yorker also went on to win the Golden Globe award for best performance by an actor in a drama.
4. Jerry Maguire (1996)
IMDB: 7.3/10
Rotten Tomatoes: 84%
Metacritic: 77%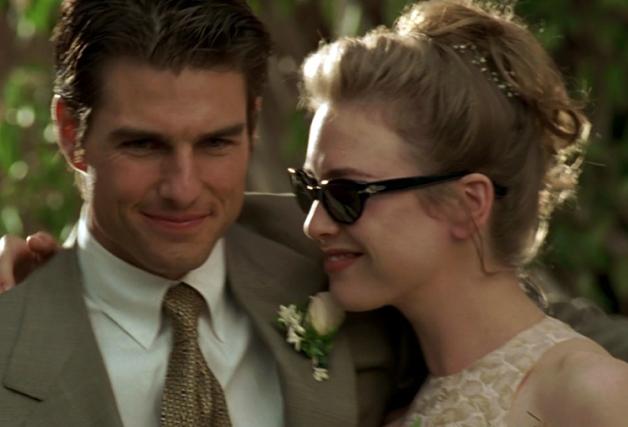 Jerry Maguire is another Tom Cruise movie which fetched him an Oscar nomination for best actor. In this 1996 melodrama, Cruise portrayed the titular role of Maguire, a slick sports agent who is fired after a crisis of conscience. Maguire subsequently sets up his own agency; relying on just one NFL player client and his single mom of an assistant. Jerry Maguire was the highest-grossing film of 1996. It also fetched Cruise an Oscar nomination for best actor as well as the Golden Globe award for best actor in a musical or comedy.
5. Magnolia (1999)
IMDB: 8/10
Rotten Tomatoes: 83%
Metacritic: 78%
Magnolia is a 1991 epic drama revolving around a mosaic of characters who are all searching for forgiveness and happiness. They include a dying father, a young wife as well as an estranged daughter. Magnolia featured the likes of William H Macy, Julianne Moore and of course, Cruise. Cruise's performance fetched him the Golden Globe award for best-supporting actor. He also received an Oscar nomination in that same category.
6. Mission Impossible (1996)
IMDB: 7.1/10
Rotten Tomatoes: 66%
Metacritic: 59%
If there is one Tom Cruise movie that should be on your must-see list, then it is certainly Mission Impossible. The 1996 action thriller sees Cruise take on the role of Ethan Hunt, an elite government agent who is framed for murder. Hunt thereafter embarks on a mission to clear his name. Mission Impossible was a box office blockbuster and has since spurned the successful Mission Impossible franchise, all of which is headlined by Cruise.
7. Lions for Lambs (2007)
IMDB:  6.2/10
Rotten Tomatoes: 27%
Metacritic: 47%
Lions for Lambs is a 2007 thriller/drama which explores two interconnected stories. One is about two students, Arian and Ernest, who are inspired to ship out to Afghanistan by their idealistic professor. The other storyline revolves around Senator Jasper, a presidential hopeful who wants to give a journalist the scoop of a lifetime. Lions for Lambs featured multiple Oscar winner, Meryl Streep, as the journalist while Cruise portrayed the role of Senator Jasper. The movie was a critical and commercial failure despite the star-studded cast.
8. The Mummy (2017)
IMDB: 5.4/10
Rotten Tomatoes: 15%
Metacritic: 34%
The Mummy is a 2017 fantasy/thriller as well as a retelling of the legend which has fascinated cultures all over the world. The story follows Nick, a soldier of fortune who makes a career out of plundering ancient sites for artifacts. Nick, however, gets more than he bargained for after disturbing the tomb of Ahmanet, a betrayed Egyptian princess. The Mummy featured Tom Cruise in the leading role of Nick. It is one of those Tom Cruise movies that turned out a box office hit but received mostly negative reviews. Cruise also received the Golden Raspberry award for worst actor.
9. Cocktail (1988)
IMDB: 5.9/10
Rotten Tomatoes: 9%
Metacritic: 12%
Cocktail is a 1988 drama/romance in which Cruise portrays the role of Brian, a determined young man who is paying his way through college. Brian later gets involved in shady dealings whilst falling in love with an artist. Cocktail was a box office success but received negative reviews with one critic describing it as a "shallow dramatically inert romance". The film has a score of just 5% on rotten tomatoes and fetched Cruise a Golden Raspberry nomination for worst actor.
10. Losin' It
IMDB: 4.9/10
Rotten Tomatoes: 18%
Metacritic: 51%
Losin' It is a 1983 coming of age film in which Tom Cruise portrays Woody, a teenager who leads his buddies to Tijuana on a mission to lose their virginity. The film received majorly negative reviews and has a score of just 20% on rotten Tomatoes. It was also a box office bomb, grossing only $1.2 million on a budget of $7 million. No doubt, it is a ready mention on any list of the worst Tom Cruise movies.