Tom Holland is an English stage performer, dancer and actor best known for playing the title character in Spider-Man: Homecoming in 2017, a role he reprised in other Marvel Cinematic Universe films such as Avengers: Infinity War and Avengers: Endgame, among others.
It is worth noting that the 2017 BAFTA Rising Star Award recipient actually began his career as a stage actor and is known for playing the central role in Billy Elliot the Musical between 2008 and 2010. Holland has since become a sensation on the screens with millions of fans following him.
Tom Holland Started Honing His Performing Arts Skills On Stage
Tom Holland was born Thomas Stanley Holland, the first of four boys to Nicola Elizabeth (née Frost) and Dominic Holland, on the 1st of June, 1996, in Kingston, South West London, England. His mother worked as a photographer while his father was a famous comedian best known for his observational stand-up comedy brand which earned him the 1993 Perrier Best Newcomer Award.
Holland attended a Roman Catholic boys-only preparatory school in Wimbledon, London called Donhead after which he went to Wimbledon College. During this time, Holland fell in love with the performing arts, taking dancing classes and impressing his teachers, which led to him being selected to perform at the 2006 Richmond Dance Festival. In 2008, he performed in the famous West End theatre in Billy Elliot the Musical, first playing a supporting character before later playing the main character to rave reviews.
After completing his secondary education in 2012, Holland enrolled in The BRIT School for Performing Arts and Technology. Within that same period, he also made his first appearance in a feature film, appearing alongside Naomi Watts and Ewan McGregor in The Impossible. His performance earned him more critical reviews as he took home the Young British Performer of the Year Award at the 2012 London Film Critics Circle Award show. In the coming years, he was seen in a handful of other high ranking movies before his ultimate launch into stardom was achieved with his role as Spiderman.
His Breakout Role As Spiderman & The Recognitions It Earned Him
He made his first appearance in a Marvel production when he was cast in Captain America: Civil War in 2016. Due to the success the movie garnered, Holland was contacted again to star in Spider-Man: Homecoming in 2017 which got a lot of positive reviews. Holland was also praised for his outstanding performance in the movie which was a box office hit, grossing more than $800 million internationally.
More so, Holland got listed on the Guinness Book of World Records for being the youngest actor to have been cast in the role of Spiderman by Marvel Comics. The next year, he was also featured in Avengers: Infinity War which was followed by his appearances in Avengers: Endgame and Spider-Man: Far From Home in 2019.
Tom Holland's Net Worth
After reportedly taking home around $250 thousand from his first appearance as Spiderman in the Marvel Cinematic Universe movie series, Tom Holland took home $1,500,000 (plus bonuses) for his role in Spiderman: Homecoming (2016) and as of 2020, he had amassed a net worth pegged at $6 million.
Read Also: Andrew Garfield Bio, Relationship With Emma Stone, Net Worth, Is He Gay?
Did Tom Holland Date His Spiderman: Homecoming Co-Star, Zendaya?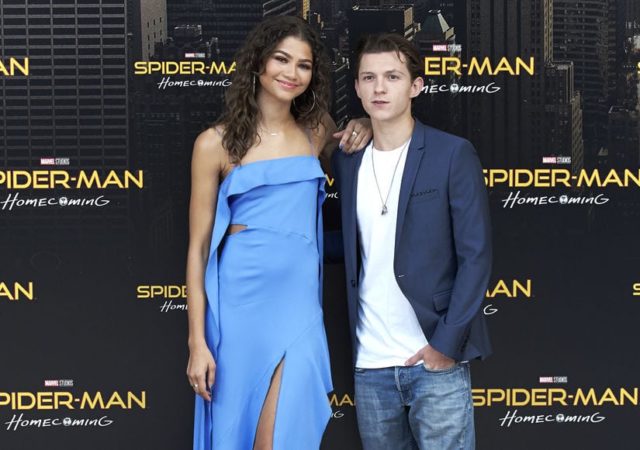 It is unclear if Tom Holland and Zendaya are indeed romantically involved, however, they have both admitted to being best of friends, leaving fans and the media to make up the rest. The rumours about a possible relationship came to light after the two starred in Spiderman: Homecoming together and were subsequently seen spending a lot of time together, going on what looked like dates and sharing pictures of themselves on their social media pages.
The speculation gained more attention after Holland was pictured leaving Zendaya's house with an overnight bag, having spent the weekend there. He is also very cosy with her parents, specifically with her mother who he has posted a picture of online, which was interpreted to mean he has her approval.
However, these rumours died down when the actor was spotted with a lady identified as Olivia Bolton sometime in July 2019 as they spent time together at Hyde Park, London. Further findings also revealed that the lady was also British like Tom and they had been childhood friends. The relationship ended up lasting for only a couple of months as the pair seemed to have parted ways as of April 2020.
The Spiderman Star Is Rumored To Be Dating Actress, Nadia Parkes
Not too long after Holland's split from his childhood friend, the news of a fresh romance with British actress, Nadia Parkes, hit the media. More so, the actress immediately made her Instagram account private which many believed was to keep the prying eyes of fans and internet trolls off their budding relationship. The couple even spent a good part of the COVID 19 lockdown period together at Tom's home in London.
As of now, not much is known about how serious the pair is about their love story. Reports have it that one of their actress friends, Sophie Turner introduced them and they picked up things from there.
Tom Holland's Pictures With Harrison Osterfield Triggered Gay Rumors
Tom Holland's sexuality was questioned sometime in 2017 when fans noticed the close bond he shared with Harrison Osterfield. The speculations became more popular after pictures of him being close and playful with Harrison Osterfield, surfaced online. However, from what was gathered, the pair have been friends since their childhood days and with Harrison working as Tom's assistance, it is only natural for the boys to have a strong bond.
Another incident that might have fueled the gay rumour was linked to Holland's performance is an episode of Lip Sync Battle where he performed Rihanna's "Umbrella". The performance which was described as breathtaking had the actor in full Riri regalia as he absolutely stole the show. According to the actor, the performance had nothing to do with his sexuality as he maintains that he has an interest only in dating women.
More so, even though Tom had shown some excitement recently when talks of casting a gay Spiderman is being finalized. The actor still holds his stance that his sexuality is distinct from his character. Spiderman coming out as gay does not necessarily mean that Holland is also coming out of the closet.