Tom Segura, like most successful names in the comedy industry, distinguish themselves by their jokes, mannerisms, and wit. He started small, doing stand-up sessions at small locations before getting a chance to move up to a bigger stage.
That higher stage has seen him become the star of a hugely popular podcast, as well as produce multiple stand up specials for Netflix. He has also starred in several films and TV shows. It is this series of accomplishments that has put him among the successful comics of his generation like Joe Rogan and Bert Kreischer.
Tom Segura Began Standup Comedy After College
Tom Segura was born on the 16th of April, 1979 in Cincinnati, Ohio. There is little information on his background besides his mother being Peruvian and him having two sisters. At the age of 18, Tom was in a coma after he overdosed on ecstasy, GHB and alcohol.
He started his comedy career shortly after he graduated from Lenoir Rhyne University. After a series of performances in local comedy clubs and bars, he eventually got to perform at different comedy festivals. Tom performed at the Melbourne International Comedy Festival, The Comedy Festival, Just For Laughs Comedy Festival, and many others. He also was a San Francisco finalist on the NBC talent show Last Comic Standing 2.
Years into his comic career, Tom Segura got into radio; his first gig being The Bob and Tom Show. He was also in The Ron and Fez Show before he shifted his energy into podcasting, where he ultimately found success and became a household name.
Being a comedian often means talking about subjects most people avoid, but Tom Segura has set himself apart by pushing the limits on what's possible. He has tackled bold topics like marital life, incest, mental health, family troubles, and sex jokes. While it has resulted in a lot of success for the comedian, it hasn't always worked out. He has faced his share of controversy, including when people wrote to Netflix to censor his show on the platform. He has also received accusations of hate speech after using the word 'retarded' in a joke.
'Your Mom's House' Is His Biggest Comedy Success
Within a year into his comedic career, he married Christina Pazsitzky, who is also a standup comedian. Two years after, their relationship birthed the podcast, Your Mom's House. Together, along with a prominent guest in the entertainment industry, they discuss various topics across comedy, daily life, and current affairs.
They intersperse the discussion with humor and commentary on shocking or unusual internet videos. The relatively simple approach to the podcast proved popular among podcast listeners. They initially launched the podcast under the Deathsquad Network but left the network after 40 episodes to produce independently.
Your Mom's House has since reached one million impressions per episode, becoming one of the most followed podcasts and the most successful work of Tom Segura's career. The success of the podcast led to the formation of YMH Studios, a vehicle for his and his wife's other ventures. Those ventures include Where My Mom's At, 2 Bears 1 Cave, Dr. Drew After Dark, and The Honey Dew.
Outside of podcasts, Segura has also enjoyed a lot of success onscreen. Either in standup specials, documentaries, or shows, he has several credits to his name. He directed a short film in 2013 titled 9 Inches and has written several TV shows and documentaries. His writing credits include Cutman, Atom TV, Mash Up, 30 Seconds Over Washington, 9 Inches, and This Is Not Happening, among others.
Also, an actor, his humor, and comedic timing have earned him more than 13 projects, including Countdown, Instant Family, and an episode of Workaholics. Tom also has five standup specials: Thrilled (2010); White Girls With Cornrows (2012); Completely Normal (2014); Mostly Stories (2016); and Disgraceful (2018). The first two are hour-long albums while the latter three are all Netflix specials.
He Also Has a Net Worth of $12 Million
Tom Segura's success as a comedian, primarily via Your Mom's House, has created a vast fanbase online and offline, which in turn, has made him a lot of money. The comedian now boasts of an estimated wealth worth $12 million.
The multiple sales of his specials to Netflix and ad revenue from his podcasts are obvious drivers of his net worth. He has especially expanded his revenue base as a standup comic by performing to the Latin American audience, thanks to his Peruvian roots. He also launched a Spanish-based podcast, Tom Segura En Espanol, via YMH Studios.
The comedian also makes money from an expanding business empire of merchandise sales. He sells brand merch of his hit podcast, featuring popular insider joke slogans like 'Jeans and Mommies'. Jeans is a term Segura and his wife call each other on the show while fans of the show are called Mommies.
Aside from merch, Segura also makes money from standup tours around the country and beyond. His Take It Down Tour spanned 11 countries and 183 shows, with over 335,000 tickets sold.
Tom Segura Is Also A Successful Family Man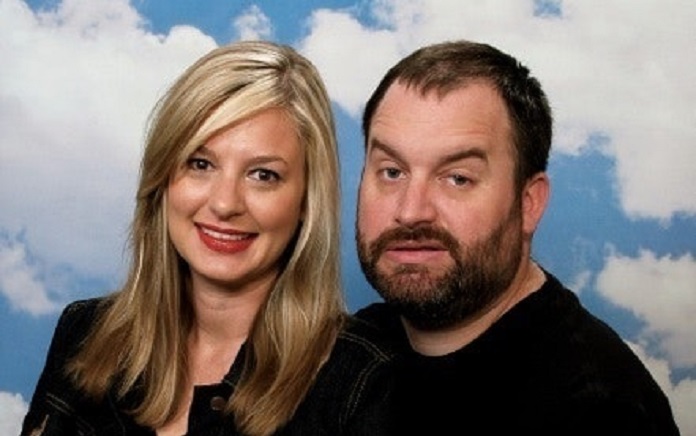 Tom is married to fellow comic Christina Pazsitzky. They tied the knot in November 2008. Together they have worked on several podcasts and standup comedy shows. Christina Pazsitzky is a standup comedian, podcaster, writer, TV host, and TV personality.
She was born on the 18th of June, 1976 in Ontario, Canada, to Hungarian parents. The family moved to San Fernando Valley in 1980, and in 1994 Christina became a US citizen.
Together the couple has two sons: Ellis, who was born in 2016; and Julian, who was born in 2018. The success of their shared life is not just limited to their marriage. They have also done materially well for themselves, with the purchase of a $6.7 million mansion in Los Angeles' Pacific Palisades neighbourhood.
His Extended Family Remains A Core Part Of His Public Life
Tom's father is a Vietnam war veteran who has the nickname, Top Dog. Tom Segura Sr. is a graduate of Xavier University and the First VP at Merrill Lynch. He shares his son's wild sense of humor and has appeared numerous times on his podcast, providing hilarious commentary.
The story is the same with his mother, Onania Segura. She is bilingual and spent a lot of her years in Dayton, Ohio, where she and her husband raised Tom and his siblings. She has been the butt of several of Tom's jokes, including an instant in May 2019 when the comedian posted a video of her passing very loud gas. The video went viral and sparked commentary on Reddit and YouTube.
He has confirmed that his mother is Peruvian and that he has two sisters in a family of three children. Tom has also stated that he is unequal parts French, Spanish, Peruvian, and Irish.