South Africa is one of the more popular countries in Africa and its fame is reliant on several things. However, it would appear that the country that is known for its cultural and racial diversity only recently started to have markets with locally sourced goods. Before now, the citizens of this country were heavily reliant on malls. All shopping happened in one of the many malls that were easily accessible and there were bit markets. All of this changed only as recently as 2010 when several markets in Cape Town emerged.
For a person who is new to the country and wants to try out some of these markets, we have compiled a list of the best 10 markets in the country's second-largest city, Cape Town. In these markets, you will find things such as food, groceries, beautiful cultural prints as well as an array of locally made trinkets.
The Best Markets In Cape Town
1. The Neighbourgoods Market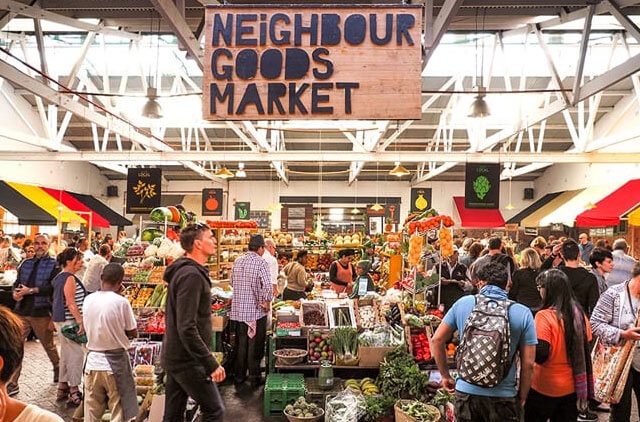 Opening Hours: Saturday from 9:00 am- 3:00 pm and Sundays from 10:00 am – 3:00 pm.
Address: The Old Biscuit Mill, Woodstock, Cape Town
Major Highlight: You can bring your pets to the market. However, dog owners are to ensure that they come with a leash.
The very first market on our list is the Neighbourgoods Market which is located at The Old Biscuit Mill in Woodstock, Cape Town. This market has been in existence since 2006 and was founded by Cameron Munro and Justin Rhodes, the two people who are believed to have led the rise of the farmer's markets in Cape Town and some say in the entire country. This market specializes in the sale of farmer's goods, artisanal items, and encourages the display of foods made by local chefs. Giving you access to a variety of creative items and foods to try.
In the past, the market only opened on Saturdays but after the Covid 19 lockdown, this duration was extended to Sunday. Another thing that changed during the lockdown was the renovation that the market underwent, providing more stalls and opening up more spaces.
Some things you should look out for when you visit the Neighbourgoods Market is the Proof Bakery for their yummy baked treats like croissants, sourdough, and pain au chocolate. There is also a Bodega Ramen Pop-up that is rumored to sell the best ramen in the area and for beautifully handmade dresses visit Wanida Boutique. Parking is available on the CCT field which is directly opposite the market.
2. V&A Food Market
Opening Hours: Monday-Sunday from 10:00 am- 6:00 pm
Address: Old Power Station, Cape Town
Major Highlight: Has more than 40 stalls
Just as the name says, this is a market that sells solely foodstuff and spices that would make your kitchen cabinet jealous! The V&A supermarket is located in the Old Power Station that was built in the 19th Century and is notable for its provision of power to Cape Town. While it may no longer provide light to the citizens of Cape Town, it still serves a wonderful purpose with the V&A supermarket where there are over 40 stalls stocked to the brim with food and beverages, as well as artisanal products.
Not only are raw foods available for sale, but there are also two bars available in the market. So if you need a drink before or after shopping you are covered. There are also sitting areas available to rest, take a break and eat the foods that you have bought from the market.
Here are some stalls you should check out while you are at this market:
The seven Colours Eatery, which is owned by the celebrity chef Nolu Dube-Cele and is known for its affordable indigenous foods.
For 100% natural ice lollies, sorbet, and ice cream that is made in a Colombian style visit Las Paletas.
Plucky's is a great choice if you want to experience a fusion of American and Asian dishes
Vietnamese rice-paper rolls and poké bowls are available at Lua.
Sant'Alessandro's offers Italian charcuterie and has a grab-and-go selection for hotdogs.
For authentic Mexican tacos and burritos visit Dos Banditos.
Vintage wines, locally made gins, and craft beers that are properly chilled can be gotten from The Bottlebank
Vegans can partake in the fun as well and can get vegan yogurt, smoothies, and ice cream from Yokos.
3. Friday Night Market at Boschendal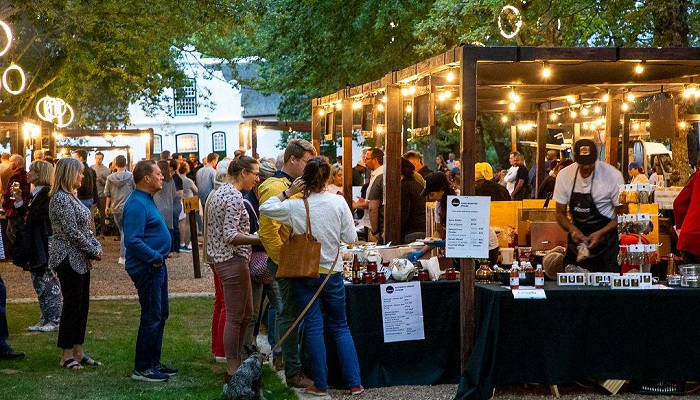 Opening Hours: Fridays 6:00 pm-9:00 pm
Address: Boschendal Estate
Major Highlight: Has live music
You are out on a Friday night and looking for somewhere fun to go, look no further than the Night market at Boschendal. This market offers a wonderful view of the mountains while located in the Werf Area with its many gardens. On the days that the market opens, you experience the luxury of live music and an array of crafts, foods, and drinks. Asides from the everyday food that is sold, there are stalls where you can get burgers, pizza, and baked goods.
Other things to look out for are:
Pancake Emporium
The Oyster Guy
Wicked Waffle
Aniseed Curries
Also, goods cannot be paid for with cash. All payments are electronic with either cards, Snapscan or Zapper.
4. Country Craft Market at Southey's Vines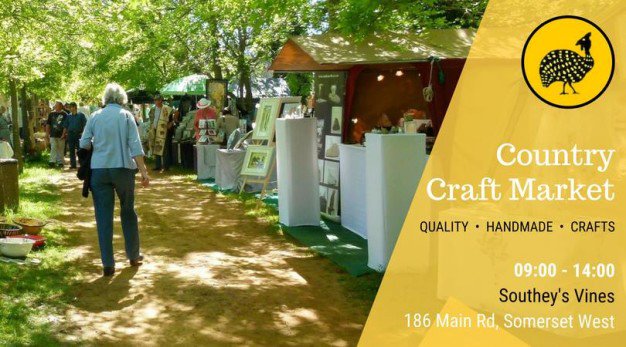 Opening Hours: Saturdays 9:00 am – 2:00 pm.
Address: 186 Main Road, Somerset West
Major Highlight: Locally made art
This is one of the older markets in Cape Town that is believed to have existed for more than 30 years. It is one of the markets with a variety of goods made by indigenous people of South Africa and is located at Somerset West. It is also located near a park, offering visitors of the park ample space to sit, relax, and unwind. Available at the market are locally made artworks, tie and dye clothes, and a lot of food and drink stalls.
Country Craft Market is great for people who are looking to buy art that has been made by Cape Town locals.
This is another market that has made provision for pets. Stalls to look out for are:
Luree for fabric household products
Toi-!kwiten Ostrich Egg Creations
Endinako Trading for beaded baskets
Vincent Crafts for carved wooden animals
5. Kirstenbosch Craft and Food Market
Opening Hours: Last Sundays of the month from 9:00 am – 3:00 pm
Address: Kirstenbosch Stone Cottages
Major Highlight: Has more than 200 stalls and only opens once a month
Another market in Cape Town is the Kirstenbosch Craft and Food Market which is located in Newlands. With more than 200 stalls, this market that only opens once a month on the last Sunday of the month is the perfect place to spend a leisurely afternoon in the presence of brilliant craftwork ranging from jewellery to clothing to furniture. Whenever you are at Kirstenbosch Craft and Food Market, you will most definitely find something that you really like and did not know you needed. Like all the other markets on this list, there are stalls where you can get food and drinks.
Stalls to look out for include:
The Mussel Monger sells the best mussels and oysters and other types of shelled fish.
Looking for wood-made pizza then Earthfire Pizza is the place for you
There is a stall that is called Tortilla Modern Mexican and just as their name is, they make Tortillas that come with a modern twist.
In the mood for amazing Sushi, check out Manga Cape Town
The Little Pasta Factory offers a range of pasta from gluten-free to wholewheat pasta.
6. Bay Harbour Market
Opening Hours: Friday: 5-9 pm
Saturday and Sunday: 9:30 am – 4:00 pm
Address: Hout Bay
Major Highlight: Sells some of the best seafood
The Bay Harbour Market is located in the Hout Bay, in a former fish factory. The sellers are typically locals who specialize in craftsmanship, as well as artists who want to sell their art. Different types of crafts are available for purchase.
Unlike some of the other markets on this list, pets are not allowed at this market. When visiting Bay Harbour Market, here are some stalls that you should visit and why you should visit them:
Afrika Bloks sells the most beautifully framed images of journeys around the world that real people have embarked on.
Relish & Savour offers a wide selection of Mediterranean and Middle Eastern dishes.
Modern designs that are inspired by vintage styles are available at the Billy Now stall.
Another provider of Vintage merchandise is Antiques and Vintage for a collection of vintage clothing that dates as far back as the Victorian Era.
If you have a hankering for very unique charcuterie boards, the Bay Meat Market stall offers a wide variety of those as well as other types of meats.
For fresh seafood visit the Sea Bar.
7. Blaauwklippen Family Market
Opening Hours: Saturday and Sunday: 10:00 am – 3:00 pm
Address: R44 Strand Rd, Stellenbosch
Major Highlight: Sells seasonal foods
Located in Stellenbosch is the Blaauwklippen Family Market, perfect for some time out in the sun with the family. The market is known for the farmer's market vibe it has, which is one of the reasons it is very popular. What you get in this market is seasonal foods, and all of the retailers focus on providing organic foods that have been created in sustainable conditions. The market also has provided entertainment for children, giving parents the chance to drop their little ones off while they go shopping.
Food, entertainment, and lovely scenery are some of the things you get with this market.
Look out for:
De Vrije Burger
Tuist for their ice cream that is hand-crafted
Fleur le Cordeur for the most beautiful flower arrangements
8. Mojo Market
Opening Hours: Monday-Sunday: 11:00 pm-11:00 pm
Address: 30 Regent Rd, Sea Point, Cape Town
Major Highlight: Opens every day of the week
Mojo Market is located in Sea Point is one of the more vibrant markets in Cape Town. It has more than 25 food and clothing stalls in its large 2000-square-meter area. Mojo Market is close to the sea and as such offers an ocean view with some added ocean breeze, making your shopping feel like a walk on the beach. There is also live music played daily, as well as large screens where sporting events are broadcasted. The best part about this market is that it is open every single day of the week, so you can visit it at any time.
The major stalls in Mojo Market are:
Manga Cape Town where you can get sushi
Vlerk, providing great chicken wings.
The Mussel Monger sell the best mussels and oysters and other types of shelled fish.
9. Oranjezicht City Farm Market
Opening Hours: Wednesday: 5:00 pm -9:00 pm, Saturday: 8:15 am -9:00 pm, Sunday: 5:00 am – 4:00 pm
Address: Haul Road, Granger Bay Blvd, Victoria & Alfred Waterfront, Cape Town
Major Highlight: Sells mostly Fresh food
To get the freshest farm produce, visit the Oranjezicht City Farm Market located at Granger's Bay. This market offers a very wide variety of fresh food as well as alcoholic beverages. As a farm market, they also offer dairies, such as free-range eggs and milk. A wide variety of foods is available for vegan and vegetarian as well. You can also find cooked foods that taste amazing. This market is managed by the OZCF group, a body that is known for its dedication to local produce in the Cape Town area.
Stalls to look out for include:
Seafood collective has fish and chips to die for
The Buckwheat Crepe
Yen's Vietnamese Street Food sells a variety of Vietnamese street food.
For gluten-free cakes that also have no sugar visit, Thank Goodness Foods.
10. Hermanus Country Market
Opening Hours: Saturday: 9:00 am – 1:00 pm
Address: Fairways Ave &, Jose Burman Dr, HermanusWaterfront, Cape Town
Major Highlight: Sells mostly locally made goods
The last market on our list is one of the more popular local markets in Cape Town, and it is the Hermanus Country Market located in Hermanus. This market hosts traders from nearby remote towns where a lot of craft is put on display with the goods that are for sale. Locally made foods like cheese, smoked fish, and bread are all sold at this market. Furniture and kitchenware are also available for purchase at Hermanus Country market, things you would need for your daily supplies can also be gotten in this market.
The best thing about this market is that the traders are the people who made what is being sold and you can easily speak to them about the content of the merchandise. Stalls to look out for:
Folke and Goode, who sell great craft beer
Tulip Coffee
Sanity Farm where one can get pork pies and other baked goods.
Recap of The Top 10 Markets In Cape Town For All Your Daily Supplies 
The Neighbourgoods Market
V&A Food Market
Friday Night Market at Boschendal
Country Craft Market at Southey's Vines
Kirstenbosch Craft and Food Market
Bay Harbour Market
Blaauwklippen Family Market
Mojo Market
Oranjezicht City Farm Market
Hermanus Country Market