Footballers often dominate the headlines or news whenever they get engaged, hitched or are caught in the middle of controversial relationships. However, as more and more footballers walk down the aisle or get engaged and many others walk in and out of relationships, we want to acknowledge a few footballers who have proven that the cliche, marriage is not a bed of roses or a stroll down the street, is wrong after all. Yes, just a few married footballers can grace our list of "Most Famous Kenyan Football Super Couples" as we are focusing on the super marriages that got us itching to join the league.
Even though fame comes with both good and bad attributes, most of these super couples have managed to keep their private lives from the public eye. They are really in love and, they do nothing out of the ordinary to attract public attention. What's more? Okay, they understand each other's workload. Before it gets difficult to stop going on and on, here are the most famous super football couples in Kenya you should know.
Read Also: Top 10 Highest Paid African Footballers
James Situma And Maureen Aketch

James Situma is a Kenyan footballer who played for Tusker in the Kenyan Premier League. He also played for the Kenya national team as a central defender and sometimes, as a central midfielder. He gained prominence during his first spell at Sofapaka prior to his move to KF Tirana, winning 4 trophies during his 4 years at the club. One of the trophies was the club's first Kenya Premier League title. Among other things, James captained the side in the CAF Champions League.
Like his move from A.F.C. Leopards to Tusker, it was a big deal when James Situma got hitched to his longtime girlfriend Maureen Aketch. They are blessed with a baby girl called Mikayla and they seem to be more in love now than ever.
Meanwhile, James was born on the 11th day of November 1984 in Ndivis, Bungoma District. He is the second child of his parents' (Japheth and Anne Wakhungu) three children. Sometime in December 2017, Situma and other 13 players were unceremoniously released by Tusker.
Read Also: Most Memorable Moments of Kenyan Harambee Stars
Musa Mohammed and Sakina Nshimirimana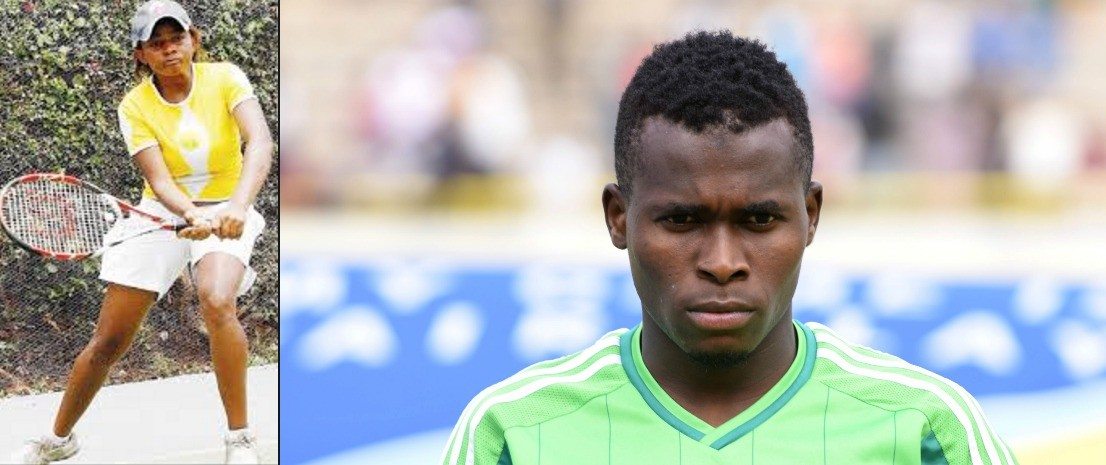 Musa Mohammed is a reliable defender and one of the most skillful players of Gor Mahia, a football club based in Nairobi, Kenya. He is among the big hard workers who are behind the huge success K'ogalo has enjoyed in several seasons. Musa captained his side all through the successful seasons and played actively in all matches missing almost none.
Musa was once married to the stunning tennis player named Sakina Nshimirimana, a Burundian woman. People believed Musa and Sakina were having a good time together with their beautiful daughter until it emerged that Musa left Sakina while she was pregnant with their second child and had a child with the wife of his friend, Kevin Omondi who is equally a footballer.
Kevin Omondi and Musa have been friends since they were kids. At a point in Kevin's career, he moved to South Africa to play for Moroka Swallows. It was while he was away that Musa started a romantic relationship with his wife. Too bad huh? we Know.
 Allan Wanga and Brenda Mulinya
Here is another super couple football has produced. The one-time AFC Leopards striker tied the knot with NTV's reporter Brenda Mulinya Wanga. The marriage has been blessed with two children. As of 2015, Allan was plying his trade with Azam FC in Tanzania. He returned to his previous club Tusker F.C in 2016.
The Allan-Brenda marriage happened on the 3rd day of September 2011. The couple had their first child, Jayden, before they officially became life partners. Allan is one of the two surviving children of his parents – Frank and Noel Wetende. While his father once played professional football and is currently a coach, his mother is a pastor.
Ezekiel and Racheal Otuoma
Ezekiel and Racheal are the recent football partners in town. Ezekiel newly married his old-time lover, Racheal, in a rich and glowing wedding ceremony that attracted the presence of several local football players. Just like Nelly, Eric's wife, Ezekiel's sweetheart plays handball while he himself plays for the KPL side Ulinzi.
The two first met in a friend's party in December 2013. Ezekiel instantly fancied Racheal and asked her out. She was reluctant at first but later decided to date him. They dated for over a year before Ezekiel asked her to be his life partner.
Eric Masika And Nelly Tietie Masika
Eric Masika remains one of the best defenders Kenya has ever produced irrespective of the fact that he is leaving the eyes of the public. It is as though the ex-Sunshine Secondary School student is fading into oblivion. However, that's not our business. We only want to concern ourselves with his marriage.
The remarkable sportsman walked down the aisle with Nelly, a player for one of the top handball clubs in Kenya. The pair who, no doubt, understands each other's workload and are among the super sports couples, have so far spawned one girl. Eric and Nelly are still together and their love is growing strong and blooming every day.