The proof of love is usually seen when life-threatening challenges rear its ugly heads. When Tran Jeong was diagnosed with cancer, her husband, Ken Jeong, proved to her that what they both share is true love that would stand the test of time. With the unflinching support he gave her, she was able to successfully battle the terminal disease. Their love is a relationship goal that clearly demonstrates that marriage should be for better and for worse.
Read through to learn more about Tran Jeong who is a medical practitioner as is her famous husband.
Tran Jeong Biography
Tran Ho, who is now known as Tran Jeong, was born on the 24th day of February 1972 in the United States of America. She is, however, Vietnamese by ethnicity. Details of her upbringing as well as her family background are unknown. However, it is a known fact that she attended David Geffen School of Medicine at UCLA.
After her graduation, Jeong got her board license and started working professionally as a family physician. For more than two decades, she has practiced in Woodland Hills and Thousand Oaks, all in California.
Meet Her Husband Ken Jeong and Kids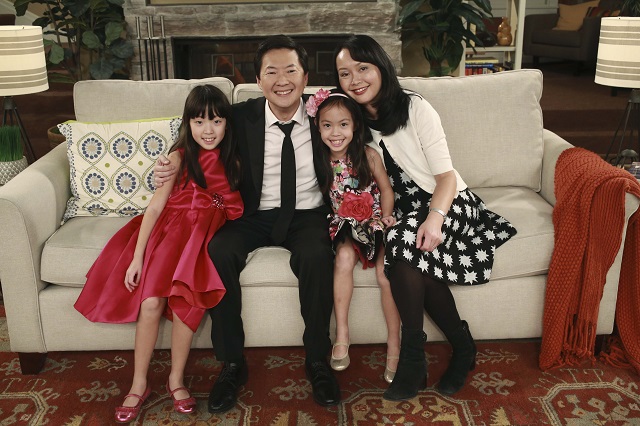 Tran Jeong's little prominence revolves around her famous husband, Ken Jeong. Their paths first crossed in 2002 when they were both working at Kaiser Permanente in West California. They dated for two years before they went ahead to exchange marital vows in September 2004.
For more than a decade and a half, their love has been everything the couple would wish for. Their joy was complete when in 2007 they welcomed twin daughters named Zooey and Alexa. The kids are both growing nicely and are seen sometimes with their parents attending events.
As mentioned above, Ken Jeong is a comedian and actor who was professionally trained to be a physician before he followed his heart and natural talent attaining to such an enviable height in showbiz.
The Korean-American was born on July 13, 1969, in Detroit, Michigan. He attended Duke University, graduating in 1990 before enrolling at the University Of North Carolina School Of Medicine to study medicine. He finished in 1995 and did his residency in internal medicine at the Ochsner Baptist Medical Center in New Orleans, Louisiana.
After having abandoned his medical career, Ken Jeong has appeared in movies and comedy that include but are not limited to Knocked Up (2007), three parts of The Hangover film series (2009, 2011 and 2013), Community (2009) and Dr. Ken (2017). Apart from these, he had earlier opened for Margaret Cho and Jeff Dunham whilst he was starting out his comedy career in College.
Other Facts You Need To Know
1. Net Worth
Physicians are well paid in America and other first world countries. Tran Jeong has been practicing her profession since she graduated from the University and as a certified family physician, her average salary per annum is pegged at $246,291. This means that the doctor sure makes cool cash from her practice, although it is unclear what her net worth is, unlike her husband who is estimated to be worth $14 million.
2. She was once diagnosed with Cancer
Sadly, a year after the birth of their twin daughters, Tran's motherhood bliss was threatened with a bout of breast cancer diagnosis which gave her unforgettable nightmares. As a physician married to a professional colleague, her and her husband quickly swang into action to treat the ailment. After a series of treatments that involved up to 16 chemotherapy sessions, mastectomy, and radiation therapy, the disease was finally defeated as she came out cleared.
Dr. Tran Jeong later made an open confession during an interview with another cancer survivor, ABC News Reporter Amy Robach, that her husband was her major source of encouragement as she fought the ailment. Despite the cancer treatment colliding with the period of filming the comedy film The Hangover where Ken acted as Leslie Chow, Tran said she laughed at numerous hilarious displays of her husband's character which served as a healing therapy for her.
By October 2010, she was certified cancer-free by her doctors. Her joyful husband has celebrated his wife's cancer clearance for eight years and counting. The couples have also given alms and supported other cancer victims through their various charity initiatives.