Trevor Noah is a popular South African comedian. He is usually referred to as 'the funny man'. Recently, Trevor Noah joined the list of trending names in international comedy. He is the latest contributor for The Daily Show with Jon Stewart, debuting on 4 December 2014. He is gradually gaining international recognition and fame and I guess you must have heard about him. But, how much do you know about him? There are very many interesting things about him you'll be surprised you didn't know about. Read on…
About Travis And His Parents
Trevor Noah was born on 20th February 1984, in Johannesburg, South Africa. He is currently 34 years old.
He is of a mixed descent as he was born to a South African (Xhosa) mother "Noah  and a white European (Swiss) father "Noah" in the heat of South-African Apartheid. This is usually one of the major sources of fun in his comedy talks. Since mixed marriages were illegal then, it was really a hide and seek marriage as his mother was arrested from time to time for marrying his father, a white man.
He grew up in Soweto town, and it was never a smooth one as a result of the apartheid. His parents were always separated and he spent some of his childhood with his grandmother. His parents finally succumbed to the pressure and separated. After the split, his mother remarried and it was not a fun period for him then but now, he draws so much humour from the whole unpleasant but past events.
Also, he speaks not less than six languages. This ability he said was made possible by the people that surrounded him while growing up. His relations from both sides speak differently and in the bid to adapt, he had to learn their languages.
In terms of his career as a comedian, Trevor doesn't seem to have his mother's support. This was further reinforced when Trevor's mother was asked publicly about her views on her son's career. She never gave a supportive response. She expressed complete lack of interest. This was her response:
Ufun' ukuthetha ngezinto zasecawini" ( Is it church matters you want to talk  about)? No, unless you want to talk about izinto zasecawini, I know nothing. Not at all. I have not even watched one movie or show, and I know nothing about his life. I'm strictly into God's things – not interested in Trevor's things.
Career And Networth
He is a highly talented comedian and this is proven by the fact as he does not put down his speeches in writing, not even a sketch of it as some other comedians do. He does everything spontaneously and this makes a lot of difference. He generates humour from whatever he feels is suitable for the situation and audience at that moment.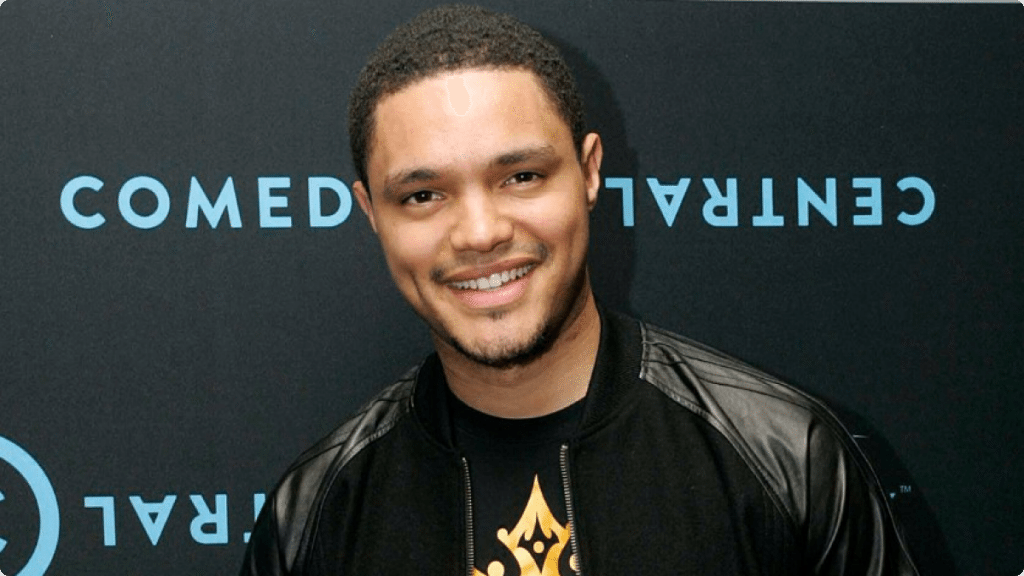 Interestingly, he is not just a comedian who knows how to make people laugh, he can dance and quite well too. This was confirmed when he came second place with Hayley Hammond in the 2008 Strictly Come Dancing (celebrity dance competition).
In quite a short time in his career, Trevor has broken the Jinx in a number of situations. First, on the 6th of January, 2012, Noah became the first South African stand-up comedian to appear on The Tonight Show. The second Jink was broken once again, on the 17th of May 2013, where he became the first South African to appear on Late Show with David Letterman.
He happens to be the highest sold African stand-up comedian because there is no other  African stand-up comedian who has made as much sales of his comedy DVD's as Trevor has been able to do.
In his early career journey, comedy got him a job. This was made possible after he once criticized the South African cell phone firm, Cell C in his stand-up comedy. The CEO of the firm appreciated it so much that he called him and offered him a place in the company. He actually worked there alongside his private career for 2 years. He still earns from movies as well as Television shows.
With his current job in the United States as the host of the "Daily Show,"  which he assumed on 28th of September 2015, he earns per episode. He also has endorsements from big brands in which he receives tons of sponsorship from. He also makes money from other hosting gigs for events, functions, stand-up comedy or just appearances. He is also a media critic and writer and we believe he earns from this as well.
From all his earnings, he has been able to acquire a massive  3596 sq. ft. penthouse in Newyork City, valued at an estimated R130 million or USD $10 million.  The house is adequately equipped with 3 bedrooms and 3 full 2 half bathrooms with a huge living area and swimming pool.
His networth is estimated at $14 million. The following are some figures:
You Laugh But its True – USD $542,986
Mad Buddies – USD $441,176
Isidingo – USD $336,134
The Amazing Date – USD $252,101
Trevor Noah: The Day walker – USD $215,208
Stepfather And Death Threat
His Mother and himself would have been murdered by Ngisaveni Shingange, Noah's former stepfather. Shingange threatened to murder Noah and his mother, Nombuyiselo Noah. The man once shot Noah's mother at the back and also said he'll kill Trevor which made him relocate briefly from Johannesburg to Los Angeles in 2011. However, he did not succeed and was convicted of murder in the law court in March 2012. It is on record that Trevor's mum had constantly reported to the police about series of domestic violence from her husband but nothing was done about it until the fatal shooting.
Married, In A Relationship Or Gay?
Before now, Trevor had been quite private with his relationships though things are changing and he is starting to be more open about his personal relationships. While  in South Africa he dated a  South African physiotherapist named Dani Gabriel but the pair broke up after he moved to the the United States. This was mainly because of his new job and the fact that she had a practice alonngside family memebers  back in capetown. Thus it would hard leaving all of them behind. Neverthless the two love and support though they are no loner together.
Few months after the heartbreaking split from his ex Dani, he began dating model and former singer Jordyn Taylor(sang on Confessions Of A Shopaholic soundtrack) around June 2015, the same year he moved permanently to the U.S. Jordyn who is 24,moved to Newyork to be with Trevor in September of the same year. Trevor also took her home to South Africa to visit his family and you can be sure that our fingers are crossed in earnest expectation of wedding bells.
There have also been rumours that the "Daily Show host is gay. Much of this suspicion was fueled by his support for the LGBT community. Well, such has not been confirmed by the comedian as he is still in a solid relationship with his girlfriend Jordyn. One thing is for sure if he comes out anytime as gay that would be a great loss which would break the hearts of his lady fans.
Statistics
BODY MEASUREMENTS: UNKNOWN
BUILD: SLIM AND MUSCULAR
HEIGHT / HOW TALL?:5 FT 11 IN OR 180 CM
WEIGHT:75 KG OR 165 POUNDS
DRESS SIZE: UNKNOWN
SHOE SIZE: UNKNOWN
EYE COLOUR: DARK BROWN
HAIR COLOR: BLACK