Trey Burton is an American football player who signed with the Philadelphia Eagles as an undrafted free agent in 2014. During the 2018 Super Bowl, his 1-yard touchdown pass to Philadelphia Eagles' quarterback, Nick Foles, during a trick play in the game, helped them emerge the winner.
He currently plays with the Chicago Bears of the National Football League (NFL) as a tight end.
Trey Burton's Early Life and Career Beginnings 
The Chicago Bears tight end, Lawrence Godfrey Burton III, known in the sports world as Trey Burton, was born on October 29, 1991, in Venice, Florida, where he attended Venice High School. He played as dual-threat quarterback for the Venice Indians high school football team and was outstanding.
During his junior year in 2008, Trey was the team's starting quarterback. He completed 80 of 133 pass attempts for 1,399 yards and 12 touchdowns while rushing for 919 yards and 24 touchdowns. During his senior year in 2009, the youngster passed for 1,876 yards with 18 touchdowns and one interception and rushed for 821 yards and 22 touchdowns. He earned first-team all-state selection both in his junior and senior years.
Having accepted an athletic scholarship offer from the University of Florida, Trey joined the Florida Gators football team, playing from 2010 to 2013. Within his freshman year, he made six touchdowns in a single game, breaking the existing record. Throughout his college career, Trey Burton featured in 50 games, recording 720 rushing yards, 976 receiving yards, and 20 total touchdowns.
NFL Career 
At the end of his college career, Trey Burton was invited to the NFL combine alongside 21 other collegiate tight ends. He had a number of things which placed him at a disadvantageous position at the combine including his 6'2″ height and his weight which was lighter than that of the others by 11 lb. The fact that he played multiple positions through college also made it hard for both scouts and sports analysts to pinpoint what position he would be able to play professionally.
Not minding the odds that were against him, Trey Burton finished with the fastest 40-yard dash time, tied for second in the three-cone drill, and fourth in the short shuttle among his position group at the combine. He opted to attend Florida's pro day on March 17, 2014, alongside other teammates. There, he performed the various required drills for the representatives and scouts from 32 NFL teams, lowering his time in the short shuttle and three-cone drill while increasing his broad and vertical jumps from the combine.
At the end of the process, NFL draft experts and analysts projected Trey to be either a seventh-round pick or a priority undrafted free agent. The latter turned out to become the case when he was not picked in the 2014 NFL Draft but was signed as an undrafted free agent by the Philadelphia Eagles to a three-year contract worth $1.53 million which guaranteed $20,000 and came with a signing bonus of $7,500.
Trey was assigned to jersey number 47 in order for him to play both the tight end and running back positions. He played in four preseason games and caught 9 passes for 100-yards and a touchdown. Although the Eagles formerly had three roster spots for tight ends, the head coach, Chip Kelly, decided that it was too risky to place Trey on waivers and as a result, named him the fourth tight end on the Eagles' depth chart.
He made his NFL debut in the 2014 season-opening game against the Jacksonville Jaguars and on December 28, 2014, Trey Burton recorded his first career touchdown and his only score of the season. He primarily played on special teams throughout the season. By the end of his rookie year, he had played 15 games with a total of 4 combined tackles, 5 carries for 10-yards and a touchdown. He was named to the NFL-All Rookie team as a special teams player.
In 2015, he broke a 2012 record held by Clay Harbor by becoming the first player of the Philadelphia Eagles to have two touchdown receptions in a single preseason game. Following an injury which kept Zach Ertz away from playing, Trey Burton was named the third tight end to start the 2015 season. He made his first career reception on November 26, 2015, finishing with two catches for 49-yards.
The next year, his career took on a new dimension. Under a new head coach, Trey took on a larger role on the offense for the season. On September 19, he scored his first career touchdown reception with his first career start following on October 16. He also filled in for his injured teammates at long snapper position and by the end of the season, he had played 15 games with 37 receptions for 327 receiving yards and a touchdown in four starts. He also played on special teams, recording a career-high 233 offensive snaps, a forced fumble, and a fumble recovery.
On April 3, 2017, the Philadelphia Eagles signed Trey to his tender after he received no offers on a second-round restricted free agent tender placed on him by the Eagles in March. The tight end who had always worn jersey number 47 opted to change the number to 88, explaining that the former number was assigned to him in order for him to play both running back and tight end. During the game against the Arizona Cardinals on October 8, he made his second career touchdown reception on a 15-yard pass from Carson Wentz which contributed to a 34–7 victory.
The Venice native added another feather to his cap during Super Bowl LII. He threw a touchdown pass on a trick play to Nick Foles with only 34 seconds remaining in the first half. The touchdown pass, known as "Philly Special", helped in landing the Eagles a 41-33 Super Bowl win. For achieving this feat, Trey Burton received a great and much-deserved boost in his career and on  March 14, 2018, he drew a curtain on the Eagles by signing a four-year, $32 million deal with the Chicago Bears.
His Wife and Family
Trey Burton tied the knot with Yesenia Burton in December 2012 and their union has been blessed with three children; a son named Jaxon Carter and two daughters – Ariella Skye and Kaia Grace.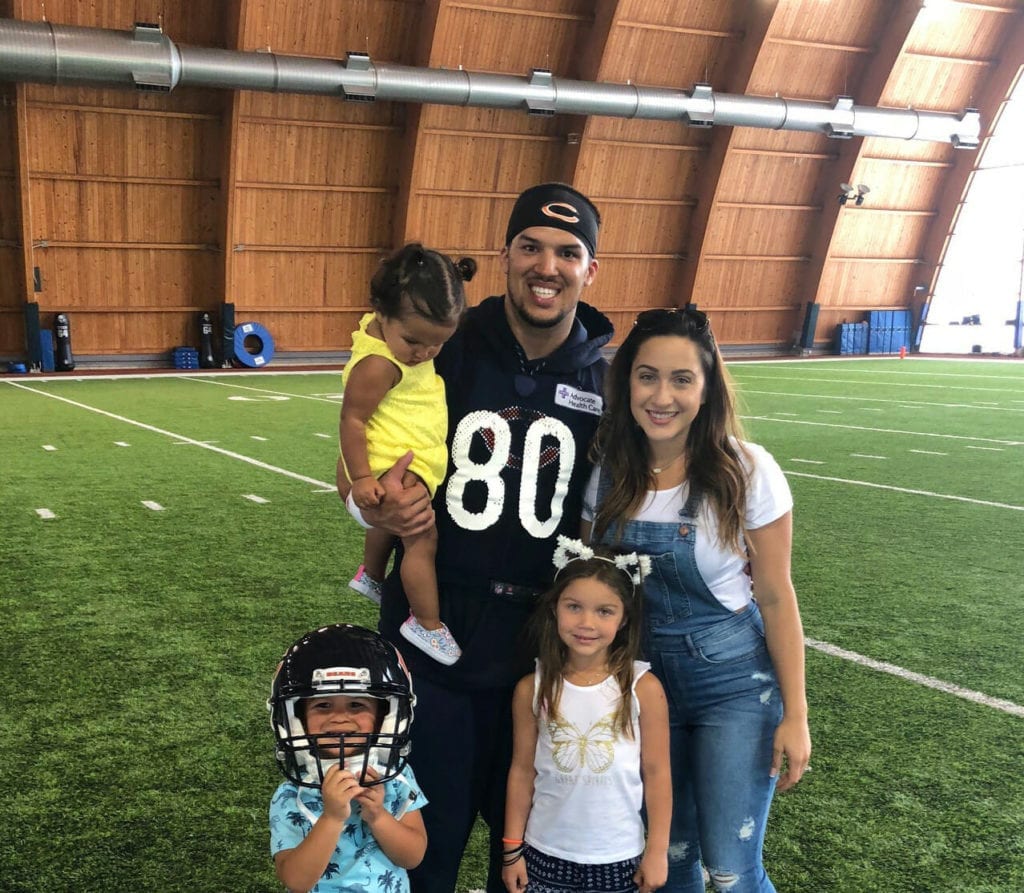 See Also: Jaylen Brown Biography, Injury Stats, Height, Weight and Body Measurements 
Quick Facts 
Full Name: Trey Burton
Date of Birth: October 29, 1991
Place of Birth: Venice, Florida
Height: 6 ft 3 inches
Weight:‎ 235 lb (107 kg)
Hand size: 9 3/8″
Arm Length: 31″
Nationality: American
Net Worth: $8 Million