Trey Songz is an American singer and songwriter who is best known for songs like "Heart Attack", "Can't Help But Wait", and "Bottoms Up".
The three-time American Grammy-nominated artist, who is also a part-time actor and rapper, is known for blending R&B with Hip-hop to produce club bangers while appealing to his original genre's base with subject matters that surround the highs and lows of relationships as well as the appreciation and lustfulness of beautiful women. Songz has till date released a total of seven albums and sold more than 14 million records, both albums, and singles, worldwide.
Here is all you need to know about him, his family, brother, relationship status and net worth.
Biography
Trey Songz was born Tremaine Aldon Neverson in Petersburg, Virginia, U.S.A, on November 28, 1984. He is the child of April (Gholson) Tucker and Claude Neverson Jr. but was, however, raised by just his mother and later on a stepdad, who was a member of the U.S. Army. His mother married his stepdad when he was 7-years-old.
Following his mother's marriage, Songz had to live in different parts of the country because his stepfather was always moved from one military base to another. The family, however, returned to the city of his birth when he was 14 and he attended Petersburg High School. It was in high school that Songz began to discover his decent singing voice, and despite his shyness, he was encouraged by family and friends to take to stage performance.
With his family not being able to pay for singing lessons due to financial constraints, Songz will always sing along to radio hits at home and in the car and was said to always wow everybody who was around him at the time.
In 1998, Songz signed up to sing at the Appomattox Regional Governor's School Talent Show in Petersburg where for the first time, a large audience was able to hear and adore his voice. Soon after the success of the show, Songz was introduced to New Jersey-based music producer Troy Taylor by his stepfather. Taylor loved what he heard but insisted that Songz finished high school before they could start working on his music.
In his final high school years, Trey Songz formed a vocal group called All Night Productions. The group performed at local parties and events in the Petersburg area until he graduated and moved to New Jersey to live with Taylor to build a career in music.
Trey Songz eventually got a record deal in 2003 with Atlantic Records. Two years after putting pen to paper, he released his first album, "I Gotta Make It". He had in the meantime released a number of mixtapes under the pseudonym Prince of Virginia which gained him a following.
Read Also: Chris Rock Girlfriend, Wife, Divorce, Brother, Daughters, Family, Height
In 2007, he released his sophomore album, "Trey Day" which featured the hit single "Can't Help But Wait". The song peaked at no. 11 on Billboard's Hot 100 singles and was also nominated for a Grammy Award. Another Grammy nomination came in 2010 following the release of his third album "Ready". That year, Trey, who had reinvented himself as a sex symbol, won BET Award for Best Male R&B Artist.
Since that time, Trey Songz has released four more albums and done collaborations with artists like Mariah Carey, Nicki Minaj, and Drake.
Net Worth
Trey Songz has accumulated some wealth from his successful music career. His net worth has been estimated to be around $10 – $12 million. This was calculated through album and concert ticket sales. he has also done some acting, appearing in shows like 'Baggage Claim' and 'Lincoln Heights'.
Is Trey Songz Gay?
Trey Songz is not gay. Rumors of him being gay have swirled around the internet for a long time, with photoshopped images of him kissing another man shared widely. One time a fake tweet of Songz admitting he was gay was sent out.
Does He Have A Girlfriend?
It is not clear who Trey Songz is currently dating. He, however, has a very long list of people he has been linked to him in the past. The list includes more than a dozen names like Khloe Kardashian, Helen Gedlu, Drew Sidora, Lauren London, Keri Hilson, and many more.
Family – Brothers, Sister
Trey Songz has two brothers and a sister; Forrest Tucker, Alex, and Nikki Neverson. Alex is a DJ and producer who goes by the name DJ A-Wall. It is not clear what Forrest or Nikki does for a living.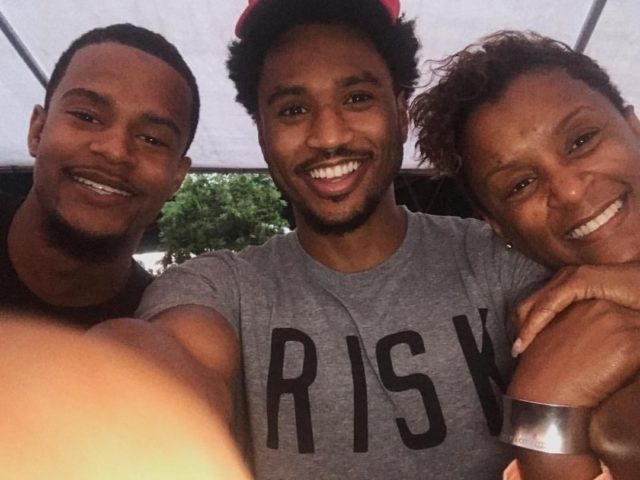 Quick Facts – Height, Ethnicity
Birth Name: Tremaine Aldon Neverson
Known As: Trey Songz
Date of Birth: November 28, 1984
Birth Place: Petersburg, Virginia, U.S.
Nationality: United States
Ethnicity: African-American
Occupation(s): Singer-songwriter, Record producer, Actor
Height: 6 feet 1 inch
Weight: 72 kg