Trey Songz is one singer who is well versed in the art of love songs. Blessed with a killer voice, and equally-killer good looks, he has dropped hits songs such as Heart Attack, Can't Help But Wait, and Bottoms Up. These songs, which expertly blend elements of R&B with Hip-hop, have gone on to become club bangers whilst appealing to the singer's original base with subject matters touching on relationships, as well as the appreciation and lustfulness of beautiful women.
To date, Songz has released a total of seven albums and sold more than 14 million records. He also has three Grammy nominations to his credit. Given such antecedents, one would expect Trey Songz to have his own love life under control. It is, however, a different ballgame altogether as he has accumulated several girlfriends and flings along the way. Throw in a baby mama, cheating allegations, and gay rumors, and what you have is a fascinating tale that is worthy of a reality TV show.
The Unexpected Arrival of His First Child – Noah
For several years, Trey Songz has been outspoken about his desire to have children, and that wish finally came true in May 2019 when the singer used his Instagram page to share the picture of his hands clutching a tiny foot. This sent his fans into overdrive as many speculated that he must have become a father. These speculations turned out to be true as Songz later shared a picture of a newborn, proudly declaring his name to be Noah and stating that his entire family was blessed and overjoyed.
This announcement led to an outpouring of congratulatory messages from fellow celebrities such as comic/actor – Kevin Hart, singer – Kehlani, and model – Sharina Gutierrez. Fans also sent in their good wishes as well, but most fans were interested in knowing who the baby's mother was. This interest persisted for several months and ticked the singer off on a few occasions. He, however, maintained his cool and told the busybodies to mind their business, stating that the mom's identity was not an issue.
Unveiling the Identity of His Baby Mama
The busybodies refused to mind their business and scoured the internet for clues. They later uncovered that the singer and his baby mama had opened registries to receive gifts. They also uncovered that her name is Caro Colon, and this fact was later confirmed by Trey Songz during the occasion of Noah's first birthday in April 2019. The Virginia native shared a picture of Caro, proudly declaring that they made Noah together. He also praised her as a great mother and thanked her for gracefully dealing with all the intricacies of being a celebrity baby mama.
Meanwhile, Noah's first birthday was low-key due to the Covid-19 lockdown. His party observed social distancing rules, but it was still fun on Zoom with games, riddles, and scavenger hunts. There is as of yet no much information on his mother, including her place or date of birth. It is, however, known that she worked as a stripper at the time she got together with Songz. It is not known whether Caro has continued her work or if she and Songz have continued their romance. All indications, however, point to the fact that they are not a couple anymore but are just co-parenting their son.
A Look at Trey Songz's Rich Dating History
Since bursting onto the music scene, Trey Songz has been romantically linked to lots of ladies. Some of these relationships have been tagged as flings while some were long-term. However, some were not confirmed, and as such, we shall focus on those that they were confirmed.
His Romance with Helen Gedlu and Lauren London
The earliest confirmed relationship that the Virginia native had was with Helen Gedlu in 2007. Gedlu is an American-born dancer, model, and singer of Ethiopian origin. She has worked as a dancer for several artists, including Chris Brown and Omarion. She has also modeled for some fashion brands and has an online store. Gedlu and Songz dated in 2007, and reportedly got engaged. They later went their separate ways but remained in good terms as Gedlu still featured in her ex's music video in the year 2010.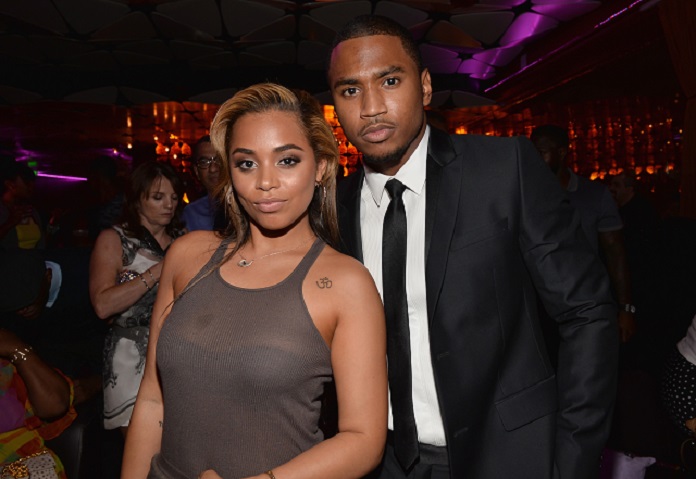 Following the end of his romance with Gedlu, Songz went on to commence a relationship with actress, model, and TV personality, Lauren London, in 2009. They stayed together for about three years, during which they weathered several storms, including rumors of the singer cheating with fellow artiste Keri Hilson. There were also rumored flings with singer Ciara, and actress Alexandra Daddario and the relationship finally came to an end in 2012.
Relationship with Lori Harvey and Cheating Allegations
Since 2012, Trey Songz has gone on to embark on short-term relationships with a bevy of ladies, including Instagram models Lesha Marie (in 2012) and Tabby Brown (in 2013), professional model and jewelry designer, Tanaya Henry (in 2015), and Khloe Kardashian (in 2016). Songz's latest relationship was with Lori Harvey, the stepdaughter of the legendary TV host, Steve Harvey.
The two started dating in late 2017 and called it quits in 2019. Their split was largely amicable as Lori still sent her ex congratulatory messages following the birth of his son. It has, however, emerged that Songz may have cheated on her with an adult actress named Brittney. According to a December 2018 article in BET, Brittney was quoted as saying that she and the singer got together while he was dating Lori and were into "sick and twisted things."
See Also:  Who Is Sophie Brussaux? Everything To Know About Drake's Baby Mama 
The Gay Rumors that has Refused to Go Away
Even though he has a reputation as a modern-day Lothario, Trey Songz has been hounded by gay rumors over the years. Back in 2012, photos went viral on the internet purportedly showing the singer locking lips with another man. He denied that it was him and maintained that no senselessness, lies or hate can take away his joy. Fast-forward to two years later, Songz was equally caught up in doubts over his sexuality when an individual posted a picture of the singer's tweet proclaiming himself to be gay.
The image predictably set the internet agog and Songz was forced to explain once more. He released a lengthy statement in which he described the whole thing as photoshopped and wondered why people would craft up things with hatred in their hearts. The singer then declared that if he was gay, then it was also plausible that he was having studio sessions with the duo of Biggie and Tupac.
If I'm gay then Tupac bringing me a ounce for this session wit Biggie tomorrow. No weapon. #LOVE

— Trey Songz (@TreySongz) March 26, 2014
The persistent gay rumors may be the work of Songz's detractors. It may also be the work of someone who has proof that he is gay and wants to out him, a move that is not nice at all.